The world's very first aquarium was built in 1832 by French marine biologist Jeanne Villepreux-Power as a controlled environment for scientific experimentation with marine organisms.
This was almost two centuries ago, and it is unsurprising that over such a long time, numerous myths about aquaristics have been born.
This article delves into some of the most popular misconceptions about aquariums, especially those that deter many individuals from setting up a marine or freshwater aquarium.
Popular myths about saltwater tanks
Let's begin with the false beliefs surrounding marine aquariums.
1. Saltwater tanks are only for expert aquarists
A prevailing myth suggests that marine aquariums are reserved for expert aquarists due to the perceived complexity of maintaining them.
In reality, information about marine aquarium keeping is now easily accessible, and reputable brands like the Aquaforest marine aquarium supplies and equipment manufacturer, make necessary devices and supplements readily available.
Furthermore, the variety of species you can choose for your aquarium is vast, and you do not have to start with the most demanding fish and corals right away.
2. Marine aquariums are rather expensive
Many believe that marine aquariums are costly due to the extra equipment required compared to freshwater tanks. While setting up a marine aquarium involves investments, brands like Aquaforest, which was mentioned earlier, offer reasonably priced aquarium supplies.
Furthermore, there is a specific myth about corals requiring expensive lighting, but basic LED lighting systems can satisfy the needs of many beginner-friendly corals. Ultimately, the cost can be influenced by your choice of species and tank size.
3. Marine fish require a very large water tank
It is a common misconception that marine fish require very large tanks. While some species like angelfish and surgeonfish, which tend to grow large and need ample swimming space, do require spacious aquariums, there are fish with more modest space requirements, such as clownfish, blennies, and firefish.
4. Marine aquariums are prone to algae problems
While it is true that saltwater tanks can experience algae issues, proper tank maintenance, including nutrient control and regular water testing, can help prevent this problem.
5. Saltwater can destroy aquarium equipment
While saltwater can cause corrosion of certain metals, the equipment provided by professional brands like Aquaforest – marine aquarium supplies, is designed to withstand the potential damage caused by saltwater.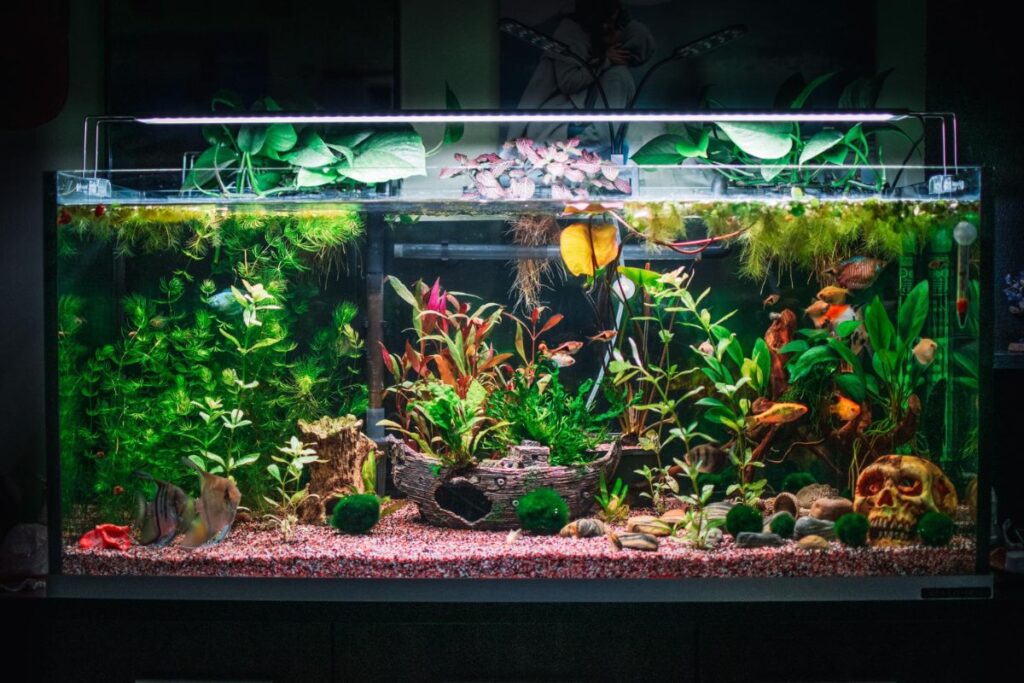 Common misconceptions about freshwater aquariums
Freshwater aquariums are also surrounded by numerous myths.
1. Freshwater aquariums lack diversity
There is a prevailing belief that the most beautiful aquatic organisms thrive in saltwater, often leading to the misconception that freshwater aquariums lack appeal. In reality, hundreds of freshwater species can easily rival saltwater fish in terms of beauty. Some notable species include neon tetra, German blue ram, guppy, betta fish, discus, and freshwater mandarin fish.
2. Tap water myths
Two conflicting myths coexist regarding the use of tap water in freshwater aquariums. Some aquarists believe tap water is entirely unsuitable, while others claim it is safe for all fish. In practice, each species has varying tolerances for tap water, considering factors like chlorine, chloramine, and water hardness.
Although some fish are more resistant, it is advisable to use water conditioning and aging it as a precaution. Meanwhile, tap water can be very harmful to reef aquariums.
3. Small bowls are enough for goldfish and betta fish
It is a common misconception that both goldfish and betta fish can thrive in small containers due to their sizes. In reality, these species enjoy better health and longevity in larger tanks. Goldfish, in particular, can grow quite large and produce a significant amount of waste.
4. Snails as underwater pests
Snails are often considered pests, but they can be beneficial to freshwater tanks. They help clean up algae and debris, and some species can enhance the aesthetic appeal of the aquarium.
5. Salt in freshwater aquariums for disease prevention
While an appropriate level of salt in marine tanks supports osmoregulation and enhances respiratory function in fish, it does not guarantee disease prevention in freshwater fish which can have low tolerance to changes in salinity.
Conclusions
The list of popular myths about marine and freshwater tanks mentioned in this article is by no means exhaustive. In the realm of aquaristics, there are numerous false beliefs, some of which can be detrimental to your fish.
Therefore, it is advisable to seek out professional sources of information as your first point of reference, even if you know experienced aquarium enthusiasts who have cared for home aquariums for years. Some myths have been passed down through generations, and it is better to double-check any information to ensure the well-being of your aquarium ecosystem.