Osteoarthritis is a common condition in dogs that causes pain and stiffness in the joints. It is a progressive disease, meaning that it gets worse over time. The disease has no cure, but some treatments can help to manage the pain and improve your dog's quality of life.
According to Frontiers, osteoarthritis stands as the most prevalent orthopedic condition detected in dogs, with an approximate clinical prevalence of around 2.5%, which escalates to 20% when post-mortem evaluations are considered.
The significant effects of this disease on dog welfare are attributed to its severity, prolonged duration, and the need for continual pain management. The condition demands dedicated efforts to alleviate chronic pain, making it a matter of paramount concern for the well-being of affected dogs.
This article will discuss the long-term care of dogs with osteoarthritis.
Risk Factors for Osteoarthritis in Dogs
Several risk factors contribute to the development of osteoarthritis in dogs. Age is considered a significant factor, as older dogs are more susceptible to joint wear and tear.
However, according to the AAHA (American Animal Hospital Association), it is a misconception to associate osteoarthritis (OA) and other forms of degenerative joint disease (DJD) solely with senior and geriatric patients.
The increasing lifespan of pets in the United States has led to 14.7% of dogs and 20% of cats living beyond 11 years, resulting in a longer period for potential disease development. As a result, pet owners may mistakenly believe that OA is an age-related ailment, leading to a higher incidence of late-stage disease presentation in veterinary practice.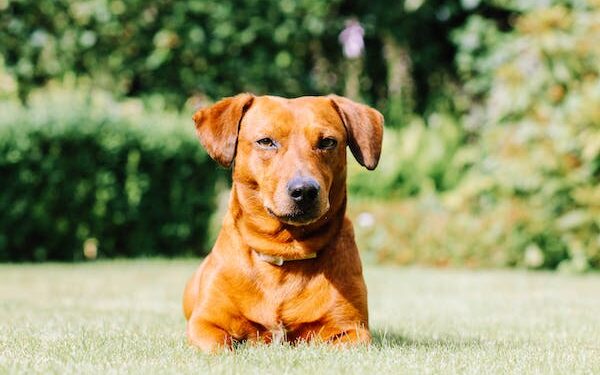 Large and giant breeds are known to have a higher risk due to their size and weight, which puts extra strain on their joints. Previous injuries or joint trauma can increase the likelihood of osteoarthritis, as can genetic predisposition in certain breeds.
Other than these, obesity also plays a crucial role, as excess weight places additional stress on joints.
Understanding these risk factors empowers dog owners to take proactive measures to prevent or manage osteoarthritis effectively.
Symptoms of Osteoarthritis in Dogs
The most common symptoms of osteoarthritis in dogs are pain, stiffness, and lameness. Other symptoms may include decreased activity, reluctance to jump or climb stairs, and changes in gait.
In some cases, dogs with osteoarthritis may also show signs of inflammation, such as redness, heat, and swelling around the affected joints.
If you notice any of these symptoms in your dog, you need to see a veterinarian for diagnosis and treatment. With the right care, your dog can still live a happy and fulfilling life with osteoarthritis.
Reading Suggestion: Micro Bully
Diagnosing Osteoarthritis in Dogs
Osteoarthritis is a progressive joint disease that can be difficult to diagnose. Your veterinarian will likely start with a physical examination and ask you about your dog's symptoms. They may also recommend X-rays or other imaging tests to look for changes in the joints.
Treatment Options for Osteoarthritis in Dogs
As per the American Kennel Club, if your dog receives an arthritis or dysplasia diagnosis, your veterinarian will likely suggest a veterinarian-grade joint supplement containing glucosamine and chondroitin.
These joint supplements are commonly used as an early intervention and throughout the progression of osteoarthritis due to their long-term safety for most patients. Though research is still limited, joint supplements have shown the potential in alleviating symptoms related to osteoarthritis and hip dysplasia.
Alternative therapies such as acupuncture and cold laser therapy offer additional options for pain management. The best approach often involves a combination of treatments tailored to each dog's specific needs, ensuring effective and compassionate care.
Lifestyle Changes for Dogs with Osteoarthritis
Making changes to your dog's lifestyle can also help to manage the pain and improve their quality of life. These changes may include:
Modifying your dog's exercise routine: Your dog may need to reduce the amount of exercise they do, or you may need to change the type of exercise they do.
Managing your dog's weight: Obesity can put extra strain on the joints, so it is important to keep your dog at a healthy weight.
Providing your dog with a comfortable sleeping environment: Your dog may need a soft bed or a raised platform to sleep on.
Managing Pain in Dogs with Osteoarthritis
Effectively managing pain in dogs with osteoarthritis is essential to improve their quality of life. Veterinarians often recommend various pain management strategies, including non-steroidal anti-inflammatory drugs (NSAIDs) like Carprovet for dogs.
Carprovet is specifically formulated to reduce inflammation and alleviate pain associated with osteoarthritis, making it a valuable option in the treatment plan.
However, PetRx notes that the safety of Carprovet has not been established for animals under 6 weeks of age, pregnant dogs, dogs used for breeding purposes, or lactating bitches.
The Prognosis for Dogs with Osteoarthritis
In general, dogs with osteoarthritis can live a normal lifespan with the right care. However, the condition can progress and lead to pain and decreased mobility. With proper management, most dogs with osteoarthritis can still enjoy a good quality of life.
Here are some of the factors that can affect the prognosis for dogs with osteoarthritis:
If you are concerned about your dog's prognosis, talk to your veterinarian. They can help you assess your dog's situation and develop a treatment plan that will help your dog and happy life.
Hospice Care for Dogs with Osteoarthritis
Hospice care focuses on providing comfort, pain relief, and a dignified end-of-life experience. As osteoarthritis progresses, pet owners may consider hospice care when curative treatments are no longer viable.
This compassionate approach involves pain management through medications, palliative therapies, and soft, supportive bedding. Special attention is also given to the dog's emotional and psychological well-being.
Hospice care encourages spending quality time with the dog, enjoying favorite activities, and offering love and companionship during their final days. The primary goal is to ensure a peaceful and comfortable transition, honoring the bond shared with the beloved canine companion.
Conclusion
This article aimed to shed light on the impact of osteoarthritis on dogs and the various ways to manage this condition for an enhanced quality of life. While osteoarthritis can be challenging, the good news is that there are effective treatment options available.
With proper care, attention, and the guidance of your vet, you can make a positive difference in your dog's life, ensuring their happiness and well-being for years to come.