In the American Bully lineage, Micro Bully is a highly popular designer dog breed. A mix between the American Bully and the Patterdale Terrier, micro bullies, a famous designer dog breed, quickly gained popularity.
Within the American Bully lineage, a micro pocket bully is sought after due to its looks and the best personality traits.  The micro bully makes the perfect companion dog for families with young children because of its loving, playful and affectionate nature.
Teacup Micro Bully
A teacup micro bully is a miniature dog under 8 inches that is delicate and expensive. These dogs have loyal personalities and friendly faces. A Miniature Bully dog derived from pedigree Pocket Bully parents lacking breed types is still termed a Miniature size bully.
Their lack of breed-type traits may be undesirable for future programs. Teacup micro-bullies have characteristics that are rare to achieve. Also, they need special care due to the high chances of health risks.
Full Grown Teacup Micro Bully
Teacup micro bullies are the smaller version of pocket bullies. The major difference can be drawn between these two types in terms of size and some personality traits.
A pocket bully is 14 to 17-inch height; however, full grown teacup micro bully comes under this height range.
A full grown teacup micro bully has a maximum height of 8 inches and weighs around 20 pounds.
Exotic Micro Bully
The exotic micro bully breed is a relatively newer dog breed discovered in the 2000s and has gained popularity. As is well known, the bully dog breed is a hybrid of several bully breeds, including the micro American bully, Olde English Bulldog, Shorty Bull, English Bulldog, and French Bulldog.
Exotic bully breeds are friendly and not at all violent towards people or other dogs, but it is still vital to train your dog and have a strong relationship with the owner.
Tri Color Micro Bully
Tricolored micro bully has gained popularity due to its amazing physique and unique appearance due to the unique color combination in its body. This results from unique genetics from the Agouti series gene locus in the Bully breed.
A tri color micro bully has three shades on its body instead of the typical one or two colors. The three distinct colors in the tricolor include one base colour, tan and white. However, the base color can vary from black, lilac, blue, fawn chocolate etc.
Micro Bully Puppy
The American Bully Kennel Club (ABKC) acknowledges micro bully puppies as a legal variant of the American Bully. They are known to have smaller body sizes than the normal Bully while maintaining outstanding health and a powerful physique. Micro bully puppies are 12 to 13 inches in height; however, their great muscular physique makes them weigh 60 pounds.
Micro Bully For Sale
Are you looking to buy a micro bully to keep as your pet? It is an amazing choice due to their incredible appearance, friendly nature and loyal companionship. However, choosing a micro bully for sale requires a few considerations, including what size you want, how much does a micro bully costs, checking the health, physique, body and many other aspects.
To buy a micro bully, you must find a reputable and experienced micro bully breeder. It is also important to verify the type, history, traits and nature and other elements of a mico bully you are going to buy.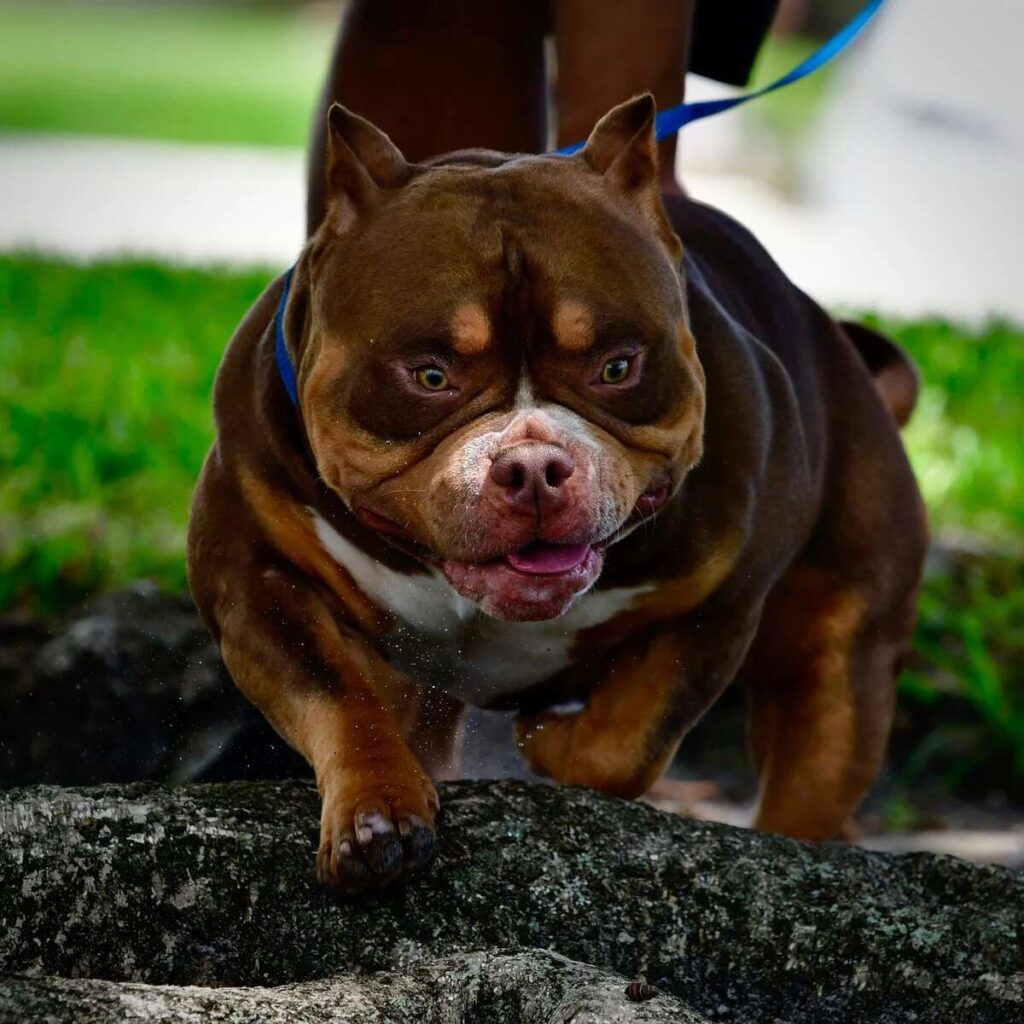 Micro Bully Price
Micro bullies are expensive breeds whose average cost is between $8,000 – $20,000 depending on their type, characteristics and appearance.
Micro bully puppies for sale
Many trusted, and reputable micro bully breeders offer micro bully puppies for sale in different colors, personalities and types.
They will be great pets due to their social, friendly nature and adorable appearance. You can buy a micro bully puppies after varifying their nature, health, history, type and other relevant aspects.
Micro Exotic Bully For Sale
A mix of bull dog and American bully, micro exotics are one of the highly expensive bully breeds due to their unique characteristics and physical properties. Micro exotic bullies do not grow more than 13.5 inches. If you are looking for an exotic micro bully for sale, you must have a high budget, as they cost up to $45,000.
Micro Bully For Sale Craigslist
You can find micro bully for sale on craigslist by exploring different types, breeds, and categories. Micro bully for sale craigslist offers a wide range of options to choose from. Here are some listings on Craigslist
Micro Bully For Sale In Texas
If you are looking for a micro bully for sale in Texas, the cost may vary between $8,000 – $20,000. Here are some options for buying Micro bully in Texas
Micro Bully For Sale In California
The price of micro bullies varies according to their type, characteristics and history. However, you can buy micro bully for sale in California by consulting a trusted breeder. Here are some good options to buy a micro bully in California
View this post on Instagram
FAQs
How Much Is A Micro Bully Worth?
Micro bully costs between $8,000 – $20,000; however, the price may vary according to the breed, type, characteristics and other elements.
What 2 Breeds Make A Micro Bully?
A micro bully is a mix of a Pocket Bully and a Patterdale Terrier. To go back a step, the Pocket Bully, commonly referred to as a Pocket Pitbull, is a smaller version of an American Bully.
How Tall Is A Micro Bully?
Even as an adult, a mini Exotic Bully puppy won't reach a height of more than 13.5 inches.
How Much Does A Micro Bully Weigh?
A micro bully weighs around 11 to 25 pounds, even when an adult.
What To Feed Micro Bully?
50-70 percent protein is a great choice for food for micro bullies. Eggs, organ or offal meat, and muscle meat are all nutritious choices that provide the dog with the essential vitamins and amino acids. A decent amount of protein is also present in fish and chicken.
How Many Puppies Can A Micro Bully Have?
For this breed, a litter typically contains 4 to 8 puppies.
What's The Difference Between A Micro Bully And An Exotic Bully?
An Exotic Bully is scaled down to become a Micro Bully. Exotic mini Bully puppies are frequently expensive, especially if they have unusual physical characteristics or coat colours.
What Is The Difference Between Micro Bully And Pocket Bully?
A micro bully is smaller than a pocket bully. Anything shorter is referred to as a Mini Bully.
A Pocket Bully is characterized as being between 14 and 17 inches tall.
How Big Is A Micro Bully?
The average height of a micro bully is 13.5 inches, even when it is an adult.
Are Micro Bully Dogs Healthy?
Micro bully dogs are generally friendly and healthy, but like any breed or set of breeds, bullies are prone to some health issues that you, as an owner or potential owner, should be aware of.
What's The Most Expensive Micro Bully?
One of the most valuable micro Bully lineages in the world is thought to be Venomline pocket American bully costs around $2 million dollars.
Some other Mix Breed
For more interesting fact, stay tune with us on Pet Rescue Blog.