Maintaining the health and well-being of horses is a top priority for equine owners, trainers, and veterinarians alike. One of the most important aspects of equine care is providing proper nutrition through a balanced diet. Horses require specific nutrients to maintain optimal health and performance, which can be achieved through high-quality feed that meets their nutritional needs.
Premium horse feed offers a range of benefits for improving equine health. These specialized feeds are designed with the specific nutritional requirements of horses in mind, ensuring that they receive all necessary vitamins, minerals, and proteins to thrive.
Reading Suggestions: Male Horse Names
In this article, we will explore the importance of premium horse feed in promoting optimal equine health and how it can improve your horse's performance. We will also discuss key considerations when selecting the right type of premium feed for your horse's individual needs.
The Benefits of Premium Horse Feed for Equine Health
The incorporation of premium horse feed in equine diets has been demonstrated to confer significant health benefits for horses. Proper nutrition is essential for horses to maintain optimal health and performance, and investing in high-quality feeds can help achieve this goal. A balanced diet that includes premium horse feed helps provide the necessary nutrients that support the growth, development, and maintenance of healthy body systems.
Premium horse feed contains a variety of essential vitamins, minerals, proteins, and carbohydrates that enhance performance by improving digestion, energy levels, and overall health. These feeds are formulated with quality ingredients that meet the specific nutritional needs of horses at different stages of life or those with specialized dietary requirements.
Investing in high-quality feeds not only improves equine health but also reduces the risk of various diseases or disorders associated with poor nutrition. In conclusion, incorporating premium horse feed into equine diets is an effective way to ensure proper nutrition and enhanced performance while investing in the long-term health of horses.
Understanding the Nutritional Needs of Horses
Understanding the nutritional requirements of horses is crucial for their optimal health and performance. A horse's digestive system is designed to process small amounts of food frequently throughout the day. It is essential that a feeding schedule is established to ensure proper nutrition and avoid digestive issues.
Horses require a diet that consists of carbohydrates, fats, proteins, vitamins, minerals, and water. Carbohydrates provide energy for daily activities while fats serve as an additional energy source and aid in maintaining body temperature.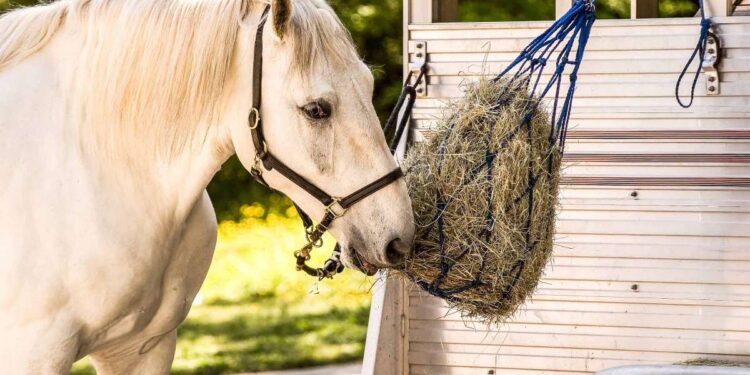 Proteins are necessary for muscle growth and repair, while vitamins and minerals play vital roles in various bodily functions such as bone development, immune system function, and blood clotting. Clean water should always be available to horses since dehydration can lead to serious health problems.
Understanding these nutritional needs will help horse owners establish an appropriate feeding schedule that meets their horse's dietary requirements for optimal health and performance.
Top-Quality Ingredients in Premium Horse Feed
By providing essential nutrients and high-quality ingredients, horse owners can support their equine partners in achieving optimal performance and maintaining overall well-being. A balanced diet is crucial for horses to remain healthy and prevent nutritional deficiencies.
The selection of ingredients plays a significant role in ensuring the nutrient balance of a horse's diet. Premium horse feed contains top-quality ingredients that are carefully selected to meet the nutritional requirements of horses at different stages of life, activity levels, and health conditions.
Premium horse feed typically includes high-quality protein sources such as soybean meal, alfalfa meal, or fishmeal. These protein sources provide amino acids necessary for muscle development, growth, and repair.
Additionally, premium horse feed may include various vitamins and minerals such as Vitamin E, B-complex vitamins, calcium, phosphorus, and magnesium in appropriate amounts to enhance immune function, bone strength, energy metabolism among other vital functions.
Overall ingredient selection is critical since it directly impacts the nutrient density of the feed formula; thus influencing physical performance levels while improving overall health conditions.
The Dangers of Fillers and Additives in Lower-Quality Feeds
Lower-quality horse feeds often contain harmful fillers and additives that can negatively impact the health and performance of horses. These fillers are often used to bulk up feed at a lower cost, but they offer little nutritional value.
In fact, some fillers can cause digestive issues and even lead to colic or laminitis in horses. Additionally, additives such as artificial colors, flavors, and preservatives can be detrimental to a horse's overall health.
Fortunately, there are filler-free options available for horse owners who want to prioritize their animal's well-being. High-quality horse feeds made with natural ingredients such as whole grains, fruits, and vegetables provide balanced nutrition while avoiding harmful additives.
It is important for horse owners to read feed labels carefully and choose products that prioritize their animal's health over cost savings. By selecting premium feed options that are free of fillers and additives, owners can ensure their horses receive optimal nutrition without risking potential health risks associated with lower-quality feeds.
Reading Suggestion: Best Horse Clippers
Choosing the Right Type of Premium Horse Feed for Your Horse
When selecting the ideal horse feed, it is crucial to consider factors such as the horse's age, activity level, and dietary requirements. Horses have different needs depending on their growth and development stage. Younger horses require more protein in their diet to support muscle building and growth.
Meanwhile, older horses need a lower calorie intake since they are less active than younger ones. The horse's activity level also plays a significant role in choosing the right feed type for them. Highly active horses that participate in sports or racing may need higher energy feeds compared to leisurely ridden ones.
Feeding frequency and feed storage are also important considerations when selecting premium horse feed for your equine companion. It is recommended to divide the daily portion of food into several small meals rather than feeding one large meal per day.
This practice helps maintain stable insulin levels and prevents digestive disorders such as colic or gastric ulcers. Proper storage of feeds is also critical since exposure to moisture or air can cause spoilage which can negatively affect your horse's health. Thus, storing feeds in a dry and cool area away from pests is necessary to ensure their freshness and safety for consumption by your horse.
Seeing Results: How Premium Horse Feed Can Improve Your Horse's Health and Performance
The consumption of high-quality, nutrient-rich feed can have a significant impact on the overall well-being and performance of horses. Premium horse feeds are designed to provide the necessary nutrients required for optimal health and top performance. These feeds are formulated with high-quality ingredients such as grains, proteins, vitamins, and minerals to meet the specific nutritional needs of horses.
Feeding schedule plays a crucial role in ensuring that horses receive the right amount of nutrients from their diet. Horses should be fed at regular intervals throughout the day to avoid digestive problems and ensure optimum absorption of nutrients.
Monitoring progress is also essential in determining whether or not a premium horse feed is providing the desired results. Horse owners should regularly evaluate their horse's weight, coat condition, energy levels, and overall health to assess if they need adjustments in their feeding program or if there is any underlying issue that needs attention.
With proper feeding schedules and monitoring progress for each individual horse's needs, premium horse feed can significantly improve equine health and performance.
Reading Suggestion: Best Horse Brushes
Conclusion
In conclusion, in order to maintain the health and performance of horses, it is important to provide them with premium horse feed that meets their nutritional needs. Understanding the ingredients and avoiding fillers and additives found in lower-quality feeds can ensure that your horse receives a balanced diet that promotes optimal health.
By investing in high-quality horse feed, you are not only providing your horse with essential nutrients but also potentially improving their overall well-being, from their coat and hoof health to their energy levels and immune system. Choosing the right type of premium horse feed for your specific horse's needs can make all the difference in achieving optimal equine health.