Do you want your horse to look beautiful? Well, who does not? Horse owners love to take care of their horse's nutrition, diet, and physical activities. These are all important things, but so is the grooming of your horse like every other pet.
Horses also need an occasional shave to trim the manes of female horses and that is why buying the best horse clippers is very important. A good trim of your horse will ensure your beloved horse always looks its best.
If you don't know about body clipping horses much or don't have experience with it, then choosing the right one can be a bad experience with clippers. However, the good thing is that it doesn't have to be.
Considering a few things can help you ensure you get the best horse clippers for this job. Here are some of the best clippers for your horse:
Wahl Pro Series Horse Trimmer Kit

(Model 8787-450A)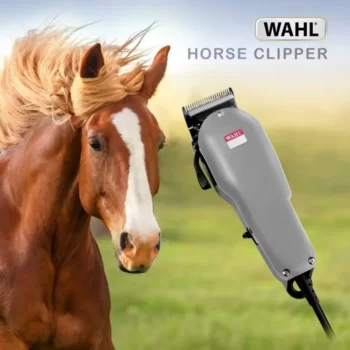 Wahl pro series horse trimmer is the right option to use for the small areas on your horse such as around his eyes, ears, mussel, fetlocks, bridlepath, and paws. Its weight is only 4.9 ounces plus it offers 6000 strokes in one minute.
You can use this cordless horse clipper for 45 minutes easily without stopping because of its corded and cordless capability.
This horse clipper kit includes a charging cord, blade oil, a cleaning brush, and two combs including a battery with a clipper. Its blade can be quickly detached and is easy to clean and maintain which is important to keep up the trimmer's performance. Wahl Pro Series Horse Trimmer are the best cordless horse clippers for last touch-ups.
Reading Suggestion: 501+ Horse Names For Male and Female Horse Names
Lister Star Large Animal – Best Horse Clippers for Body Clipping
Do you want a lightweight horse clipper that's easy for you to hold? Lister's Star Large Animal Body Clipper's weight is 1.7lb and you can hold it pretty comfortably. It is an ideal body clipper for full-body clips on horses and all livestock animals. It gives 3000 strokes in one minute and its length is 16 ft.
This clipper comes with a fine blade made with solid stainless steel and best for owners with up to 3 horses. With the advanced and fast motor of this clipper, you get a continuous running speed even if the coat is thick giving you a professional and smart look.
It has a filter that provides for cooling and ventilation preventing your horse from any discomfort. It also has a replaceable and removable air filter, so maintenance is easy for you.
So, if you are looking for a comfortable and easy clipper Lister's Large Animal's clipper is one of the best horse body clippers to rely on.
Andis UltraEdge AGC Super – Best Heavy Duty Horse Clippers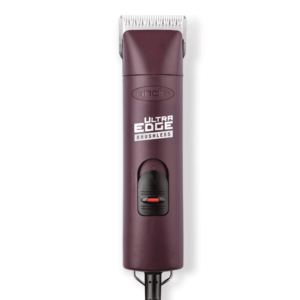 Do you have a horse with thick hair? Is it hard to trim your horse's thick hair with a lightweight clipper?
Don't worry we have a solution for you.
Best heavy-duty horse clippers are highly recommended for cutting thick hair. This one is perfect for horses with thick hair and coats plus a good thing about this product is that it's detachable and can be easily changed and cleaned.
Its weight is 1.7 pounds. You can easily use it without worrying about its battery life. This Andis heavy-duty horse clipper comes with a detachable blade and a 2-speed rotary model. It's easy to handle as it has a heavy-duty cord with it.
Sminiker Professional Hair Clippers – Best Quiet Horse Clippers
This clipper has a medium weight and is a cordless tool by Sminiker which comes with a rechargeable battery so you don't need to plug in to charge it again.  You can use it for 70 minutes after 5 hours of charging.
This trimmer is quiet and is one of the best quiet horse clippers when using it on a nervous horse.  It produces low vibration which will not scare your horse.
Sminiker professional hair clippers come with 4 different combs and has a changeable titanium blade that ranges from 2mm to 9mm.
MTP UCONTRO Electric Shearing 350w – Best Small Horse Clippers
This heavy-duty clipper is the best to buy when you have a small horse-like miniature. Its unique characteristics like versatility, speed, and power make it best for trimming your small horse's hair with ease.
This clipper has an amazing power of 110V. That's enough to trim through the toughest hair or coats. It comes with an attached cord plus it provides an extra blade with the box.
A good thing about this clipper is that it doesn't make noise and can be used without worrying about overheating. So, this product is one of the best small horse clippers that you will find on the market!
Wahl Professional Clippers – Best Clippers for Horses Legs
Does your horse get uncomfortable when you are trimming his legs? It happens because some of the clippers make noise and vibrate scarring a horse. WAHL Bravura Ion Lithium Clipper's low charging time and long-lasting battery make it the most popular clipper among house owners. It can be used for trimming your horse's bridlepath, fetlocks, muzzle, and ears.
Its speed can be adjusted automatically while trimming the hair from different parts of your horse's body. This clipper is highly recommended for horses' legs and different sensitive parts.
We are going to publish a comprehensive comparison to compare wahl clippers so you can make a better choice before buying.
The Bottom Line
Every horse owner loves to groom their horse by trimming their hair and keeping them clean. So, these are the best clippers that we have found from the best trimmer reviews, and by reading customer reviews on the internet and their features to help you find the perfect clipper for your horse. Invest your money in any of these clippers to get the best results and ensure your horse's cleanliness.
Reading Suggestion: Top 7 Best Horse Brushes to Keep Your Horses Clean
Frequently Asked Questions (FAQs)
What are the best cordless horse clippers?
The Wahl Bravura and Wahl's MiniArco are the best cordless clippers of all. You can get clippers in both cord and cordless types. This special feature is important because you might have to trim some specific body parts of the horse and sometimes whole-body clipping is required.
What are the best heavy-duty horse clippers?
Andi's UltraEdge clipper is the best heavy-duty clipper of all as it easily trims off your horse's thick hair. You don't have to worry about the battery while trimming your horses' thick hair can be easily cleaned.