Happy Dog food offers different types of food for your dog, depending on its age and needs. The question quickly arises whether the feed is really good. Therefore, we took a closer look at our Happy Dog food review. Here you can read what we found out.
For our review, it was important whether Happy Dog offers different high-quality food for the different needs of our four-legged friends. For this purpose, the food had to be eagerly accepted, represented a complete diet and be easy to digest. In the end, this review also depends on whether the food does not cause allergies or intolerances in sensitive dogs.
What is Happy Dog Food?
Happy dog food is a brand that accompanies your dog in different phases and situations in life. The brand offers complete feed and feed supplements tailored to these phases or situations. This means that the different needs of your dog can always be met, even if they change from time to time.
The varieties of Happy Dog Food
Happy dog food is available for puppies and adult dogs. There is also food for very sensitive dogs and as a supplement to pure meat feeding. It contains the right nutrients for all these phases and situations.
For puppies and young dogs, the Happy dog food is reduced in its energy content. Young dogs naturally have a lot of energy but do not yet have the muscles, bones, or strong joints needed to use it. Happy Dog's puppy food now ensures that the energy is not increased further, while at the same time it promotes the development of the body.
For adult dogs, the food is a complete diet. Here too, the energy content is tailored to requirements. This means that the food contains enough calories as is necessary for normally active dogs. However, it does not contain more of it, so that the four-legged friends do not accumulate fat.
The food also contains all the nutrients that are necessary for sensitive dogs. At the same time, the corresponding varieties do without the substances that cause allergies or intolerances. It can therefore be tolerated well by sensitive dogs and allergy sufferers.
In the case of pure meat feeding, certain ingredients are sometimes neglected. Here the feed supplements offer exactly these ingredients. At the same time, they make you feel full so that not quite as much meat is fed.
Top 8 Happy Dog Food Review
Happy Dog Supreme Africa Dog Food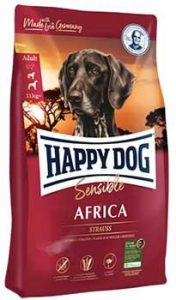 The Happy dog food Supreme Africa is a dog food that is recommended by veterinarians especially in the presence of intolerance to certain ingredients. The food contains ostrich as the only source of protein that is also of animal nature, which significantly increases its digestibility for dogs.
The food is gluten-free and contains no grain, as this is the main cause of allergies and food intolerance, especially in carnivores such as dogs. The carbohydrates contained come from potatoes, which are a high-quality source in themselves. It also contains valuable omega 3 and 6 fatty acids.
Dogs like to accept the food. However, there are sometimes delivery problems because certain ingredients are not available in sufficient quantities. It is, therefore, better to always have a supply in order to bridge such bottlenecks.
Benefits
Recommended by veterinarians
Without grain or gluten
With just one source of animal protein
Happy Dog Junior Original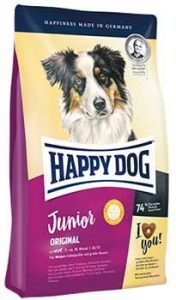 The Happy Dog Junior Original is food for growing dogs. Therefore it contains less energy because young dogs already have a lot of it, but not enough muscles to use it. For this, the food contains New Zealand mussels to promote the development of the body.
The food is also gluten-free, making it easier to digest. Many allergies or intolerances can be traced back to an incorrect diet in puppyhood. It is therefore important to avoid certain substances that cause allergies early on. This also includes gluten.
The food goes down well with dogs. Unfortunately, however, there are always problems with shipping, in such a way that the packaging did not survive the transport unharmed. In such cases, however, the feed was exchanged without hesitation.
Benefits:
Reduced energy for young dogs
Gluten-free
Supports the development of the body
Disadvantage:
Sometimes the packaging does not survive the transport, but then it can be exchanged
Happy Dog Flake Mixer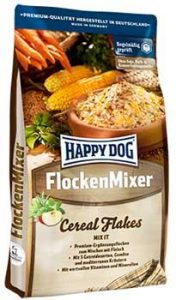 The Happy Dog Flake Mixer is a so-called supplement flake. These consist of Mediterranean herbs, vegetables, and 5 different types of grain. They are mixed with meat and complement this to a full meal and at the same time serve as a filler.
The flakes contain minerals and vitamins and thus meet the needs of your four-legged friend. They are free from preservatives or coloring agents. Soy was also not used in production.
Some dogs cannot tolerate an exclusively carnal diet. These flakes are a godsend for them, as they make the food digestible for them. In wet food, however, they can soak quickly and then one or the other dog will not like them.
Benefits
Enhance a carnal diet

Bring vitamins and minerals

No artificial additives
Disadvantage
The flakes can quickly become soft with wet food
Happy Dog Supreme Mini Ireland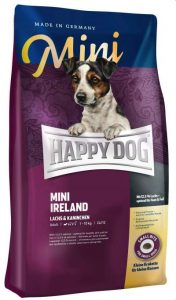 The Happy Dog Supreme Mini Ireland is a complete feed for adult dogs up to a bodyweight of 10 kg. It contains 12% salmon and selected proteins. That makes it balanced and easily digestible. It also comes with small croquettes so that the little sweet tooth can easily eat them.
The proteins come from beef, lamb, poultry, fish, and eggs. Together with the salmon, they ensure super good skin and a shiny coat. There are also carbohydrates from corn and rice. It is therefore also suitable for sensitive dogs.
While the feed is also suitable for allergy sufferers, it is not entirely grain-free because it still contains barley. However, this does not seem to lead to any problems, because most owners report that even their sensitive dogs can tolerate the food well.
Benefits:
Small croquettes
Suitable for sensitive dogs
Ensures healthy skin and a shiny coat
Disadvantage:
Not completely grain-free
Happy Dog Baby Original Dog Food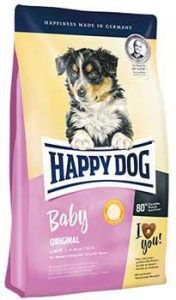 The Happy Dog Baby Original dog food is suitable for puppies that are at least 4 weeks old. It comes with a heart croquette so it's easy to chew and just as easy to digest.
The food is gluten-free so that no food intolerance can develop. The valuable New Zealand mussel is included for this. This leads to a good development of the body.
With 5 proteins, an easily digestible kibble and the New Zealand mussel, this food is a balanced diet for small baby dogs. It is gladly accepted by the little four-legged friends, but the price is a bit in the higher segment. But that shouldn't be a problem for the good quality.
Benefits
Small, easy-to-chew croquettes
5 different proteins
Contains the New Zealand mussel to promote physical development
Happy Dog Whole Foods Dog Food Flakes
The Happy Dog Whole Foods Whole Foods Dog Food consists of fine-layered flakes that are very easy to digest. This also makes them suitable as porridge for small puppies from the 4th week of life. This food is a premium complete food that offers your dog everything he needs. At the same time, it is wholesome and highly digestible.
The flakes are an ideal addition to a meat diet. They contain vegetables such as carrots and peas. In addition, there are carbohydrates from oats, wheat, corn, rice and millet. They fill you up and can be fed from puppy age to the age of an adult animal.
While most dogs tolerate it well and are happy to accept it, there are a few exceptions. With these, the food can be rejected or lead to diarrhea. Therefore you should buy a smaller pack on a trial basis first.
Benefits
Suitable from puppy to adulthood
A great addition to a meat diet
Is highly digestible and wholesome
Disadvantage
Unfortunately, some dogs have an exception when it comes to digestibility
Happy Dog Supreme Sensible New Zealand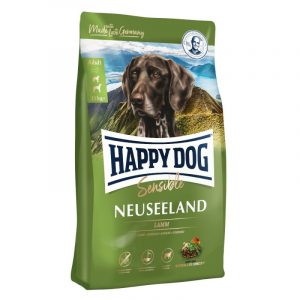 The Happy Dog Supreme Sensible New Zealand is particularly friendly for the stomach and intestines. It's gluten-free and 21% lamb. This is how it comes closest to a dog's natural needs.
It is suitable for sensitive dogs and contains various proteins that come from lamb and eggs. Carbohydrates are also included. These come from high-quality sources such as rais and corn.
Dogs willingly accept the food. Even allergy sufferers can take it well. Unfortunately, the delivery times are a little long. So here it is important to have a small supply. Then your dog does not have to go home empty-handed when the next order is a little longer in coming.
Benefits
Gluten-free
Consists of lamb and egg
Contains corn and rice
Disadvantage
Sometimes deliveries are a long time coming
Happy Dog Medium Adult Dog Food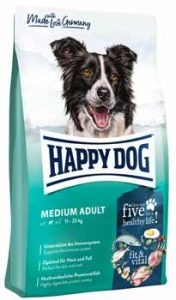 Happy Dog Medium Adult dog food is a perfectly balanced dog food with 5 different, high-quality proteins. It is suitable for feeding dogs with a body weight of 11 to 25 kg. It offers them an optimal nutrient balance.
This food is suitable as a complete feed for adult dogs with an average energy requirement. In return, it contains a moderate proportion of fat, on the one hand, to provide the required energy, but on the other hand not to supply too much of it. The latter would only lead to obesity.
The feed is very tasty and is gladly accepted. However, dog owners who have reported problems all agreed that these were unrelated to the food. Rather, it was about the delivery person, who did his jobless professionally.
Benefits
Optimal nutrient balance for adult dogs
Slightly reduced fat content to avoid obesity
Contains 5 high-quality protein sources
Disadvantage
Every now and then there are problems with the deliverer, but not with the food itself
Things to look out for when buying Happy Dog Food
Happy Dog is not just a single variety in the dog food field, but a brand with different types of dog foods. These species differ according to their composition and the associated direction. They all cover different needs or are used in different ways.
Your dog is different from other dogs. This distinction is made according to various factors. First of all, it's about age. There is food for young dogs or puppies and food for adults. Another time it's about size or weight. Then there is food for small or light dogs or for large or heavy dogs.
In addition to these more general distinctions, there are some special factors that need to be taken into account. There is food for normally active dogs. This food contains less energy and is therefore not suitable for very active dogs. Conversely, active dog food would lead to obesity in the average dog.
Another distinguishing feature is feed tolerance. There are dogs who are allergic to certain ingredients or who otherwise cannot tolerate them. In such a case, food for allergy sufferers or sensitive dogs is suitable. Of course, a dog without such symptoms can also consume this type of food.
With him, it then works like prevention that prevents the occurrence of allergies or food intolerance.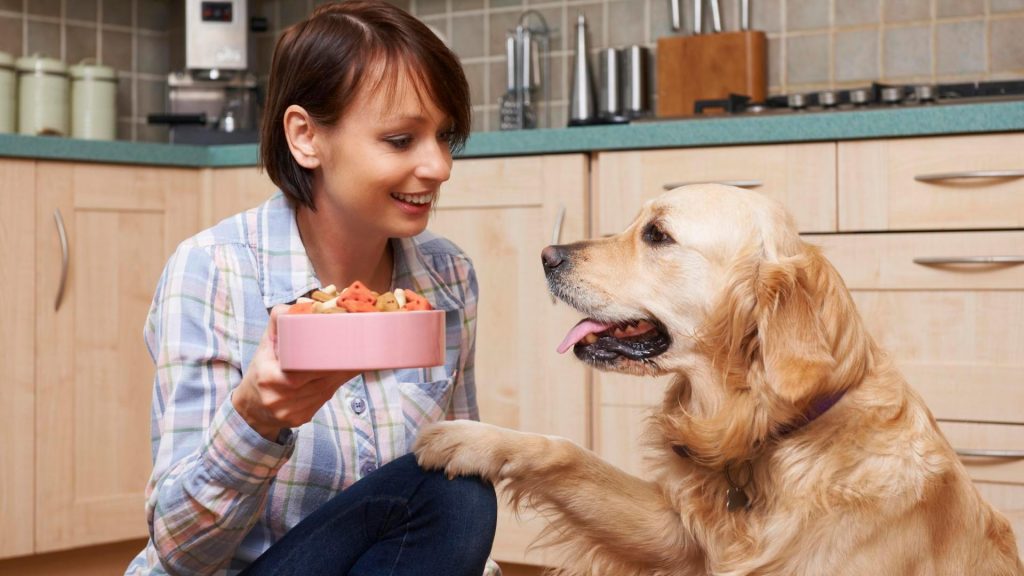 Furthermore, a distinction must be made according to the type of diet. There is a feed that is not suitable for exclusive use but should be used as part of a meat feed. Then it supplements this and turns it into a full-fledged feed.
As you can see, there are a number of different needs that arise at different times or in different situations. You need to know them. You can do this by simply knowing your four-legged friend or observing their behavior and reactions to certain feeds.
Once you know your dog's needs and preferences, you can then buy him the food that is intended for him. This is how the Happy dog food can develop its full effect and your dog can get all the pleasure out of it.
Why is Happy Dog Food Recommended?
Happy dog food is of high quality. This can be seen from three different facts. Firstly, it is recommended by veterinarians as a complete feed. That means, exactly when a dog is very sensitive because he has an allergy or food intolerance, Happy Dog comes into play.
It is then fed to the affected dog as a complete feed until all symptoms of the allergy have disappeared. Then, gradually, more can be fed until it can be determined which substances are causing the allergy or intolerance.
In addition to veterinarians, breeders also recommend Happy Dog. They deal with dogs above average and thus see most clearly which food is good for our four-legged friends. If they recommend it, there must be something to it.
Third, there are very, very many reviews of happy owners on the Internet. There are only very few cases of complaints. The latter often do not even relate to the feed, but rather its availability or delivery. The dog owners have confirmed that this food is very popular with their four-legged friends.
Frequently Asked Questions
How Much Dog Food Does A Dog Need Per Day?
The amount of dog food a dog needs each day differs from food to food and from dog to dog. It depends on the age of the dog, its activity, and its constitution. For the feed, it depends on how much energy it contains and which components were used in its production.
Overall, it is important to follow the information on the package. There is a table there that provides information on how much different dogs need the respective food. If you feed more than the specified amount, you risk being overweight in your four-legged friend. If you feed less, it may not be adequately cared for.
How Can I Stop My Dog ​​From Eating Cat Food?
There are a number of strategies for doing this. First of all, however, it is important to realize that there is basically nothing bad associated with your dog eating a little cat food. That being said, you can just feed your dog first. When it is full, cat food is used.
Alternatively, you can place the cat food where your cats can reach it but your dog cannot. This can be done, for example, behind a door with a passage that is too small for your dog but big enough for your cat. It is even easier if you place the food for your cat higher up. Since cats can climb better, it remains within their reach.
How Long Should I Feed My Dog ​​Puppy Food?
Puppy food can be supplemented with food for adult dogs from the 8th week of life. This is done using a mixture that consists of half puppy food and half food for adult dogs. If your dog reacts positively to this, you can continue to feed this mixture until the puppy food is used up and then switch over completely.
Where Can I Buy Happy Dog Food?
Happy dog food can be purchased online, in specialist shops, or in the supermarket without any problems. The best advice is available from specialist retailers and the best price is available on the Internet. The supermarket also offers good prices, but no real advice.
Conclusion
The Happy dog food review showed that this brand delivers very good quality. It offers food for puppies and adult dogs. There are also varieties for sensitive dogs and for dogs that are fed pure meat. You can all benefit significantly from the high-quality ingredients in Happy dog food. Therefore, it can be recommended with a clear conscience.