Dogs love fruits and they can eat different fruits. But have you ever wondered that can dogs eat mango? So, the simple answer is "yes" dogs can eat mangoes. However, not all fruits are good for dogs. You cannot feed them any fruit of your own choice.
Mango is a tropical fruit that is available in the summer season and it is highly beneficial for dogs. As the mango contains Vitamins A, B6, C, and E. Potassium, Alpha and Beta-carotene, which is good for your dog. The one thing to keep in mind is you cannot feed your dog all parts of mango.
You must follow a complete guide and follow the right tips for taking care of your dog while you are feeding them mango. Besides all this nutrition that comes along with mango, it is also rich in fiber. So, you cannot feed your dog mangoes in excessive amounts. Be gentle and feed them the right amount keeping in mind the health conditions.
If you own a dog as a pet for the first time and feeding him the mangoes for the first time. Then you should follow a proper guide about it.
How to Feed Mango to Your Dog?
Feeding your dog, a mango is not that difficult task but you need to be careful about little things. However, consulting a veterinarian before feeding mango is a better option. Make sure to take off the pit first and never let your dog eat the pit of mango.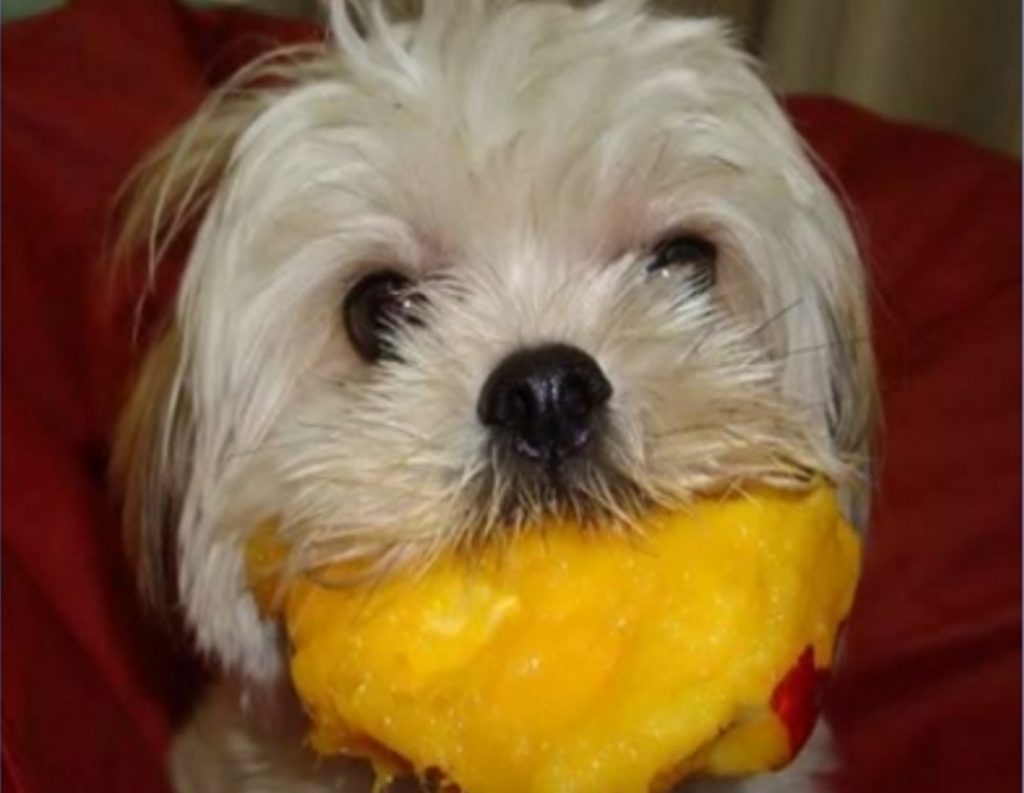 The second thing to keep in mind is if you own a puppy or a tiny dog then you should cut the mango into small slices. Make the biteable pieces so, your little friend can enjoy them perfectly. Otherwise, you can also let him eat that as he wants.
Reading Suggestion: Can Dogs Eat Yogurt?
Do not feed the mango to your dog every day, once a week or once in two weeks is enough. Also, you can serve it chilled as well but not too often. Although mango is only available in summers and eating frozen things in the summer season provides a pleasing effect.
You must also keep in mind the health factors of your dog as well. Feeding the frozen can become dangerous for your dog's health in certain conditions. Also, serving fresh mango to your dog is highly preferred.
What is the Perfect Proportion to Feed Mango?
As already mentioned, mangoes are rich in fiber as well as it is highly sweet fruit. So, an excessive amount of this fruit can be fatal for your dog. Try to feed the smaller amounts and usually as a snack, not a meal.
A quarter cup of mango for your dog would be ideal. As well as avoid feeding him the mangoes on daily basis. The regular consumption of mango for your dog is not good. So, always give your dog the smaller ratios and once in a while. It will be more beneficial as the vitamins and potassium in the mangoes are necessary for your dog to intake.
Just like human beings your pets also need the right amount of nutrition to grow and perform well. Feeding your dog with fruits is the right way to give that nutrition to him. Thus, keeping in mind the right ratio to feed is necessary for the good health of your dog.
Is it a Good Treat for your Dog?
"Yes" mango is a perfect treat for your furball and you should let him eat this fruit. Although it is sweet, which automatically appears delicious to dogs. At the same time, it provides various health benefits for your dog's health too.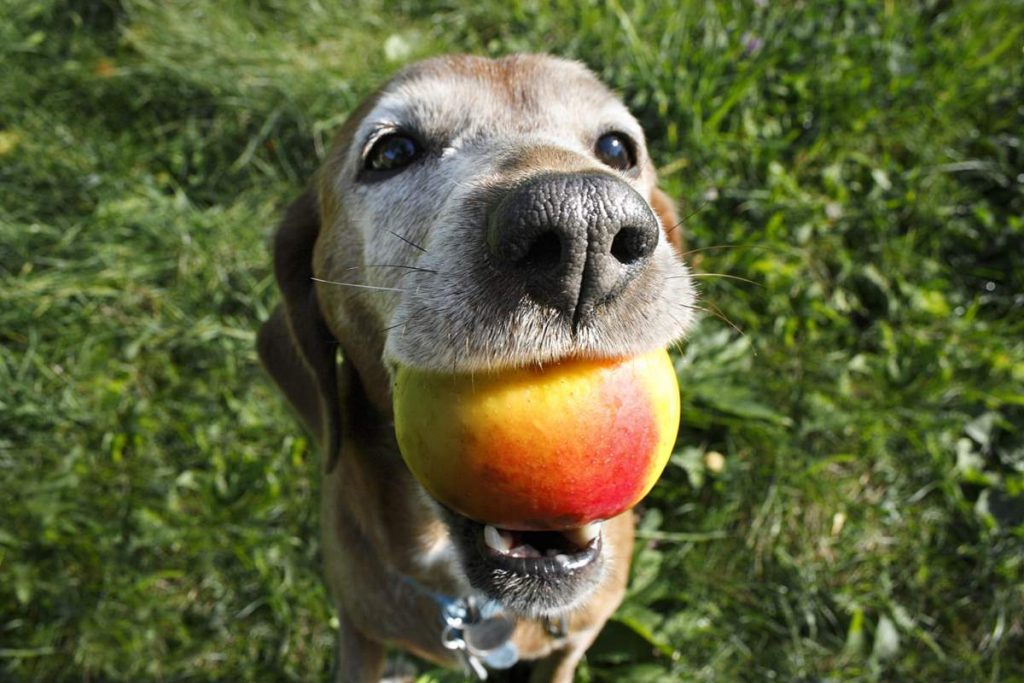 The only thing to keep in mind is to feed the right amount and in the right way. Also, removing the pit is essential because it can be toxic to a dog's health. The pit of the mango contains cyanide and it can be deadly for your pet.
Overall, it is a perfect treat for your dog and you can feed it whether in the frozen form or at room temperature. Your dog will be going to enjoy this delicious treat.
Conclusion
Fruits are good for the dogs to eat but not all fruits work the same. Some may become toxic for your dog's health. However, talking about mangoes so is an ideal fruit for your dog to eat. "Yes," you can feed your dog with a mango.
The mangoes are rich in vitamins, potassium, and fiber, which makes them a perfect fruit for your pet dog. But the only thing to look for is to avoid overconsumption of mango. Always, feed your dog the smaller feed of mango. It will be beneficial for your dog's health. Other than that, it is a great feed for your dog and should let your dog feed it once.
Reading Suggestion: Parti Yorkie Lifespan
Frequently Asked Questions
Can Dogs Eat Dried Mango?
Yes, Dogs can eat dried mango.
Can Dogs Eat Mango Skin?
No, Dogs do not like to eat mango skin.
Can Dogs Eat Mango Peel?
Yes, Dogs eat mango peel.
Can Dogs Eat Mango Ice Cream?
Yes, Most of the dogs love to eat mango ice cream
Can Dogs Eat Mango Pits?
This is not yet tested by us personally.
Can Dogs Eat Mango And Pineapple?
Yes, Dogs can eat mango and pineapple.
Can Dogs Eat Unripe Mango?
No, As unripe mangos are not much tasty that's why dogs don't like to eat unripe mangos.
Can Dogs Eat Freeze Dried Mango?
Yes they do
Can Dogs Eat Fresh Mango?
Yes, dogs eat fresh mangos with joy 🙂
If you have any other questions about this topic "Can Dog Eat Mango", please ask through the comment section.