Attention, dog lovers! Get ready to embark on a journey of responsible pet care. While antibiotics may not sound like the most thrilling topic, we're about to make it as interesting and fun as a game of fetch.
Imagine yourself as the captain of your furry friend's health, armed with precautions to ensure their well-being. So, grab your pet's favorite toy, and dive into the essential precautions before administering antibiotics to your dog!
List Of Common Antibiotics vs Natural Antibiotics
Your vet will prescribe your dog an antibiotic of the appropriate class and kind. Some of the most often used antibiotics in animal medicine include:
Amoxicillin: This broad-spectrum antibiotic treats cutaneous, urinary, and respiratory infections in dogs.
Cephalexin: Another broad-spectrum antibiotic, cephalexin treats dogs' skin, urinary tract, respiratory, and bone and joint infections.
Clavamox: It comprises amoxicillin and clavulanic acid. It treats dogs' cutaneous, urinary, and respiratory bacterial infections.
Enrofloxacin: A fluoroquinolone antibiotic, enrofloxacin is used to treat dogs' bacterial infections, notably those in the urinary tract, respiratory system, and skin.
While natural antibiotics may not be suitable for severe or life-threatening infections, they can be considered for minor ailments or as supportive measures alongside conventional treatment. Here are some of the best natural antibiotics to try for your dog:
Raw honey has antibacterial qualities and can be applied topically to help treat minor skin infections and wounds. To boost the immune system, it can be taken orally.
Garlic has long been recognized for its antibacterial effects. Use sparingly and consult your vet for the best results in combating bacterial and fungal diseases. However, garlic should be used cautiously, as excessive or extended exposure can harm dogs.
Coconut oil includes antimicrobial lauric acid. It can be used topically to treat small cuts and scrapes. When taken orally, it helps the immune system.
Reading Suggestion: Pitbull Corgi Mix – An American Pitbull Terrier and Welsh Corgi Breed
Why Do Dog Need Antibiotics
Bacterial infections can sicken pets too. Antibiotics help dogs recover from bacterial infections. They kill or stop germs from proliferating, helping the dog's immune system fight the infection. Here's why dogs require antibiotics:
Bacterial infections: Dogs can get these in many places. Skin diseases, flea infections, urinary tract infections, respiratory infections, and ear and tooth infections are common. Such Infections can cause pain, inflammation, and other symptoms.
Wound Infections: Bacteria can enter a dog's wound after a cut, scrape, or surgery. Antibiotics can prevent or cure such infections and enhance healing.
Post-Surgery: Veterinarians administer antibiotics after dental and invasive surgery to prevent infection. This reduces surgical site and systemic bacterial infections.
Bite Wounds: Dog fights can cause bite wounds. Bacteria from the other animal's mouth can infect the dog's wounds. Bite wounds may require antibiotics.
Immune System Support: Weakened immune systems make dogs more prone to bacterial illnesses. Antibiotics can help kill bacteria and boost the immune system.
Precautions to Follow Before Giving Antibiotics to Your Dog
Before giving antibiotics to your dog, it's important to follow these precautions:
1. Consult a veterinarian
Always consult a veterinarian before administering any antibiotics to your dog. They will determine if antibiotics are necessary and prescribe the appropriate medication.
2. Complete the full course
Follow the veterinarian's instructions regarding the dosage and duration of the antibiotic treatment. Even if your dog's symptoms improve, completing the full course of antibiotics is essential to ensure the infection is fully eradicated.
3. Proper dosage and administration
Administer the prescribed antibiotic dosage exactly as directed by the veterinarian. Do not give more or less than the recommended amount, and avoid crushing or splitting tablets unless instructed.
4. Follow timing instructions
Pay attention to the timing of antibiotic administration. Some antibiotics may require medication on an empty stomach, while others may need to be given with food. Follow the instructions provided by your veterinarian.
Reading Suggestion: How Much Does It Cost to Dog Taxidermy?
5. Monitor for side effects
Keep a close eye on your dog while they are taking antibiotics. Watch for adverse reactions such as vomiting, diarrhea, loss of appetite, or unusual behavior. If you notice any concerning symptoms, contact your veterinarian immediately.
6. Avoid self-medication
Never give your dog antibiotics that were prescribed for another animal or yourself. Different species have different antibiotic requirements, and using the wrong medication can be harmful or ineffective.
7. Don't share medication
Do not share your dog's antibiotics with other pets, even if they appear to have similar symptoms. A veterinarian should individually assess each animal to determine the appropriate treatment.
8. Store properly
Store antibiotics according to the instructions provided on the label or packaging. Follow any specific storage requirements, such as temperature restrictions, and keep them out of reach of children and other pets.
Remember, working closely with your veterinarian to ensure your dog receives the correct antibiotics and appropriate treatment for their specific condition is crucial.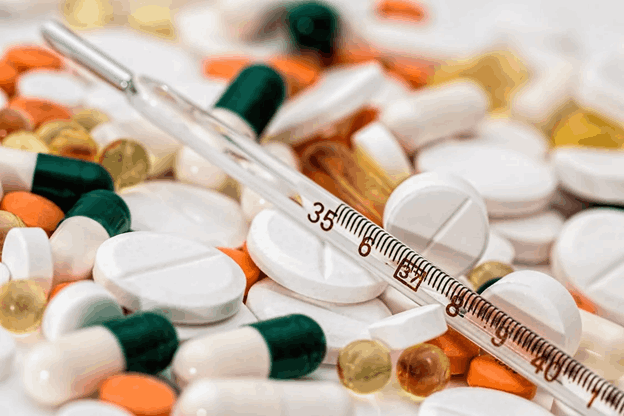 Tips And Trick To Feed Antibiotics
Let's try some fun, easy methods to deceive or train your dogs into eating their medications. See our guides for additional information on giving your dog tablets and liquids.
1. Hide the tablet in food
The oldest prank! Hide the pill or tablet in cheese or a little canned dog chow. (Don't give this to an empty-bellied dog.) Feed a modest quantity so your dog gets all the antibiotics.
2. Add the powder to your dog's food or beverage
Powdered antibiotics include tylosin. Add water-soluble powders to liquids. Others blend with food. Ask your vet if you can mix a powder into the pet's food or make a liquid. To make sure your dog finishes the medicine, provide a modest dose. Don't crush and feed your dog's medicines without your vet's approval.
3. Play with pill-pocket snacks
It is a "great" dog distraction. Play with pill-pocket snacks from your big-box pet store! Hide the drug in a goodie and leave. Give your dog some of the treats, then the pill-filled one. Hopefully, they'll eat it without noticing.
Ensure your dog gets the medication during the game. If your pet store doesn't have pill-pocket treats, mold a squishy treat around the pill.
4. Request flavoring
Most medications are bitter or disgusting. If your dog has trouble taking medication, ask your vet for a flavored chewable tablet. Clavamox has tasty flavors, including cheese, chicken, and hog liver.
Reading Suggestion: Can Water Fountains Make Cats Sick
Side effects Of Antibiotics
Antibiotics are vital for treating dogs' bacterial illnesses but can cause negative effects. The probability and severity of adverse effects depend on the dog and the antibiotic. Antibiotics can cause these adverse effects in dogs:
Gastrointestinal difficulties: Antibiotics can disturb the digestive system's natural microbial balance, causing gastrointestinal difficulties. Dogs may have vomiting, diarrhea, upset stomachs, or loss of appetite. These symptoms usually disappear after antibiotic treatment.
Allergic reactions: Antibiotics may cause adverse responses in certain dogs. Allergic reactions can cause itching, hives, swelling of the face or limbs, difficulty breathing, or even anaphylaxis. Contact your veterinarian immediately if you detect any of these symptoms.
Secondary Infections: Antibiotics can alter the body's normal microbial balance, raising the risk of secondary infections such as fungal or yeast infections. Call your veterinarian if you experience persistent or recurring illnesses during or after antibiotic therapy.
Sensitivity to sunshine: Tetracyclines and other medicines can make a dog's skin more sensitive to sunshine. Sunburn and skin inflammation may develop. Avoid direct sunlight or use sunscreen or shade if your dog is on such antibiotics.
Disruption of Normal Gut Flora: Antibiotics can disrupt the gut's natural balance of helpful bacteria, causing diarrhea or an overgrowth of dangerous bacteria like Clostridium difficile. Probiotics or other nutrients advised by your vet may help restore balance.
Loss of appetite: Antibiotics may temporarily reduce a dog's appetite. Consult your vet if your dog stops eating or loses weight.
Conclusion
In the journey of treating bacterial infections in our beloved dogs, antibiotics play a crucial role. They kill bacteria, but they have negative effects. Remember, these side effects are transitory and controllable for most dogs. If you notice any strange symptoms, consult your vet.
So, armed with knowledge and a vigilant eye, we can ensure that our furry friends receive the benefits of antibiotics while minimizing any potential drawbacks. With responsible antibiotic use, we can help dogs bounce back to their playful selves and continue wagging their tails joyfully.
Keep those paws happy, and may the adventures with your four-legged companions be filled with good health and endless fun!