We have seen a few questions about the safety of cat water fountains of late and have received a few email queries on the same subject. We believe they are perfectly safe and will lay out why we think that in this article.
As cats play such a vital part in our lives, having questions about their safety and happiness is natural. We want our feline friends to be happy and healthy and we want you to be in full receipt of the facts. So, we thought we would address as many of those queries as possible in a single post.
Hopefully, by the end of this blog, you'll find the answer to every question you have about cat water fountains and how safe they are for our furry family members!
Cat Water Fountains
A cat water fountain is a device that allows your cat to drink fresh running water without you having to run the tap.
As you probably already know, cats, and most animals, prefer running water as their evolution has taught them it's safer. Still, water can harbor bacteria and disease, so all animals prefer running water where possible.
A cat water fountain helps with that.
It has a pump, a water reservoir and a bowl. The cat presses a button or the pump runs continuously and water flows from the reservoir into the bowl, mimicking running water.
Your cat thinks they are getting fresh water and often drinks more than usual, which benefits everyone.
Reading Suggestions: Best Cat Breeds for Beginners: a Comprehensive Guide to Choose
Are Cat Water Fountains Safe?
Yes, cat water fountains are safe as long as you keep them clean and change the water regularly.
They are designed specifically for cats.
We spent inordinate amounts of time developing, revising and refining the design to ensure your pets get what they need as safely as possible.
Can Water Fountains Make Cats Sick?
No, the cat water fountain alone won't make your cat sick. As long as you keep the fountain clean, change the water one or more times each day and monitor for scratches, it's a perfect way to get your cat to drink more.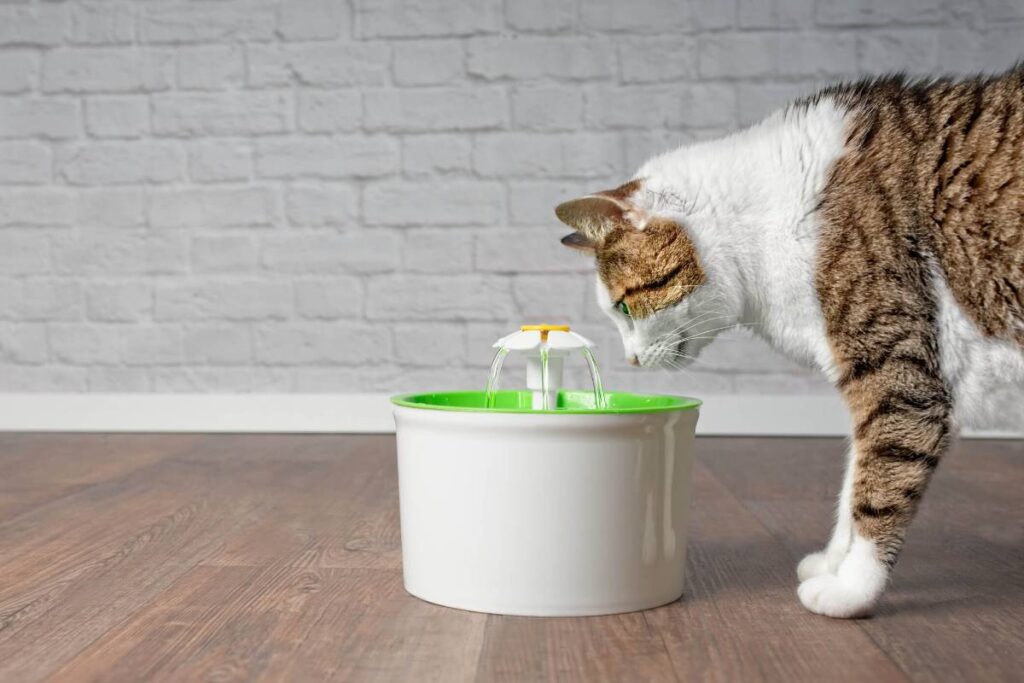 Plastic cat water fountains can be scratched, which can, in theory, harbor bacteria. Keep an eye on the water bowl for any scratches and change it if you see any.
We wouldn't want our pets to get sick and this is the only conceivable way we know of for that to happen.
Are Cat Water Fountains Better Than A Water Bowl?
Yes, cat water fountains are better than a water bowl. A water bowl is a simple, no-nonsense way to provide water for your cat, but it isn't the best.
As we mentioned at the top, animals prefer running water as they view it as safer. As our feline friends don't drink enough anyway, providing a water source that satisfies their instincts is the best possible way to get them to drink more.
That's why we think a cat water fountain is better than a water bowl. Anything to help our cats drink more has to be a good thing.
Can You Leave A Cat Water Fountain On All The Time?
Yes, you can leave your cat water fountain running all the time. We want our cats to have access to water at any time of day or night.
Cats will curl up and sleep close to you throughout the day and go wandering at night. We want them to be able to drink whenever they like during that time.
Reading Suggestion: Boy Cat Names – Find the Perfect Male Kitten Name
What Maintenance Does A Cat Water Fountain Need?
A cat water fountain requires very little maintenance. Clean the water bowl every day when you change the water. Check the bowl for scratches, thoroughly clean the fountain and filter at least once per week and that's all it needs.
A cat water fountain designed by Closer Pets brings together 35 years of experience to bring you the best, tried and tested cat water fountains on the market today.  While we cannot prevent them from scratching the bowl, we have done everything we can to make it as safe as possible.
Do Cats Like Water Fountains?
As cat water fountain provides fresh running water for cats to drink, which can make it more appealing to them and encourage them to drink more. However, it's also important to keep in mind that individual cats may have their own preferences and some may not be interested in drinking from a water fountain.