We all know how lovely puppies are, but even the prettiest might be hiding a nasty secret: fleas. Yes, the microscopic bloodsuckers capable of turning your pet into a scratching machine. But how can you tell whether your dog is hosting these unwanted visitors?
Don't worry, dear reader, since we've collected a list of 15 signs your dog has fleas. So take a flea comb, and look for those annoying bugs!
How to Detect Fleas on Dogs
The first step is to determine whether or not your dog has fleas. Flea infestations are a frequent concern for dogs, and if left untreated, they can cause various health problems.
When detecting fleas on your dog, it's important to remember that prevention is key. Regularly using flea medicine for dogs, such as topical treatments or oral medications, can help protect your dog from fleas and prevent infestations before they start.
If you believe your dog has fleas, you must act fast to stop the infection from spreading. Here are several methods for detecting fleas on your dog.
1.  Inspect Your Dog's Skin and Fur
The first step in discovering fleas on your dog is to check his or her skin and fur for fleas properly. First, examine your dog's fur for a minute, black insects moving about or hopping from one region to another.
Fleas are tiny, wingless insects that are approximately 1/8 inch long and reddish-brown in appearance. Flea filth, which is the excrement that fleas leave behind, may also be visible. Flea filth appears as little black or brown flecks on the skin or fur of your dog.
2.  Use a Flea Comb
A flea comb is another method for detecting fleas on your dog. Flea combs with fine teeth can help eliminate fleas and flea filth from your dog's fur.
Begin by combing your dog's fur from the top of its head to the tip of their tail, ensuring that you get through all layers of fur. Inspect the comb after each stroke for fleas or flea filth. To avoid spreading fleas or flea filth, clean the comb between strokes.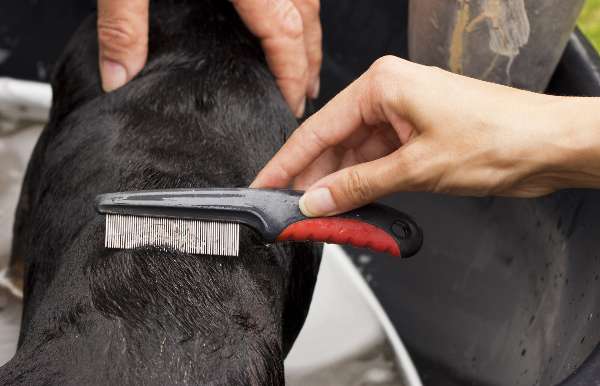 3.  Check for Signs of Irritation
Flea bites in dogs can cause various health problems, including itching, scratching, and skin irritation. If your dog has fleas, you may observe skin irritation such as redness, swelling, or scabs. Flea bites can also cause hair loss or hot spots, which are irritated and infected skin regions.
4.  Look for Fleas in the Environment
Fleas can also be found in your dog's surroundings, such as their bedding or furniture. If you believe your dog has fleas, investigate their bedding and any other locations they frequent, such as sofas or carpets. Look for flea dirt, which can take the form of little black or brown flecks. Fleas may also be seen hopping about in these regions.
Reading Suggestion: Microphthalmia In Dogs
5.  Consider Getting a Professional Attention
If you need clarification on whether your dog has fleas or if you need help discovering them, seek expert advice. Your veterinarian can inspect your dog and advise you on identifying and curing fleas. They may also suggest a flea prevention strategy to prevent future infections.
Signs of Fleas on Dogs
Flea infestations are a common problem for dogs and can cause a range of health issues if left untreated. If you suspect your dog has fleas, taking action quickly is important to prevent the infestation from spreading. Here are some ways to detect fleas on your dog.
1.  Scratching and Biting
Fleas can induce excessive scratching and biting in dogs. This behavior is triggered by irritation from flea bites. Some dogs may become obsessive with scratching and biting, resulting in raw areas on their skin and bacterial illnesses.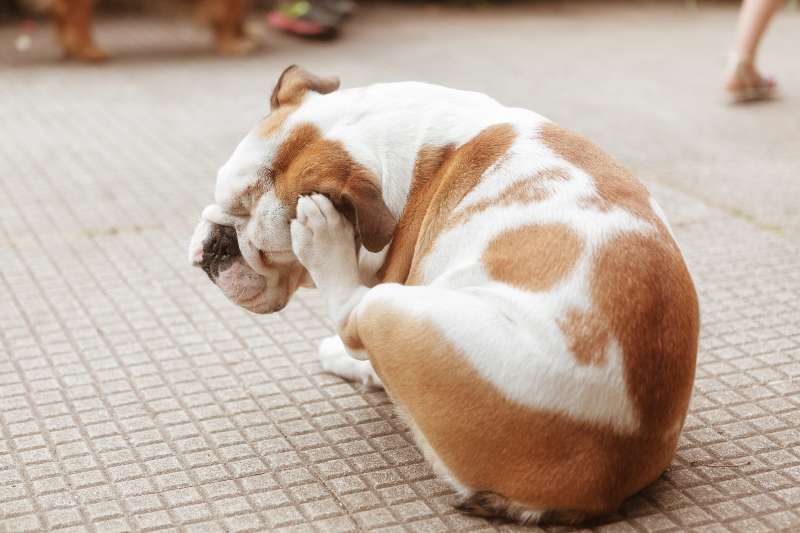 2. Redness and Inflammation
Flea bites on a dog's skin can produce redness and irritation. This is most evident at the base of the tail, the crotch, and the belly. If the inflammation is not addressed, it can increase, making the skin irritated, scaly, and prone to bacterial infections.
3.  Hair Loss and Bald Patches
Fleas can cause hair loss and bald spots on a dog's skin. This is because a dog's frequent scratching and biting can damage the hair follicles and cause hair loss. If left unchecked, hair loss can progress to severe levels and contribute to skin diseases.
4.  Black or Brown Specks on Skin and Fur
Flea filth is an unmistakable indicator of a flea infestation. Flea feces can be spotted on a dog's skin and fur. If you spot these specks, act fast to prevent a flea infestation from spreading.
5.  Scabs or Hot Spots
Flea bites on a dog's skin can result in scabs and hot areas. These skin regions may look as elevated, red, and crusty patches. If left untreated, scabs and hot spots can develop infection and create more serious skin issues. Regular grooming and keeping your dog's coat clean can help prevent hot spots in your dog.
6.  Restlessness or Agitation
Fleas may make dogs extremely uncomfortable, causing anxiety and restlessness. In addition, due to the persistent itching produced by flea bites, dogs may struggle to find a comfortable posture to lie down or may have difficulties sleeping.
Reading Suggestion: Pitbull Chihuahua Mix
7.  Loss of Appetite
Fleas, especially if the infestation is severe, can cause dogs to lose their appetite. In addition, flea bites can cause discomfort and inflammation, making it difficult for a dog to eat or drink properly.
8.  Lethargy or Low Energy
Fleas can make dogs feel tired and depleted of energy, in addition to causing discomfort. Dogs might get exhausted and fatigued as a result of frequent itching and discomfort. So always keep your pet in check to ensure it is healthy.
9.  Pale Gums
Fleas can induce anemia in dogs, resulting in pale gums. Anemia is when the quantity of red blood cells in the body decreases. If left untreated, this might result in weakness, exhaustion, and other major health concerns.
10. Anemia
A heavy flea infestation can cause anemia in dogs. Anemia is a dangerous disorder that, if left untreated, can cause weakness, drowsiness, and even death. If you believe your dog has fleas, take them to the doctor for a thorough examination.
11. Visible Fleas or Flea Dirt
If you notice fleas or flea filth on your dog, it's sure evidence of a flea infestation. Fleas are little, brown insects that are around 2-3mm in length. Flea filth can be observed on a dog's skin and fur and indicates the presence of fleas.
12. Excessive Grooming or Licking
If your dog is continually brushing or licking himself, he may have fleas. Dogs may do this to alleviate the irritation caused by flea bites. Excessive grooming or licking, on the other hand, can cause skin irritation, infections, and other health issues.
13. Allergic Reactions
Some dogs may be allergic to flea bites, resulting in a severe response. Excessive itching, redness, and swelling are symptoms of a flea allergy. In extreme situations, dogs may get hives, respiratory difficulties, and shock.
14. Tapeworms
Fleas can transmit tapeworm eggs, infecting dogs if they eat them while grooming. Weight loss, vomiting, and diarrhea are all symptoms of tapeworms in dogs.
15. Flea Eggs
Fleas lay eggs on their hosts, which might fall off and hatch in the environment. Small white or beige flecks in your dog's fur or bedding might indicate the presence of flea eggs.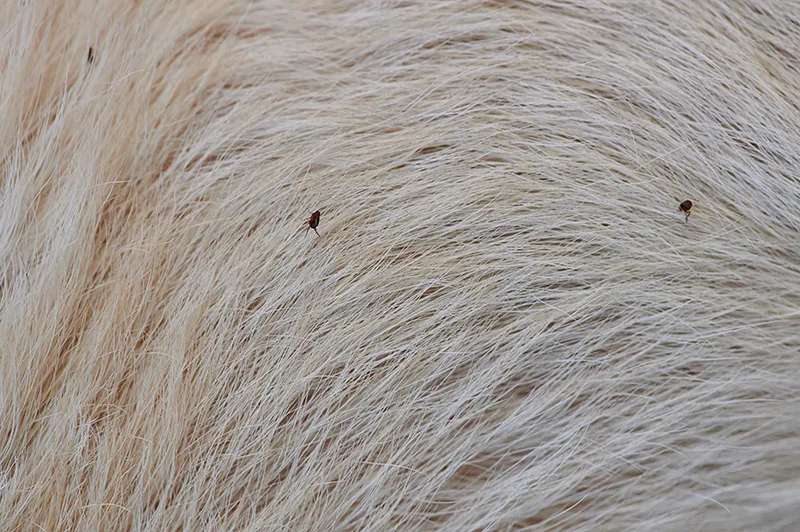 Prevention of Fleas on Dogs
Preventing flea infestations is easier than treating them. To prevent fleas on your dog, you can do the following.
Regular Grooming and Brushing
Regular grooming and brushing can assist in the removal of fleas and flea filth from your dog's fur. This can also aid in the distribution of natural oils throughout your dog's coat, making it more difficult for fleas to grip on.
Use a Flea Comb
Washing your dog's bedding and toys regularly might help to keep fleas at bay. When washing, make sure you use hot water and a flea solution to help destroy any fleas or flea eggs.
Wash Bedding and Toys
Washing your dog's bedding and toys regularly might help to keep fleas at bay. When washing, use hot water and a flea solution to help destroy fleas or flea eggs.
Keep the Home Clean
Keeping your home clean will help to keep fleas at bay. This involves frequently cleaning carpets and furniture, washing floors, and minimizing clutter.
Treat the Yard and Outdoor Areas
Treatment for fleas in your yard and outdoor spaces might help prevent infestations from spreading. This involves mowing the grass regularly, keeping the yard clean, and treating it with flea-repellent treatments.
How to Treat Fleas on Dogs
If you find fleas on your dog, treating the infestation as soon as possible is important. There are several options for flea treatment.
1. Natural Remedies
Some natural flea repellents include apple cider vinegar, garlic, and essential oils. It should be noted, however, that these therapies may not be as effective as prescription flea medicine.
2. Prescription Flea Medication
Your veterinarian can give your dog flea medicine through a tablet, topical therapy, or injection. These treatments either kill or prevent fleas from breeding.
3. Flea Baths and Dips
Flea washes, and dips can assist in the killing of fleas on your dog's skin and fur. However, it is critical to carefully follow the recommendations, as certain flea shampoos can be harsh on a dog's skin.
4. Flea Collars
The chemical in flea collars repels fleas and ticks. These collars can be beneficial, but you must select one appropriate for your dog's size and weight.
5. Flea Sprays and Powders
Use flea sprays and powders on your dog's skin and fur to resist fleas. However, it is critical to utilize these items cautiously, as some might be dangerous if consumed or breathed.
Reading Suggestion: Dog Ear Wax Color Chart
6. Flea Tablets
Flea pills are a sort of prescription flea medicine that may be administered orally to your dog. These pills destroy fleas in a matter of hours.
7. Flea Bombs and Foggers
To treat your house for fleas, use flea bombs and foggers. However, it is critical to carefully follow the directions, as these products might be hazardous if not used appropriately.
8. Cleaning the Dog's Environment
It is critical to carefully clean your dog's habitat to prevent fleas from returning. This involves washing bedding and toys, vacuuming carpets and furniture, and maintaining clean, debris-free yards and outdoor spaces.
Conclusion
So, there you have it – 15 signs your dog has fleas. But don't panic, there are plenty of options for flea prevention and treatment available to keep your dog happy and healthy. Remember to check your pup regularly for signs of fleas, and if you suspect an infestation, consult your veterinarian for the best course of action. Now give your dog some love and enjoy a flea-free life together!