As a dog owner, it is important to keep an eye on your furry friend's health, including their ears. One way to monitor their ear health is by checking your dog's ear wax color. The color of a dog's ear wax can indicate various conditions, such as ear infections, allergies, or parasites.
Dog Ear Wax Color Chart
What Does The Color Of Your Earwax Means Earwax (cerumen) is an oily, waxy substance that's naturally made by glands in the outer ear canal to protect your ears . It's a mixture of oil, sweat, dirt and dead skin cells.
The purpose of earwax is to protect our ear canals from bacteria and debris. Earwax is our body's way of keeping the bad stuff out of our ears and trapping dead skin cells. With the help of wax, our ears stay clean, healthy and functional. Watch the full video.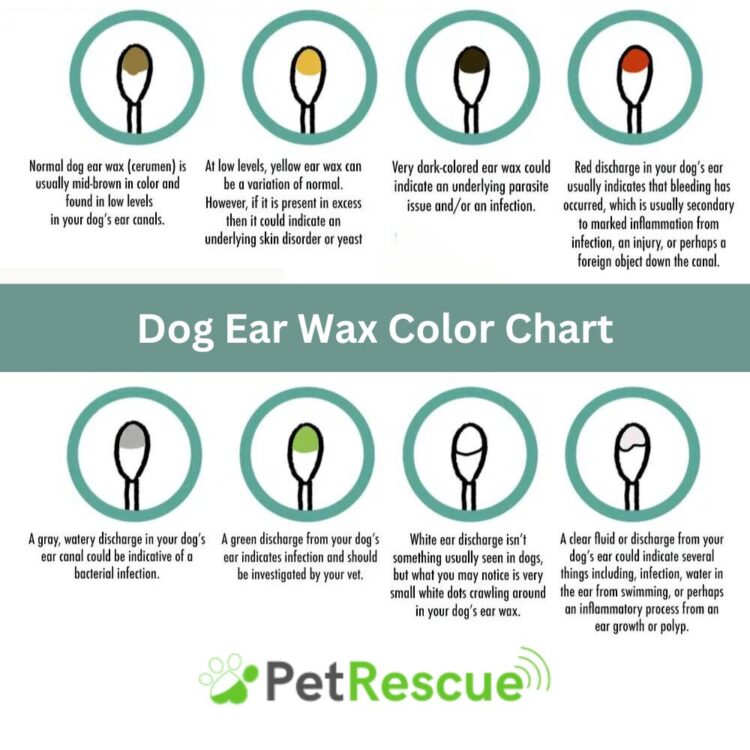 Dog Ear wax Color Chart Description
The Dog Earwax Color Chart provides a descriptive reference for the various colors of earwax that can be observed in dogs, aiding in the identification of potential ear health issues. Explore colors and their possible indication
Color 
Possible Indication
No Discharge
Infection unlikely
Inflammation, pruritus of pinna (outer ear) could indicate allergies
Dark Brown/Black
Associated with yeast-related ear infections
Veterinary consultation recommended
Brown
Healthy ear wax can range from yellow to light brown to black
Odor or inflammation may indicate infection
Veterinary consultation recommended
Yellow
Normal ear wax can range from yellow to light brown to black
Pinna (outer ear) should appear pinkish
Neutral odor 
May be associated with ear infections
Red
Bloody ear wax could indicate injury or bug bites
Pruritus may also be present
Veterinary consultation recommended
Green 
Green ear wax accompanied by foul odor is associated with yeast and fungal infections
Veterinary consultation recommended
Gray
May indicate presence of dirt
Can be associated with ear infections
Common Signs of Dog Ear Infections
Typical signs of a dog ear infection consist of the following:
Head shaking
Unpleasant odor
Red skin
Discharge
Inflammation
Excessive ear scratching
Cat Ear Wax Color Chart
Similar to dogs, cat ear wax color can also indicate potential health issues. The color of a cat's ear wax can vary from light yellow to dark brown, and it can signify various conditions such as ear mites, infections, allergies, or even ear tumors.
Reading Suggestion: Groomi Comb For Dogs