Why It's Important to Brush Your Dog's Teeth
It's not difficult to imagine that brushing your pup's teeth will make them cleaner and give him a nice smile, but does it go deeper than that?
Let's take a closer look at the reasons why you should brush your dog's teeth on a regular basis and how you can actually make it a pleasant experience to boot.
The Link Between Oral Health and Overall Health
A clean and healthy pup is a happy pup. But did you know that dental disease has been linked to an increased risk of heart disease in dogs? A Purdue study has shown a higher incidence of heart disease in dogs with bad gums. Not only that but your dog's liver and kidneys are especially susceptible to the effects of dental disease as well.
According to the American Animal Hospital Association, by the age of three most dogs have some degree of dental disease. This is why early detection and prevention are vital to your dog's overall health. The sooner you start brushing, the better for your pup.
The consequences of neglecting dental care
Just like humans, dogs need healthy gums and teeth. Dental problems can cause your dog pain when he eats. Neglecting your dog's teeth can lead to gum disease and bacteremia, a condition where bacteria is present in the bloodstream. This in turn can eventually lead to organ damage.
These are definitely health issues that your dog is counting on you to help them avoid!
How often should you brush your dog's teeth?
Ideally, you should brush your dog's teeth every day. But it's understandable if you can't make that work in your schedule. At a minimum, try to brush your dog's teeth three times per week. That is the minimum recommended by most veterinary dental experts.
Reading Suggestion: Microphthalmia Dog
When is it necessary to see a vet?
As a baseline for a healthy dog, you should take him to the vet annually to have his teeth and gums checked. This will usually be part of your dog's regular preventive care exam. At that time, your vet may recommend that your dog be brought in for teeth cleaning if necessary, or for other procedures if any more serious issues exist.
What's the difference between toothbrushing and professional dental cleaning?
Both are very important to your dog's oral health, but there are some important differences between the two. Toothbrushing is performed by you or a family member at home at least three times per week. Professional dental cleanings are more thorough and performed by your vet. Your dog is put under a sedative or anesthesia while the cleaning happens.
How to Make Teeth Brushing a Positive Experience for Your Dog
Considering how often you should brush their teeth, making it a positive experience for them will not only make your dog happier, but it will make your life considerably easier as well!
The most important thing to remember is that anything new should be introduced gradually to your pup.
Choosing the Right Toothpaste and Toothbrush for Your Dog
First, make sure you are NOT using human toothpaste. This can be toxic to your dog!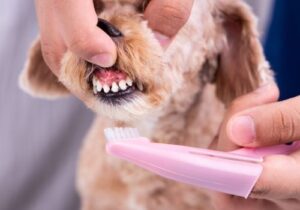 You should look for a toothpaste specially formulated for dogs. Enzymatic toothpaste is a popular choice because it helps break down plaque and bacteria in your dog's mouth. They come in many flavors, including poultry, beef, seafood, malt, vanilla-mint, and peanut.
As with toothpaste, do not use a toothbrush meant for humans, as it can be too harsh for your dog. Look for a pet toothbrush that is the correct size for your dog's mouth and has soft bristles that will be gentle on the teeth.
Let your dog lick the toothpaste
Start by giving them some of the pet toothpaste as a treat for a few days. This will help your dog to get used to the taste. Do this once or twice a day for about a week until your dog is comfortable with the toothpaste.
Next, put a small amount of the toothpaste on a finger toothbrush and gently introduce it to your dog's mouth. It's okay if they sniff the toothbrush or lick the toothpaste. The key is to get your dog comfortable with the whole experience.
Touch the toothbrush to the front, side, and back teeth. Do this for both the top and bottom teeth.
The Correct Way to Brush Your Dog's Teeth
Try to hold the toothbrush at a 45-degree angle to the tooth, with the bristles pointing toward the gum line. This will help remove plaque and debris from the teeth and gums.
Start at the back teeth and work your way toward the front, using a back-and-forth motion. Be sure to brush both the inside and outside surfaces of the teeth as well as both the upper and lower teeth.
Avoid using too much pressure or scrubbing too hard, as this can cause discomfort or damage to their teeth and gums.
Reading Suggestion: Can Dogs Eat Dried Mango
Rewarding your dog after teeth brushing
Afterward, make sure to praise your good doggie and give him a treat for putting up with this strange new experience.
Gradually work your way up to brushing for a couple of minutes, three or more times a week.
What To Do If Your Dog Resists Teeth Brushing
If your pup doesn't like having its teeth brushed, try starting out with dental wipes or gauze from the pet store. These options are not as effective as toothpaste and a toothbrush, but they can be a good way to get your dog used to the sensation of having its teeth cleaned, allowing you to work your way up to brushing later.
Another approach is to dip your finger in peanut butter (or any other treat your dog loves) and gently rub your finger along its teeth and gums, again with the idea of getting it used to the idea of having its teeth brushed.
Remember to take it slow and be consistent. Patience and gentleness will go a very long way to making your dog feel safe and comfortable with teeth brushing.
If after all this your dog still refuses to cooperate with having its teeth brushed, you can check out alternatives such as dental chews or toys specifically designed to promote dental health. Asking your veterinarian for advice is always a good idea as well, of course.
Final Thoughts
Brushing our teeth is something we do every day without thinking. Your dog's teeth need just as much care, but he needs your help to get it done. If you follow this guide, keeping his teeth clean can be simple and as routine as cleaning your own. Your pup may even look forward to it after he gets used to it–especially the treat after!
Frequently Asked Questions
Is it better to brush a dog's teeth in the morning or at night?
The best time of day to brush his teeth is when he's most calm and relaxed. If your dog is very active in the mornings but more relaxed at night, the evenings would be a better choice. Once you pick a time of day, try to stick to it. Your dog will be more cooperative if you maintain a consistent time of day for brushing.
Is it too late to brush my dog's teeth?
Ideally you should start brushing his teeth when he is young, but it's never too late to start. If you haven't had a dental checkup with your vet in a while, that would be a good place to start.
How can I clean my dog's teeth naturally?
High-quality dog food, snacks of fruits and vegetables, and chew toys designed to promote dental health are all good ideas for your pooch.
What foods clean my dog's teeth?
Some good, natural choices are apple slices, carrot sticks, uncooked pumpkin, sweet potatoes, and squash.
Can I scrape plaque and tartar off my dog's teeth?
It's not a good idea to try to remove plaque and tartar from his teeth on your own. A better idea is to take him to his vet for a dental exam and possibly teeth cleaning if needed.
Do Greenies replace brushing?
Greenies are a supplement that can help keep his teeth clean, but they are not meant to take the place of proper tooth brushing.