If you're in the market for English lab puppies, then you likely know the difference between American and English Labradors. However, many people don't. While they are technically the exact same breed, English lab puppies differ quite a bit from American lab puppies in both physical qualities and temperament.
Both types of dogs descended from the cross between Newfoundlands and St. John's Water Dogs, bred for their work ethic, intelligence, and mild manners. As their popularity spread across the globe, English lab puppies were bred for slightly different reasons than American lab puppies, and they took on slightly different characteristics. Here's what you need to know about the differences between the two breeds.
Physical Characteristics
Labrador retrievers originated in Newfoundland way back in the 1500s.
They had webbed paws and a thick water-resistant coat that allowed them to swim effortlessly in the icy water. Labrador retrievers were known as working dogs who didn't mind plunging into the cold water after a net, lost bait, or fallen fish for their owners, who realized they also made fantastic companions.
While there is no official difference between English lab puppies and American lab puppies, English lab puppies have a stockier build. They have more of a block-style head than their American counterparts with a shorter, fuller muzzle. Their thicker bodies and shorter legs make them appear to be enormous workhorses. English lab puppies have a thicker coat and wider chest which gives them a powerful appearance.
American Labradors were bred specifically to work with agility, flexibility, and a lot of stamina.
Reading Suggestion: Beagle Lab Mix
Perhaps this accounts for their slightly more slender build than that of the English lab puppies who were bred just for show. Over the years, the English lab puppies took on slightly different characteristics like the bulkier body shape.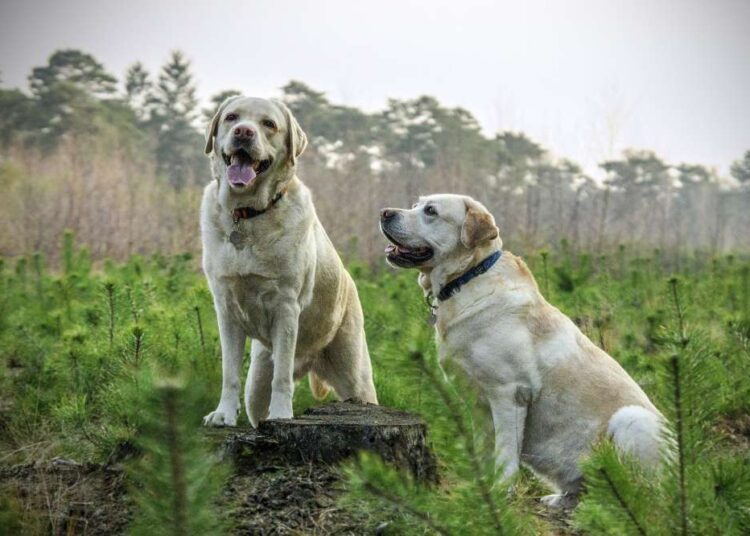 Difference in Temperament
Both English lab puppies and American lab puppies are highly intelligent with a mild-mannered temperament. They are easy to train and make wonderful companions both for individuals and for families. Both breeds are often used as rescue dogs, emotional support dogs, drug-sniffing dogs, and more.
While both English lab puppies and American lab puppies love to work and have a purpose, English lab puppies tend to be just a little calmer. Both dogs are high-energy dogs who love positive attention and a game of fetch. American lab puppies are said to have slightly more stamina than English lab puppies because they were bred to work over the years.
Reading Suggestion: Great Pyrenees Lab Mix
Order English Lab Puppies Today
If you're in the market for a four-legged companion for yourself or your family, you can't go wrong with English lab puppies. They come in a wide range of colors classified as either chocolate, black, or cream, and tend to make a house a home. English lab puppies are loyal and intelligent, the perfect addition to any family.
They are great with kids and easy to train. While they are high-energy dogs, English lab puppies love to please their owners and have fun. If you're thinking about adding a puppy to your household, English lab puppies should be your first consideration. It's no accident they're in the number one spot for the world's most popular dog.