If you're a dog lover, then it's hard for you to not love the Great Pyrenees Lab Mix. It's a crossbreed between Great Pyrenees dogs and Labrador retrievers. Since it's a hybrid dog; therefore, it possesses a mixture of both dogs' personalities and traits. Although they have a gentle and loving personality like a Labrador, they can be as protective and strong as the Pyrenees too. 
Here's everything that you must know about the dog before you take them into your life. 
Why You Shouldn't Get a Great Pyrenees Lab Mix?
Getting a dog is a great responsibility and if you're not fully ready for it, then don't opt for it. If you are struggling to decide whether to get a Great Pyrenees Lab mix or not, then here is why you should not go for it. 
Large Dog Breed
It's a large breed, so the dog will take ample space in your house. Limiting your dog might not be right for their mental and physical health. Although these dogs are not very playful, still they need their space to stay active and run in the house. Furthermore, you can take this dog anywhere when you're traveling due to its size. 
Aggressive Dog
It's an aggressive dog, especially towards other animals. The protective personality of the dog comes from Great Pyrenees. These dogs can easily get aggressive, which can affect other pets in your house. This dog is also known for its destructive nature when they get bored or if left home alone. 
Need bigger Living Place
The dog can wander around to explore the area, which is why it's important to build fences in your backyard. Since it's a big dog, so jumping over the fences is not a big deal for them. The fences are a great way to stop your dog from being aggressive to your neighbors and other people walking the area. 
Why You Should Get A Lab Great Pyrenees Mix?
There might be a hundred reasons to not get a dog, but only one is enough. If you are okay with all the necessary precautions you need to take with Lab Great Pyrenees mix, then here are a few reasons why you should get them. 
The dog can act as a great watchdog for you and your entire family. The protective nature is not all negative, it's also a great trait to keep the dog watchful. These dogs have a great sense of responsibility and have a huge factor of alertness in them. If they are trained well enough, they can socialize with other pets and strangers as well.

As big as this dog, it's a pretty cute dog that looks like a white bear. The dog takes all the points when it comes to its appearance. It often comes in white color, which is why it gives white bear vibes. The dog looks amazing, especially due to its large breed. 

It's a dog with a balance of playfulness and stillness. Depending on their parents, the dog can have varying personalities. You will find the dog sometimes playful while protective other times. They are the perfect pet dog for your family. 
Lab Great Pyrenees Mix Food Requirements
Lab Great Pyrenees mix is a large dog breed, which is why it requires special treatment when it comes to food requirements. No matter if you have a cub or a full-grown dog at your home, they all have certain food requirements that you need to follow.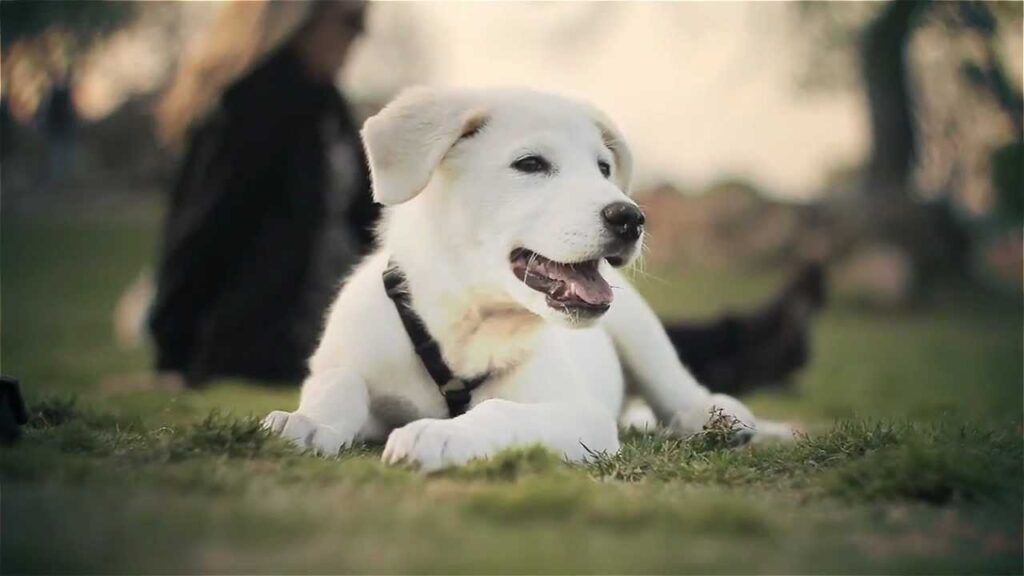 Since it's a big dog, therefore, you need to take care of your diet to save them from obesity. You need to buy dry food for both puppies and full-grown dogs. Apart from it, give small portions of food to your dog in small amounts. This will save the dog from overeating. Never overburden your dog's stomach by feeding them too much. Always set an amount for the food to give to your dog. 
Lab Great Pyrenees Mix Health Problems
Most of the health problems in a Lab Great Pyrenees mix come from a Great Pyrenees. Here are some of the common health problems found in this hybrid dog.
Bloating
Often large dogs suffer from gastric dilatation and volvulus (GDV), which is a condition of the stomach filling up with gas and a twisted stomach. There is no particular cause of this health problem in dogs, but it leads to stomach rupturing and affecting the nearby organs.
Degenerative Myelopathy
It's a progressive disease that leads to affecting the spinal cord of the dog. As a result, the hind legs of the dog get paralyzed due to weak limbs. The dog will find it hard to stand or walk along with experiencing a lot of pain.
Fatal Heatstroke
The sweat glands of this hybrid dog are in his paws; therefore, the occurrence of heatstroke is highly common among them. Dogs start to pant when they suffer from extreme overheating. Moreover, this hybrid dog already has a lot of fur on him, hence, they can be a real target of hot days.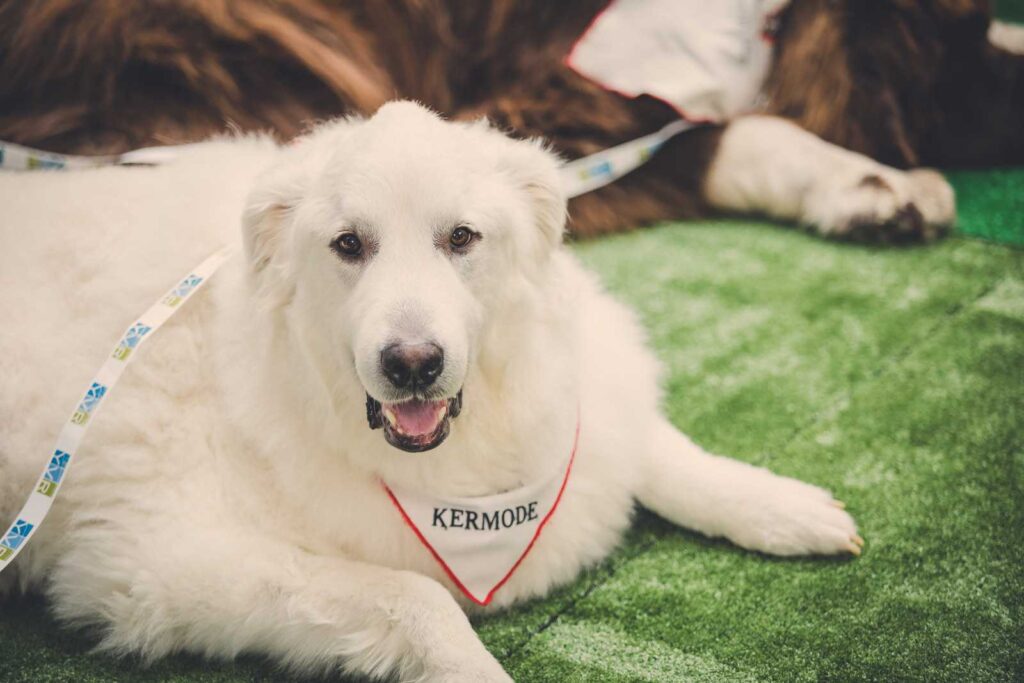 Osteosarcoma
It's the most common bone cancer that is often witnessed in these hybrid dogs. Most of the times breeds inherit this disease from their parents, so there is no evidence of having it genetically. Some symptoms of the disease include inflammation and bone pain.
Dysplasia
This hybrid dog often witnesses dysplasia in its hips and elbow parts. Labrador often experiences this disease leading to joint arthritis and lameness.
Frequently Asked Questions 
How big does the Great Pyrenees lab mix get?
The Great Lab Pyrenees mix can get as big as 23 inches-28 inches. The size is from their paws to their shoulders. 
How to train a Great Pyrenees Lab mix?
Here are some tips to start training the Great Pyrenees Lab mix.
Start the training from a very young age to ensure that they follow your command. 

Make socializing your dog with strangers and other pets a part of their training. It can help in reducing aggression in these hybrid dogs. 

Make the dog walk for at least one hour a day. If they get bored, then try playing some games with them. 

Give rewards to your dog upon good behavior. 
Does Great Pyrenees Lab mix shed?
The dog comes in large size, which is why they are expected to shed a lot. The shedding exacerbates, especially in the shedding season which happens twice a year. Make sure to brush the dog at least twice throughout the day. 
What should my Lab Great Pyrenees Mix look like?
The Lab Great Pyrenees Mix looks like a white bear. 
Other Mixed Dog Breeds
German Shepherd Poodle Mix: A Family Crossbreed Dog
Pitbull Corgi Mix – An American Pitbull Terrier and Welsh Corgi Breed