We have prepared a list with 6 of the best chicken coops currently on the market, each adapted to different needs and budgets; so you can select the one that best suits you according to your available space and your poultry project.
1. Il Verde Mondo Padovana XXL Wooden chicken coop
When it comes to looking for a good size wooden chicken coop, we can turn to proposals such as the Il Verde Mondo Padovana XXL model. This chicken coop has considerable measures, with a design distributed in 250 centimeters in length, 120 in width, and 155 in height. In this space, you can house 6 to 10 chickens, depending on their size.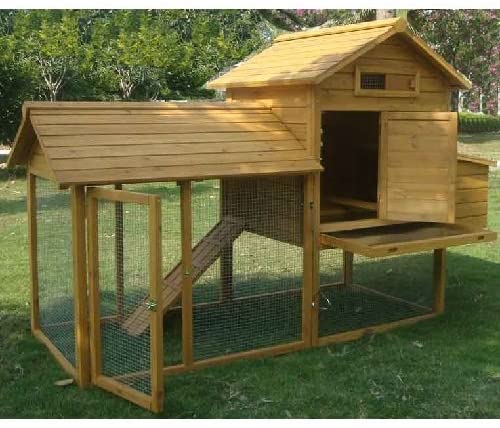 All this space has a construction in wood and high-quality mesh, which properly withstand the weather and the passage of the elements. It also has different access doors, to make it easier for you to carry out cleaning and similar tasks. These tasks are simplified thanks to its perch or a specific drawer to collect the excrement.
As for the assembly tasks, these are not particularly complex, also including the necessary treatment for the wood, which is enough to renew from year to year.
Give your chickens the space they need thanks to this complete chicken coop, loaded with accessories and accessories.
Space: Thanks to its characteristics, it is one of the largest products in its category, with the capacity to house up to 10 hens.
Materials: The chicken coop has a resistant construction in wood and metal mesh, which adequately withstands the passage of time.
Tray : This tray collects the excrement and simplifies the interior cleaning process of the chicken coop.
Collect eggs: This area is used to collect the eggs and prevent them from breaking or getting dirty.
Treatment: The wood is sent already treated, it is enough to renew the treatment every year.
Instructions: The assembly instructions are in Italian, although the process is not very complex.
2. Pawhut Outdoor Wood Integrated Chicken Coop Small Animals
If you want to be part of the exciting world of poultry farming in the comfort of your home, you can easily do so with this wooden chicken coop.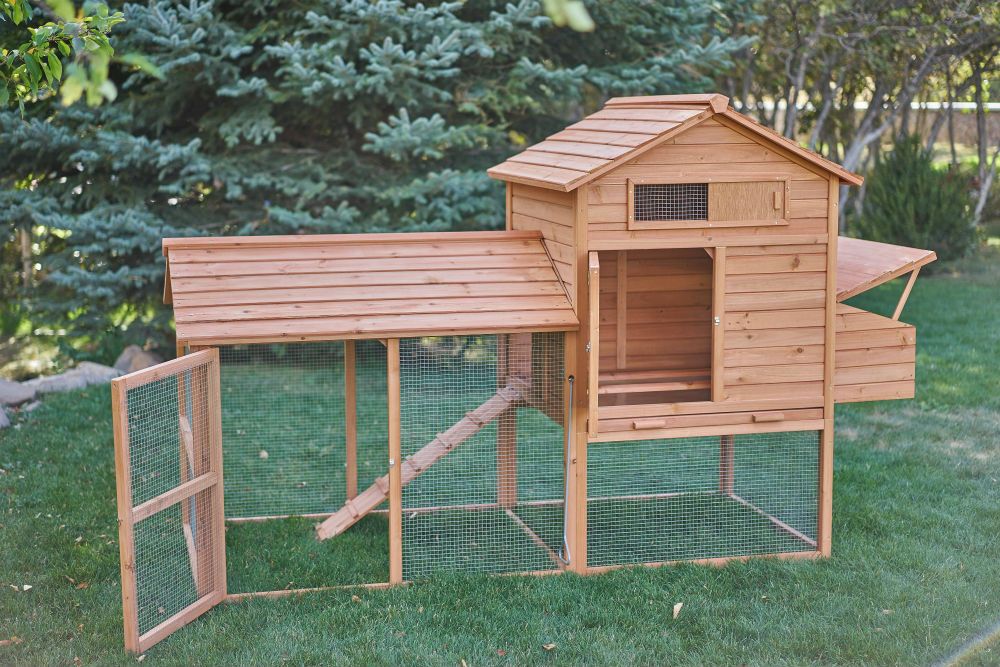 It could be the best chicken coop if you plan to include small breed chickens or partridges, since it is a compact model with the following dimensions: 2.13 m long, 0.9 m wide and 1.22 m high; which favors the comfort of the animals, while taking up little space in your backyard.
The design offers a floorless structure and an outdoor fenced space so that birds can peck in the wild without the risk of straying.
Reading suggestions; Chicken Names; 400+ Good and Funny Chicken Names
It also offers a box specially designed for laying eggs with easy removal from the outside, and in case it is necessary to change the place of the hen house it will be simple since it has two wheels that facilitate its transfer.
When it comes to providing shelter for your chickens, this could be the best chicken coop of the moment; read on so you know its pros and cons.
Easy to clean: For this, its ceiling offers comfortable access and since it does not have a floor, you can remove the chicken coop and clean it easily.
Movable: It has two resistant wheels that allow you to move it without any problem.
Compact design: Thanks to its dimensions, you can put it in your backyard or garden without taking up much space and without affecting the comfort of the birds.
Population: Its capacity is approximately for 3 or 4 hens, so it is not advisable to increase the population density.
3. Pawhut Large Fir Wood Chicken Coop with Tray
This model stands out among the best chicken coops of 2021, especially when it comes to small-scale poultry farming. It is convenient to use as a home due to its warmth and cozy design, preferably placing it inside a larger pan. Its dimensions of 150 x 100 x 96.5 cm make it a comfortable and safe hen house for 6 hens against predators.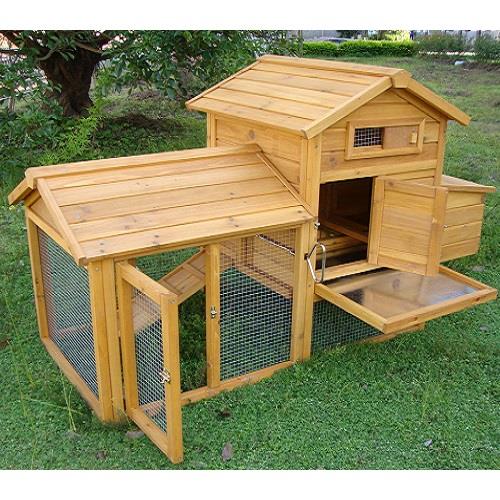 It is built in treated spruce wood, resistant to the weather and its roof protects from the sun and rain. It also has two large drawers for the hens to nest and lay their eggs; Likewise, its folding roof favors extraction, as well as cleaning the area.
Reading suggestions; The Best Drinker For Chickens Of 2021
It has a galvanized tray that collects the bird droppings, so to carry out its maintenance you will only have to pull it and clean it without any problem. In addition, its 4 legs keep it off the ground.
Compared with others in its category, this chicken coop is one of the functional and cheap models that the market offers you. Here is a summary of its pros and cons.
Doors: The structure offers a front door and a rear door, which favors access to the enclosure.
Security: It is a chicken coop that provides security to the birds since the doors and windows have metal locks.
Nests: It has two large nests for the hens to lay their eggs comfortably.
Weight: With a weight of 32 kilos, the product could be a bit difficult to move from one place to another, so a couple of wheels are missed.
4. Farm Casarejo Gallinero for Exterior Island with nest
Among the best brands of chicken coops on the market, we have Finca Casarejo, which with this model demonstrates the reason for its good name. We are talking about a hen house for six chickens, which can even accommodate eight, although as long as they are not very large.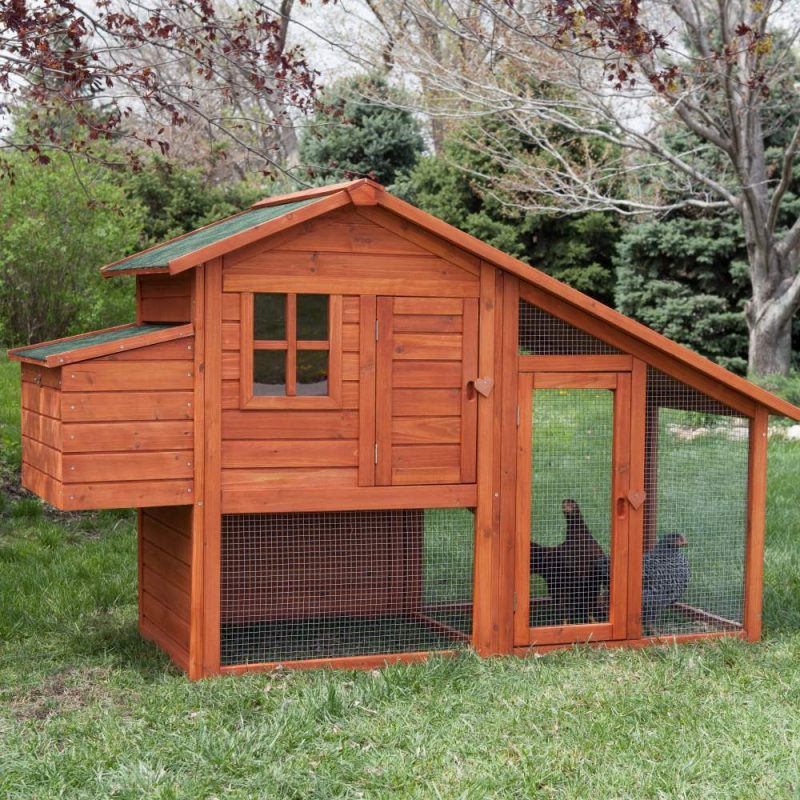 The interior space has everything you need for your animals to rest and be protected from bad weather, providing details such as treated wood or asphalt roof, which helps moisture to fall to the ground. It also incorporates a laying area, accessible from the inside, and that makes it easy to remove the eggs without disturbing the hens.
For the rest, the product is easy to assemble and is finished with details such as the access ramp, which also serves to close the interior when it is necessary to protect the animals.
Reading suggestions; Taking care of chickens chicks
We leave you more information regarding what this product offers you when it comes to housing your chickens comfortably.
Nest: The hen house incorporates a nesting area with access to the interior, to less disturb the animals.
Wood: Treated wood better withstands the passage of time and the weight of rain or humidity.
Asphalt fabric: This fabric prevents water leaks into the interior and reduces the effect of humidity and rain inside the chicken coop.
Measurements: Although its measurements are considerable, perhaps for 8 hens or more it is not enough.
Access: The access door is somewhat small, especially for larger hens.
5. WilTec Cage Enclosure Galllinero Exterior
When it comes to housing a good number of birds, it is necessary to resort to solutions that measure up, never better. So, if you are looking for a chicken coop for 10 chickens or more, you may want to switch to the larger models, such as the one WilTec presents.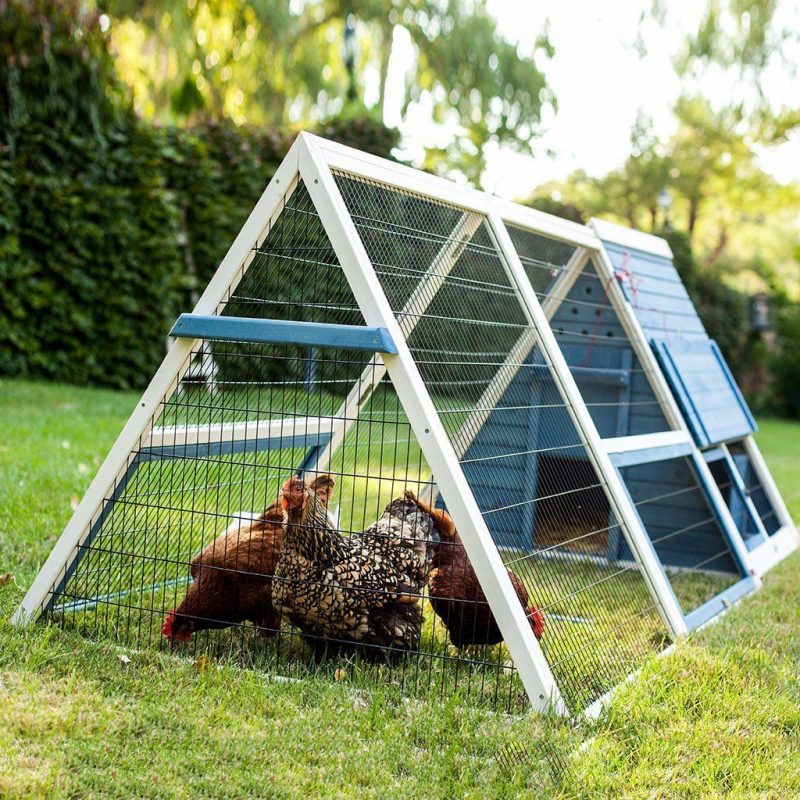 This enclosure has a rectangular design of 18 square meters in total, with a length of 6 meters and a width of 3 meters. Its height is 2 meters, so you will not have problems accessing the interior comfortably.
The product consists of a resistant structure, which combines steel tubes and high-quality mesh, incorporating a top cover that also protects your animals from the effects of the sun. So the result is more than interesting when it comes to housing a large number of animals.
Having a suitable space for your chickens is easy thanks to models like this one that we analyze below.
Space: It is one of the largest models on the market and offers enough space for a large number of animals.
UV fabric: This fabric protects animals against the effects of the sun and UV rays.
Resistance: The structure offers a resistant steel tube construction, which withstands the passage of time with solvency.
Door: Includes a very convenient access door, which also has a latch closure.
Sections: Unlike conventional models, this one does not have separate spaces, which you must add if you need them.
Protection: The protection it offers is lower than that of the models with wooden walls.
6. Farm Casarejo Norwegian Chicken Coop with Capacity for 10 12 hens
This large chicken coop with barn-like dimensions could be the perfect home for your chickens or any other domestic animal, such as rabbits, guinea pigs, partridges, chinchillas, and even some small breeds of ducks. Since it does not have soil, you can mount it on the lawn or on the ground, which will make the chickens happy; since it allows them to graze and peck at will.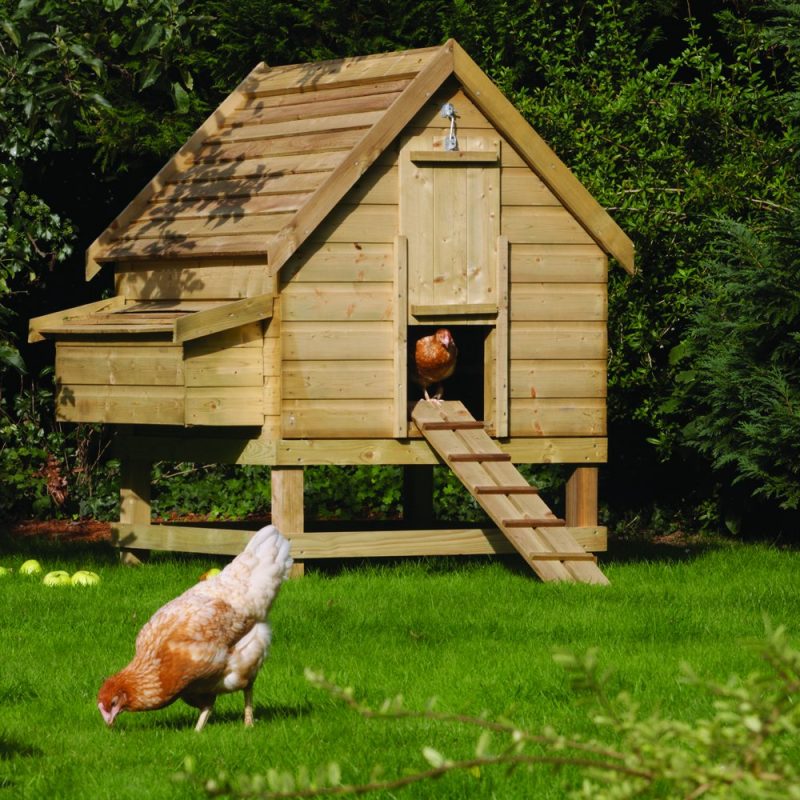 Its size of 190 x 245 x 190 cm offers you enough space to house up to 12 chickens. For this, it is designed with a ventilated lower area for the enjoyment of animals and an upper compartment that can serve as a room or resting place.
It also has a nest, which you can access from the outside; likewise, it is equipped with several perches for birds. On the other hand, its design integrates a weather-resistant roof, since it is covered with waterproof material.
Capacity: Given its XL dimensions, it is a model with the capacity to provide a comfortable home for 10 or 12 hens.
Materials: Made of high-quality wood, waterproof roof, and metal fence around it; offers safety and long service life.
Ramp and tray: The ramp connects the two areas easily and the removable tray collects the excrement for greater hygiene
Cost: It is the most expensive chicken coop in our entire selection; given its dimensions, design, and high quality, qualities that make up for the investment.