The chicken's cognitive abilities are far superior to what most people think. They are as much or more intelligent than other birds and mammals and have been underestimated over the past few years.
If you recently adopted a chicken, rescued it from a farm or a group of chicks were born on your farm and are looking for names for them, you've come to the right place. Pet Rescue Blog has prepared a list of names for chickens, these fantastic animals that can be excellent companions too.
Good Chicken Names
Many people may be surprised, but chickens are quite complex animals. They don't just feel hungry, hurt and afraid, they are capable of feeling complex emotions like boredom, frustration and joy. In addition, like other animals, they can be trained with positive reinforcement techniques.
Reading Suggestion: 900+ Best Bird Names for Budgies, Parrots, Cockatoos and More
If you intend to train your chicken or simply increase the bond between the two of you, it is important that you choose a name for it. Chickens can learn their own name and respond to the call.
We think of the most original ideas for good chicken names
| | | | |
| --- | --- | --- | --- |
| Names | Names | Names | Names |
| Anita | Beautiful | Beautiful | Bibi |
| Blackberry | Butica | Camila | Caramel |
| Cocoró | Curious | Dada | Diana |
| Diva | Doll | Dolores | Eulalia |
| Eurica | Fifi | Franky | Frederica |
| Gaga | Helena | Hippie | Hopscotch |
| Janeca | Joana | Joaquina | Juju |
| Julia | Kika | Laurinda | Lulu |
| Matreca | Micas | Miffy | Nancy |
| Nandinha | Naughty | Nenuca | Octavia |
| Otty | Outrigger | Patricia | Patty |
| Penelope | Popcorn | Rafa | Ricarda |
| Rufia | Sabrina | Samira | Silly |
| Soraia | Spooning | Tati | Zizi |
Funny Chicken Names
Since it is proven that even different personalities hens have, why not give a name that matches your hen's personality? Use your imagination when choosing a name for her. The important thing is that the name conveys positive feelings to you and that it is not similar to command words or commands so as not to confuse the chicken if you intend to train it.
The chicken brain is about the size of a walnut. However, in no way does this reduced brain size limit their capabilities. Chickens are capable of carrying out several tasks at the same time.
In addition, their most important sensory organ is the beak, which has the ability to taste, smell and touch! As it is a very sensitive organ, more and more studies point out that amputation of chicken beaks, a very common practice in intensive farms, causes a lot of pain and a significant decrease in the welfare of these animals.
If you recently adopted one of these animals, We list some of funny chicken names in below table
| | | | |
| --- | --- | --- | --- |
| Names | Names | Names | Names |
| Amelia | Olive | Aurora | Big Bird |
| Biscuits | Cracker | Cookie | Buffy |
| Eggsorcist | Egger | Emily | Sweetie |
| Princess Leia | Queen | Raulina | Shakira |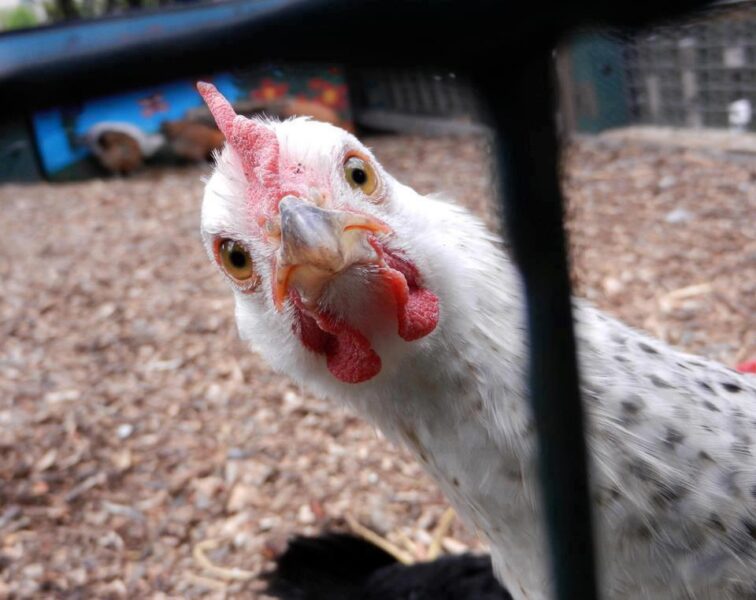 Cute Female Chicken Names
Did you adopt a chick? See our list of Cute Female Chicken Names:
Yellow
Friend
Barbie
Bilú
Egghead
coal
Crumbs
Herman
Girl / Kid
Lego
omelet
Pamela
Peninha
Chick Chick
Pinty
Paint
Piniquita
Juniore
Xerox
Nap
Tweety
Tillie
Zazu
Zé
Zézinho
Reading Suggestion: British Longhair – All You Need to Know About British Longhair Cat
Do you have any other ideas for names for pet chickens?
Do you have a pet chicken and gave it a different name than the ones here? Share with us!
Write in our comments other cool chicken name ideas. Your ideas can help other guardians of these animals to choose a name.
We also want to know the unique abilities of your chickens and adventures that they carry out. It is time to break the stigma that these animals are silly. Let's show everyone how smart they are!