Every dog should possess a collar to carry their license, identification, and rabies vaccination tag with them. Dog collar markets are wide. Finding a collar that perfectly matches your dog's or your style is easy.
Remember, not all collar types are suitable for all dogs. Before making a purchase for your dog, it's advisable to read on the internet like the Halo Dog Collar reviews or explore more options. To simplify your research, we've prepared this blog..
Dog Collars that Fits Best – Hot Picks
Basic or Flat Collar
This dog collar is a basic item. There are s several colors and styles available in the market. It features a plastic snap or buckles closing and a ring for identification tags. Dogs can carry flat collars easily. It will not choke or slide from the neck of your dog.
You can measure the fittings by placing two fingers beneath the collar. This collar is simple and quite popular among dog owners. A Happy Choice.
Head Collar
The head collar functions similarly to a horse's halter. The collar's top strap rests behind the dog's ears and is fastened around its neck. The other strap goes around your dog's nose in a loop. The base of a muzzle loop works as an attachment point for the lead.
The head collar works well for strong, active dogs that jump and pull suddenly. The head collar should be correctly fitted to function properly. The purpose of the head halter is to gently guide your pet in the direction you want them to go rather than pulling or jerking them.
The collar includes manuals and a DVD from the company that made it. If not, ask your dog's trainer or a salesperson who knows a lot about dogs for help. With the right size and use, your dog should be less likely to get hurt.
Reading Suggestion: Can Water Fountains Make Cats Sick
Martingale Collar
These collars are usually known as Limited-slip collars. These are designed for specific species, such as Greyhounds, Whippets, and Salukis. It's especially good for fearful dogs that can escape their collars. Aggressive dog owners usually prefer this collar to make them in control through narrow necks.
A correctly set collar will fit your dog's neck without choking them. It gets tightens as your dog tries to escape.
Elizabethan Collars
The Elizabethan collar sometimes called an "E-collar," is a broad, cone-shaped piece of plastic that you can use to keep your pet from eating or scratching wounds while healing after a medical operation or other procedure.
The Elizabethan collar typically has tabs or loops that can be connected to your dog's standard collar. Some model includes hook and loop fasteners for additional security. These collars are available in a range of sizes to guarantee that your dog will fit comfortably. With the collar on, your dog will be able to eat but not reach the healing area.
There are alternatives to Elizabethan collars if your dog won't wear one. These soft, circular collars don't restrict your dog's movement or vision.
Vibrating or Sensitive Collars
This kind of collar attracts your dog's attention using vibration rather than an electric shock. When you have a deaf dog that is unable to detect your voice, these sensational vibrating collars are very helpful.
GPS Collars
If your pet gets lost, this collar will help you find them using GPS technology. Although these are a fantastic alternative for finding a lost pet, they depend on satellite availability and wireless charging, which make them less useful in isolated places.
Halo Collar Alternative
Halo collars are a type of pet collar that can be used to prevent a dog from biting, scratching, or licking a wound. An alternative to the halo collar is an e-collar, also known as an Elizabethan collar.
This collar is a cone-shaped piece of plastic or laminated cardboard that is placed around the dog's neck to keep them from reaching the wound. E-collars are generally more comfortable for the animal than halo collars and can be adjusted to fit any size dog.
Reading Suggestion: Why Schnauzers Are The Worst Dogs
Halo Collar Vs Spot On Collar
A halo collar is a type of collar that is made of a strip of fabric or leather that encircles the neck and is often decorated with metal studs or other decorations.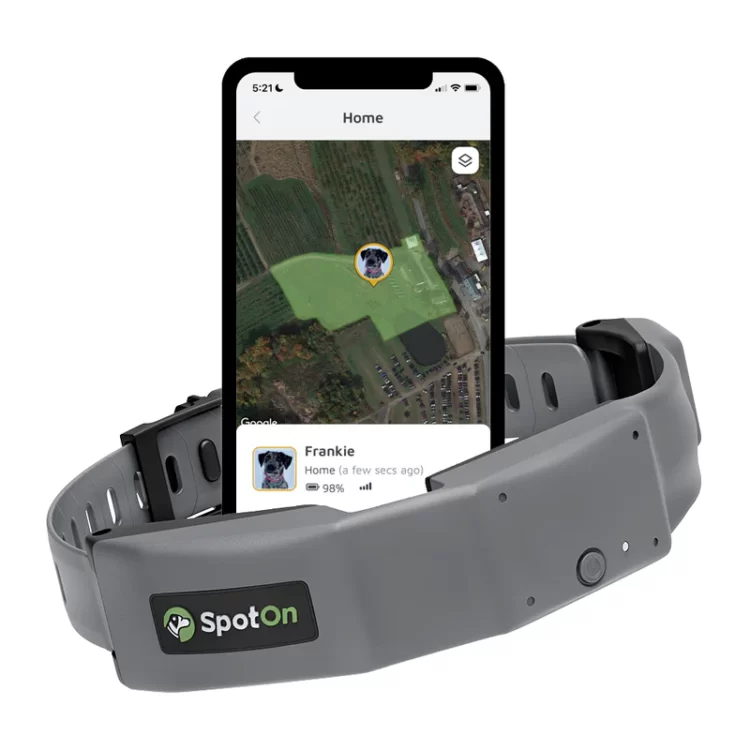 A spot on collar is a type of collar that features a metal buckle or rivet that attaches to the neck of the wearer. This style of collar is often used for formal wear or for a more polished look.
Frequently Asked Questions
How Does Halo Collar Work?
A halo collar is an inflatable pet collar designed to protect your pet from licking or biting an injured area or a surgical site. The collar is made of a soft, lightweight material and has an inner inflatable cushion that fits snugly around your pet's neck.
When your pet attempts to lick or bite the area, the cushion inflates and creates a barrier, preventing access to the area. The collar can be adjusted to fit comfortably on your pet and is available in a variety of sizes.
How Much Does Halo Collar Cost?
The Halo Collar costs $149.99.
How To Train Dog With Halo Collar?
Start by introducing your dog to the collar. Let them become familiar with it by wearing it around the house for short periods of time.
When your dog is comfortable wearing the collar, start to use it during training sessions. Begin with basic commands such as sit, stay, and come.
Reward your dog for obeying commands by giving them a treat or verbal praise.
Use the collar's vibration setting to help reinforce commands. The vibration should be used sparingly and only when necessary to help teach your pup the desired behavior.
Once your dog is familiar with the collar and basic commands, you can begin to use the shock/stimulation setting. This should only be used as a last resort and should not be used in a punitive way.
Continue to use reward-based methods and positive reinforcement during training sessions. Your dog should always feel safe and secure while wearing the collar.
Slowly increase the level of stimulation or shock until your dog responds to the command. This level of intensity should be determined on a case by case basis depending on the size and breed of your dog.
Once your pup is consistently responding to commands, you can reduce the intensity of the stimulation to a lower level.
Remove the collar after each training session to allow your dog to relax and unwind.
Lastly, always monitor your dog when they are wearing the collar to ensure their safety and comfort.
How To Turn Halo Collar Off?
To turn off a Halo Collar, press and hold the power button for 5 seconds until the light on the collar turns off.
Final Tips and Suggestions
When choosing a collar for a dog, the first step is to measure the neck's circumference and size to pick a collar that can be adjusted according to your pet's comfort. Owners should be aware of the different kinds of collar materials as well. The most common materials for dog collars are nylon, metal, and leather.
While it's true that some leather and nylon collars have plastic components, facts show that these materials are much simpler to maintain than metal. The metal in collars will rust and corrode over time, making them worthless.
While it's true that some leather and nylon collars have plastic components, facts show that these materials are much simpler to maintain than metal. The metal in collars will rust and corrode over time, making them worthless. Many nylon and leather collars are water-proof. This is a nice feature, and they can be washed and dried in a few hours.
Collars are available in a wide variety of styles and materials. You can get it with straps and buckles. Because of this, you shouldn't make the straps or buckles your first priority while purchasing. Make sure the collar fits nicely and must be gentle on the dog.
Use fingers inside the collar while putting it on the dog's neck. The collar needs some loosening if you can only fit one finger into the opening. A dog's collar is a good investment, so it should be your first consideration.
Explore some other pet collar related blogs here