Opinions On The Best Dog Collars
Dog collars are not mere ornaments for your pet. They are accessories that fulfill specific functions and have been designed to make your walks better. You will gain peace of mind and your dog will be able to enjoy greater freedom. Next, we talk about some of the best dog collars of 2021.
1. Dog Training Collars
Wodondog 300 Meters
This dog training collar will become an essential accessory during walks with your pet. Specifically, the set includes two units, as well as a remote control that works at a distance of up to 300 meters.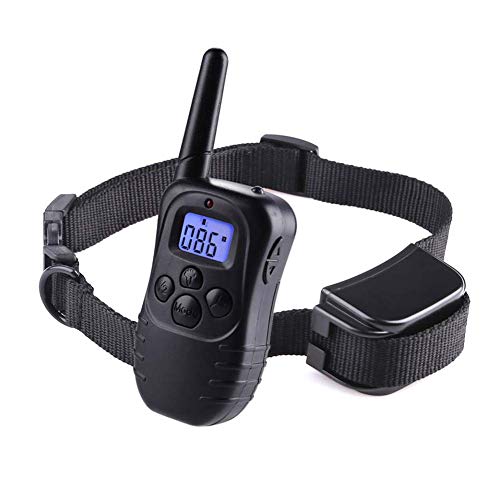 Both the control and the dog training collars are rechargeable. These are also waterproof, so the dog can even swim with him. It has 4 training modes: shock, light, vibration, and sound. These will allow you to eliminate bad behaviors after several sessions. The manufacturer recommends not starting the training with very high intensity and observing the reactions of the animal.
The remote control is easy to use and has a bright display. If you are wondering what is the best dog collar that favors their training, this is a good option.
To educate your pet and make it obedient, it is advisable to opt for the best dog collar of the moment.
Units: This set includes two dog collars, so it is ideal if you have two animals at home.
Remote control: It is accompanied by a practical remote control equipped with an LED screen that works up to 300 meters from the receivers.
Modes: Allows you to choose between 4 modes: shock, light, sound, and vibration. Each set is designed to achieve a certain reaction from the pet.
Instructions: The instructions are in English only, although it is possible to request an electronic manual in Spanish from the manufacturer.
2. Personalized Dog Collars
Calabash 3141932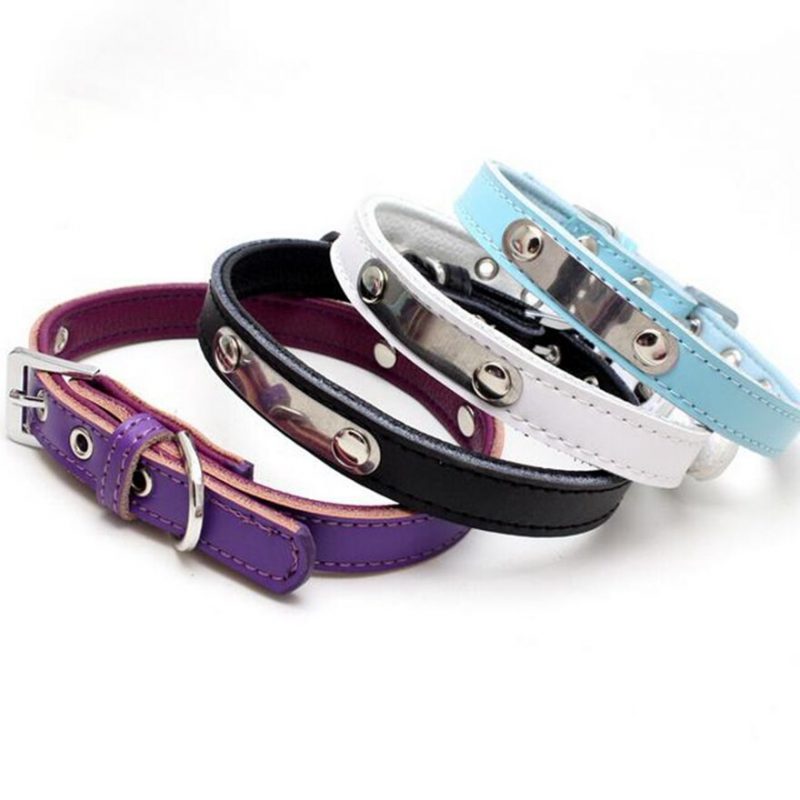 To make your pet look different from the others, you can bet on beautiful personalized dog collars. The best thing about these items is that they are available in different designs and allow various combinations to be made until you find the optimal model.
It is the case of this model that incorporates a stainless steel plate in which you can add the text you prefer (up to two lines in 20 characters). Thus, you can record your dog's name and date of birth, for example. In relation to the patterns, there are several to choose from, all of them very modern and colorful.
Reading suggestions; How to Introduce your Dog to a New Puppy
Due to its fabric, it can be easily machine washed. Considered the best value for a money dog ​​collar, this model is available in three sizes: 20-32 cm, 29-49 cm, and 37-64 cm to adapt to all breeds.
Your dog is not like the others, so it is best to opt for a collar that is unique and exclusive. This article is a great idea.
Prints: This necklace comes in different designs, all of them very modern and original. Thus, you can select the pattern that best suits your dog.
Size: It is available in three sizes: small (20-32 cm), medium (29-49 cm), and large (37-64 cm). It is a model that fits any breed of dog.
Plate: It includes a plate made of stainless steel on which you can engrave your name, date of birth or any other information about your pet.
Strap: A user lacks that it is not possible to find a strap to match the collar.
Related: The Best Cat Collars Of 2022
3. Original Dog Collars
Halti HC025
If you are looking for a collar with style and that, at the same time, is very comfortable for your pet, you cannot miss this model. Purple in color, it is also available in other colors such as black, blue or red. As each model sports two tones, the effect is much more flirtatious.
The collar is made of nylon and lined with neoprene. These fabrics not only guarantee maximum comfort, but also resistance. The reflective stitching also offers great visibility in low light conditions.
This article has a three-point closure, which provides extra security. Neoprene lining is antimicrobial. In addition, it repels odors and is very easy to maintain. Includes a ring to fit the strap.
The original dog collars are some of the most sought after, as they bring a touch of extra cuteness to pets.
Stylish: This necklace is available in several colors, each with two shades so that it provides a plus of style.
Materials: It is made of nylon and covered with neoprene. The lining is antimicrobial and very easy to clean.
Closure: Three-point button closure allows the collar to fit snugly and stay in place.
Reflective: Some users claim that the reflective effect of the collar seam is not too noticeable.
4. Hunting Dog Collars
Chapuis Sellerie SLA089
Made of chromed steel, this model is available in different sizes: S (30 cm), M (40 cm), L (55 cm), and XL (65 cm). Specifically, this article is size M, so it is designed for medium-sized dogs. It is a model of the semi-strangler type with 2 rows of mesh.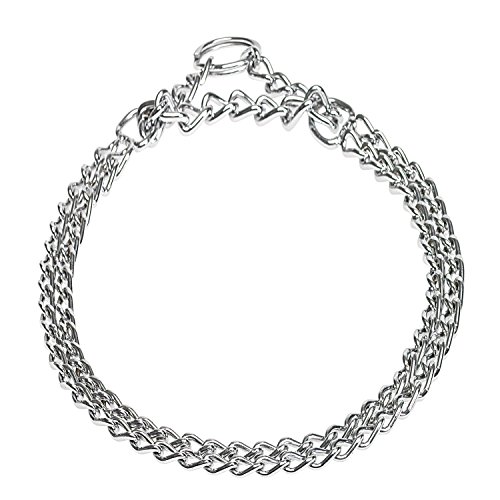 In the event that you are looking for cheap dog collars, this model could be to your liking. But not only its price attracts attention, but also its design, especially suitable for hunting dogs.
Resistant and shiny in character, it is a product that fits perfectly with all types of dogs. Its materials guarantee the highest quality, hence it is a necklace that stands out for its long useful life.
The collars for hunting dogs must meet the conditions of resistance, durability, and excellent materials. This model could be a good example.
Material: This necklace has been made of chromed steel, a material that is characterized by its resistance and long duration.
Size: It is available in 4 sizes. The small size has a length of 30 cm; the median, 40 cm; the large one, 55 cm; and the extra-large, 65 cm.
Two rows: The design of this model does not go unnoticed. Specifically, it is a semi-strangler collar that has two rows of mesh.
Oxide: A user says that, after a few days of use, the necklace rusted, although it could be a specific case.
5. Collars For Large Dogs
Jammylizard Pink
Collars for large dogs can also add interesting touches of glamor. This is the case of this pink model, with a crocodile skin effect and made of synthetic leather. It is an exclusive JL Pet product that is also available in other very modern colors, such as black, blue, or red.
Reading Suggestions: Black Dog Names &; 400+ Names For Black Dogs
Each necklace is adorned with small silver-plated bone-shaped appliques. For this reason, it is a very appropriate product for dogs. The best part is that it has a length of 44.5 cm that can be extended up to 55 cm, making it a great collar for larger breeds.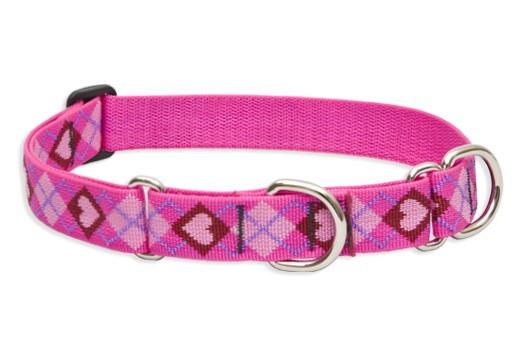 Since it has a buckle, it is very easy to adjust. It is also a product that enjoys great resistance, thanks to its double-layer design.
Sometimes identifying a good collar for large dogs can be tricky. Check the specifications of this model and you will be convinced.
Design: Pink, although available in other colors, this necklace stands out for its crocodile skin effect and is adorned with bone-shaped silver-plated details.
Materials: It is made of double-layer synthetic leather, so resistance is more than assured.
Length: It is an ideal model for large dogs judging by its length: 44.5 cm and expandable up to 55 cm. It has 5 holes and an easy-to-use buckle.
Rigidity: Being made of synthetic leather, it is possible that this dog collar may be somewhat stiff during the first use.
6. Luminous Dog Collars
Masbrill Pink
In poor visibility conditions, it is more than convenient for your pet to have a luminous collar, so that you can identify it immediately. With a length of 50 cm and a width of 2.5 cm, this model is equipped with LED reflective technology, so the dog will be easily seen in the dark. Lasts up to 10 hours.
The best thing is that it is an article to use in any season of the year and time of day. In the morning, it can act as a nice ornament. As it is very comfortable and easily adjustable by means of a buckle, the dog will not feel any discomfort.
It incorporates 6 light chips and four adjustment modes: on, fast flash, slow flash, and off. It is a waterproof necklace and is available in various colors (pink, blue, green, or orange) and sizes.
The luminous collars for dogs allow them to play peacefully and you, at the same time, be calm, because you will be watching your pet at all times.
Luminous: This necklace is equipped with 6 LED chips, responsible for offering light in the dark. You can choose between 4 modes: on, fast flash, slow flash, and off.
Waterproof: It is a waterproof model and, therefore, waterproof. The dog can even bathe with it.
Durable: It is built to run for at least 10 hours straight. It should be noted that it is rechargeable.
Fragile: In the opinion of one user, as the coating of this plastic collar, it could easily break.
7. Gps Collars For Dogs
Tractive GPS
This GPS collar allows you to locate a dog in a few seconds, as well as track the animal. The best thing is that it has no tracking limits (it works in 150 countries), unlike the short-range offered by devices that work with Bluetooth.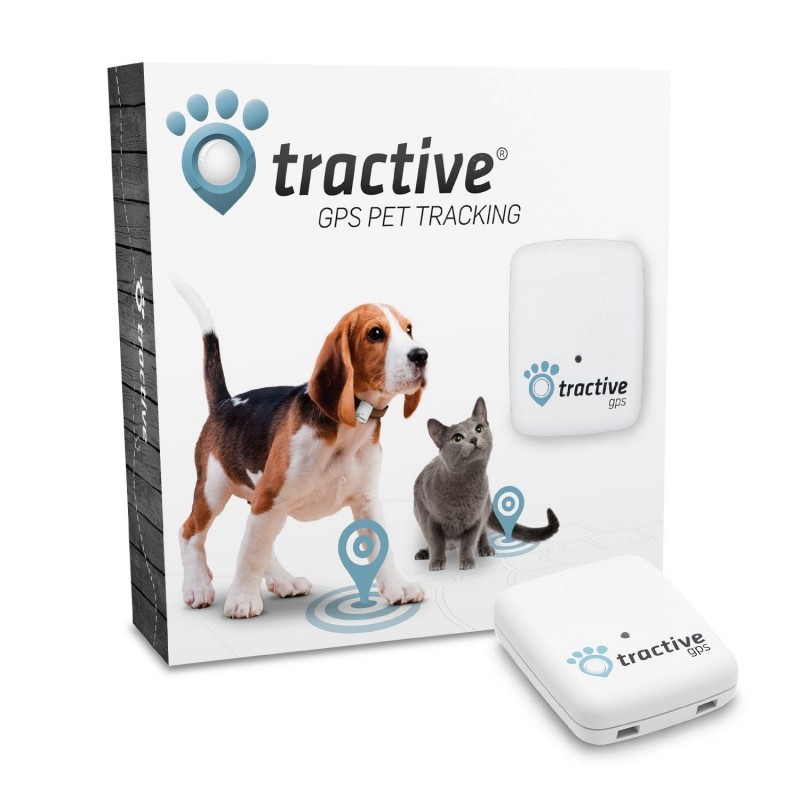 This model makes it possible to monitor in real-time and display the different locations where the dog was. You only need to download a free application on your smartphone or tablet to see the exact location. It also allows you to establish a practical virtual fence so that the dog does not leave a certain perimeter.
White in color, although also available in pink and camouflage print, this necklace is equipped with a rechargeable battery that lasts between 2 and 5 days. It recharges to 100% in just 2 hours. These GPS collars for dogs have a weight of about 35 grams and are suitable for pets from 4.5 kg in weight.
To keep your pet under control at all times, GPS collars are a great option. Check the characteristics of this product.
Geolocation: This model allows us to know the exact location, as well as the history of the dog's locations.
Virtual fence: Provides the ability to set a virtual fence. When the dog leaves the established perimeter, the owner will receive a notification.
Rechargeable: It consists of a rechargeable battery that is ready in just 2 hours of charging. This lasts between 2 and 5 days, depending on the use
Subscription: This product requires a subscription, which means that you have to pay a fixed amount per month to enjoy this service.