But concerned about whether to choose a Male or a Female Puppy?
Don't Worry!!
In this article, you'll make your choice. Choosing a German Shepherd is purely based on whether it is your very first Dog or a first GSD.
If It Is Your Very First Dog
If this is your first time trying to adopt a dog and most importantly a German Shepherd, then a Female GSD will be an ideal choice.
Females are generally easier to train than Male GSD's, which is important if you're owning a dog for the very first time, an inexperienced dog owner will have a hard time training a Male German Shepherd and there is a higher possibility that they may give up midway through training.
However, That does not mean that a Female German Shepherd can be easier to train, what I'm trying to say is Female GSD's are relatively easy to train when compared to a male German Shepherd, If you think that training a Female GSD is a straightforward process, FORGET IT!!
Easier Training means, it would be: Fun For Both of You and will be Sufficient.
When it comes to training both Male or Female GSD an owner needs consistency, repetition, patience, and persistence. Also, Female german shepherd dogs are quite soft-tempered when compared to Male German Shepherds.
If you want your dog to be with you for a longer period of time, then a Female German Shepherd is the one for you because they tend to live longer than a Male GSD which can live a little less than 10years whereas a Female can live a little more than 11years.
Female GSDs are also smaller in size compared to a Male who weighs in at 66 to 88 pounds, whereas Females weigh in at 49 to 71 pounds.
However, if you're dead set on getting a Male German Shepherd, it's absolutely fine, and probably trainable even if you're a first-time dog owner. But the thing is you should be ready, you got to be ready to spend some time with your dog, if you can't it's better to back off.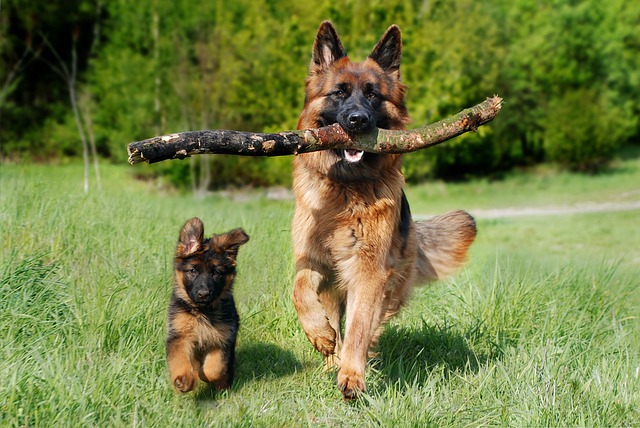 You should not let your Male German Shepherd Dominate you, because of the fact that Male GSDs are more dominant, you will have to work hard in training to make your dog recognize you as his leader.
And if you fail to do this, then you're in trouble, he'll stop listening to you and will be ready to do whatever he wants. So make sure if you're ready for all this before choosing a Male GSD.
You can also opt for a professional dog trainer to help you train your dog and it is a great option especially being a first-time Dog owner you might need some help, however you should also be ready to spend some money while training from a professional trainer.
If It Is Your First German Shepherd
If you're a dog owner or have owned a dog before, then you might have gone through some training and should have a basic idea on what to expect.
If so, getting a Male German Shepherd will be great, because you have that experience. However, as always, persistence, patience, and repetition are key. Also, make sure you have the time to contribute to training your dog.
Anyways, you've got the experience and it's up to you to choose what's gonna suit you.
Male Vs Female German Shepherd In A Nutshell
| | | |
| --- | --- | --- |
| GSD | MALE | FEMALE |
| SIZE | | |
| LIFESPAN | | |
| AGGRESSION | | |
| TRAINABILITY | | |
| MORE DOMINANT | | |
| PROTECTIVITY | | |
| FRIENDLY WITH CHILDREN | | |
| BEST FOR FIRST TIME OWNERS | | |
German Shepherd Training Tips
If you want some basic ideas on training your German Shepherd, here is a small guide, as I said before, training a GSD is not easy, you need to be consistent, persistent, patience, and repetition which is key if you're to be successful in training. Here are some basic German Shepherd training commands that you can try teaching your Dog
Come
while indoors call him out with his name and when he looks at you show him his favourite treat and tell him to come and get it by using the command ''COME"
Sit
take a treat to your hand, avoid getting it close to him, hover the treat around him and make sure the treat is lined up with his nose so he'll be able to sniff it and continue to hover the treat around him this'll automatically make him "SIT".
Over To You
I hope this article was useful for you to choose the perfect German Shepherd for you and I hope you'll make a good decision and will get the right dog that will be a lifelong companion for you and your family. Whether you go with a Male or a Female, I'm pretty sure both will be your perfect canine companions.