Cat collars today have different functions, therefore, you could find countless models on the market, starting with those special to enhance their beauty, those that are customizable so you can easily identify the furry pet, and those that help to keep it healthy and safe from ectoparasites that are often a threat to its health.
1. FRETOD Antiparasitic CAT
Collars
Among the best cat collars is this model that has been designed and manufactured to keep your pet protected from annoying ectoparasites, such as ticks and fleas.
That's right, we are referring to a cat flea collar capable of providing a total of 8 months of persistent prevention against these parasites, which represent a threat to the life of your cat.
In addition to being highly recommended by veterinarians, this model has a waterproof design, which means that you could even give your pet a bath without having to remove the collar. Likewise, it could easily adapt to all size 23 cats, that is, those small and medium-sized.
As for its use, you only have to place it around the cat's neck and it will be in charge of repelling lice, fleas, mosquitoes, and ticks that want to lodge in its body.
If you want to buy the best cat collar of the moment, you should look at each of the characteristics offered by the model that most attracts your attention, so that you can confirm if it is what your pet really needs.
Reading Suggestions; Boy Cat Names; Find the Perfect Male Kitten Name
Size: This is a model recommended for cats of size 23, that is, small and medium-size.
Design: The design of this collar is waterproof, so your cat can be in the rain or take a bath without having to remove it.
Protection: With the use of this flea collar your cat will be protected for 8 consecutive months against ectoparasites that could cause damage to their health.
Color: This necklace has been manufactured only in white, so if you want to choose between several shades you should look at another model.
2. Pawtitas Glow in the Dark Cat Collar
If you still have doubts about which is the best cat collar, Pawtitas has a good option for you. This is its model that glows in the dark, so your cat pet can always be visible to the eyes of others.
Likewise, its use is suitable for cats at any stage of their lives, whether they are small or adults, since its size is adjustable and you could adjust it between 20 and 30 centimeters in length, depending on the neck of your pet.
As for its effectiveness in preventing the cat from suffocating, due to getting stuck somewhere, you should know that this cat collar with a safety lock includes a clasp that will open in these cases so that it can free itself. Thus, your cat can play, climb and get into small places without risk.
Best of all, this collar has adequate strength as it is constructed from a single piece of ripstop nylon, therefore it will surely provide a long lifespan for your pet.
Partitas could be the best brand of cat collars since it offers innovative models capable of providing your cat with comfortable and safe use at all times.
Manufacturing: Your cat will have at its disposal a resistant and durable collar since it is made up of a single piece of anti-tear nylon.
Safety: This collar has a safety buckle that will allow the collar to always stay on the cat's neck even when he runs and jumps nonstop, but will allow him to free himself in case of danger.
Size: You can adjust the size of this collar to fit your pet's neck easily so that it can fit properly.
Use: At first this collar may be a bit stiff and hard, but over time it molds comfortably to your cat's neck.
3. Waterproof Tractive GPS Tracker for Dogs and Cats
Now we present to you what could be the best cat collar if you are looking for one that helps you always keep your feline located. In addition, for greater efficiency, it is made up of a light and waterproof tracking device, that is, even in the rain it will continue to work properly.
This GPS cat collar has a built-in SIM card, just like a smartphone, and requires minimal internet service to cover mobile connectivity. For its part, it does not have any tracking range limit, which means that you will always be able to know where your pet is.
Due to its shape and size, this device could easily be adapted to any collar or harness for dogs or cats and is available in two colors: white and pink. Likewise, it weighs only 35 grams and is equipped with a rechargeable battery that could offer you autonomy of 2 to 5 days depending on the power and coverage of the signal.
If you want to know which cat collar to buy, you should carry out a study of all the models that you like the most so that you can analyze their advantages and disadvantages in order to choose the best one of all.
Range limit: Unlike other GPS trackers that work through a Bluetooth connection, this model does not have any tracking range limit.
Battery: This model includes a rechargeable battery that could offer you a range of 2 to 5 days in total.
Adaptable: Due to the shape and size of this device, you could easily adapt it to any cat or dog harness or collar.
Interference: You must consider the fact that when you are indoors, near the forest or between tall buildings, there may be interference in the GPS, thus decreasing the accuracy of the location.
Halloween Cat Collars
Halloween cat collars are a great way to add some spooky flair to your furry friend. These adorable accessories come in a variety of designs, from classic black cat silhouettes to spooky spider webs and glow-in-the-dark skulls. Many collars also feature fun charms like pumpkins, bats, and ghosts. There are even glittery collars for your more glam pet.
Whether you're looking for a subtle way to add a bit of Halloween spirit to your pet's look or you want to make a bold statement, there's a Halloween cat collar to suit every style.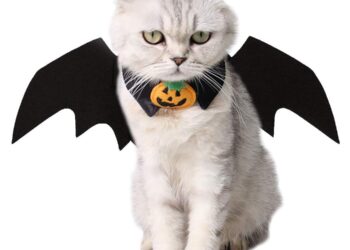 Cat Collars Luxury
There are many luxury cat collars available on the market, such as leather collars, rhinestone collars, personalized collars, and collars with bells and charms. Some brands even offer collars with GPS tracking capabilities.
Prices range from around $10 to over $100, depending on the type of collar and materials used.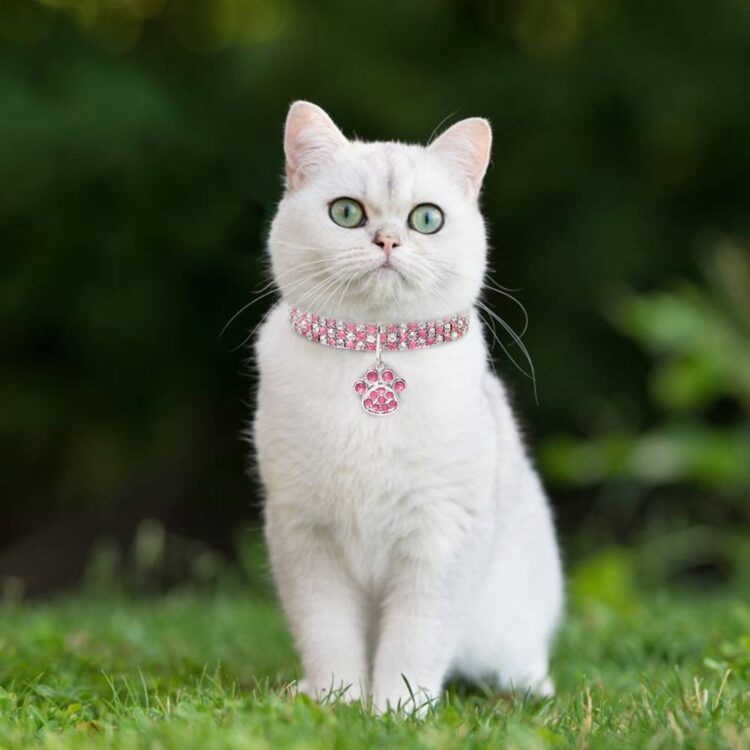 Custom Cat Collars
If you're looking for a unique and custom cat collar, then there are many options available to you. You can choose from a variety of materials, such as nylon, leather, and even rhinestones. You can even have your pet's name or a special message embroidered onto the collar. Additionally, you can choose from a variety of colors and designs, such as stripes, polka dots, and even personalized images.
Finally, if you'd like to add a bit of bling to your pet's collar, you can also find collars that feature crystal charms or charms with rhinestones.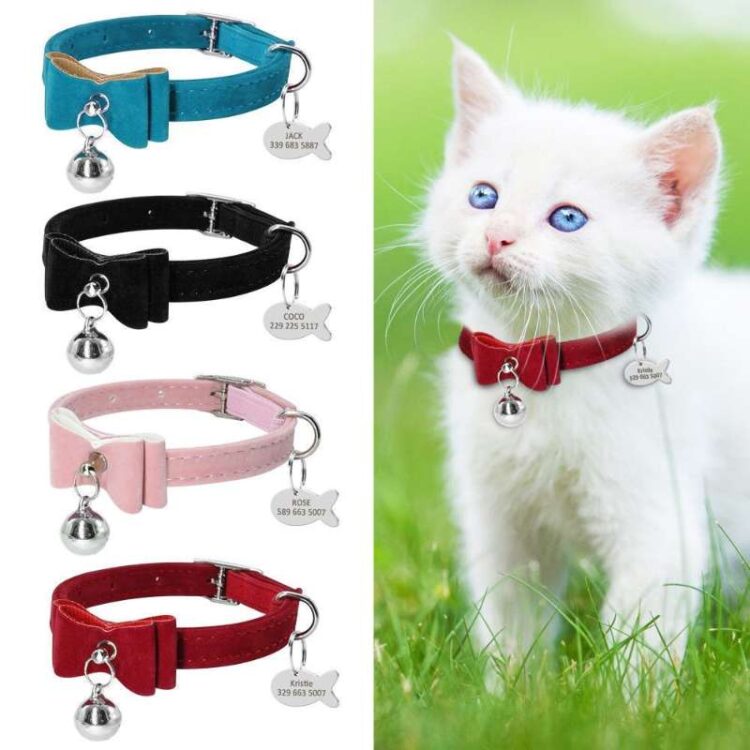 Frequently Asked Questions
Q. What Type Of Cat Collar Is Best?
A. The best type of cat collar depends on the individual cat and its needs. Breakaway collars are a popular choice as they are designed to snap open if the cat gets caught on something, helping to prevent injury or strangulation.
Flea collars can also be beneficial for cats that spend time outdoors. Reflective collars are a good option for cats that roam at night, as they are visible to oncoming traffic. Ultimately, the best type of collar for your cat is the one that suits their individual lifestyle and needs.
Q. Do Vets Recommend Collars For Cats?
A. Yes, vets do recommend collars for cats. Collars can help identify cats if they become lost, and some collars also contain flea and tick preventatives. However, cats should never wear collars with bells or any other items that may become tangled, as this can be dangerous.
Q. Is There A Cat Collar That A Cat Cannot Remove?
A. Yes, there are several cat collars that a cat cannot remove. Most of these have breakaway safety features that allow the collar to come apart if the cat's collar gets stuck on something. Additionally, some collars come with a locking mechanism that can only be opened with a special key.
Q. How To Use A Cat Collar?
A. After having bought a collar for your cat, you will surely be wondering how to use it or how to put it on without causing discomfort to your cat. It should be noted that some people comment that when you place the collar around your cat's neck you should make him feel special and pampered so that he leaves fear aside.
While you carry out this action, speak to him in a calming and delicate voice, to provide him with a comfortable and appropriate experience. You could even give her a treat after you've successfully placed the collar on her.
Q. How To Make A Cat Collar?
A. If you want to carry out the elaboration of a collar for cats, you could use a nylon ribbon of the color and design that you prefer. Of course, this should have more or less a width of 1.5 centimeters and its length could be about 50 centimeters, all always depending on the size of your cat's neck.
On the other hand, you will have to get a crescent that is the width of the nylon strap and a regulator to be able to adjust the collar to the cat's neck as much as necessary.
Now, you only have to insert the half-moon and one of the parts of the closure that you want to use on the right side of the ribbon, while on the left side you will have to place the regulator and the other part of the closure for the necklace.
Make sure to pass the tip of the collar correctly through the center of the regulator and then fix it with the help of a little silicone and a little manual or machine sewing and that's it.
Q. At What Age Can A Cat Be Given A Flea Collar?
A. According to the recommendations of some specialists, the most appropriate thing would be to use a flea collar on a cat from 12 months of age or older, since putting this accessory on your pet cat ahead of time could cause problems in terms of its Health.
This is because such collars contain effective doses of medication that could end up being harmful to young cats, due to their nervous system which could still be very delicate compared to that of an older cat.
Q. How To Feed A Cat With An Elizabethan Collar?
A. If you want your cat to be able to eat comfortably and appropriately while wearing an Elizabethan collar, you should place their food portions in shallow and wide containers, so that their access can be less complex. Likewise, the water for its hydration should be at a prudent height that it can reach.
Q. How Can I Get My Cat Used To Wearing A Collar?
A. This can be a very difficult task depending on the behavior and mood of your pet cat. Therefore, below, we will provide you with some tips that could help you get your cat used to wearing his collar all the time.
During his first time, we advise you to leave the collar alone for a few minutes so that he can begin to get acquainted.
Of course, do not forget to put it on every day and leave it on for longer periods, until you can create an appropriate habit since the best thing would be that you can wear it all day and every day without inconvenience. Some people recommend giving the cat a treat every time the collar is allowed to be put on and not trying to take it off.
Now, if he tries and succeeds, then you just have to put it on again but this time without rewarding him, so little by little you will be able to notice how your pet is creating an appropriate habit with respect to his new accessory.
Q. How To Choose A Size For A Cat Collar?
A. If you must choose the size for your cat's collar, you must first measure your pet's neck with a tape measure, considering that some people recommend leaving 2 centimeters of separation between the neck and the collar to avoid any type of discomfort in the cat.
Q. Why Does The Cat Collar Loosen So Easily?
A. Although for some people this detail seems like a small defect, in the cat collar model they have purchased, the truth is that this is a condition that certain models have to avoid certain incidents during use. According to some veterinarians, this action is due to the fact of interrupting the choking of your pet if it were to occur since a strong pull could cause the collar to open.