Growing your family with a new puppy is an exciting time. However, if you already have an older dog, you must handle their introduction carefully. It's important that the dogs' first meeting goes smoothly to get them off to a good start. Otherwise, the older dog may feel territorial, while the puppy can become intimidated, leading to conflict.

As well as the initial contact, there are also many ways you can help their relationship flourish within the first few weeks of living together. For a successful and stress-free experience, read on to find out how to encourage your existing dog to accept a new puppy.  
Prepare for the introduction
Before getting your new puppy, socialize your current dog, so they're already used to being around other dogs. Try to choose a breed and personality compatible with your older pup too.

Once you've chosen your new four-legged friend, ensure both dogs are up-to-date with their vaccinations. If possible, ease the dogs into accepting each other by introducing their scents with blankets first.
Get your home ready for two dogs by giving them both a space they can be alone. A baby-gate allows you to keep them separate when you aren't around. If your dog uses a crate, get another one for the puppy to use and begin crate training. 
Kennels are a great place for your older dog to retreat to and be undisturbed when they feel stressed, tired, or anxious, especially if they love being outside. Keep it filled with toys, food, water, a blanket, and a bed, so they associate it with positivity. Never use kennels as a punishment and train them to use it gradually. 
The kennel manufacturer, Benchmark Kennels, have a range of kennels for sale that are well-insulated, secure, sheltered, and big enough for different sized dogs to play and sleep. 
The first meeting
Arrange for the older dog to be out of the house so the puppy can explore it without getting overwhelmed. This approach also gives the pup time to play and tire, so they're calmer for the introduction. 
Their first meeting should ideally take place on neutral grounds, such as a park or a neighbor's garden. If you've chosen a public space, try to choose a quiet area and time to limit stress and risk of infection to your pup.
Ask someone else to walk your older dog, while you walk the puppy separately, so they meet as if they were on a regular walk. Keep both dogs on loose leads, let them approach each other, and don't hold the puppy in your arms as this can make them feel vulnerable. Try to remain calm because if you're showing any hesitation or worry, the dogs can mirror your emotions.  
Sniffing is a typical canine greeting. Playing together is a good sign but only let the dogs play for a few minutes to avoid over-excitement and call one of them over every few minutes for a toy or a treat. Reward them with treats for good behavior towards each other, for positive reinforcement.
Other encouraging responses include:

yawning as this is how dogs show they aren't a threat

the 'play bow' (when dogs stretch their front legs out, raise their tail end, and lower their head)

rolling on their back to show submission

licking the other dog's mouth and face
Some growling is normal so try not to interfere too much so they can establish their relationship. However, break up any fights immediately by gently prodding them or calling their name. If either dog becomes aggressive, try to distract them instead of punishing, so they don't associate each other with negativity. 
Reading Suggestion: 500 Horse Names For Male and Female Horse Names
It's normal for older dogs to correct a puppy and set boundaries, so don't discipline them if this occurs. For example, your dog may bark if the puppy bites too hard. 
Negative behaviour to look out for includes:

an arched back

a display of teeth

deep growling

biting 

prolonged stares
Keep the initial greeting short (around ten minutes) and then walk them side-by-side with another person holding one of the leads. 
Reading suggestion: How To Introduce A Hyper Dog To A Kitten
Second greeting
Repeat the introduction in your garden and then again in the house, letting the older dog find the puppy in the house. Put away any toys or items that your older dog may feel protective over.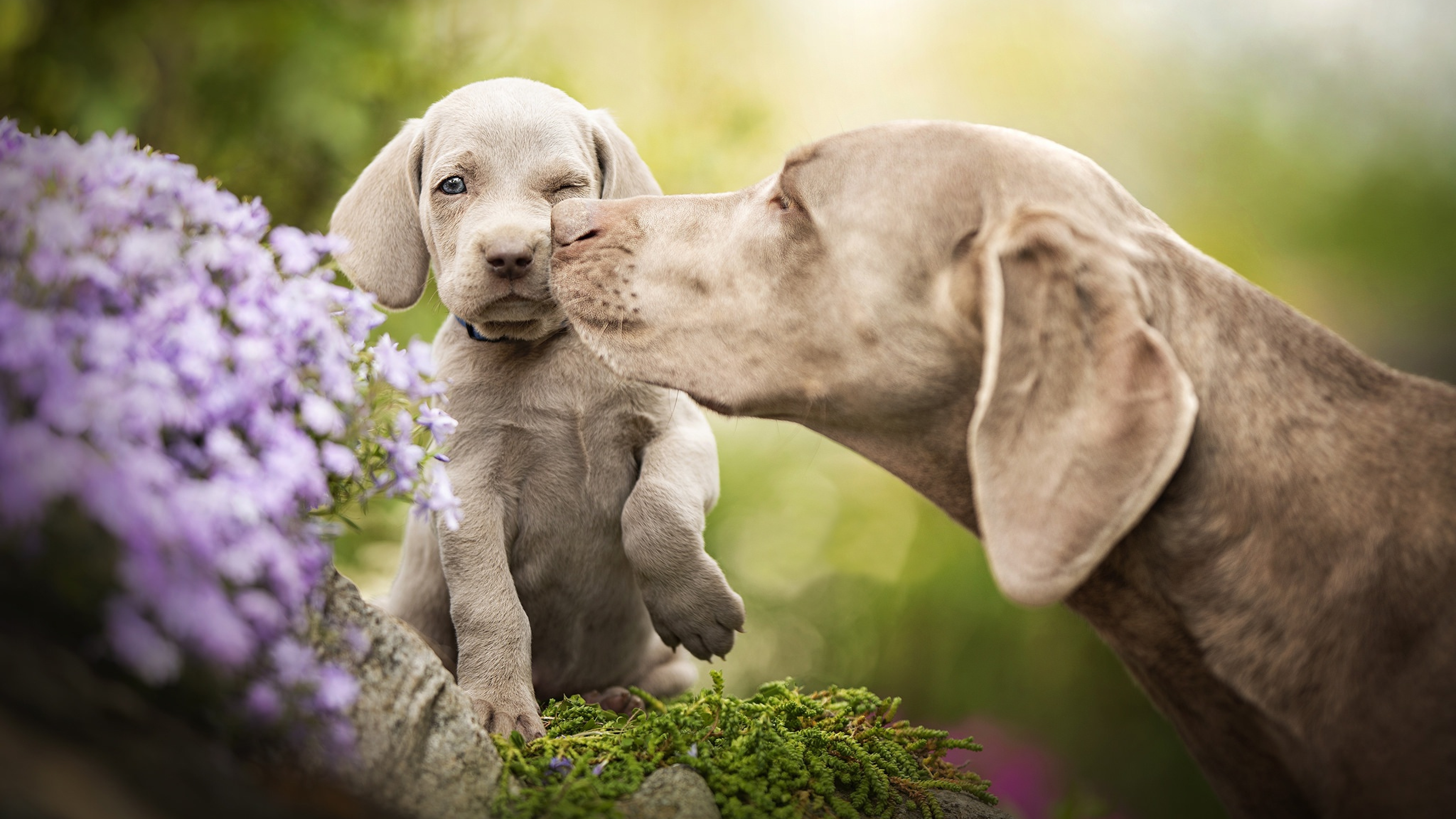 The next few weeks
Monitor them closely when together for the first couple of weeks and don't leave them alone until you're sure they're comfortable with each other. Don't force them to spend time together either and let them adapt at their own pace. Ensure you spend equal quality time with them separately too, so they don't think you have a favourite, and you can strengthen your bond with both dogs. 
Continue with your older dog's routine, including meals and walks, and begin developing a structure for your puppy. The pups may need different walking schedules depending on their age and size. Until you're sure that food won't lead to conflict, feed them in separate places. 
It's normal for dogs to be wary of each other at first, but helping their initial meeting be positive and allowing them to adjust slowly will give them a better chance of becoming lifelong friends.