When you get a dog, many questions will be running through your mind. How will they fit in with your family? Where will you get their bed from? What food should they eat? While these are all common questions you need to answer, one component that many owners forget about is their collars.
Not only do you need a collar to help them be reunited with you should they get lost, but it can also improve their overall look too. On your mission, you must select a collar that fits comfortably and securely on your four-legged friend, as well as one that enhances their overall style. To make it easier, companies such as Fetching Ware have all the sentiments and practicalities of dog ownership covered and is one to check out next time you are online looking for pet accessories and, in particular, dog collars.
So, let's think about what we should consider when looking for a luxury dog collar online.
What to Consider When Selecting a Dog Collar
When choosing a dog collar, keep in mind your dog's size and activity level. Smaller breeds need a lighter-weight collar, while larger dogs may require a heavier-duty option. Nylon collars are popular for everyday use due to their durability and strength, while leather collars provide an elegant look that's suitable for more formal occasions.
Additionally, dog collars with adjustable sizes are ideal to ensure a good fit as your pet grows.
Study the online options carefully, thinking about the look and the practicalities of the collar that you are choosing for your canine friend. Comfort is important if you want them to take to the collar and then the look will reflect more on you as you walk your dog down the street, in a field, or on the beach. Dogs love open spaces that take them beyond just their garden if you are lucky enough to have one of those.
Themed Dog Collars
Once you've found the best type of collar for your dog's needs, you can start thinking about matching it to your own personal style. Dog-themed collars, such as dog bone and paw prints, are popular for owners who want a playful look. However, if you want them to look more sophisticated, you can choose a collar that matches your clothing or accessories.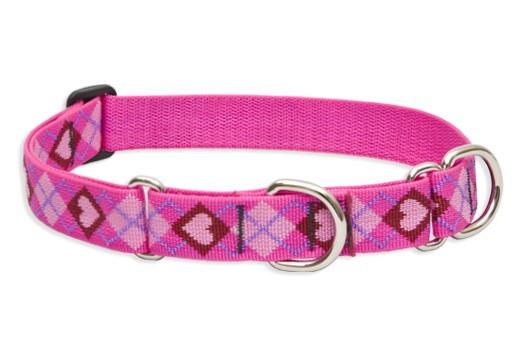 Think about the different color options which might match a dog's coat that they wear if the weather is inclement or perhaps the outfit you always wear on dog walks.
The Quality of the Materials Used
The quality of dog collars is another important factor to consider. Cheaper options may look more appealing, but they are often made with low-quality materials that won't last long and can be uncomfortable for your dog. For a better fit and more pleasant experience for your dog, higher-quality collars should be considered.
It is worth investing in a good dog collar that your furry friend will get used to and then not be keen to part with. The collar only has to be worn for walks but it can be useful for you to grab hold of them quickly to stop them running out onto the road when you have visitors. This can make them excited, and it may cause them to run out of the house, so be cautious!
Final Thoughts
No matter what type of dog collar you decide on, keeping a few key factors in mind, such as dog size and activity level, material durability, and matching to your style, will help you find the perfect collar for both dog and owner. With careful consideration of these details, you'll be sure to find a collar that will bring joy to all those involved.
Related