When it comes to our furry friends, their comfort and well-being are always at the forefront of our minds. Just like humans, dogs experience the changing seasons, and just as we switch up our wardrobes, our canine companions can benefit from a bit of seasonal fashion, too. 
Clothing for dogs isn't just about style; it's about ensuring they're cozy and protected no matter the weather. So, let's dive into the canine fashion world and explore how to dress your pup for every weather scenario.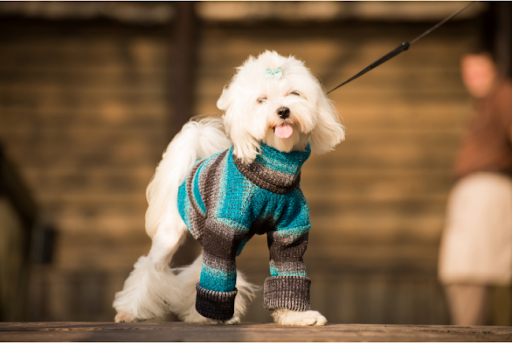 Staying Cozy in Winter: Dressing Your Dog for Cold Days
When it gets freezing and snowy outside, it's essential to ensure your furry friend stays warm. Imagine wrapping them up in comfy winter clothes – just like when you put on your warm coat. A jacket that's cozy and keeps them toasty is a great idea. This jacket isn't just for looks; it's like a warm hug for your dog during those cold walks outside.
Do you know how some jackets are made from unique materials that help keep you warm and dry? Well, you can find jackets like that for your dog, too! These jackets are made from stuff that lets your dog's body breathe, so they don't get too hot and are also a bit waterproof. This is useful because it stops your pup from getting wet when playing in the snow or when it's slushy outside.
Reading Suggestion: Micro Bullies
Oh, and don't forget those cute little booties – like tiny shoes for your dog! These dog booties are essential because they protect their sensitive paws from the freezing ground and any harmful stuff on it. So, remember, when winter comes knocking, keep your furry friend cozy with the right clothes!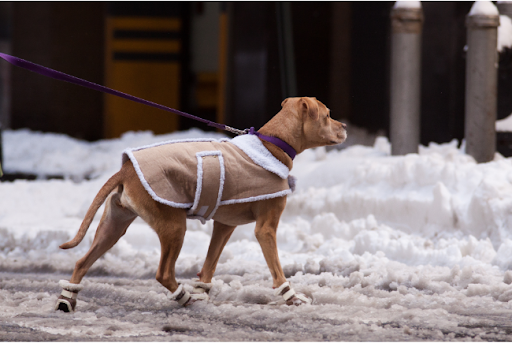 Blooming Styles: Springtime Fashion Blossoms
With the arrival of spring, it's time to shed those heavy winter coats and embrace lighter, colorful options. A lightweight raincoat is essential to dry your pup during those April showers. Look for opportunities with adjustable straps for a comfortable fit. 
Pastel sweaters and floral-print accessories can add a touch of springtime charm to your dog's wardrobe. Remember, spring is all about embracing the outdoors, so choose clothes that allow your pup to move freely while staying stylish.
Sizzling Summers: Keeping Your Pup Cool and Chic
When the sun shines bright and temperatures soar, ensuring your furry companion stays calm and safe from harmful UV rays becomes paramount. Opt for lightweight fabrics that provide UV protection while allowing breathability. Explore a variety of clothing that keeps your dog comfortable and shields them from the sun's intensity. 
Don't just dress your dog – accessorize them with trendy doggy sun hats that make a fashion statement and provide essential coverage for sensitive ears and eyes. For an extra dose of style and functionality, vibrant bandanas can be soaked in water and draped around your dog's neck, revitalizing and cooling during those sun-soaked summer walks.
Reading Suggestion: Why Shih Tzu Are The Worst Dog
Autumn Elegance: Fall Attire for Your Pup
As the leaves change and the air turns crisp, it's time to layer up with stylish fall attire. Sweaters and hoodies are perfect for the season, adding a touch of coziness to your dog's ensemble. Choose warm, earthy tones that complement the autumn scenery.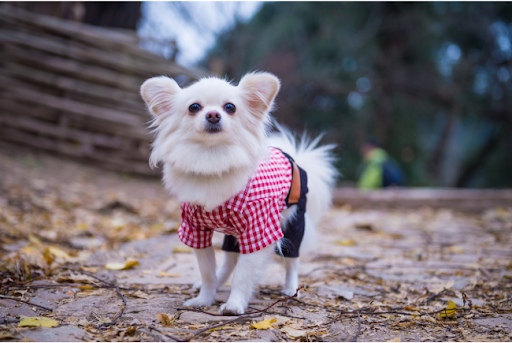 Keep your pup dry during those drizzly days with a water-resistant jacket that allows them to enjoy the colorful foliage without getting soaked. And also remember those fashionable scarves – they're functional and adorable!
All-Weather Essentials: Versatile Wardrobe Staples
While seasonal fashion is exciting, having some year-round wardrobe staples is essential for every dog owner. A well-fitting harness is necessary for daily walks, offering comfort and control. Additionally, invest in a selection of t-shirts that protect your pup's skin from irritants, whether it's the sun's rays or allergens. These basics can be layered with other pieces, making them versatile for any weather condition.
Dressing your pooch in clothing tailored to each season isn't just a matter of style; it's a way to ensure their comfort and well-being throughout the year.
From cozy winter jackets to breezy summer accessories, there's perfect dog clothing for every weather scenario. Remember to prioritize your dog's comfort, freedom of movement, and protection when selecting their wardrobe. Your furry friend can step out in style with the right dress, no matter the forecast.