Keeping your dog warm this winter is not just a matter of picking up some sweaters and scarves. The right gear can make all the difference in keeping your pet safe, healthy, and happy during the long winter months. 
Why Is It Important To Keep Your Dog Warm During Winters
There are many reasons why keeping your dog warm this winter is essential. Some of the most common include:
Preventing Frostbite
Frostbite happens when your dog's extremities freeze, causing damage to skin cells. When the tissue freezes, it becomes brittle and can break off, leaving dead skin cells. In extreme cases, frostbitten areas can become infected. While frostbite rarely occurs overnight, you should still give your dog a blanket or sweater to wear until they recover.
Protecting Against Hypothermia
Hypothermia is a condition where your dog's internal temperature drops below 95 degrees Fahrenheit. It causes lethargy, weakness, and confusion, putting your pet at risk of death. This includes pets who are outside during cold weather and those who are left alone indoors.
Preventing Ice Build-up on Their Fur
Ice build-up on your dog's fur can cause him to overheat and get sick. If you notice any signs of ice build-up, check your dog's coat to make sure he isn't getting chilled. Even a light coating of snow can be enough to cause hypothermia.
Protecting Against Cold Wind
Cold winds can chill your dog's entire body, making them feel weak and sluggish. During winter windstorms, dogs who outside often end up falling asleep and becoming exhausted. For this reason, it's important to dress your dog in layers so that they don't get chilled by cold air.
Making Sure They Stay Dry
Rain and snow can soak through thin coats and leave your dog shivering. You should also make sure your dog has plenty of water to drink while out in the cold weather. Don't forget about their paws, either. Make sure they have dry socks and boots for extra protection against wetness.
Dogs who aren't properly dressed up during winter can suffer from frostbite, hypothermia, and even exposure. You should take precautions to ensure your pet stays warm, healthy, and safe throughout the season.
So, what do you need to keep your dog warm? Here are some suggestions from our team of experts.
Reading Suggestion: Moving with a Dog From A House To An Apartment
Socks
If your dog has sensitive paws or if they're prone to pawing at their feet, socks may be the best choice for keeping them warm. Socks will help protect their feet from the cold and wet while also wicking away moisture. A thick pair of wool socks that go above the ankle should work well for most dogs. Look for something with high-quality insulation and durable construction.
Tail Coats
A tailcoat is an essential piece of equipment when it comes to keeping your dog warm this winter. Tail coats provide warmth by trapping body heat inside, and they prevent ice crystals from forming on the tip of your dog's tail.
They come in different styles depending on your dog's size but look for something that fits snugly without being too tight around the neck. If you have a dog who tends to get cold easily, consider buying two or three tailcoats in various sizes.
Wool Sweater
Try out a wool sweater if your dog doesn't like wearing a tailcoat instead. Wool sweaters trap body heat better than any other material, and they're easy to take off and put back on as needed. You can even use a dog sweater to cover your dog if they start to shiver. Look for one made of heavy wool yarn and has a hood so your dog isn't exposed to the elements.
Reading Suggestion: 7 Best Thanksgiving Dog Sweater Ideas For Your Puppy
Dog Blanket
The leaf shape blanket is an excellent choice for keeping your dog warm this winter. It is designed to fit tightly around your dog's body, providing warmth and protection. These large dog blankets can also be used for sofa as a makeshift bed for your dog if you need to leave them home alone. Or just a simple floor mat.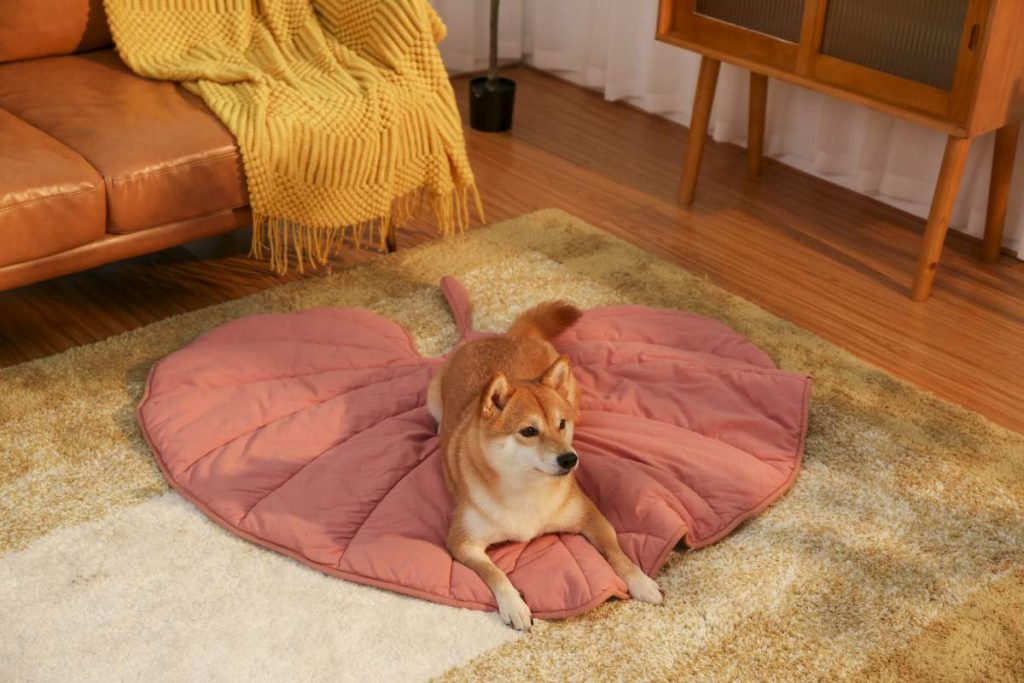 A good blanket is essential for keeping your dog warm,  especially it is made of a soft cotton fabric that is machine washable and durable. It's perfect for keeping your dog cozy during the winter months. The leaf shape blanket is available in different sizes and different colours, so pick one that will work best for your dog.
Your dog will love the feeling of security that comes with having a comfortable dog blanket to snuggle into.
Dog Bed
Dog beds are another great way to keep your dog warm this winter. The donut dog bed is stuffed with warm materials, which help insulate your dog's body against the cold. They're especially helpful for dogs who spend time outdoors. 
Some people prefer to use a dog bed as a replacement for a regular bed, while others find it more convenient to use it as a place to store their dog's toys. Whatever you choose, it's important to buy a dog bed that fits snugly around your dog's body, ensuring that your dog stays warm. You can get large dog beds from FunnyFuzzy at the best price.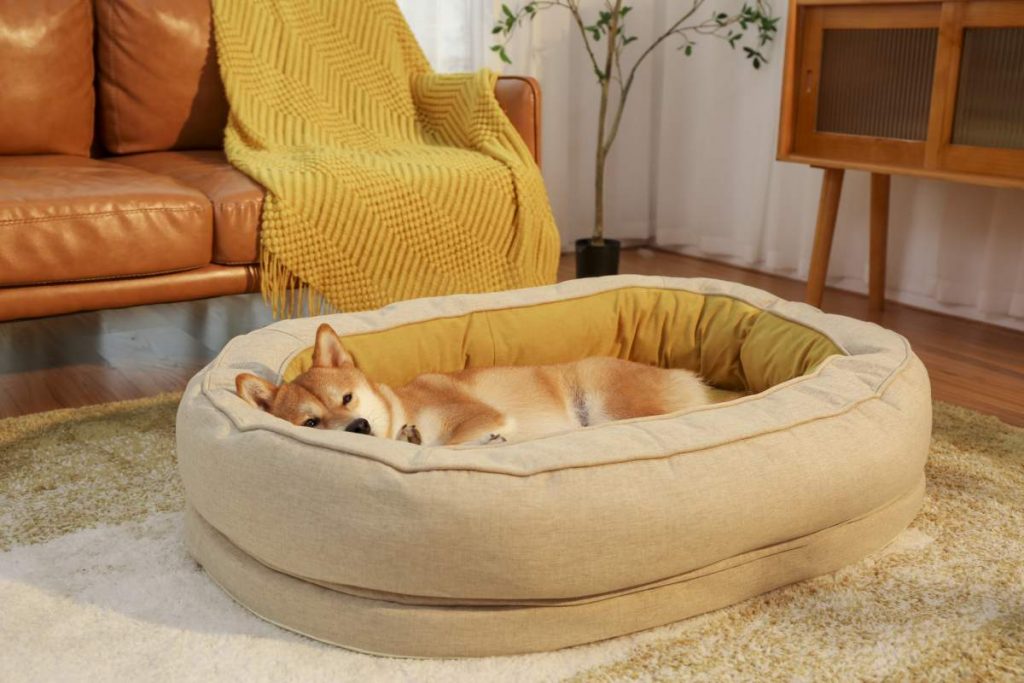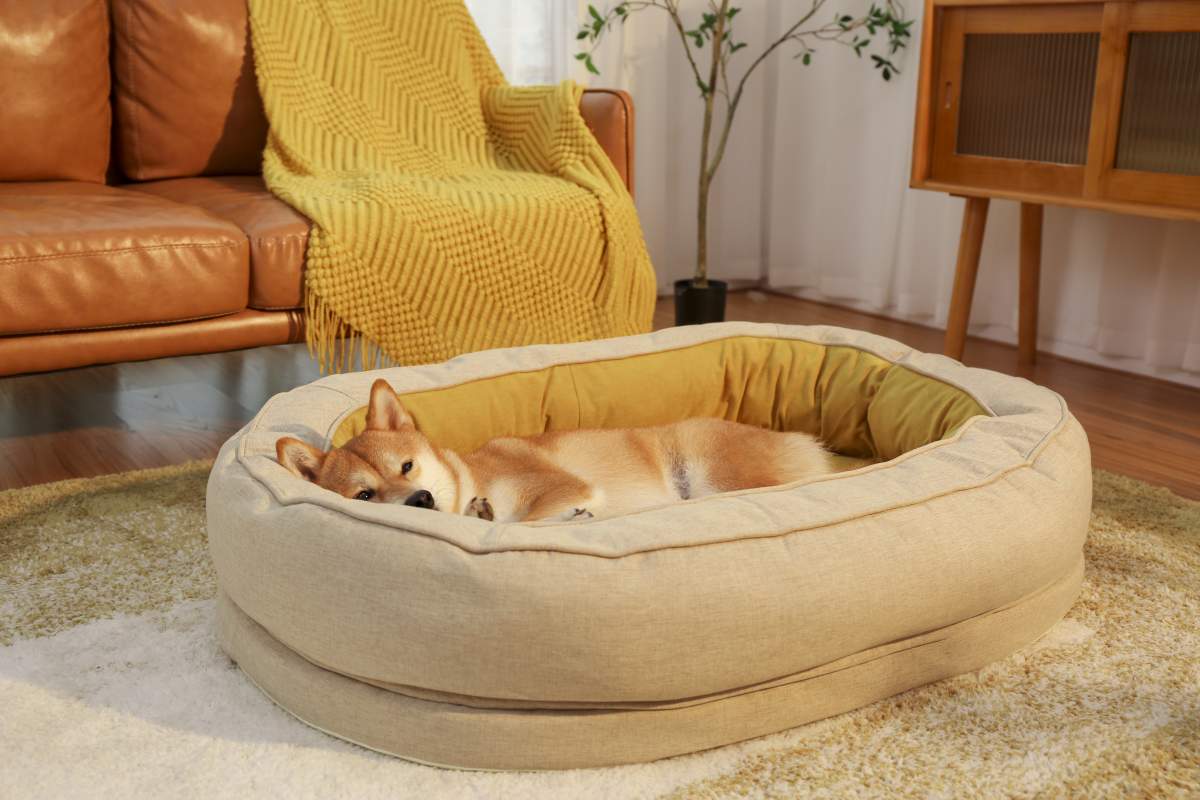 Reading Suggestion: Dog Barking In Hotel Rooms: Tips For A Quiet Stay
Dog Coat
If your dog prefers to stay indoors, a dog coat is a must-have item. A dog coat helps keep your dog warm by trapping body heat inside. You can also use a dog coat to cover your dog if they start to shiver. Dog coats come in different shapes and sizes, so pick one that will fit comfortably around your dog's body. 
The longer the coat, the warmer your dog will be. Choose a long-sleeved dog coat if your dog tends to get cold quickly. Your dog will appreciate the extra coverage and protection that a long-sleeved dog coat provides.
Recommendation
If you are looking for a dog blanket, dog car blanket, dog mats for your buddy, you can get them from a local seller FunnyFuzzy.
Final Words
Dogs who spend time outside during winter need to be protected from the elements. Keeping your dog warm is essential for protecting them from the harsh conditions of winter. There are several ways to do this, including purchasing a dog coat, using a leaf shape blanket, and dressing your dog in a tailcoat. All of these options will help keep your dog warm and safe this winter.