Puppies are adorable pets. They instantly warm the heart and make your day brighter. That's why more and more people want to adopt or buy them.
There are many health benefits of having puppies or dogs. For instance, they can significantly reduce stress and anxiety, helping you become a happier individual. In fact, research shows that people who own dogs have higher serotonin and dopamine levels compared with those who don't. Serotonin is considered the 'happy' hormone, which is linked to having better mental health, while dopamine refers to the 'feel good' hormone.
Of course, pets also keep you company and safe, especially if you live alone or far from your family. They offer a sense of companionship, so you won't feel lonely.
Moreover, dog owners tend to have a more active lifestyle. This is because taking care of furry members requires physical activities, such as walking and playing.
However, there are still some things owners don't know about their furry babies. No matter how much you think you know your puppies, some facts will still blow your mind.
Here are 12 fun facts about puppies and treats:
Pig Ears
Dogs find pig ears really tasty. They contain nutritious minerals, such as calcium, which is vital for growth and muscle strength. They are soft and chewy too, which makes them good dog chews for puppies as well.
The First Dog Biscuits
The first dog biscuits were made by businessman James Spratt in London, England, in 1860. They were made of mixed wheat, vegetables, wheat, and beef blood.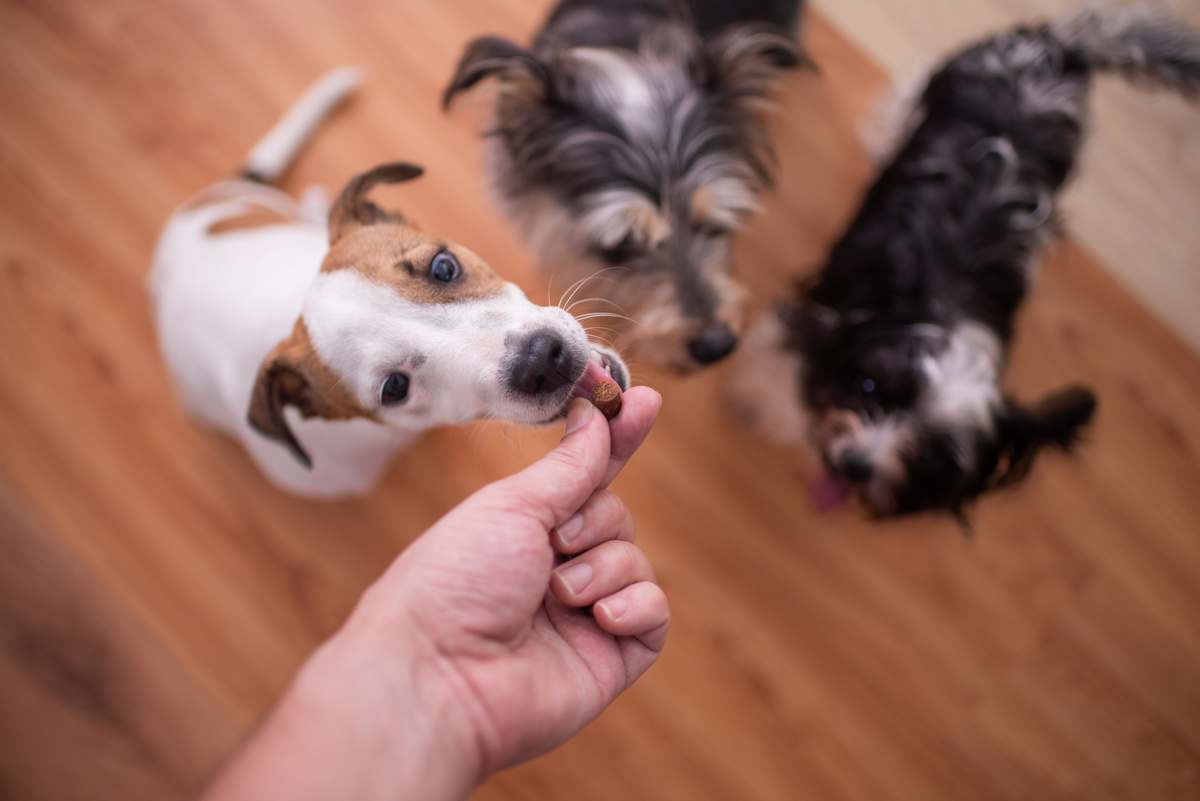 The Biggest Dog Biscuit
The biggest dog biscuit was made by Hampshire Pet Products on July 8, 2011. It weighed 279.86 kg, and it was prepared by 10 bakers. After baking, they were broken into pieces and distributed to dogs at a local dog shelter.
Sleep
Puppies spend about 12-14 hours a day sleeping. Just like human babies, sleep is also essential for their growth and development. A puppy's brain needs sleep to function well when they grow old.
Reading Suggestions: 5 Facts Worth Knowing About the Presa Canario Dog Breed
Paws
The paws are indicators of a dog's weight. Big paws are needed to support bigger builds in dogs. Thus, bigger paws mean bigger adult weight.
Always remember that dog paws should be proportional to their bodies. If your puppy's feet look larger for their body size, then it means they will still grow.
Teeth
Like children, puppies change teeth when they transition to adulthood. They have 28 temporary teeth that start growing about 4 weeks of age.
This is why it's important to feed your puppies the right kind of food. Feeding them with adult dog food right away may break their teeth and hurt their gums.
Furthermore, like milk teeth, they lose them when they enter their 14th to 30th week. They are then replaced with 42 adult dog teeth. This new set of teeth is stronger, and it helps them chew harder food.
Taste Buds
When puppies become adults, they will have developed about 1,700 taste buds. This means that they can distinguish flavors. On the other hand, humans have 9,000 taste buds that are more complex and sensitive.
Great Sense Of Smell
A dog's nose is so sensitive. It can tell different kinds of smells, and it can even recognize scents miles away. For instance, you can smell chocolate chip cookies, but your furry member can detect hints of chocolate chips, eggs, and flour.
This is because dogs have up to 300 million olfactory receptors whereas humans only have 6 million. So, when puppies reach adulthood, they make great bomb sniffers and rescuers.
Reading Suggestion: What You Need to Get to Keep Your Dog Warm This Winter
Tongue Colors
Almost all dogs have pinkish to red-colored tongues. Only Chow Chows and Shar-Peis have dark-colored tongues. But Chow Chow puppies have light-colored tongues when they are born. Their tongues turn dark when they get older. The reason this particular breed has dark-colored tongues is the presence of pigmented cells.
First Animal In Space
The first animal in space was a Russian dog named Laika. She was a husky-spitz puppy who was sent to space in 1957, and she was the first living creature to orbit the Earth. She sadly died on the mission, but she is still remembered to this day.
Coat Colors
Puppies change fur colors when they get older. Most of them are born with fur that they shed when they reach four to six months. Puppy fur is also softer and thinner while adult fur is thicker and coarser.
Breastfeeding
Puppies are breastfed and nursed by their mothers from three to four weeks of age until they reach eight weeks.
Have Fun With Your Puppy
Puppies are great additions to the family. They make you smile and help you stay fit. If you're thinking of adopting or getting one, don't forget that looking after dogs is a big responsibility. Make sure you have enough resources to care for them.