Dressing your four-legged family member has never been easier or more fashionable. With a variety of sizes, styles, and colors to choose from, you can find the perfect outfit for your pup. From classic hoodies and dresses to more unique designs and collars, there's something for every pup.
Whether your pup is a fashionista or just needs a little extra warmth, dog clothes help keep them comfortable and stylish all year round.
Gusspower Flannel
Definitely, when it comes to clothes for small dogs, this garment could qualify as the best dog clothes of 2022. The cute design will make your pup steal all eyes, as the hood comes in the shape of an elephant's face, including the trunk. This means that, in addition to serving as a coat, it also serves as a costume. The model comes in 6 sizes, from XS to XXL, however, it is recommended for small dogs.
It comes with buttons at the bottom for a better fit. Thus, if you wish, you can leave some open for greater comfort. The fabric is velvety, which will protect your dog from irritation or discomfort, due to its great softness. Unlike designs that end at the hip, this one also has room for the hind legs. In this way, your pet will be completely protected from the cold, both in the body and in the legs.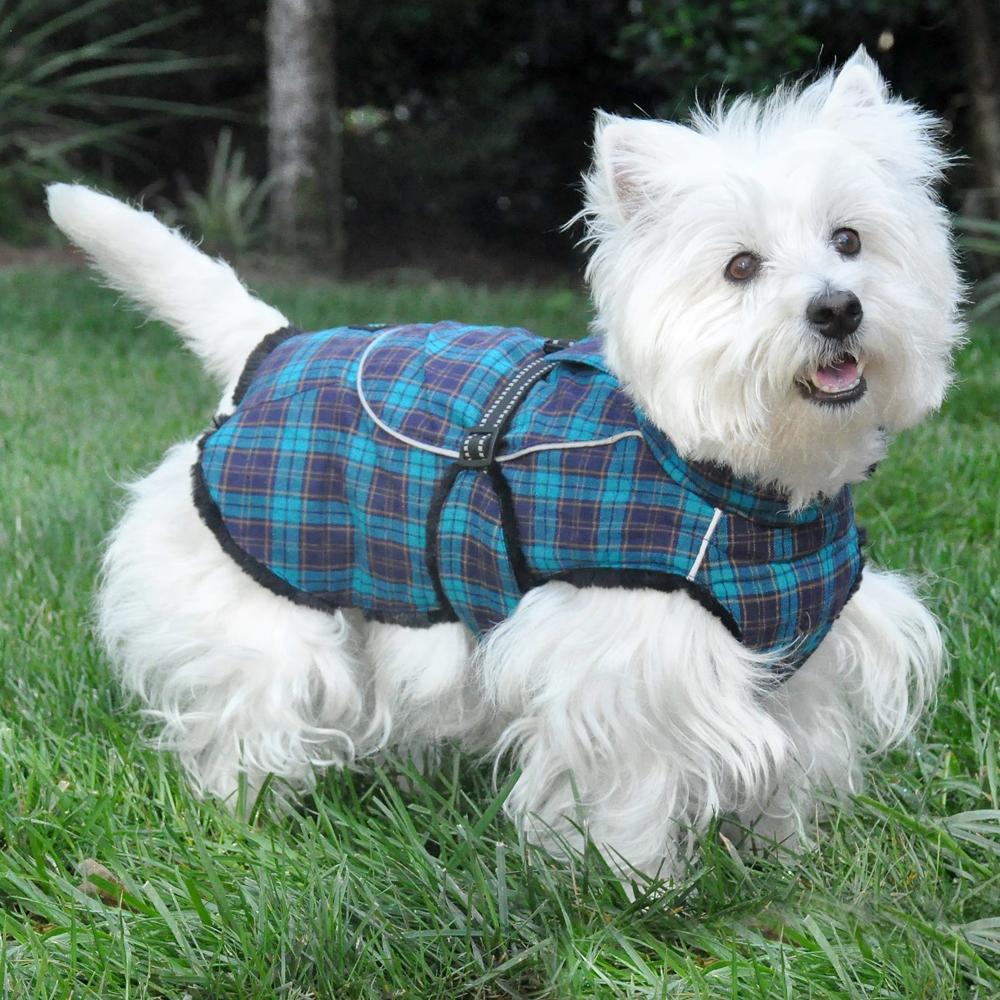 The fact that it is among the cheapest models means that, in addition to the design, the price also catches you, as it has the extraordinary quality for a low cost.
Adjustment: The lower buttons prevent the outfit from shifting, so it will always be tight.
Fabric: The fabric is quite soft and, in addition, it will allow your pet to always be warm when wearing the clothes.
Design: The design is quite cute and will serve as a costume or daily wear.
Washing: To avoid damaging the upper part of the hood, it is advisable to be careful when washing the garment.
Reading Suggestion: 7 Best Thanksgiving Dog Sweater Ideas For Your Puppy
Sannyasis Polar dog clothes
Among the cheap clothes for small dogs, this alternative offered by Sannysis stands out. Featuring an all-wool construction and a classic design with decorative detailing on the back, this coat will keep your pet warm in the winter or on chilly fall days. One of the most outstanding aspects is its versatility, as it has a design that makes the coat suitable for puppies, small dogs, and even cats if they are similar in size to dogs.
This model comes in 3 colors: red, gray, and purple. In addition, it comes in 3 different sizes so you can choose the one that best suits your pet, from size XS to M. The first with an 18 cm neck, a 22 cm back, and a 28 cm bust, while the last one has 22 cm, 29 cm, and 33 cm respectively.
Reading suggestions; My dog: who is the leader in the house
Sannyasis is a company considered by many to be the best clothing brand for dogs, as it has been dedicated to creating these clothes for quite some time, offering quality and good design.
Light: Being a thin product, it is also quite light, to offer comfort to your dog.
Wool: Wool is a very soft material, which will offer your dog an incredible texture.
Warm: This outfit is ideal for the cold environment, as it offers warmth by retaining the heat of your pet.
Colors: The shades of the colors received may change from those reflected in the images, therefore, they are not exact and this can be an inconvenience.
Ducomi Adi dog clothes
Do you want your dog to combine with you in the best way? Then this model with a design similar to the famous brand, but with the word Adidog and bones instead of stripes, will be the ideal outfit for your pet.
It comes in different sizes, from XS to 8XL, so if you are looking for clothes for large dogs, you will surely find the measurements for your dog. It also has a hood to protect your head and cuffs on the sleeves for a better fit.
The outfit is made of the best quality cotton, with a plush interior that, apart from giving your pet softness, also offers optimal heat retention to be an ideal garment for the coldest days. The seams are strong so the sweatshirt will last for a long time. There are 6 colors offered by the brand and the Adidog logo will stand out in each one, as it makes a good contrast.
Don't know what dog clothes to buy? Surely, this model will be the first on your list, see how your pet will always combine with you.
Plush: The plush interior, in addition to being soft, also offers the warmth that your dog needs.
Sizes: The wide range of sizes makes it easier to find the ideal garment for your pet.
Hood: The hood of the sweatshirt will also protect your pet's head.
Size: Despite its variety of sizes, it is necessary to buy a larger one, since the cut is small, according to the report of several buyers.
Zellar RC-022
The best clothes for dogs of the moment must have many positive aspects and that is why this model can take the position because its varied characteristics make it stand out. Rainy days won't stop a walk, as this is a waterproof vest that will keep your pet dry.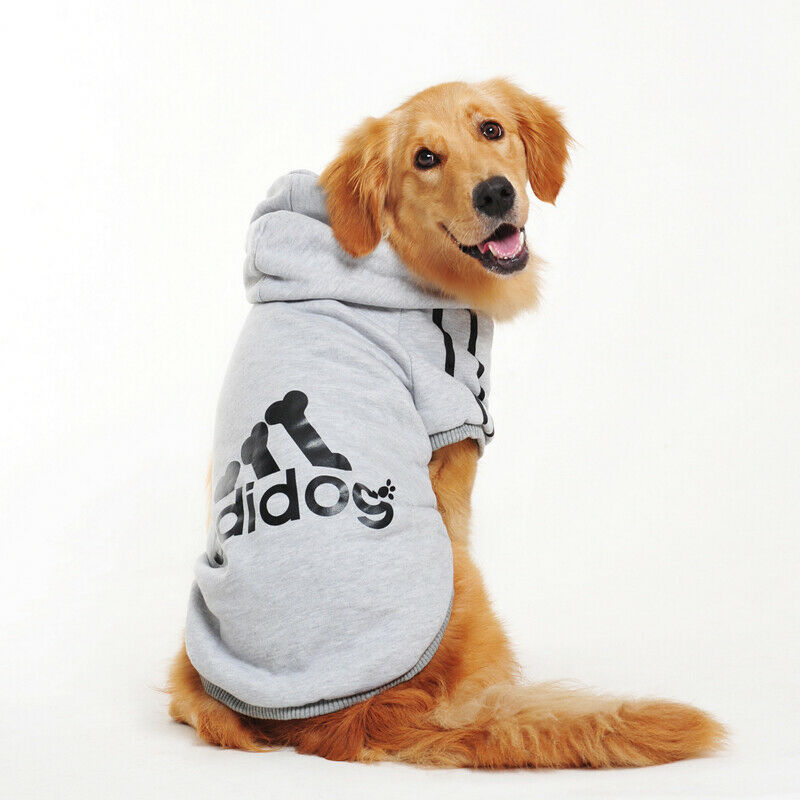 In addition, the breathable mesh will make your dog always comfortable. Among the clothes for large dogs, this model stands out because, as it is adjustable both at the neck and at the chest, it will adapt to your pet.
The outside of the vest can be cleaned with a damp cloth, however, to wash the entire garment, simply place it in a washing machine with cold water. When you want to go out at night, your dog will be protected by reflective strips that will warn of his presence. The high quality of the fabric provides security and resistance, making it a durable vest and also quite light.
This model, despite not being the cheapest, is highly recommended, since it not only focuses on style but also on safety. If you want protection and comfort, this is the ideal vest.
Reflective: Your dog will be safe at night, as it has reflective strips that will make cars notice its presence.
Fabric: In addition to protecting your dog from the rain with its waterproofing, it also offers breathable mesh.
Pocket: This model has a pocket to carry important items or store your dog's excrement.
Strap: The space for the strap is not strong enough, according to some users, which makes it prone to ripping.
pet young Lana
The best clothes for dogs will always be the ones that make your dog feel more comfortable, therefore, this model could be exactly what you are looking for since it is made of wool to give your pet enough softness and the necessary warmth for cold days.
Its design is modern since it has a bright red background with white, red, and two different shades of blue stripes to make a nice contrast. It is suitable for daily use, although you should consider that, by maintaining your dog's body heat, it is recommended to use it only in winter or autumn.
This garment comes in 4 different sizes, from S to XL, in order to adapt to various breeds and provide the same comfort. To choose the correct measurement, you must check the centimeters of the chest, back, and neck of each size, this way you will avoid it being too tight.
If you are looking for comfort and a multicolored design, this vest is one of the best options for large breed dogs.
Design: The design of this outfit is quite fashionable and will give your pet a stylish look.
incredible.
Cold: It is ideal for cold seasons, as it retains your pet's body heat.
Sizes: The variety of sizes will allow you to choose the most suitable for your dog and, if you have several, each one can have a garment that suits him.
Elastic: A user has reported that, after a period of use, the vest has stretched and this causes it to fall off.


Frequently asked questions

Q1: How to make dog clothes without sewing?

This is much easier when you have a small breed dog, as making no-sew dog clothes relies heavily on reuse.

Find an old sweatshirt with wide sleeves for this. Proceed to measure your pet's body at the three most important points: the neck, chest, and back. Also, measure the circumference of the legs. Mark each of these measurements on the sleeve of the sweatshirt and draw outlines for the back end and legs. With scissors, proceed to cut each important point and, finally, put the clothes on your pet.

Q2: How to know the size of dog clothes?

The size of dog clothing varies from one brand to another, however, if your dog is an adult, its measurements do not change. You should measure the neck, chest, and back of your pet, both in length and width, and, after that, compare these dimensions with the table of measurements and sizes offered by the manufacturer.

If it is not available, measure the clothes before purchasing, taking into account the measurements of your dog.

Q3: How to wash the dogs' clothes?

Dog clothes, just like human clothes, can be washed both in a washing machine and by hand. However, there are certain recommendations to do it effectively and correctly.

One of them is to use hypoallergenic detergent, preferably with a neutral pH, that does not have perfumes or dyes. This will take care of your pet's skin and fur, preventing conditions or allergies.

It is also recommended that, before washing clothes, soak the garments in water with a little baking soda. This will make the odors more easily removed, preventing the bad aroma from being impregnated in the clothes or in the washing machine, if you decide to do the cleaning there.

Q4: Are dog clothes dangerous?

As long as it's not too tight in the chest and doesn't restrict your pet's movements, dog clothes aren't dangerous. In addition to the fit, keep in mind that the fabric is soft to avoid hurting the skin of short-haired dogs.

Q5: How to recycle old dog clothes?

Most of the time, recycling depends a lot on how creative you are. If you have old clothes for dogs and you don't know what to do with them, you can make other smaller clothes or simply give them another use.

For example, if you know how to sew, an old coat can be turned into new non-slip dog socks or a cute bandana to give your pet a unique look. However, if you don't want to use it again as clothing, it can even work as a cleaning cloth, after multiple washes, or as part of recycled toys.

Q6: What materials are the most suitable for dog clothes?

The most recommended material is polar fleece, as this is a soft, comfortable element that helps retain heat from dogs so that dogs stay warm on cold days, such as in the winter or autumn season.

Nylon fabric is good for waterproofing, and for your pet to still enjoy a soft outfit, you can coat a fleece coat with nylon so your dog gets the best benefits of both materials.

Q7: What kind of garments are there in the dog clothing market?

The dog clothing market, like any area of ​​pet care, is filled with various products that vary in function, sizes, colors, and designs. You can find complete models that have a sweatshirt and cover the back of the dog, while you can also find vests that only cover the chest and back.