Having a multiple pet household is a source of great joy and, sometimes, stress. Are you considering adopting a Pitbull puppy and wondering if they will get along with the cats or rabbits that already live with you?
The answer, simply put, is yes: it is possible for Pitbull dogs to coexist in the same space as other domestic animals, but you need to do some research first and take some precautions. Let's see what you should know about Pitbull and other domestic pets living together!
Pitbulls and cats: do they get along?
The Pitbull was historically bred to hunt and kill animals of prey. However, it has evolved to be a companion dog and, with proper socialization and supervision, this dog does not pose a threat to cats.
What is essential is that Pitbulls are socialized to cats as soon as possible, when they are still puppies. Moreover, you should introduce your dog to your cat at a slow and steady pace, without pressure for them to get on well with each other.
If you're adopting an adult Pitbull dog, it is advisable to verify that he or she has already interacted with cats and is properly socialized.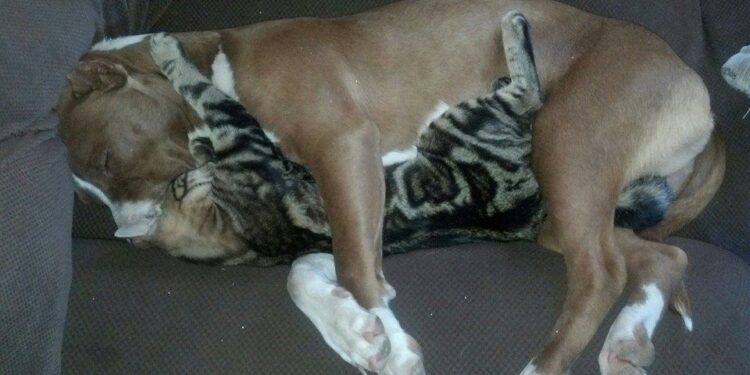 How to Introduce Your Pitbull to Your Cat
The following steps are very important if you want to create a good relationship between your Pitbull and cat.
The socialization process should start as soon as you and your Pitbull puppy arrive home. At around the age of eight weeks, the dog's brain is still in its developing phase and picks up very quickly on which behaviors are appropriate and which are not.
Reading Suggestion: Micro Pitbull
1. Socialize your pets in a controlled environment
The tactic that you should use involves exposure in a controlled environment. It means that you should identify an area in your home where the cat and the dog are in separated spaces but close enough to see and smell each other. By adopting this technique, the two pets will slowly get used to each other's presence.
2. Supervise all interactions between your Pitbull and cats
Supervising all interactions between your new pet and the ones that already live with you will ensure that you can detect any potential problems early on and solve it quickly.
They might not get along well the first times that they meet, so it is important that you are there to prevent any injuries or fatalities in case they attack one another.
3. Reinforce good behavior
Both Pitbulls and cats are intelligent animals that enjoy receiving treats. This means that, if good behavior is rewarded with cuddles, snacks or play time with their favorite toy, they will start to act as you want them to and thus develop good habits.
No matter how well your cat and Pitbull get along, remember to spend some time alone with each one of them. Moreover, make sure that they both have their personal space where they can feel safe and out of reach of other animals.
Can Pitbulls and rabbits coexist peacefully?
Rabbits are prey animals and dogs are hunters, so the coexistence between the two species might prove slightly tricky. With the right approach, your pets can live in the same space without hurting each other, but you need to be a responsible owner and take all necessary precautions. Where to start?
Reading Suggestion: Black Panther Pitbull Price
Add a new pet to your home carefully
The main problem with dogs and rabbits interacting with each other is unpredictability. Some dogs, no matter their size or breed, show a strong prey drive that might prove harmful to your rabbit. This means that your Pitbull puppy might or might not try to hunt and harm the other animals: you should be ready for all kinds of scenarios.
Personality and other factors to take into account
As an owner, however, there are questions you can ask breeders when you are looking for a Pitbull puppy to adopt: has the dog been socialized to other pets? Does it show a gentle and nurturing temperament, or are they highly energetic and clumsy around others? The answers you will receive will help you decide whether to adopt one specific puppy or another.
Know your limits and the ones of your pets
We have said that some dogs simply cannot be gentle around rabbits; likewise, some rabbits cannot help being terrified of dogs, no matter how kind they are. If that is the case, do not force a relationship between the two and simply keep them apart. Your pets deserve to be happy, calm and healthy…and so do you!