Your home might be perfect for you, but is it perfect for your pet? If you've just found your dream home, it's important to make sure it's dog-friendly and ready to welcome home Fido. Luckily, with a few key changes, you can transform your space into a dog paradise. 
Your pup is man's best friend for a reason. Make sure he's comfortable in this space so he can get all of the love, affection, and relaxation he deserves. Here's how to make a perfect home for your dog.
Start with Safety
First, you should always make sure your space is safe and dog-friendly. This means checking areas of your home to ensure they're safe for Fido. Just like when you welcome a baby into your home, you have to keep potential hazards far from their grasp. No matter how well-trained, dogs get into stuff.
What types of things are dangerous to your pet? Consider taking a "dog-eye view." What could your dog get into? Any wires, cords, or other hazards should be removed immediately. The same is true for any medications, human foods, or cleaning products. When in doubt, put it away.
Reading Suggestion: Happy Dog Food Review and Recommendations for 2021
Choose Easy-Care Fabrics
When you're welcoming a dog into your home, it's a good idea to put your favorite things away. Your favorite blankets, rugs, and fabrics might attract unwanted attention from your pet. If you're worried about anything being chewed or drooled on, it's best to put it away where your dog can't reach it.
Look for paw-safe flooring and fabrics. These should be easy to throw in the wash if needed. There are special, pet-friendly throws you can use to cover your furniture, and these are great for keeping your home clean long-term.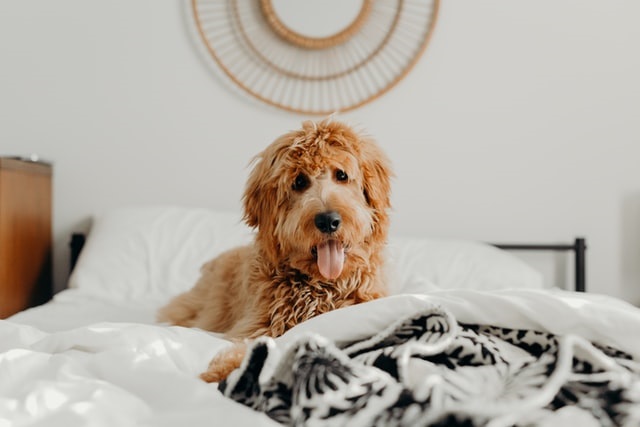 Make a Dog Corner
Your dog needs to feel like they have a space in your home they can unwind and be alone. Though your pet undoubtedly will love to spend time with you, he might want some peace and quiet occasionally, especially if he's new to your home. 
A dog-friendly corner is a part of your home that's just for Fido. This is where they have their food and water, bed, crate, and favorite treats. You don't need a lot of space to make a dog corner in your own home, but make sure it's somewhere special. 
Have Dog Treats on Hand
Last but not least, be sure you have plenty of dog treats on hand for your pup. While kibble and dog food is a great first step, you need some extra things to ensure your dog feels perfectly at home from the start. 
What are the best dog treats? While you might want a variety for training, you can't go wrong with dog cookies from Wüfers. Made with human-grade ingredients and designed for every occasion, these are perfect for letting your dog know they're appreciated.
Is Your Home Ready for Your Dog?
While many dog owners think about how a dog will add to their lives, it's easy to forget just how important preparing your home is to your pet. Your home should be safe and welcoming for Fido. Luckily, this is easy to do with the steps above. 
Reading Suggestion: My Dog ​​Has Fleas? Dog Fleas: 14 Questions Answered
Is your home dog-safe and dog-friendly? If so, it's time to say hello to your new best friend. Don't underestimate the power of the right treats and dog supplies.