The Italian Greyhound, with its slender figure and refined stature, has been the canine companion of choice among royalty for centuries. Yet, it's not just their natural grace that has made them stand out; their attire and association with fashion have played an equally pivotal role in their aristocratic legacy.
A Glimpse into Ancient Times
While we often associate pet clothing with modern trends, the practice of adorning canines has ancient roots. In the grand halls of Egyptian palaces, Italian Greyhounds, believed to be precursors of the modern breed, were depicted in artifacts wearing decorative collars, possibly studded with precious gems. This was likely both a status symbol and a means to protect their delicate necks.
Reading Suggestion: Why Shih Tzu Are The Worst Dog
Renaissance Fashion and Fidos
As the Italian Greyhound's popularity soared in Italy during the Renaissance, so did their fashion status. Artists of the era, such as Leonardo da Vinci, not only depicted them in family portraits but also took the time to illustrate intricate details of their attire. Velvet capes, silk ribbons, and bejeweled collars became the norm for these four-legged companions of the elite.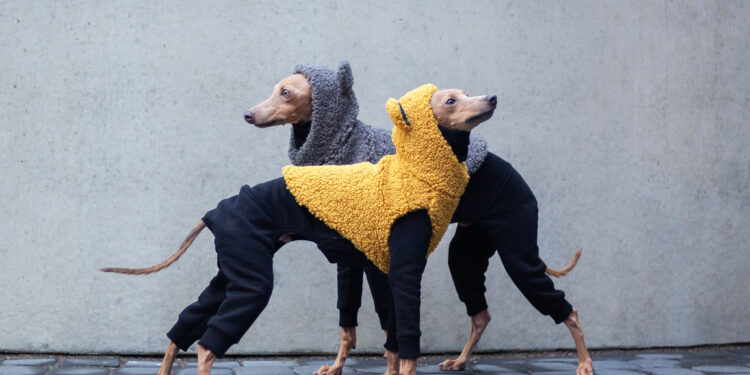 The English Court's Canine Couture
Upon their introduction to the English royal court, Italian Greyhounds quickly became fashion trendsetters. They were frequently seen wearing garments that mirrored the attire of their noble owners. Think of miniature versions of royal gowns, tunics, and even ruffs. The aim was two-fold: to display the owner's affluence and to keep these slender dogs warm in the often-chilly English weather.
Modern-Day Aristocratic Attire
Today, the tradition continues as Italian Greyhounds are often seen in high-fashion canine couture. From designer dog coats to protective footwear, their wardrobe can be as extensive as that of their celebrity owners. Their lean physique makes them perfect models for the latest in doggy fashion, ensuring they're always in vogue.
Reading Suggestion: Micro Bully
Why the Fashion Fascination?
Practicality: Italian Greyhounds have a thin coat and sensitive skin. Clothing provides necessary protection against the elements, especially in colder climates.
Aesthetic Appeal: Their slender bodies serve as the perfect canvas for showcasing intricate designs and patterns.
Status Symbol: Historically and even today, an adorned Italian Greyhound signifies opulence and a keen sense of fashion.
In Conclusion
The Italian Greyhound's association with history isn't just about keeping up with the latest trends. It's a blend of necessity, historical legacy, and a nod to their aristocratic past. As both fashion icons and beloved companions, they seamlessly meld the worlds of style and affection.