Horse riding can be an exhilarating yet dangerous sport if safety precautions are not taken seriously.
So if you are into horse riding, you should ensure safety by wearing proper equipment and gear.
One of the most crucial steps a rider should take to protect themselves is to wear appropriate riding gear. Among the numerous horse-riding equipment available in the market, chaps remain an essential part, especially for western riders. Chaps have been around since the inception of horseback riding and serve as protective gear for riders against various physical hazards like scrapes and cuts.
In case you are into horse riding but unaware of the importance of good-quality horse riding chaps, this article is for you.
This article will discuss the significance of horse riding chaps. So let's read on to know more about how using chaps can ensure optimum safety while horse riding.
Reading Suggestion: 500 Horse and Racehorse Names
What are Horse Riding Chaps?
Chaps are a kind of wrap-around apparel that protects your legs while horseback riding from knee to ankle. Typically made from leather or synthetic material, they come in different styles – full-length, half-length, or knee-length – but regardless of their style, they cover your legs until just below your calf.
Importance of Wearing Chaps While Horseback Riding
1.) Protects Against Abrasions and Cuts
Chaffing from contact with saddle leathers is one common cause of abrasions on riders' skin during extended sessions in peak summer weather conditions. Additionally, tree branches and bushes could scratch up against the rider's leg, which could result in cuts that easily get infected if left untreated. These injuries can be avoided if chaps are worn when going on horse riding adventures.
2.) Provides Grip Due to Material
Suppose you're getting into a less stable position while washing bends or making quick stops. In such situations where balance might be at risk − horse-riding chaps come into play. Most are made out of a relatively rough texture material compared to regular jeans or leggings, meaning any jolts will proffer a better grip on the saddle and reduce friction between clothes & skin.
Reading Suggestion: Top 7 Best Horse Brushes to Keep Your Horses Clean
3.) Protection From Extreme Weather Conditions
The weather shouldn't prevent you from enjoying horse riding. Apart from cold, rain, and snow, weather conditions could be dangerous when it comes in contact with the human body over time. Chaps come in handy to protect your legs during a rainstorm or when the temperature drops, ensuring that you remain dry and warm.
4.) Style & Comfort
Comfort isn't usually lost with style. Even as chaps are installed for protection purposes first – riders can still make sure they look good wearing them. From casual bits of denim to fully prepared bespoke leather pieces, choosing a style fitting one's horse riding vibration would have no limitations with chaps on by those who know how to utilize any five senses.
5.) Reduce Risks During Trail Rides
Chap-wearing not only reduces abrasion-causing movement during a trail ride but also saves riders from unpleasant little critters like horse flies that continually bite on skin exposed directly, which may cause irritation, delay, or may force riders to end their rides early with a compromising mood.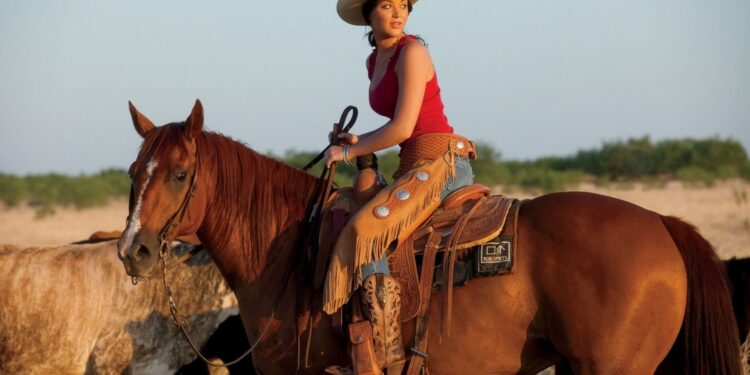 Additional Tips When Wearing Chaps
Wear appropriate apparel underneath the chaps for ventilation.
Break in new chap materials before taking long rides.
Regularly clean and oil the leather material of your chaps.
Conclusion
Horse riding is an enjoyable outdoor activity that requires proper gear and safety precautions. Horse riding chaps serve as protective equipment designed explicitly for riders to provide comfort while preventing injuries caused by bruises, cuts, or scratches due to contact from hard surfaces, be it natural flora instances or unfavorable weather conditions. So if you want a comfortable horse riding experience, include good quality chaps in your riding gear. They are necessary gear for horse riding which will definitely ensure maximum safety. So invest in a good quality horse-riding chap today!