Being a horse owner comes with a lot of responsibility, with the main one being how to care for them and ensure their well-being. And unlike other domestic pets like cats and dogs, who generally don't require a lot of assistance, horses require more attention and care.
Suppose you are considering getting your first horse or already got one. In such a case, it's important to consider everything needed to ensure your horse remains healthy and happy.
It can be overwhelming at first to know the amount of work and effort needed to meet the basics and specialized care for your horse. But with a little guide, it can be manageable. And so, this article offers some insights on horse care tips to help you care for and ensure the well-being of your equine companion.
Get The Appropriate Tools
Before bringing your horse home, it's essential that you take the time to buy and gather all the appropriate tools and equipment needed for taking care of your horse. This includes a lead rope, halter, feeding pan, water bucket, a grooming kit, hay net, sponge, fly spray, fly mask, and first aid kit, to name a few. In addition, you may also need to get a lightweight horse rug, to keep them protected and warm during cold and windy seasons.
Reading Suggestions: 501+ Horse Names For Male and Female Horse Names
Prepare Your Horse's Shelter
Unlike domestic pets like dogs and cats that can just live inside the house with you, horses need their own space. And it's important to ensure that the accommodation you choose is well taken care of as it may have a massive impact on your horse's well-being.
Unfortunately, you can't keep your horse in your backyard as they require a large area that perfectly fits them while giving them ample space to move around. And for that reason, you may need to find an accommodation space that works for you and your horse. A boarding stable, for instance.
But, say you have a spacious farm; in such a case, then that could work by constructing a sturdy stable where they can take shelter and refuge during hot afternoons or rainy nights. And to make them more comfortable in their stables, you can get fly rugs for horses to help keep their temperature regulated during cold nights.
Establish A Feeding Routine
Much like humans, horses also require adequate food and water to keep them in good condition. And with that, your horse's food and diet should also be well balanced to help them stay healthy and prevent diseases and malnutrition.
However, it'd be worth noting that the feeding requirements of your horse depend on its size, weight, and workload. In addition, if your horse is suffering from a chronic issue you may wish to consider something like equine CBD pellets for your horse. CBD for Horses is recommended for pain, stiffness, swelling, and anxiety among other things. And so, consulting with a vet can best help you identify your horse's daily nutrient requirements.
Some of the best horse food includes grass which can be digested easily and is full of nutrients. Alternatively, you can opt for hay when the grass supply isn't adequate. On the other hand, you can also consider getting supplements to ensure the health of your equine companion. That way, multi-vitamins can help supply minerals and essential vitamins your horse needs.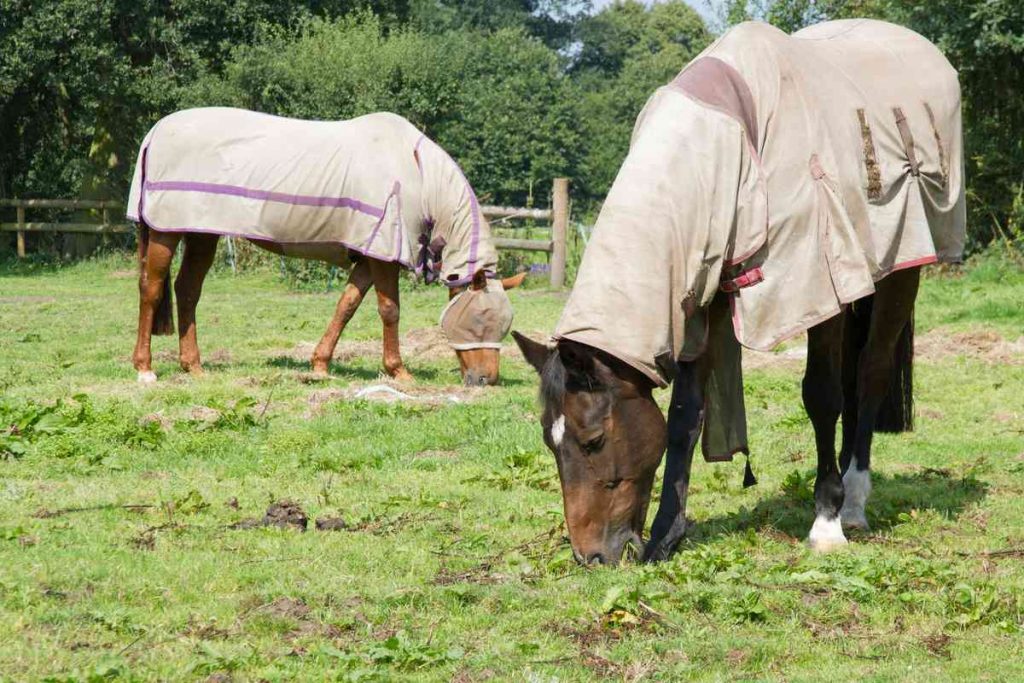 Aside from sticking to a feeding routine, it's also equally important to give your horse enough water to avoid dehydration, which may cause other problems. It's been observed that horses who don't get enough water tend to have digestive system issues, causing food to stay stuck in their intestines.
Reading Suggestion: Horse Temperature: When And How To Take It?
Groom Your Horse Regularly
Grooming is important for horses as it keeps their coats in good condition and should be done regularly. When cleaning the horse's coat, ensure that you have the appropriate tools, including different brushes, sponges, and a hoof pick.
Here are some tips you can incorporate into your grooming routine:
Use a hoof pick to check and pick your horse's hooves, removing any stones or dust that may have been stuck.
Wipe the horse's eyes, nose, nostrils, and under the dock with a damp sponge.
When brushing your horse, remember to use soft brushes when working on your horse's face. Keep the pressure light, especially when brushing around the nose and the eyes. And as for the body, ensure you're brushing in one direction while being mindful around sensitive areas. When brushing your horse's mane and tail, consider using a detangle spray and work on the knots first before continuing with the usual brushing strokes.
Consult a farrier who can assist you in trimming your horse's hooves. Ideally, this should be done every eight weeks.
Bottom Line
Like human beings, horses require a lot of care to ensure they stay healthy and happy. The basics for caring for your horse should cover their housing, feeding, grooming, and having the right tools and equipment to help you ensure their healthy well-being.