Like humans, a horse can have a fever. You may also be familiar with the expression "horse fever" which refers to the powerful effects of a high temperature in quadrupeds. And you don't put your hand on a horse's forehead, or take its temperature in the mouth …
Too high, or too low, the temperature in horses can have many causes. The sooner you detect fever or hypothermia, the better for your horse. But you still need to know how to take his temperature. In this article, we explain everything you need to know about the temperature in horses, from standards to practical instructions. We also list the most common causes of illnesses accompanied by hyper or hypothermia and give you advice on diet and rest necessary for its recovery.
The normal temperature of a horse
Horses, like humans and most mammals, are warm-blooded animals. This means that the body temperature is in principle more or less constant. In the equine world, certain breeds of horses are considered to belong to "cold-blooded horses"; this does not mean, however, that they are not warm-blooded, but just refers to their rather calm nature, not their physiological properties.
The normal temperature of a horse at rest
The normal temperature of an adult horse is between 37 and 38.2 degrees; it is slightly higher than in humans.
The normal temperature of a foal at rest
A foal, aged at most one and a half years, will have a temperature between 38 and 39 degrees. 39 degrees Celsius for a foal one week old is also quite normal!
The temperature of a horse after exercise
During the intense effort, during training for example, the horse's body temperature rises. Therefore, measure not only the temperature at rest but also the temperature after exercise directly, taking as a maximum guideline value 39.5 ° C under these conditions. Be aware, however, that the temperature of a horse in high-performance sport can go up to 40 ° Celsius.
Factors That Affect Horse Temperature
External factors can also influence its temperature. For example, sunlight can warm a horse's body while cold ground can cool it down and lower body temperature. Likewise, the time of day can also play a role. This is because the body temperature is generally lower in the morning than in the evening.
Reading suggestions:6 Most Common Horse Diseases
The abnormal temperature of a horse
Horse temperature too high (hyperthermia)
If your horse's temperature is over 38.5 degrees, your horse has a fever and the vet will need to be called.
Mild fever and high fever
A mild fever is defined as a fever between 38.5 and 39.5 degrees, and a high fever from 39.5 degrees. If your horse has a high temperature, it is usually a sign of an infection. The same rule applies here as for humans: treated quickly, it will be easier to cure.
Be careful above 41 ° C!
However, above a temperature of 41 degrees, enzymes and proteins in the body can be damaged. Every living thing has its own normal baseline temperature, but the temperature at which proteins are damaged is the same for all living things, starting at 41 degrees Celsius. Since the horse has an already elevated normal body temperature, it reaches the critical limit sooner than us humans. 
Moreover, the fever does not rise higher than 42 degrees, temperature considered as a limit.
From 41 ° C, like a chicken egg in a pot of hot water, the protein cooks and can become solid, thus losing its properties. It is above all particularly dangerous for the brain which, due to cerebral edema, can suffer irreparable damage.
From 41 degrees, fever is potentially fatal, and it is an emergency.
Horse temperature too low (hypothermia)
But it's not just the fever that is worrying: too low a temperature is also a warning signal. Indeed, in such a case, the metabolism of the horse, or its circulation, no longer functions correctly. A temperature below 37 ° C should put you on alert, and if it is below 36.5 ° C, see a veterinarian quickly.
Why take a horse's temperature?
Taking a horse's temperature is not what horse owners are very fond of. However, it is important, because fever says a lot about a horse's health.
Fever, a symptom of many illnesses
Often, a too high temperature is the first sign of an infection or a bodily inflammation: it is a reaction of natural defense of the organism, and a priori not serious (at least from the start). Fever is caused by an increase in metabolic activity; the body tries in this way to overcome the threat. So by measuring the temperature, you will quickly know if something abnormal is going on.
To know the normal "individual" temperature of your horse
The reference values ​​of a normal temperature in the horse are global guideline values. But each horse is different, we recommend that you measure its individual normal values. Take his temperature at regular intervals, and keep written records of your measurements. Indeed, a normal temperature for one horse can be abnormal for another, and be the sign of an ongoing disease. Knowing its own normal value will help you and your veterinarian to more closely assess its condition.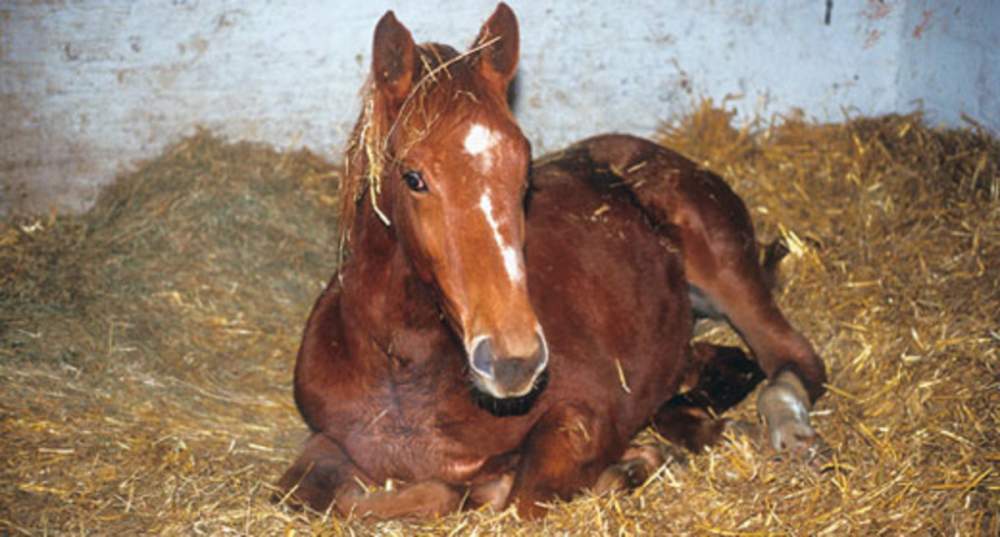 When to take a horse's temperature?
Too high a temperature (hyperthermia), as well as too low a temperature (hypothermia), can indicate that your horse is ill.
Signs of fever in horses
It is best to check its temperature in the following cases:
if your horse is unusually calm, has a dull complexion, appears amorphous

if he is not eating, or drinking properly

in case of excessive sweating

if there are signs of a cold: a runny nose, cough or swelling of the lymph nodes)

if he has colic or diarrhea

if he has swollen legs

in case of injury, or after an operation, as a control

if other horses in the same lane in the stable have an infection

in case of suspicion of heat stroke or cold
In the most severe cases, when the fever rises to 41 degrees or more, coordination problems can be observed in the horse. But horses with only a mild fever will have mild symptoms, and their rise in temperature can easily go unnoticed…
Only the digital clinical thermometer will give you precise and reliable data.
Can we touch the horse's ears to find out if he has a fever?
The method of touching the horse's ears to feel if its body temperature is too high is not precise. The only way to reliably know if your horse has a fever or is hypothermic is to take his temperature!
Indeed, the ears are not the only part of the body that gains in temperature. No: in case of fever, the entire surface of the horse's body becomes hotter. Some even claim that his eyes are more reliable than his ears, in that they look "sick".
How to take the temperature of a horse?
The body temperature of a horse is always measured in the anus: we speak of rectal temperature. This should preferably be taken with a digital clinical thermometer.
Reading Suggestions; 500 Horse Names For Male and Female Horse Names
Horse thermometer: which one to choose to take its temperature?
A normal clinical thermometer is sufficient, robust and quite suitable. You can get it at almost any drugstore. But it is important not to use an old glass mercury thermometer. The risk of injury is too great, for you and your horse, because the glass can easily be broken which would release the mercury, especially since it is toxic!
Instructions for taking a horse's temperature
If you are using a digital clinical thermometer, you must first turn it on according to the instructions for use, and wait until it is ready for use. Then stand next to the rump, that is, next to the horse's hindquarters, to avoid possible injury, and lift its tail. Depending on the type of thermometer used, insert the device five to ten centimeters deep into the animal's anus.
 Next, to avoid losing the thermometer in the horse's large intestine, use a piece of duct tape to secure a string, which you will then attach with a clothespin to the horse's tail. This will also prevent your thermometer from breaking if it accidentally drops while handling.
If you are using a mercury thermometer (strongly discouraged), you will need to wait at least 3 minutes while with a digital clinical thermometer, a beep will sound once the measurement is complete and displayed.
You can now retrieve the thermometer, remove the tail clip and read the horse's temperature.
Some precautions to take
Violent movements, stress and high outdoor temperatures affect the measurement results. You must therefore choose a quiet and shaded place where the horse will be relaxed, for example, a well-known place, such as its box or the place where you usually groom it. If you have just been riding a horse, or if it was under a blazing sun, you will have to wait an hour before measuring its temperature.
Possible causes of fever and hypothermia in horses
As we have already written above, hyperthermia, as well as too low a temperature can indicate that your horse is suffering from an illness.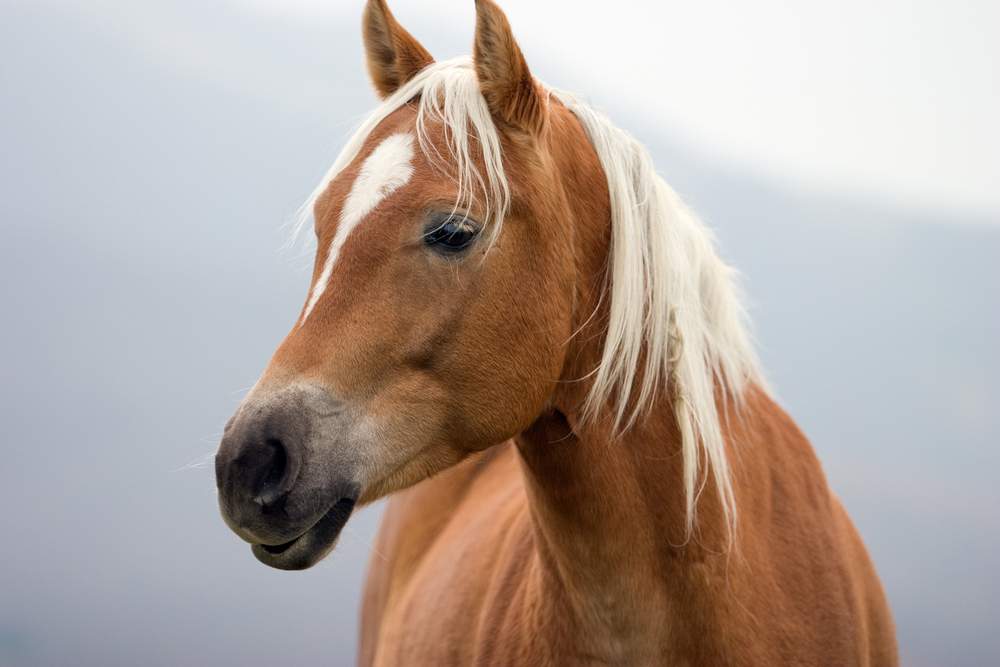 Main illnesses accompanied by fever
In the case of fever, the causes can be multiple. The most common are infectious diseases caused by bacteria, viruses, parasites, or fungi. Equine flu (influenza), herpes or strangles are illnesses accompanied by fever, but also symptoms such as cough, runny nose, or swelling of the lymph nodes.
 Pneumonia, inflammation of the intestines, tumor disease, poisoning, allergic reaction, heat stroke or overwork can also cause fever. Even a scratch that might seem harmless at first or a small injury to the leg can generate subcutaneous inflammation and turn the horse's foot into a real elephant's foot …
In short, from harmless to fatal, fever is a symptom accompanying many illnesses.
Main diseases accompanied by a drop in temperature
As for hypothermia, it is rather caused by shock, a significant loss of blood, a long stay outside in cool weather, or because the horse is lying on the cold ground. But a drop in temperature can also occur in the event of metabolic disorders linked to disease, malnutrition, or poisoning.
What treatment?
Therapy depends on the cause. If the fever is high or persistent, antipyretics will be given. You can also cool her legs with cold water. And if the horse also stops eating and drinking, it will need to be treated more intensively and will need infusions.
Rest and a suitable diet
Rest to recover
"Let him rest" might be the watchword for owners of feverish horses. Particularly if you have a high fever, put aside unwanted activities, grooming, grazing, or going for walks for a while. However, you can still take your horse to the meadow in case of a slight fever, at 39 degrees for example. However, it would be a bad idea to go for a walk with a horse with a temperature of 40 degrees … 
How to properly feed a feverish horse?
If the fever drags on, your quadruped should be fed properly. To do this, forage remains the most important food for your horse. You can also give him vegetable oils, beet pulp, easily digestible and very energetic, but only if he gets enough exercise. And above all, do not feed it more than before in terms of quantity. Indeed, horses often tend to lose weight quickly, and then only manage to regain it slowly. It is therefore advisable to be patient and to avoid compensating for the inconvenience of this difficult period by inappropriate gluttony.