Whether you got a new dog or spent more time than usual with your existing furry friend while working from home during the quarantine period, returning to your typical routine may leave your dog with separation anxiety. Imagine spending every day with your friend and then all of a sudden, you stop. 
Dogs with separation anxiety may display distressing behavior such as destroying furniture, barking, urinating and defecating indoors and escaping. 
Take a look at why your dog may develop the condition and the steps you can take to prepare your dog for your daily prolonged absence.
Why and How Do Dogs Develop Separation Anxiety?
The condition is more common in adopted shelter dogs that have suffered some form of abuse or maltreatment before their adoption. However, they are not the only dogs prone to separation anxiety. 
Many dogs may succumb to the condition if they experience a sudden life change such as abandonment, an owner giving the dog to a shelter, or a new owner. An important person in their life returning to a full day work schedule after a prolonged at-home schedule, while not as severe a change as abandonment, represents an abrupt change that can trigger separation anxiety. 
How to Prevent Separation Anxiety
To protect your four-legged friend's mental health and well being, you want to ease them into your newly restored schedule to soften the blow of an abrupt change. Help prepare your dog for the end of the home office by utilizing the following steps. 
Start Leaving
Since you're going to leave for work eventually, it would be best to start introducing your absence earlier rather than later. Don't just pick up your things and leave without warning; ease into it slowly. Start departing the house for simple day-to-day tasks such as longer trips to the mailbox.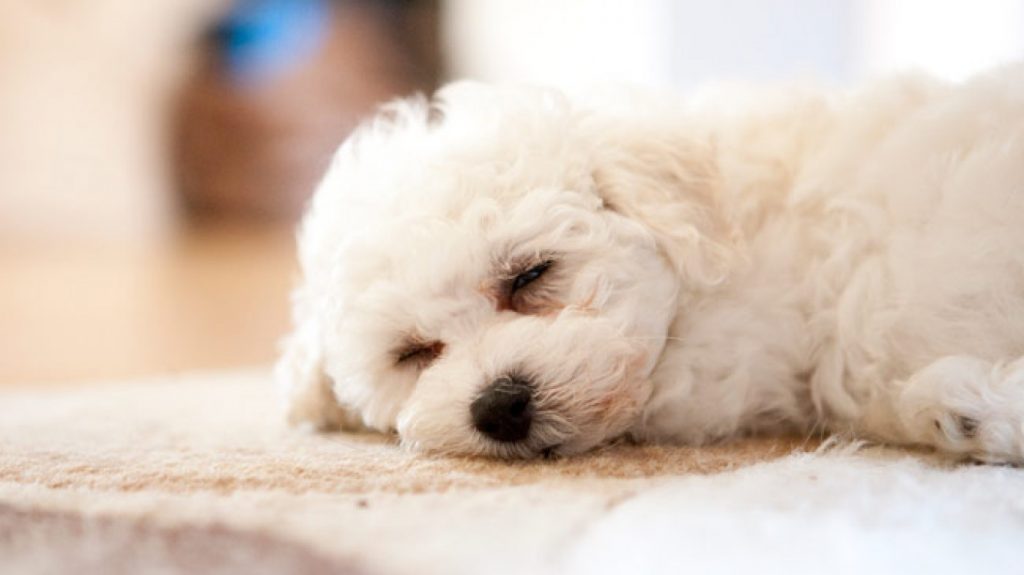 Retrieving the mail may seem like not a big enough leave of absence to prepare your dog, but you need to start slow. From there, you can take longer trips, such as going to the store. You want to work your way up to extended periods, including extended trips to run errands or stopping by a friend's house to hang out for an afternoon. Gradually building up your absence will help your dog get accustomed to you not being home 24/7. 
Reading Suggestion: 7 Reasons Why Shih TZU Are The Worst Dog
Initiative Leaving Cues
Before enacting your gradual leaving plan, take stock of how your dog behaves before you walk out the door each time. If your dog starts pacing, crying, or panting when you approach your front door, put on your coat, or grab your keys, for example, these may be signs of pre-departure anxiety.  
Pre-departure anxiety is a symptom of the more intense and prolonged separation anxiety, which will lead to more distressing behavior. To put a stop to pre-departure stress and, in turn, separation anxiety, you can start initiating cues to let your dog know when you're going to leave. Similar to training, implementing these cues will take time, so you should begin as soon as you can.
Pick a signifier such as your car keys or coat, something your dog recognizes before you leave. Then, start practicing using the object as a cue. Go to the door, put on your jacket or pick up your keys. Instead of leaving, sit on the couch to watch Tv or go about your daily routine. 
Keep practicing utilizing these cues, but don't leave the house. In doing so, your dog will start to adjust and relax because they will start learning that the signifiers don't mean you're leaving them even when the time comes for the end of the home office. 
Make an Entertainment Plan
When it comes time to go back to a physical office, you won't be home to give your pup the constant attention or playtime they've grown accustomed to during quarantine. It would be best to create a plan to keep your dog calm and satisfied in your absence.
Entertainment plans can vary. If you don't work the typical nine-to-five job, you may want to designate specific playtimes for your dog when you're home. If you do work a full day schedule, you might want to put a more intensive plan into place so that your dog can stay entertained during the long day without you. 
Start looking into doggie daycare options, that way you can schedule times throughout the week to drop your dog off at a place that specializes in entertainment while you go to work. If you choose doggie daycare, you should still designate entertainment times when you get home so that your dog can still indulge in special time with you. 
Create a Routine
Your daily schedule probably looks abnormal compared to what it was before the quarantine. The new normal for you and your dog may mean walks later in the morning, giving playtime or attention throughout the day, and earlier feeding times. Whatever the routine you have now, if you even have one, you need to make adjustments early on to introduce what life will be like at the end of the home office duration. 
Begin the changes early to get your dog comfortable. These changes can be relatively simple such as getting up to feed and walk your dog at earlier times as you would before leaving for a workday. Instead of indulging in playtime during daily at-home work breaks, designate specific playtimes relative to when you'd get home from a day at the office. 
These may seem little, but they will get your dog more comfortable and ready for what life will resemble at the end of the home office. 
Give Them a Safe Space
Just as you like to come home from a long day at work to a safe, comforting space, your dog needs the same during long periods left at home. Having a safe place to stay while you go to work will help your dog relax and reduce anxiety. 
The safe space you create may consist of an existing crate or bed, something they are already comfortable with. If you don't want your dog cooped up in a box all day, you can also designate a room for them, such as a laundry room or bonus room. 
You may not want to give them a space with a window. Having a view of the outside world may cause anxiety or fuel their desire to escape. Since dogs have active brains, a window may also cause them to start barking more frequently. In the safe space, room, or crate, provide your dog with some toys to entertain them while you're gone and maybe a blanket of yours so they can have your familiar smell with them. 
Reading Suggestion: All You Need to Know About Shih Tzu Dogs
Saying See You Later, Not Goodbye
After practicing and implementing new tricks, routines, and spaces for your dog, you can feel confident in leaving them home alone while you return to work. While it may feel odd to leave your pup after spending so much time in your home office, remember you're not saying goodbye; you're saying see you later.