Dogs and dog owners alike love watching content that features furry four-legged characters. It doesn't matter if it's a cartoon, an animation, or a live-action show, you can count on the fact that your pet dog(s) can not only see the screen but also tell dog characters apart from others.
Of course, they may not be able to understand the finer details in the plots of dog TV shows. But they still get a kick out of watching fellow canines on the screen.
You May Like: Can Dogs Eat Green Beans? Are Green Beans Safe For Dogs?
Spending quality time with your pet dog or dogs is good for both you and them. This blog focuses on some of the best shows that you can enjoy with your canine friend.
Best Shows For Dogs To Watch
There is absolutely no shortage of dog-centric content in the entertainment world. You can find them on streaming services like Amazon Prime Video, Netflix, and Hulu.
There are also certain channels that air content specifically for canine pets on your regular cable or satellite TV broadcast. If you find that some of your favorite programs are region exclusive, you may want to invest in the best streaming vpn to unblock the content and give you access to a wider selection of shows.
If all else fails, you can order a dog movie classic like Lady and The Tramp on-demand, and pay Spectrum by phone, or whatever TV service provider you use. The fact is, ever since a 2013 study proved that dogs can recognize other dogs on TV screens, there has been a growth in dog-oriented content in addition to other pet entertainment.
TV Shows for Dogs on Streaming Services
There are several enjoyable shows and popular tv shows for dogs on streaming services that, providing you have CenturyLink internet, or reliable internet through a similar provider, you can watch with pets. The list that follows below focuses on some of the best content you can watch with a pet dog or dogs. With a variety of both animated and live-action content, you'll not run short of entertainment anytime soon. Here are a few shows you might want to check out:
Dog Dynasty
If you're a frequent internet user who visits meme sites, you may have come across Hulk the giant pit bull. Hulk is the star attraction of his own show called Dog Dynasty. Breeders Dark Dynasty have made a name for themselves in breeding and training some of the best guard dogs in the business.
Also Read: Pitbull Corgi Mix – An American Pitbull Terrier and Welsh Corgi Breed
Given the pit bull's fierce reputation for aggression and intimidation, you'd be surprised at the direction Dog Dynasty takes. Far from a ferocious animal foaming at the mouth, the show focuses on the gentler side of guard dogs, particularly pit bulls. You and your canine friend will be treated to Hulk's travels across the country, and his gentle interactions with people, children, toddlers, and even other smaller dog breeds.
Dog Days
When you think of reality TV, the first thing that pops into your mind might be Keeping Up With The Kardashians or Celebrity Big Brother. It would surprise you to know that the reality TV industry has been exploring new directions, including in Dog Days case, a canine audience.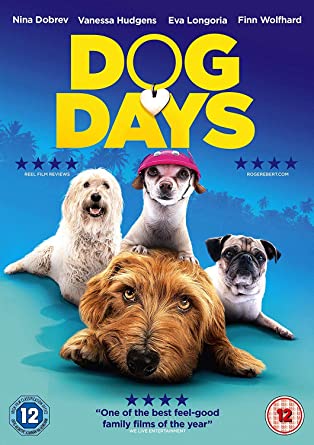 Initially airing on Animal Planet in 2017, Dog Days follows celebrity New Yorkers and their pet dogs living the good life in the Big Apple. You get a mix of all sorts of dogs, from well-behaved dogs with an uncanny sense of aesthetics to playfully destructive pups that melt your heart.  
Lost In Oz
Of course, you may have read or maybe watched The Wizard of Oz as a child. Lost In Oz follows the same broader storyline, but targets a younger audience with animation. Of course, there's nothing stopping adults and their dogs from getting entertainment value from the show.
Follow young Dorothy Gale and her adorable little terrier Toto on their adventures through the magical land of Oz to find a way back to Kansas. A little wholesome content every now and then never hurt anyone!
Dogs With Jobs
Even if you have a heart of stone, this is one show that will melt it. Originally airing in 2000, Dogs With Jobs brings us real-life stories of dogs doing the things they were bred for and helping many people.
From seeing-eye dogs to special needs companions, to trained K-9 units saving lives, you never knew just how many roles a dog could play. Try to hold back the tears at some of the most touching moments, such as the episode with Maggie and her close relationship with a young autistic child in Alberta.
Reading Suggestion: What is a Parti Yorkie? and What is Parti Yorkie lifespan?
What is Dog TV?
Dog TV is a channel that has been specifically created for dogs. It airs content carefully designed with audio and video cues tailored to the canine senses. Dog TV is a great way to enrich your pet dog's environment. This is especially true if you're working most of the day and leaving your dog on its own.
Dogs get bored easily, and younger ones can turn that boredom into pretty destructive behavior. Do you want to come home to a chewed-out mattress or a couch with all the stuffing knocked out of it? If the answer is no, and if you have a boisterous canine pet at home, Dog TV is what you need to keep them busy and entertained.
Shows on the Dog TV Channel
If you're subscribed to a major provider, like the Spectrum cable company, you will likely have access to Dog TV in your channel lineup. This TV channel airs content for dogs all year round. The channel does not broadcast shows in the typical sense. Instead, it airs programming that is segmented based on a scientific assessment of a dog's daily cycle. So what you get is three distinct types of programming during the day, including:
Stimulation programming is designed to keep dogs busy and entertained.
Relaxation programming, to soothe, calm, and help your dog relax.
Exposure programming, exposing your pet to calm natural scenes and sounds.
Each show airing in a specific segment follows the same theme. Dog TV is a great channel to have on your lineup if you are a dog parent. Most cable providers carry them, although the exact position may vary depending on your market.
If you're wondering what channel is Dog Tv on DirecTV, you can usually find it on channel 562. For conventional cable or IPTV providers, you will need to check with your provider.
Sled Dog Movies
There are several sled dog movies to watch with your dog. Listing some of them in the below list
Faith In Every Footstep

The Great Alone

Antarctica

Iditarod: Toughest Race on Earth

See You In Nome: An Iditarod Rookie Journey

Eight Below

Balto

Iron Will

White Fang

Kayla: A Cry In The Wilderness

Balto III: Wings of Change

Spirit of the Wind

White Fang 2: Myth Of The White Wolf

Snow Buddies

Stone Fox

The Last Trapper

Call of the Wild (1993)

Snow Dogs

Toby McTeague

Balto II: Wolf Quest

Call of the Wild (2009)

Call of the Wild (1976)

Call of the Wild (1972)

Alaska's Great Race

Chilly Dogs

Born to Run

I miss something from the list of sled dog movies? Share with us through comments.