Dogs make excellent pets, and that's why we call them man's best friend. But they can also suffer from diseases such as cancer, diabetes, heart disease, arthritis, and even obesity. If you want to prevent your dog from suffering from these conditions, then you should take proper care of your pet.
There are several ways to keep your pet healthy and happy. In this post, we've provided tips that will help keep specific canine diseases at bay. We've also provided advice on which breeds to research so you can put measures in place to ensure your dog stays healthy.
Research Breeds That Are Prone to Specific Diseases
Certain dog breeds are more prone to developing diseases over time. For example, Labradors are prone to getting canine distemper, while Rottweilers are more likely to develop Lymphoma compared to other breeds.
As a pet owner, your responsibility is to prevent your dog from getting sick. The ideal way to keep your dog healthy is by researching what diseases your dog can contract based on his or her breed. Consider doing a DNA test to find out if your pet is a mixed breed.
The best dog DNA test will give you more information about the health of your pet as well as genetic information that can help you prevent future diseases from developing.
Vaccinate Your Dog
Vaccinating your dog against diseases like canine distemper virus (CDV) is the single most effective way to protect him or her from contracting the disease. CDV is highly contagious and can cause serious illnesses in dogs.
Symptoms include fever, lethargy, loss of appetite, vomiting, diarrhea, coughing, sneezing, runny nose, and eye discharge.CDV also attacks the gastrointestinal and nervous systems of puppies.
Furthermore, it's recommended that you vaccinate your dog against other types of diseases, such as rabies, Hepatitis, and Parvovirus. The first vaccination must be given to puppies that are between 6 to 8 weeks old. This is a 5-in-1 vaccine that protects your dog from common canine diseases as they grow.
The second vaccination must be given when the puppy is between 10 and 12 weeks old. When your puppy reaches 12 weeks, you must take him or her for the first rabies shot.
Check Your Dog's Teeth and Gums Regularly
Regular dental care is essential for preventing tooth decay and gum infections. Brush your dog's teeth daily with specially formulated pet toothpaste. Be sure to brush all surfaces of your dog's mouth, including gums, tongue, lips, cheeks, and palate.
You can also detect a dog's health by looking at the gums and tongue. A healthy dog's gums should be a bright bubblegum pink. If you notice strange color changes, then take your dog for a checkup immediately.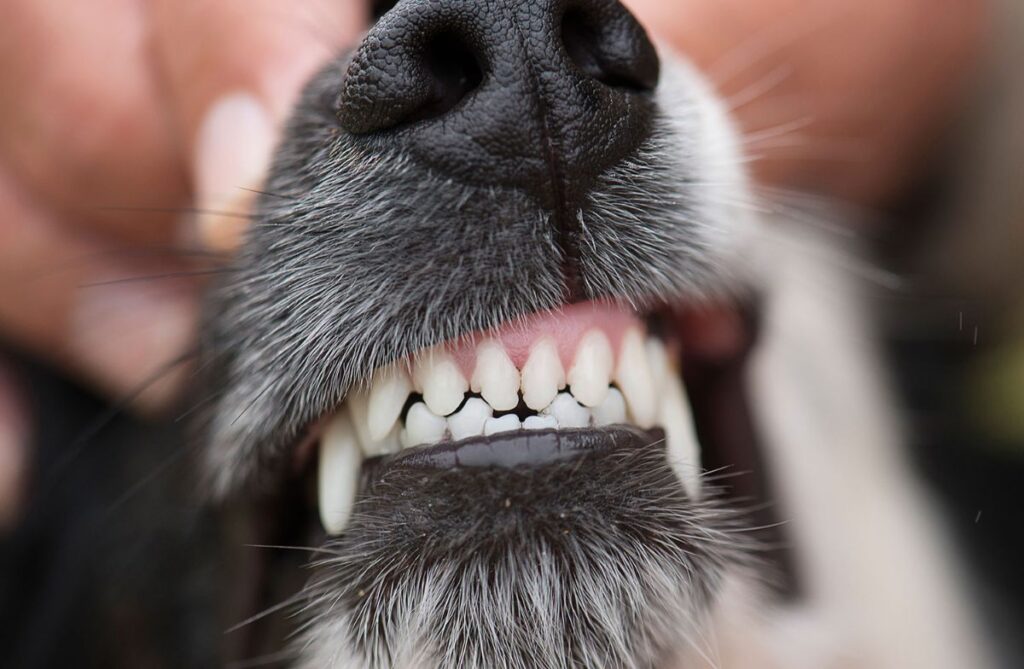 Monitor Your Dog's Weight
Keeping track of your dog's weight is another simple way to ensure that your beloved pet stays healthy. Overweight dogs are prone to obesity-related health issues like diabetes and heart disease. Take your dog for regular walks to keep your pooch fit and prevent weight gain.
Feed Your Dog a Balanced Diet
Feeding your dog a balanced diet is important for keeping your pet healthy. Include high-quality protein sources like chicken, fish, eggs, and beef, along with carbohydrates like fruits, vegetables, grains, and bread. Avoid feeding table scraps, junk food, and treats. You should avoid giving your dog chocolate at all costs because it can cause seizures.
There are also certain foods like potatoes, onions, and garlic that can cause problems for dogs. But if you feed your pet the right foods, it can help strengthen your dog's immune system to prevent diseases.
Maintain Good Hygiene
Maintaining good hygiene is crucial for protecting your dog from skin infections and diseases. Dogs can contract skin diseases like mange and Impetigo. To prevent your dog from contracting harmful skin diseases, you must wash your pet regularly. Bath your dog every two weeks and comb your pet's coat thoroughly to remove dead skin cells and loose fur.
Take Your Dog For Regular Checkups
Seek medical attention immediately if your dog shows signs of illness. Contact your veterinarian right away if your dog develops symptoms of heat stroke, seizures, or breathing difficulties. On the other hand, you should take your dog for regular checkups.
Once your dog has gone for all his or her shots, vet visits should be frequent. Take your dog to the vet once or twice a year to ensure your pet is in excellent health. Your vet will also give you recommendations on the best foods, exercises, and treats to provide your dog.
Final Thoughts
When you become a dog owner, you'll soon realize that your pet is like your child. This means your dog requires the same care that you would give to children. To keep your dog healthy and prevent the onset of serious diseases, you must feed your dog the right foods and ensure they're in a clean and comfortable environment.
If you're worried that your dog may contract a disease, then use the tips we've provided in this article. By following our advice, you can help prevent your dog from contracting life-threatening illnesses.