Successful control of various plant pests and diseases, above all, depends on the timely implementation of protective measures in combination with preventive and agronomic methods of plant care. Protective measures include agrotechnical and chemical methods.
Agrotechnical methods are based on creating conditions favorable for the development and growth of plants and simultaneously preventing the spread of pests and parasitic microorganisms that cause plant diseases.
Careful soil treatment destroys habitats of many pests and destroys plant residues on which parasitic microorganisms are preserved, but poor treatment, on the contrary, impedes access of oxygen to the soil, weakens plant development, reduces the reproduction of beneficial microorganisms in the soil that destroy pathogens, and promotes the mass spread of blackleg, root-knot, and others.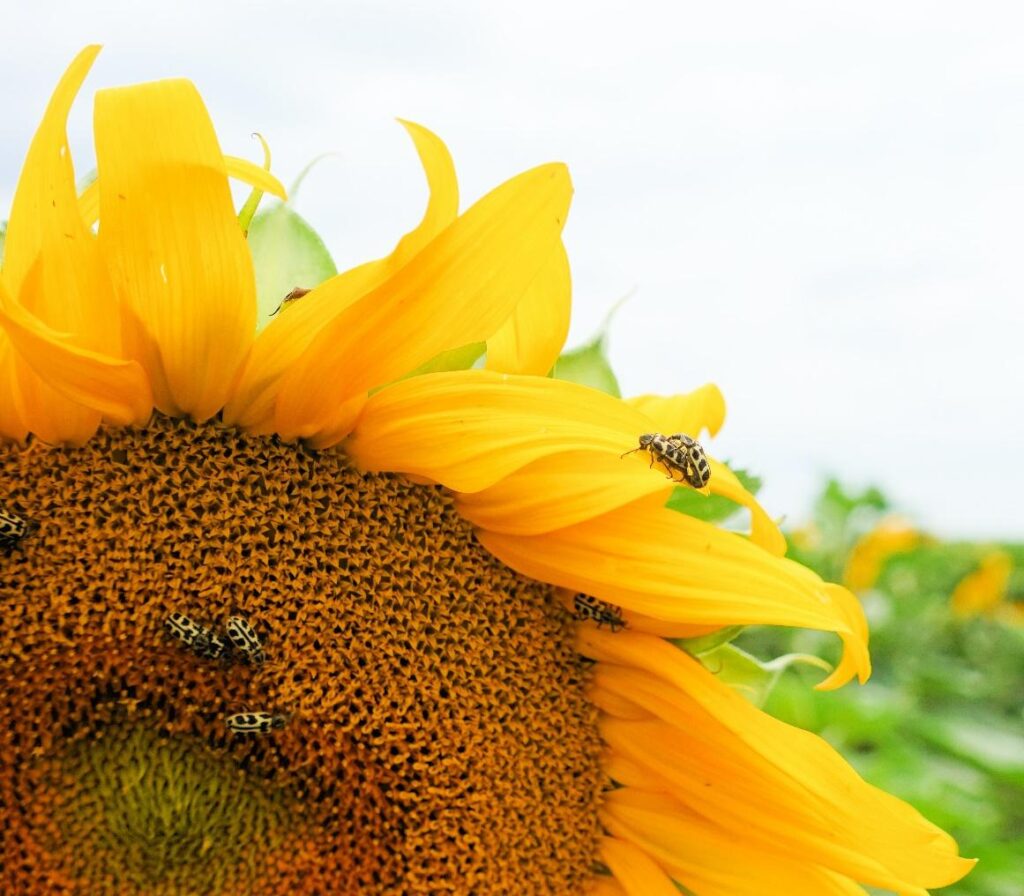 Favorable conditions for seed germination and plant development are also provided by timely sowing, as well as by the use of various fertilizers and dressing. In addition, in some cases, the possibility of damage to cultivated plants excludes crop rotation with spatial isolation of crops.
The fact is that many insects and plant pathogens adapted to feed on certain plants, die from lack of food when changing crops. An important role in the favorable development of plants is played by the right choice of site, especially when laying perennial fruit and berry plantations.
Reading Suggestion: Fox Pest Control Reviews
For example, it is known that planted next to gooseberries and currants are more damaged by gooseberry moths, and neighborhoods of potatoes and tomatoes are affected by phytophthora.
Proper planting of crops, i.e. observance of optimal distances between plants, airing of the site takes place, which prevents the spread of diseases such as apple and pear scab, currant anthracnose, and many others. Elimination of weeds and fallen leaves, which are a food base for many pests, removal of dried branches, cleaning dead bark on fruit trees and timely watering also prevent mass accumulation of pests and harmful microorganisms.
However, it should be remembered that the effectiveness of the above agrotechnical methods largely depends on the timing of their implementation and the peculiarities of the development of each pest or plant disease. The quality of seed and planting material and the selection of varieties resistant to diseases and pests are also of great importance here.
In addition to agronomic methods, the chemical method of pest and disease control is widely used in agricultural practice. The advantage of this method is the speed of action, the possibility of simultaneous elimination of several pests or pathogens, as well as its high return on investment.
However, the chemical method has certain disadvantages. For example, if used unreasonably, some preparations destroy useful insects in addition to pests; strong-smelling substances leave an unpleasant smell on the treated fruits, and improperly composed solutions can cause burns to plants. Thus, when using chemicals to control pests and diseases, you should strictly adhere to the established regulations and rules of their use.
Long-term experience in Ehrlich pest control and disease control shows that reliable protection of cultivated plants is possible only if all methods are used in complex, e.g. cultivation of zoned varieties resistant to pests and diseases with simultaneous use of agrotechnical methods increasing plant resistance and reasonable use of biological and chemical pest and disease control agents.
Integrated pest management means a decision-making process that uses a combination of methods to suppress pests and should include  the following elements:
Planning and management of the ecosystem to prevent organisms from becoming pests;
Identifying the potential for pest infestation;
Tracking pest and beneficial organism populations, pest damage, and environmental conditions;
Determining the pest threshold from which interventions will be required;
Reducing pest populations to acceptable levels using a strategy that may include a combination of biological, physical, cultural*, mechanical, behavioral, and chemical control methods;
Evaluations of the effectiveness of the methods of intervention.
In many countries, all light, food, agricultural, and, to some extent, electrical equipment manufacturing companies must have integrated pest management programs. These services are usually provided by a licensed pest control company (Pest Control Company), which develops and implements them in conjunction with the facility management to suit specific conditions.
For example, in the warehouses of modern program-controlled machine tools, rodent control, which can damage the electrical wiring in the machines, is relevant. At enterprises of the chemical industry that produce, for example, polypropylene yarns and artificial turf for soccer fields, courts, carpets, etc. also a program of rodent control is carried out.
The issues of cockroach and rodent control are relevant at almost all enterprises due to the presence of canteens, cafes, bathrooms, etc.
The list of pests this program covers includes birds, rodents, and insects. In different situations, or at different times, the same species can be either beneficial or a pest.
Reading Suggestion: What is a Parti Yorkie? and What is Parti Yorkie lifespan?
For example, starlings, in early spring in orchards are beneficial, eating insects – pests, later, during the ripening of fruits and berries, become pests, eating and damaging them in huge numbers. Often, insects or birds that are harmless to humans and products, begin to create problems with their presence in large numbers, etc.
Therefore, the integrated pest management program is based on an assessment of the environmental conditions that led to the emergence of pests, and on the development of the most environmentally friendly methods of their elimination.
Conclusion
The use of the latest aerosol insecticides is a method of crop protection that has proven highly effective. Modern aerosol preparations are designed both for treating grain and for treating unloaded warehouses and granaries. Before spraying with aerosol clean the room thoroughly to ensure the best contact with the preparation.
The working fluid is used to cover insect habitats: floors, walls, ceilings, frames, cracks, and crevices. As well as all storage equipment and containers, because these places may hide pests or store their eggs. To be more reliable, spray the outside walls of the building and the surrounding area.
Grain is sprayed on the conveyor belt when it is moved into a silo or elevator hopper. The liquid preparation is well distributed in the entire volume of the grain mass, so there is no need for additional mixing. Grain protection against pests using aerosol insecticides allows the crop to be stored long and reliably after treatment.