Wolf spiders are fearsome hunters. These light gray to yellowish, dark brown spiders live up to their name, although they do not invade the insect world in 'packs', as the name might suggest. The wolf spider is a solitary walking spider that explores the forest floor effectively. There is no such thing as creating a web. This spider does not wait for the prey to come near it but is very actively looking for it.
The wolf spider belongs to the Lycosidae family.
The Pisauridae, or maternity web spiders, are also included. Just like the tarantula. This large hairy wolf spider (Lycosa tarantula) appeals to the imagination and is mainly found in southern Europe. There are all kinds of methods to keep wolf spiders from entering the house, ranging from caulking the outside walls (chinks, wall crevices,
Wolf Spiders Are Everywhere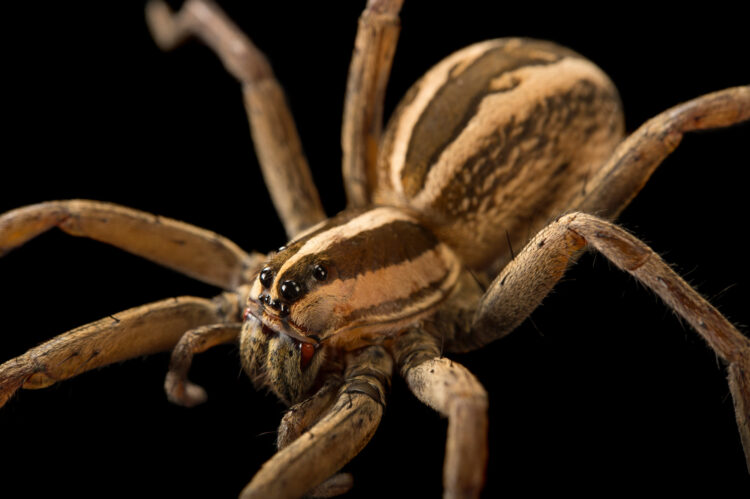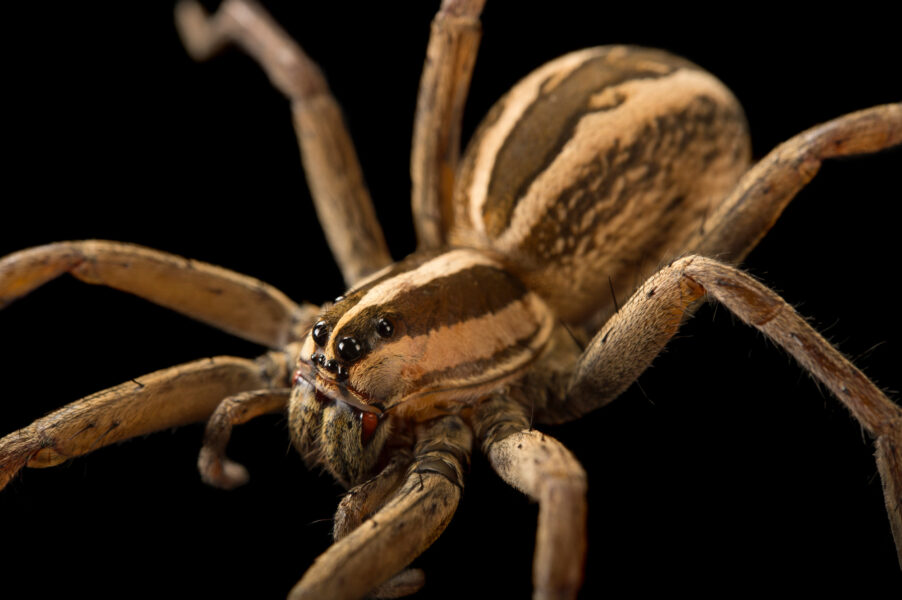 Wolf spiders are hunting spiders, also known as running spiders. There are large and small species. In general, they look sturdy and robust, and they can be found pretty much all over the world. More than seventy species have been counted in Central Europe alone. They owe their name to their 'dense' coat, the wolf-like way in which they stalk their prey, and the speed with which they attack.
Where Are All Eight Wolf Spiders Eyes?
Wolf spiders have eight eyes in three horizontal rows. With the top two large eyes, they look up, with the middle two forward and the bottom row consists of four small eyes, which allow them to see what is happening next to them.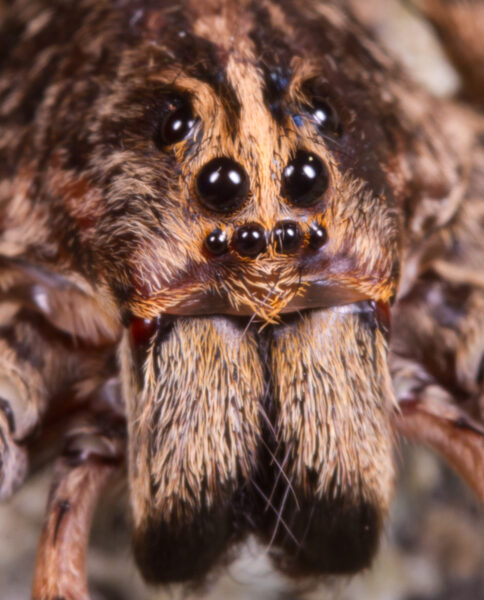 Distribution Of The Wolf Spider
Wolf spiders inhabit the most varied habitats, from the tropics to the polar regions, such as Siberia and Alaska. These lightning-fast – especially when they have 'warmed up in the sun – eight-legged friends live in deserts, tropical jungles, swamps, and mountain areas, far above the tree line. In America the 'big boys' roam, including the Hogna wolf spiders.
More than 80 species of wolf spiders have been discovered in Europe, of which about 70 are in Central Europe. It is not difficult to discover one in spring or summer. During a walk in the woods or on the heath, one can just cross your path.
Campers in the great outdoors know all about this, because wolf spiders also like to explore the tent from the inside. The European species are quite picky about their habitat. The well-known 'common wolf spider' ( Pardosa pullata ) is the most common in the world.
Angling Wolf Spider
The most numerous species can also be found in gardens, under leaves, between plants, and on fences. For some species, one has to go to the banks of streams.
For example, there is the large river spider one of the largest wolf spiders in the world. Most species hide in rock crevices, under rocks, or in underground burrows. Wolf spiders that like banks can often be seen skating over the water.
Some species even catch small fish by sticking a leg in the water like a fishing rod.
Active During The Day And At Night
Most wolf spiders are active in the spring and summer. Those who look for them can find them the fastest during those periods. Since they like heat, they often sunbathe on stones. They are startled by sudden movements and then flee at lightning speed. Once warmed up, a wolf spider is lightning fast and too fast for any prey. In principle, the wolf spider is a nocturnal animal, but there are many species that have to make a living during the day. Towards evening they hide in burrows underground.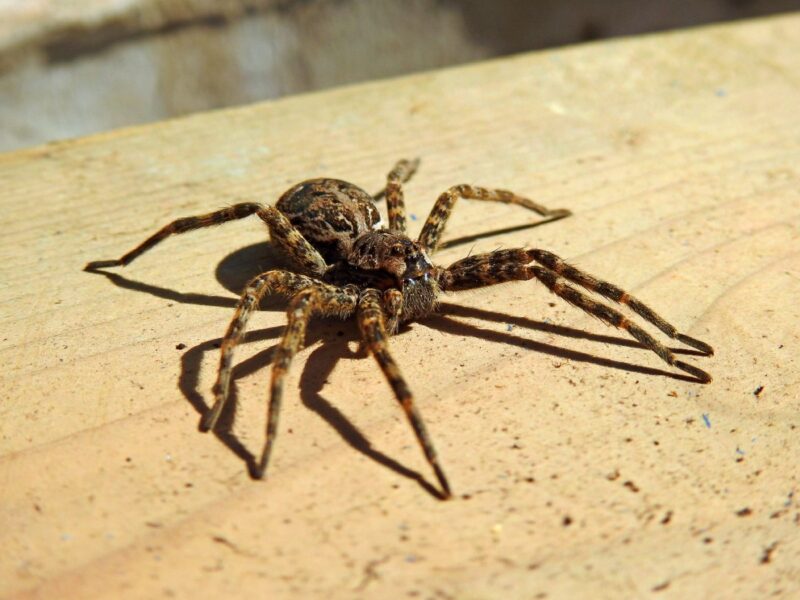 A Formidable Hunter
Wolf spiders often race frantically for prey. They have to because they don't make a catch web. They rely on other strategies, such as watch out, sneak, spy, and then strike with lightning speed and relentlessly. They pop up out of nowhere and disappear just as quickly.
The somewhat gray color of the wolf spider – from light gray to dark brown – is adapted to the biotope and has to do with camouflage, protection, and attack strategy. Some Lycosidae wolf spiders make tubular burrows in which they wait for something to their liking. Still, other species wander through forest and heathland until they spot prey. It is precisely these species that one sometimes encounters in the autumn when it gets colder in the house, in addition to the well-known house spider.
Wolf Spider At Home?
If you prefer not to have a wolf spider in your house, you can take many measures meeting that this eight-legged friend will certainly not be pleased about. Such as keeping the garden as clean as possible from leaves and other foliage, but also removing planters, for example. Wolf spiders like dark places where they hide. Shrubs that grow against the house are also very popular, for example.
It is best to seal off cracks and wall cracks in the foundation and window frames. Always install window screens. Ventilation grilles are also notorious. Just like cavity holes (attach grids). Outdoor lighting also attracts wolf spiders that look for insects at night. Keeping the house clean inside – often vacuuming, also behind the cupboards and under the armchairs – is a must in that respect. Remember the grandmother's saying, " Where the fad rests, the spider works ."
Reproduction
The courtship rituals of many species often take place in warm, sunny places, such as on and under stones, fallen branches, and stumps. The male sends out special signals, assuming that the female thinks that prey is approaching when in reality the male is. Sometimes a spinning line is followed to get to the female. Many families and species, including the zebra spider ( Salticus scenics ), use a weaving thread to prevent them from falling into an 'abyss' or being taken in a strong gust of wind.
Young Spiders
The male approaches the female very cautiously. If the mating fails, it is usually done with the male and he is eaten. The parental care in wolf spiders is phenomenal. The female withdraws and weaves a kind of web cushion at the end of the abdomen (on the spinnerets in Lycosidae ). A web in which the eggs remain for two to three weeks until they hatch. The mother carries the young spiders on her back for the first few days. There may be as many as forty, but American species are known to carry as many as a hundred.
Important Features Of The Wolf Spider
Wolf spiders belong to the class Arachnida (arachnids), the order Araneae (spiders), and the family Lycosidae and Pisauridae. Of the latter group, the Pisaura mirabilis or large wolf spider (nursery web spider) is best known. Of the Lycosidae, the common wolf spider ( Pardosa pullata ) is a frequent guest, also in the garden. Important characteristics of the wolf spider are: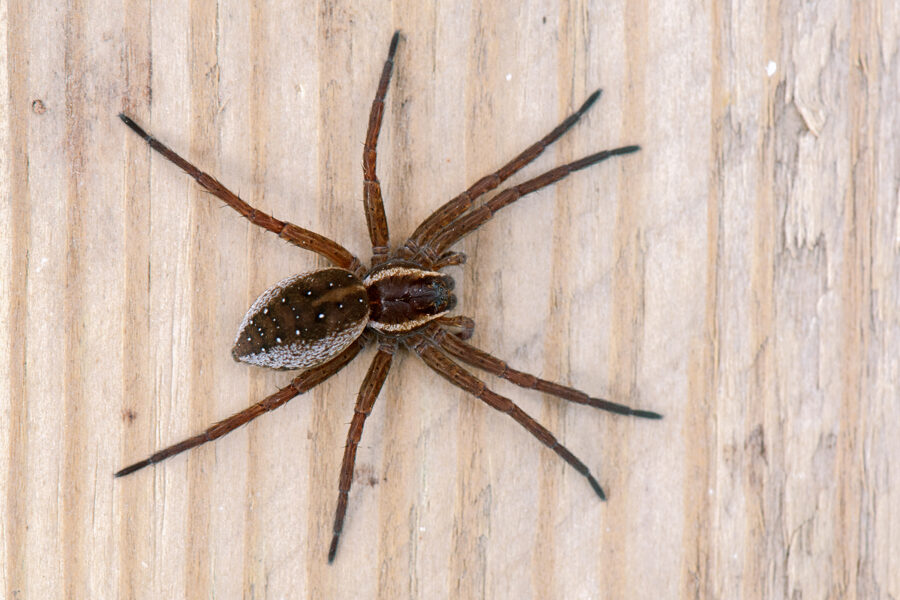 Color: Light gray to yellowish, dark brown.
Species: The amount of genera and species is enormous. More than 70 species have been described in Central Europe alone, and more than a hundred in North America.
Length : 0.5 to 4 cm.
The number of eyes: 8 (in three rows above each other).
Behavior: Wandering, solitary.
Age: 1-3 years.
Food: Insects, other spiders; shore spiders even catch fish.
Distribution: All over the world, also in the polar regions.
Reproduction time: Spring and summer, in the tropics all year round.
Development period : 2-3 weeks.
Related Species : In addition to the Licosidae , including the Pardosa , Pisauridae (nursery web spiders) are also counted among the wolf spiders, including the 'great wolf spider'.
Species protection : Of the dozens of species in Europe (approx. 130 in North America), none are protected. The bite is harmless.
Are Wolf Spiders Poisonous?
All spiders are poisonous, let that be clear. However, most spiders are not dangerous to humans. A spider that is challenged or squeezed will almost certainly bite. Bites involving tissue death have only been observed in a few South American species.
The jaws of most spiders cannot penetrate the skin. However, this is also said of the house spider, although numerous anecdotes suggest the opposite. Also, the common large track spider causes a painful bite. So is the much more venomous black widow ( Latrodectus mactans ).
What Happens If You Get Bitten By A Wolf Spider?
Symptoms of the bite of a wolf spider are:
redness.
Swelling.
Pain, like a wasp sting.
Itch.
The Tarantula Is Also A Wolf Spider
The tarantula is usually associated with the tarantula. This spider, originally from southern Europe, is actually the wolf spider Lycosa tarantula, a hairy predatory and hunting spider that can indeed bite and of which house sparrows and other smaller vertebrate species are known not to survive the bite.
Tarantulas mostly feed on insects. For humans, the bite is not fatal, but very painful. The spider is named after the place Taranto in Italy and refers to the disease tarantism, said to be a form of hysteria or possession (folk belief) resulting from the alleged bite of a tarantula.
Frequently Asked Questions
What Happens If A Wolf Spider Bites You?
Wolf spiders are not considered to be dangerous to humans and their bites are not considered to be medically significant. The bite may cause some minor swelling and redness, but it is not known to cause any serious medical problems.
Are Wolf Spiders Poisonous To Cats?
No, wolf spiders generally are not considered to be poisonous to cats. Wolf spiders are members of the family Lycosidae and are considered harmless to cats, dogs, and humans. If your cat has been bitten by a wolf spider, it may cause some minor irritation and itching but is unlikely to cause any serious harm.
Are Wolf Spiders Poisonous To Dogs?
Yes, wolf spiders can be poisonous to dogs. If a dog is bitten by a wolf spider, it may experience pain, swelling, and redness at the site of the bite, as well as nausea and vomiting. If your dog is bitten, contact your veterinarian immediately.