Black Chow Chows are one of the most popular dog breeds in the world, and for good reason. They are known for their stunning black coats, fluffy tails, and gentle temperaments. If you are thinking about getting a black Chow Chow, here is everything you need to know.
The Allure of Black Chow Chow Puppy
Black Chow Chow puppies are some of the most adorable creatures on the planet. They have fluffy coats that are jet black, and their eyes are a deep brown or amber color. They are also very playful and love to cuddle.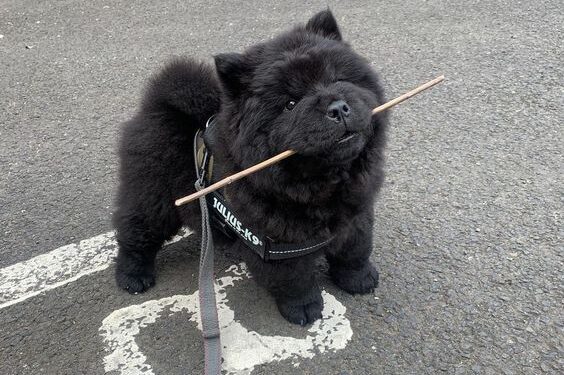 Teacup black Chow Chow puppies are even more adorable than their standard-sized counterparts. They weigh only a few pounds and have even fluffier coats. However, it is important to note that teacup black Chow Chow puppies are not a recognized breed by the American Kennel Club (AKC). This means that they may be more prone to health problems.
The price of a black Chow Chow puppy can vary depending on a number of factors, including the breeder, lineage, and health. Generally speaking, black Chow Chow puppies cost between $1,000 and $3,000. However, puppies from reputable breeders may cost more.
Black Chow Chow puppies typically range from $1,000 to $3,000 in price
The Art of Blending: Black Chow Chow Mixes
Black Chow Chow mixes are becoming increasingly popular. These dogs are a cross between a black Chow Chow and another breed, such as a German Shepherd, Husky, or Labrador Retriever. Black Chow Chow mixes inherit the best qualities of both breeds, and they often have unique and striking appearances.
Chow Chows are known for their thick, fluffy coats. They require regular grooming to keep their coats looking their best. The traditional lion-like haircut is a popular choice for black Chow Chows. This haircut involves trimming the hair around the face and legs, leaving the hair on the body long.
Black Chow Chows are generally healthy dogs, but they are prone to some health problems, such as hip dysplasia, bloat, and eye problems. It is important to take your black Chow Chow to the vet for regular check-ups and to keep them up-to-date on their vaccinations.
Training and Temperament: Nurturing a Well-Balanced Companion
Black Chow Chows are known for their independent nature and loyalty. They are relatively easy to train, but they need to be trained with patience and consistency. Black Chow Chows also need plenty of exercise to stay healthy and well-behaved.
If you are looking for a loyal and majestic companion, a black Chow Chow may be the perfect dog for you. With proper care and training, black Chow Chows can make wonderful family pets.