Our feline friends are living beings just like us. We like to communicate with others either another human being or a pet or even a machine. Similarly, cats have a way of communicating things that we call "hissing". It is their way of expression when they face some internal or external condition that makes them feel uncomfortable or stressed or insecure.
It is perfectly normal for cats to hiss at other pets or human beings and please don't consider them as aggressive behavior. They are actually the victims and they aren't the bullies like you might have thought. They don't want to dominate and they just want to express the feeling, "Don't trouble me". 7 most common reasons why cats hiss are as follows:
7 Reasons Why Cats hiss
Defensive calls
Cats hiss when they get defensive and want to avoid confrontation. This is a strategy they use to warn their opponents and convey that they want to be left alone. Also, if a mother cat lives with her kittens and feels protecting her from new pets or veterinarians they visit, the mother cat hisses as a warning sign.
During hissing, cats show their sharp teeth and they want their opponents to know of their weapon.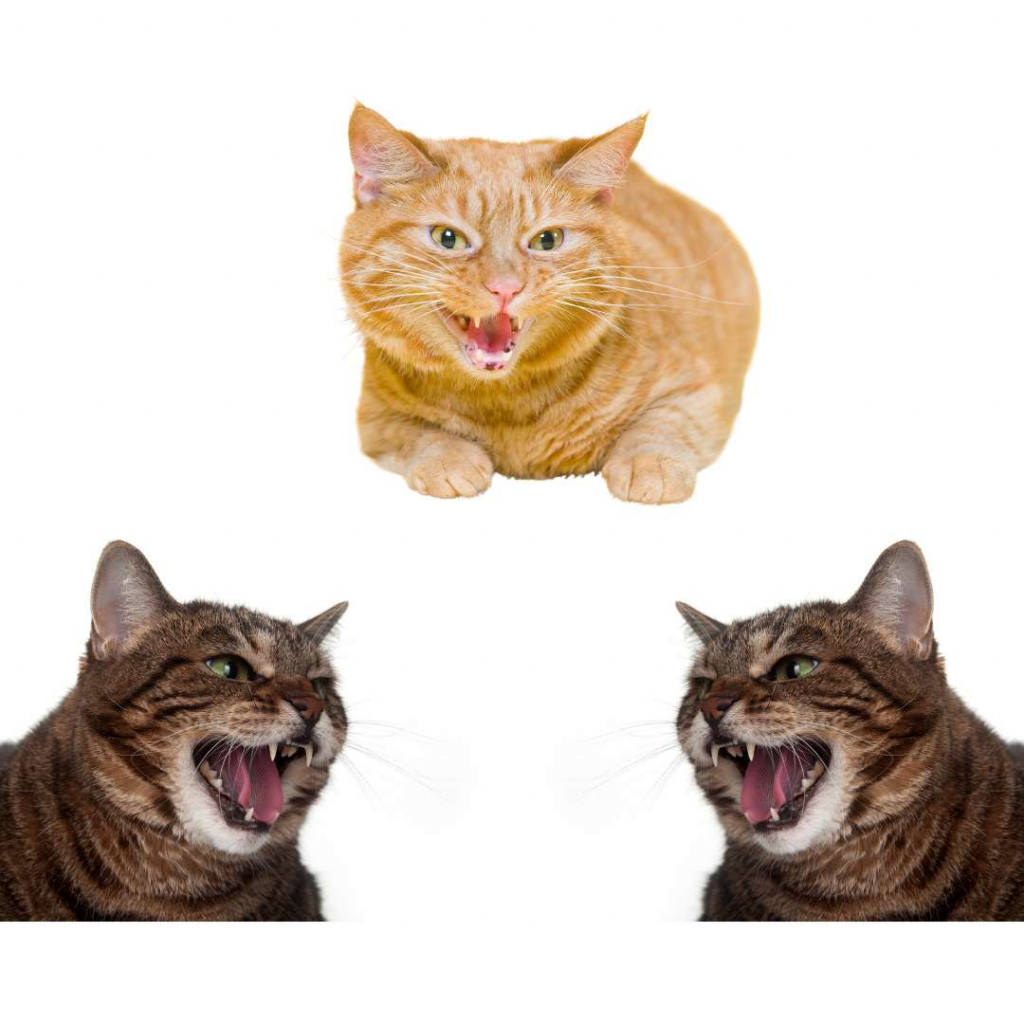 New items around
If your cat is exposed to new items such as furniture, toys, strangers, or other pets at your living place, it feels uncomfortable because of unfamiliarity. This causes them to feel insecure and overwhelmed. To feel safe and to avoid new items, they start hissing.
Reading Suggestion: 5 Best Cat Window Hammocks
Pain and stress
If your kitty got hurt and suffers pain in a part of its body, it hisses to let you know not to touch or go near her. Also, when your feline friend is not in good mood, they don't want to be cuddled or close to other people. During such mood swings, their stress levels go up and they exhibit fight or flight responses and this causes them to hiss.
Friendly play
If your cat has a lot of cat friends or kittens, they might do it just for fun. It is not serious to be taken note of. However, be cautious when the play gets rough and you notice that one starts hurting the other.
No touching
Cats want their cat time. There are times in a day when they don't want to be meddled with. No matter how close you were to your kitty, you must give some privacy to your cat. During such times, when you keep playing, lifting, or cuddling your cat, they feel annoyed.
Protecting its territory
Feline friends maintain their own territories and get furious when some other adult cat crosses their borders. Such actions cause your cat to hiss and keep other adult cats at bay.
Reading Suggestion: British Longhair – All You Need to Know About British Longhair Cat
Communicating to other pets
Sometimes, cats wish to communicate with dogs or other pets. They hiss to express their stress or uncomfortableness around dogs. However, dogs might not understand what cats want to communicate and this can lead to fights between dogs and cats. You must keep a watch on pets when they get close to your kitty.
How To Respond When Cat Hisses
You can follow one of the below responses based on the situation your cat is in.
When your cat hisses at you, leave your cat alone for some time. Like humans want sometimes to be alone, recognize that cats are no different. Cats usually take a few hours to return to their normal mood. Till then, let it do whatever it wants to.
If you have placed a lot of new or strange items near your cat and if it annoys your cat, just remove them from their place. Introduce them gradually and allow your cat to take time to familiarize itself with new objects.
If you have a lot of pets, either other cats or dogs, don't let them be close when you find one of them gets annoyed. Keep them at distance and observe how they react.
Keep your cat engaged by introducing toys and other accessories such as cat trees and cat caves. Let her hide or roam around those items. Create high spaces within your room as cats feel comfortable to hide and stay relaxed at such places.
Conclusion
When you observe your cat hissing for the first time, you might not know how to react. But the best way to understand your cat's communication is to observe them repeatedly. After some time, you might know what cues to look for based on your cat's body language.
Still, you may never figure out at all times why she gets upset or why she stays uncomfortable. But knowing the above reasons and acting accordingly will positively improve her mood. If you are interested to read more, you can check my other articles on why your cat won't use the litter box and how to keep ants out of cat food.