Resting in a hammock can give your cat a similar sensation to perching on a tree and observing the surroundings. Therefore, if you want a quality model that you can adapt to the needs of your pet, then we invite you to review this list with 5 of the best window hammocks.
The 5 Best  cat Window Hammocks
1. Afufu Cat Window Hammock Bed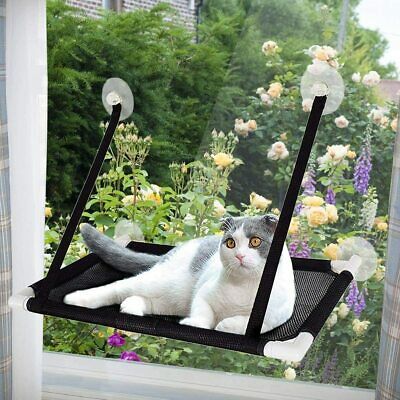 It is a cat window hammock that allows your pet to enjoy the sun and see outside comfortably. In this sense, it includes 4 suction cups for the window and has all the accessories necessary for installation, which facilitates its use.
In terms of resistance, the tubes that make up its structure are made of PVC plastic, a durable material that is not harmful to the ecosystem. Also, the net on the surface does not break easily for durability and is capable of supporting a maximum weight of 10 kg.
On the other hand, this hammock has a waterproof design and it is possible to clean it using only soap and water to increase practicality. Regarding the size, it measures 60 cm wide, 35 cm high, and 35 cm deep.
If you are looking for the best DIY cat hammock window of the moment, it is appropriate that you carefully review the positive and negative characteristics of this model.
Pros
Waterproof: The net that makes up the surface of the hammock is made of waterproof material, which favors its resistance.

Comfort: Allows perspiration to offer a cozy, but cool surface at the same time.

Installation: Includes all the necessary materials for installation, so you do not need additional tools.
Cons
Capacity: This hammock is designed to support a single cat since its capacity is only 10 kg.
Related: Cat Hammock: Let Your Cat Completely Relax At Home
2. CatRomance Cat Window Hammock
This hammock for pets can support a maximum weight of 18 kg, thanks to the fact that it has a metal support that does not deform easily. In this sense, it is strong enough for 3 cats to perch on it.
For added functionality, this window cat hammock offers a circular-shaped surface that allows your cat to lie down comfortably and receive more sunlight. In addition, it is covered with carpet fabric that offers softness and good breathability to increase comfort.
Reading suggestions; PEMF Devices For Dogs And Cats
As for the fastening, it brings 5 ​​suction cups with a knob function to expel the air from inside once you place them on the window. In this way, it provides greater security for your pet so that it can jump and throw itself on the hammock without the risk of falling.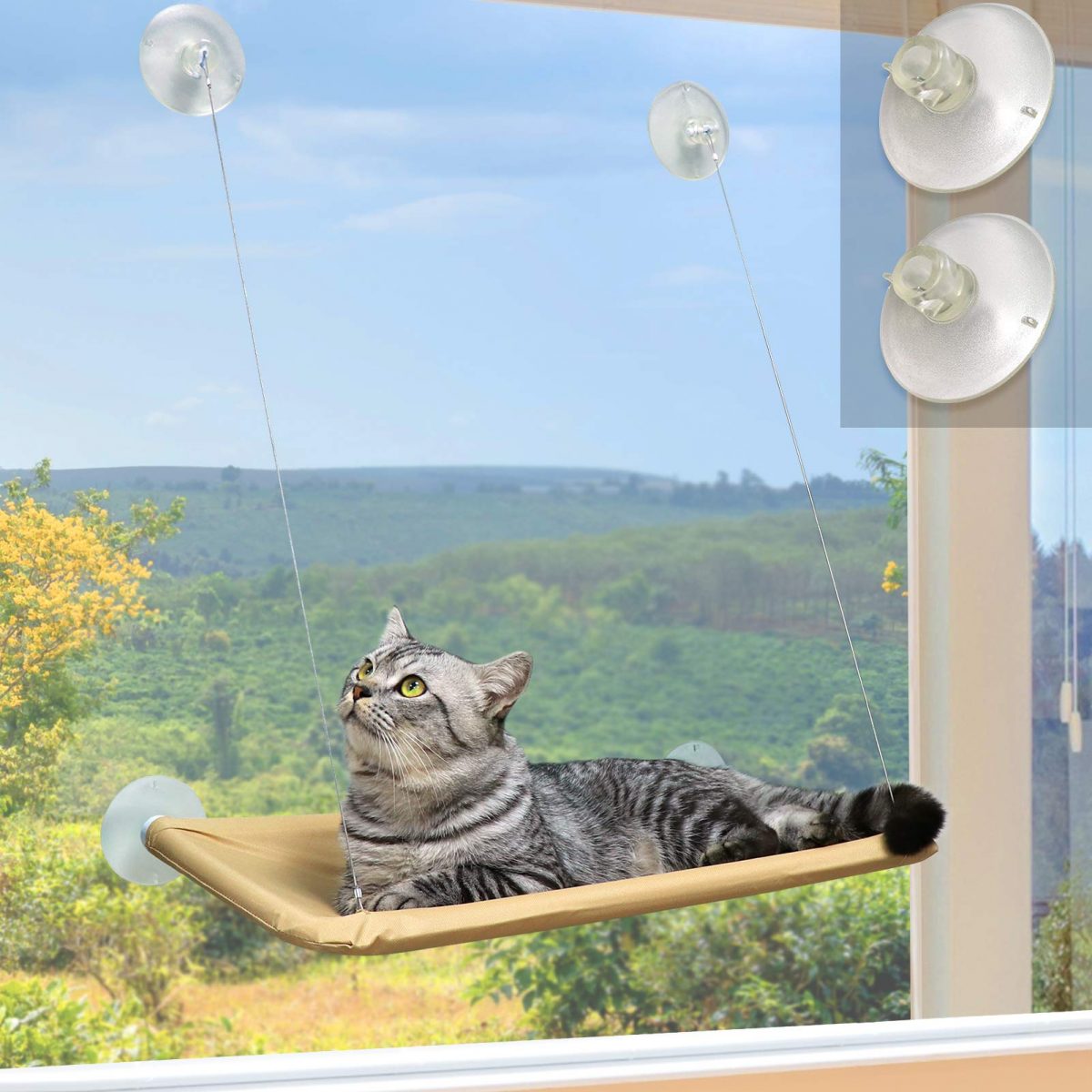 The best value for money cat hammock must be one of the cheapest and most resistant today, like this model. Therefore, we will mention its pros and cons before you select a model.
Pros
Softness: It is soft to the touch since its surface is covered with carpet for greater comfort.
Compatibility: It is compatible with smooth doors, tiled walls, windows, among others, which increases its versatility.
Design: The surface has a curved design that provides a comfortable position for the cat to rest.
Cons
Mounting: Suction cups should be submerged in warm water for 3-5 minutes before attaching to glass, which could delay installation.
3. Pueikai Cat Window Hammock
It is a hanging cat window hammock that can support a maximum of 23 kg of weight, which helps to ensure the safety of your pet while it is on the structure. In the same way, it brings high resistance glass tubes to increase the useful life of the product.
Regarding the installation, this hammock can be easily placed on glass doors and windows that have a smooth surface. Likewise, it does not require the use of additional tools for its assembly, since it includes all the necessary materials.
For added comfort, the surface of the hammock is made with breathable velvet that is soft to the touch. As if that were not enough, 2 of the included suction cups have an innovative turning system that allows you to eliminate the air inside to guarantee maximum support.
If you are looking for a cat window hammock that does not cost a lot of money, you should know that this is one of the cheapest options on the list. Let's review its most salient aspects in depth.
Pros
Capacity: It is capable of supporting 23 kg of weight, so its structure can accommodate between 2 and 3 cats at a time.
Support: The upper suction cups have a turning system to eliminate air and provide better support.
Resistance: The rods that make up the structure are made of fiberglass for greater resistance.
Cons
Maintenance: This hammock can get dirty easily because its surface is made with velvet.
4. LS Cat 

Window Hammock

This is a large cat window hammock that offers two levels for added versatility. Also, the height of the mezzanine is adjustable by 28, 30, 32, and 34 cm, so that large cats can stand upright and comfortably on the lower surface.

In addition, it offers a resistance of 25 kg, so it can support the weight of several cats simultaneously. In addition, this provides greater security and reduces the risk of your structure falling. Also, by having two levels, each cat can have a small space of its own to relax.

Reading suggestions; 200+ Unique Female Cat Names for Your Cute Companion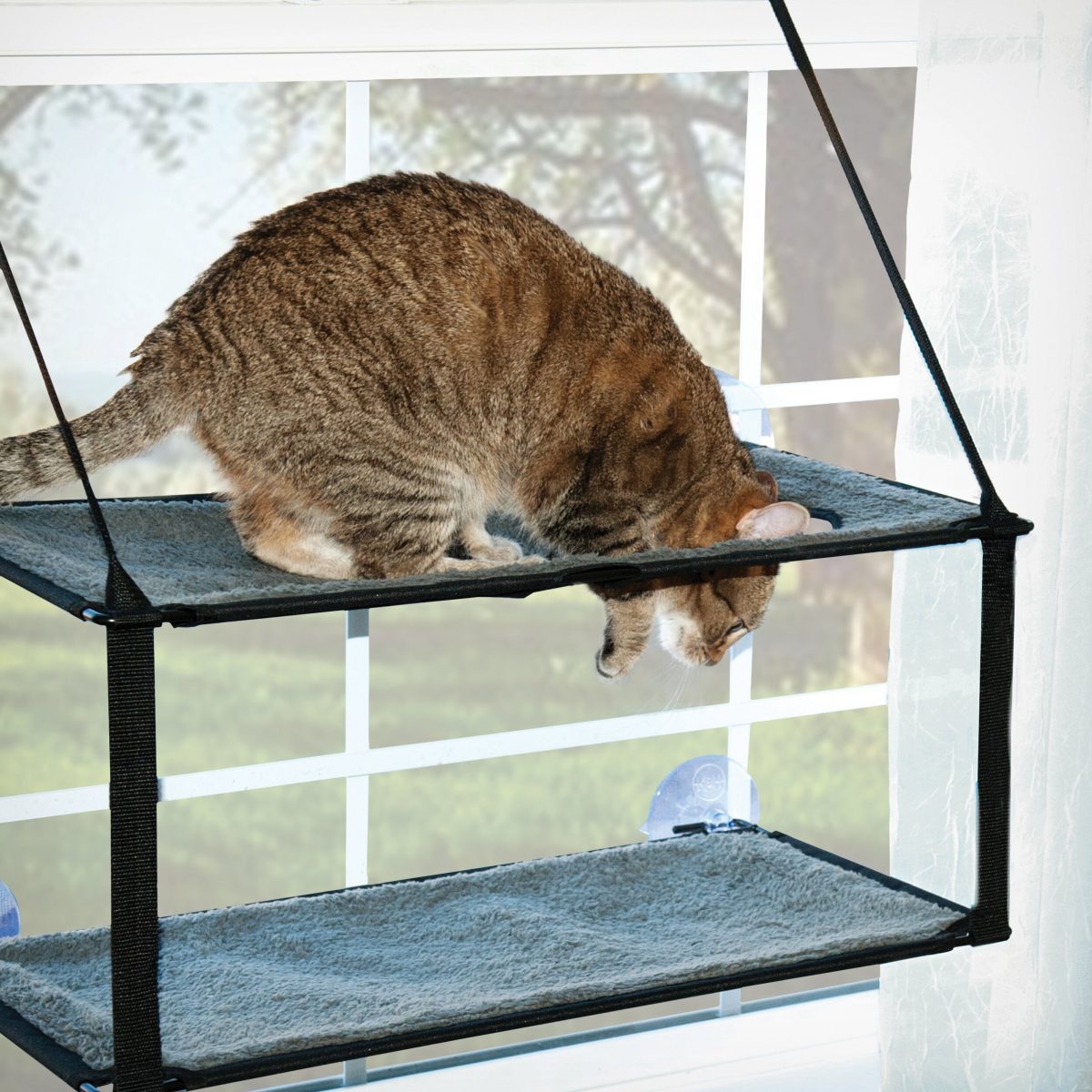 In terms of resistance, it has a metal frame that offers great rigidity to avoid deformation, making it a very durable hanging hammock for cats.
If you are wondering which is the best cat window hammock, it is appropriate that you know this model in more detail, since it is a highly versatile hammock.
Pros
Levels: It has two levels so that several cats can relax together at the window.
Cleaning: It is possible to disassemble the surface of the levels, for easy cleaning by machine.
Resistance: It is a resistant hammock that has a rigid metallic structure capable of supporting up to 25 kg of weight.
Cons
Size: This large hammock can only be installed on windows that are greater than 45 cm wide.
5. Authda Hammock for the radiator for Cats
This radiator hammock for cats can be installed in a warm place for the cat, allowing it to stay warm and sheltered during the cold season.
To promote comfort, the cover of this hammock is made of plush, which is soft to the touch, padded, and can acquire a cozy temperature in a short time. It is important to note that it has a zipper for easy removal and machine washing, which favors practicality and allows you to keep the hammock in good condition.
Also, it has a metal support that offers stability and does not deform easily, which gives your cat greater confidence. On the other hand, you should know that it is available in beige and gray presentations, to choose according to the color that best matches your cat's coat.
A good quality cat hammock should be comfortable and practical, just like this model from the Authda brand. Let us know in detail its pros and cons before making the final selection.
Pros
Cover: Offers a plush cover that provides softness and allows better temperature conservation.
Fastening: It has a pair of hooks to hang the hammock easily on a radiator.
Cleaning: The cover can be removed for machine washing at a temperature below 30 ° C
Cons
Capacity: This hammock is for small cats since its maximum capacity is only 5 kg.
Frequently Asked Questions
How to Make a Cat Window Hammock?
Explore this section
Does a Window Cat Hammock Work?
Yes it works.