If you're a dog lover, you always want to give your furry friend the best. From tasty eats to cozy beds and fun playtime, we want to make sure our pups are happy and healthy. And for getting around town, why not do it in style? Check out the ultimate guide to dog strollers; the perfect way to mix fashion and function. You'll find all sorts of styles, sizes, and features to pick from, so there's a dog stroller out there for every dog and every owner's taste.
So why not step up your game and give your doggo a cool ride? Let's get into the world of dog strollers and see how to choose the ultimate dog owner's accessory.
Why You Should Immediately Get a Dog Stroller For Your Pup
Imagine a scenario where the sky's looking pretty and you're ready to take your fluffy pal out for a walk. However, the moment you head to the front door, your pup starts whimpering and hobbling around; it seems like they're not feeling their best today, or maybe their age is starting to slow them down. In any case, a dog stroller is the answer to all your problems! It's the perfect way to keep your furry friend happy and healthy while still enjoying the great outdoors which is pretty cool, right? Not convinced?
Here are a few reasons why your pup needs a dog stroller right now: It keeps them safe from pesky dogs, you can go on long walks or hikes without straining your pup, it provides a cozy and secure space for them to rest, it protects them from the hot or rainy weather. In addition to that, it's super helpful for senior dogs or those with moving difficulties.
With a dog stroller, it's much easier to enjoy the company of your furry mate without constant worries about their wellbeing. It's an all-around victory for both you and your pup!
Reading Suggestion: Teacup Micro Bully
How To Choose The Right Dog Stroller For Your Fluffy Buddy
Consider Your Dog's Size And Weight
A study by the Association for Pet Obesity Prevention found that about 60% of dogs in the US are either chubby or downright obese! That's why it's essential to keep your four-legged friend's weight in mind when picking out a dog stroller so it can handle their size and weight.
As for size, it's crucial to choose a stroller that gives your pooch plenty of room to move around and get comfy. To figure out what size you need, measure your furry pal's length, height, and weight, then compare those stats to the buggy's dimensions and weight limit to make sure it's a good fit.
Dr. Cherie Buisson, DVM and owner of Happy Tails Veterinary Physical Rehabilitation and Wellness Clinic, warns that "Pups that are either too big or too small for a stroller may feel stressed out, uncomfortable, or even get hurt. If the dog stroller is too small, your doggo won't have enough space to lie down or lounge around. On the other hand, if your bowwow is too big, they could end up bouncing around or tipping the stroller, which could cause some serious injuries."
Another study published in the American Vet Journal showed that using a stroller that's too small could make your furry friend hotter and less able to breathe, which could be seriously dangerous, particularly when the weather's scorching.
Choosing The Large Dog Stroller
There are dog strollers available for large dogs. The size of the stroller will depend on the size and weight of your dog. Make sure to measure your dog before purchasing a stroller to ensure the correct size. Look for a stroller with a sturdy frame, strong wheels, and comfortable seating for your pup. When choosing a large dog stroller, there are many factors to consider.
Size: You want to make sure the stroller is large enough to fit your dog comfortably. Measure your dog from their nose to the base of their tail and then add a few inches for movement. This will give you an idea of how large the stroller should be.
Weight Capacity: The stroller should be able to support the weight of your dog. Look for a stroller with a weight capacity that exceeds the weight of your dog.
Wheels: The wheels should be large enough to roll over any terrain. Look for wheels with tread patterns that are designed to handle different types of terrain.
Storage: Look for a stroller with plenty of storage space for treats, toys, and other items you may need to take with you.
Comfort: Make sure the stroller is comfortable for your dog. Look for features such as adjustable handles, padded seats, and adjustable straps.
Safety: The stroller should have safety features such as seat belts and brakes.
Durability: Make sure the stroller is made of durable materials that can withstand the elements.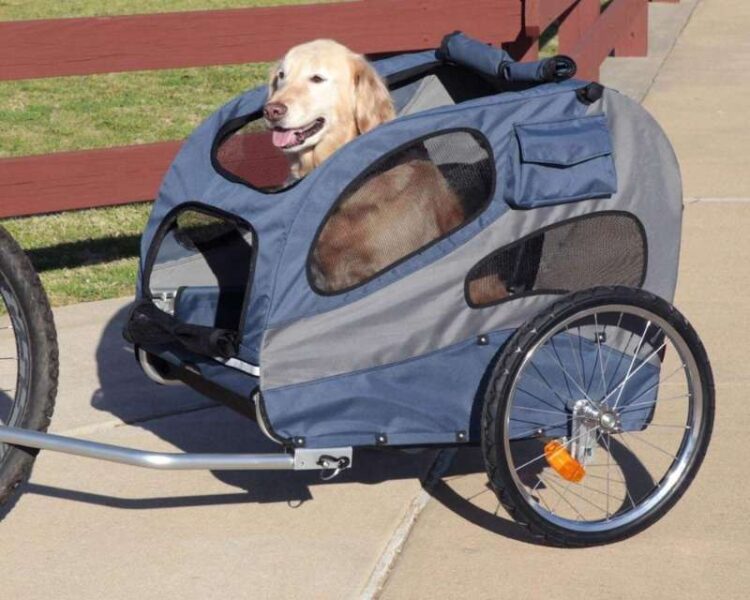 By taking these factors into consideration, you can find the perfect large dog stroller for your pup.
Think About the Terrain You'll be Using The Stroller on
Different dog strollers are made for different types of ground, and using the wrong one can mess up your pooch's vibe or even mess them up physically.
For example, if you wanna take your stroller off-roading or hiking, you must make sure the wheels are big and tough with good suspension so your dog stays safe and cozy even when it's bumpy.
On the flip side, if you're just going to stroll around the neighborhood on sidewalks or smooth roads, you might be able to get away with a dog stroller that has smaller wheels and is easier to maneuver.
A study in the Journal of the American Veterinary Medical Association discovered that using a small-wheeled stroller on rough terrain can put extra pressure on your dog's joints and muscles, which can cause them some pain or even an injury.
Reading Suggestion: Pitbull Dachshund Mix Dog
Look For Extra Safety Features
When choosing a pimped-out ride for your furry friend, safety should be your number one concern. Make sure the stroller has all the bells and whistles to keep your pup safe and sound while rolling down the street.
Foolproof Harness
It's pivotal to have a harness that keeps your pup from jumping ship or tipping over. If your dog gets stoked and sees a squirrel they want to chase, a strong harness will keep them nestled in their cruiser. The harness should be easily adjustable so your pup can ride in style and comfort.
Locked And Loaded Brakes
It's essential to have brakes on deck that will prevent the stroller from bailing when you need to park it. If you have to stop on a hill, sturdy brakes will keep the stroller from going downhill fast and causing havoc.
A doggie stroller with hand brakes is ideal, especially if you're cruising downhill or jogging.
Built Tough
A durable stroller is mandatory for your pup's safety, preventing accidents or tip-overs during use. A stroller with a sturdy frame and a badass exterior will last you and your pup for years. Look for strollers that have a broad wheelbase, great materials, and a low center of gravity.
Good Visibility Features
Having cool visibility features is a must-have when you're walking or jogging with your dog in low-light situations. Reflective strips, bright colors, or pimped-out LED lights will make you both stand out, which minimizes the risk of accidents.
Reading Suggestion: Teacup Pomsky
Sweet Weather Protection
Your dog deserves to be comfortable in all types of weather, so strollers with sweet weather protection features are perfect for being out and about. Imagine a rain cover that'll keep your pup dry during a sudden rainstorm or a sunshade that'll protect them from harmful rays. Make sure to get a stroller with detachable weather protection features that you can swap out depending on the conditions.
Easy-To-Use Brakes And Steering
Keeping your doggo safe is a top priority, and easy-to-use brakes and steering features will help. A stroller with easy-peasy brakes and steering might include a one-handed folding system and a foot-activated rear brake that makes it easy-peasy to control.
Conclusion
Picking the perfect dog stroller for your fuzzy pal can totally make a biggie in keeping them chill, cozy, and jolly whilst you're out and about. But, don't sleep on browsing reviews from people who copped the same ride! Peep game on customer feedback and get the scoop on how others vibed with it.