A Pomsky is a cross between a Pomeranian and a Husky. While they are not yet an officially recognized breed, they are becoming increasingly popular as pets. Pomskies are known for their intelligence, playful personalities, and loyalty.
Because of a Pomeranian's diminutive size, a Pomsky looks like a miniature Husky and does not lose its puppyish gorgeous looks well into its golden years.
If you are wondering whether a Pomsky is for you, this blog will cover the history of Pomskies, their appearance, temperament, and health, so read on!
Reading Suggestion: Pitbull Chihuahua Mix Personality Trait, Puppies and Weight
History of Pomskies
The Pomsky is a hybrid dog that has been gaining popularity in recent years. But what is the history of this relatively new breed? The Pomsky is a cross between a Pomeranian and a Husky, two breeds that are known for their friendly dispositions and loyalty.
While the exact origins of the Pomsky are unknown, it is thought that the first generation of dogs was bred in Alaska in the early 2000s.
The popularity of the Pomsky began to grow in 2010, when people started to take notice of these unique and beautiful dogs.
Today, there are several breeders who specialize in breeding Pomskies, and the demand for these dogs continues to increase. Thanks to their lovely appearance and winning personalities, it's no wonder that the Pomsky has become one of the most sought-after dogs in recent years.
Appearance Of A Pomsky
Like all crossbreeds, a Pomsky's appearance can vary wildly according to which parent breed it takes after. Small to medium-sized dogs inherit the best physical traits of both parent breeds.
They have a thick and fluffy coat that can be either straight or wavy. The coat is available in a variety of colors including black, white, grey, brown, and cream, or a combination of all.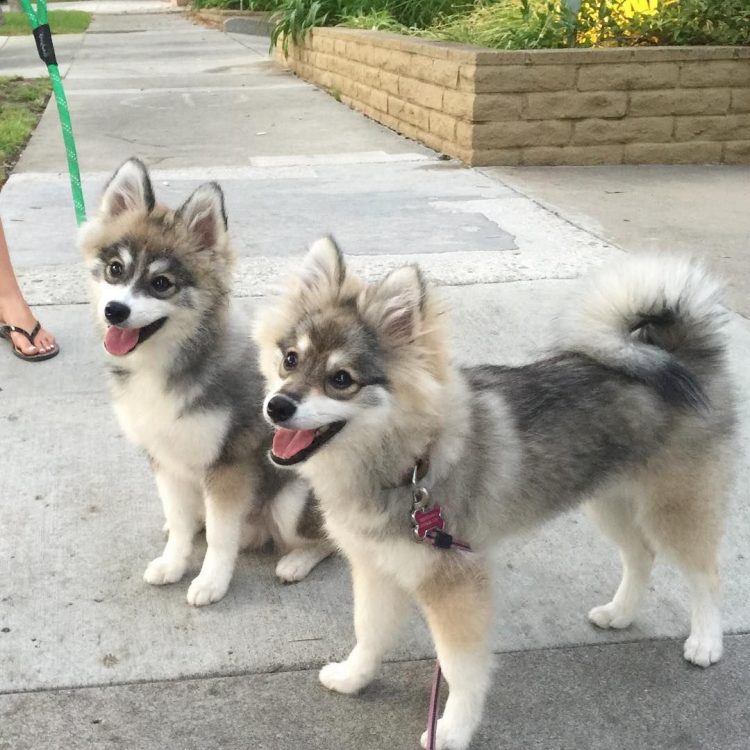 Pomskies have a triangular-shaped head with pointy ears, almond-shaped eyes, and a muscular body. Their tail is long and often curls over their back.
Pomskies typically weigh between 20 and 30 pounds and stand 10 to 15 inches tall at the shoulder.
Teacup Pomsky
A Teacup Pomsky is a hybrid breed of dog, resulting from crossing a Pomeranian and a Siberian Husky. As with all hybrid breeds, the characteristics and temperament of the resulting puppies can vary depending on the exact genetics of the parent dogs.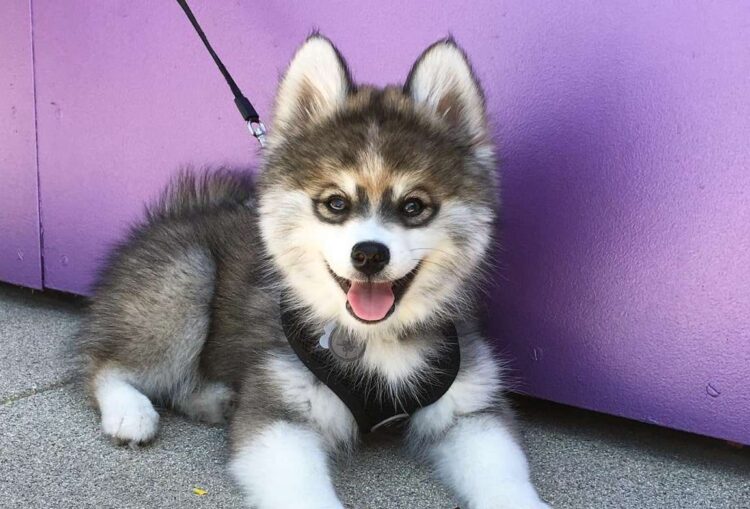 Generally, Teacup Pomskies are small in size, with a softer temperament than the full-sized parent breeds, and a coat that may be either fluffy or sleek. They often have bright eyes and a friendly, outgoing personality.
Siberian Husky x Pomeranian = Pomsky
To understand what a Pomsky's might be like, we have to understand the genetic predisposition of the two parent breeds.
Siberian Husky – Siberian Huskies are a versatile breed of dog that was originally bred for working in cold climates. They are known for their thick fur coats, which keep them warm in even the harshest weather conditions.
Huskies were first brought to Alaska during the Gold Rush when prospectors needed assistance transporting supplies across the state. Since then, they have become a popular choice for sledding, dogsledding, and racing.
Today, Siberian Huskies are still prized for their abilities as working dogs, and they make excellent companions for active people and families.
Pomeranian – The Pomeranian is a small breed of dog named for the Pomerania region in north-central Europe. The breed is believed to have originated in Germany, and it is thought that the first Pomeranians were brought to England in the early 1700s. 
The breed became increasingly popular in the 1800s, and Queen Victoria was particularly enamored with the little dogs. Today, the Pomeranian is one of the most popular breeds in the United States. These dogs are known for their playful dispositions and love of attention. They make excellent companions, and their small size makes them well-suited for city living.
Reading Suggestion: Pitbull Corgi Mix – An American Pitbull Terrier and Welsh Corgi Breed
Temperament Of A Pomsky
Pomskies are considered to be friendly, affectionate, intelligent, playful, and loyal. They make great family pets and do well with children and other animals.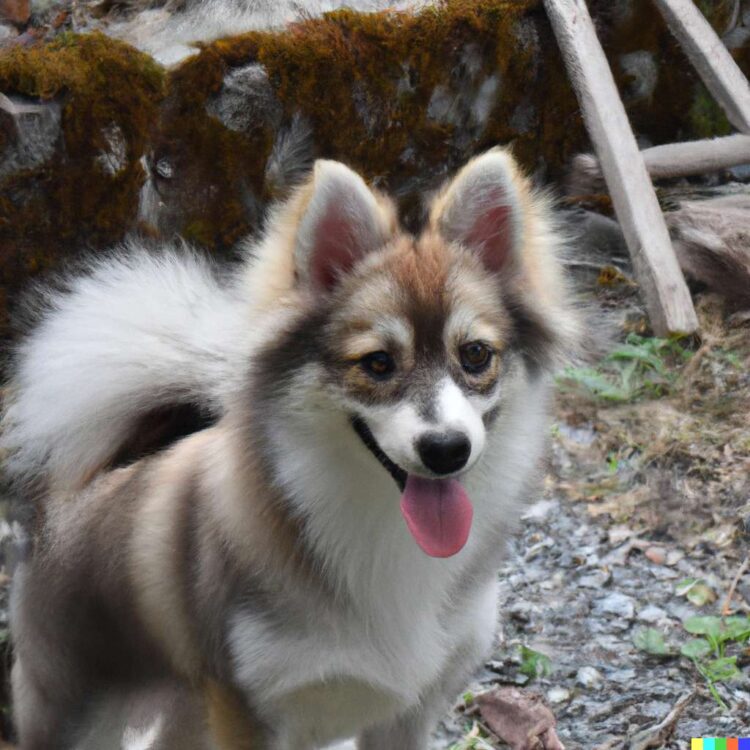 They can, however, be stubborn and aloof when they get bored with training. They can also be high-energy and lively, and they may not do well in a relaxed or low-key home.
In addition, Pomskies require a lot of exercises and need a lot of space to run and play. However, because of their smaller stature, they can do well in apartments or smaller spaces as long as they are getting enough exercise.
Reading Suggestion: Teacup Micro Bully
Pomsky Full Grown
A full-grown Pomsky can reach anywhere between 10 to 15 inches in height and can weigh anywhere between 15 to 30 pounds.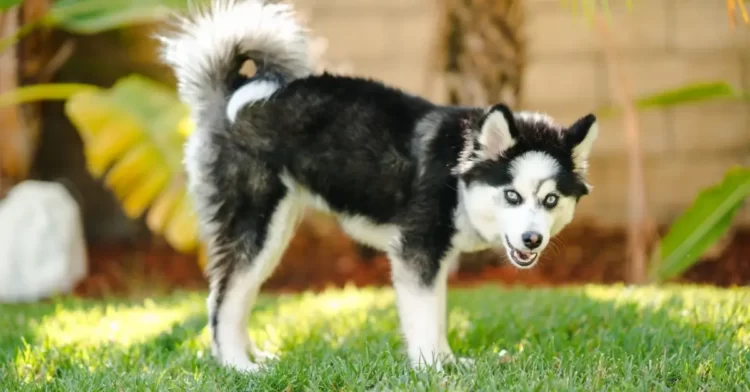 Health Of A Pomsky
Like any mixed-breed dog, they can inherit health problems from either parent breed. For example, Pomeranians are susceptible to dental problems, while Siberian Huskys are prone to hip dysplasia.
To help ensure that your Pomksy stays healthy, it is important to work with a reputable breeder who can provide health clearances for both parent breeds.
In addition, regular vet check-ups and preventive care, such as vaccinations and routine deworming, are essential for keeping your Pomksy healthy.
Final Thoughts
So there you have it – everything you need to know about the adorable, sassy, and playful Pomsky. This hybrid dog is quickly becoming a popular choice for families looking for a new best friend, and it's easy to see why.
They are the perfect combination of looks, personality, and temperament that make them great companions for anyone. If you're thinking about adding a Pomsky to your family, be sure to do your research first to find a reputable breeder and prepare for lots of love and laughs along the way.