Under its noble appearance, hides one of the oldest breeds of pointers. The German Shorthaired Pointer was born from crosses between different hunting dogs from Central and Western Europe. Initially intended exclusively for the quest (search for the game), the multiple qualities of the German Shorthaired Pointer quickly made it the ally of hunters of all categories.
Profile
Size:
53 to 64 kg
Weight:
20 to 30 kg
Character:
Sociable, balanced, intelligent, firm, outgoing
Training: 
Like most hunting dogs, the German Shorthaired Pointer is intelligent, which makes it easy to train
Common diseases:
Diseases of the nervous system
Life expectancy: 
12 to 14 years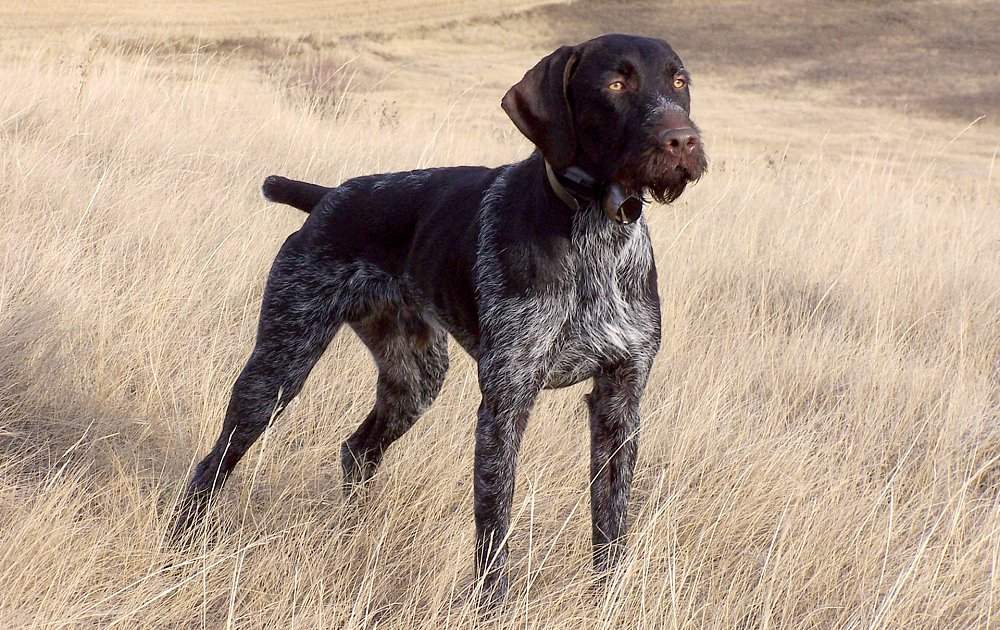 Physical characteristics of the breed
The German Shorthaired Pointer is a large dog that can measure up to 65 cm. His body is firm and muscular. It is composed of a broad group, a powerful back, and prominent withers. Its forehead is broad when its mouth is narrower, even if it is massive enough to carry the game. Its ears are long, flat, and flexible, and they fall to the sides of its head. Its coat can be of several colors.
Trout: The German Shorthaired Pointer has a body with a brown and white speckled coat (the most common colors even if there are black and white trouts) and its head is plain.
Black and white: The black and white German Shorthaired Pointer can have a plain or speckled coat. The head is very generally united, but the coat is sometimes trout even on its muzzle.
Chocolate: The chocolate German shorthaired pointer, or brown German shorthaired pointer, has a uniform coat, with warm brown paws and a muzzle. There are also black German Pointers.
Gray: The gray German pointer, or blue German pointer, has a gray coat whose reflections give it an almost blue appearance, reinforced by its pupil which is also blue.
Reading suggested; Black Dog Names – 400+ Names for Black Dogs
What are the character traits of this breed?
The German Shorthaired Pointer is a balanced and temperate dog. Despite their imposing appearance, they are neither aggressive nor impulsive. This endearing dog with a serene character is also absolutely not shy and is very sociable. His intelligence will allow you to train him easily.
Sociable
Balanced
Little shy
Affectionate
Tender
Loyal
Serene
Moderate
Clever
Get along well with children
Get along well with pets
Love the proximity
Reliable
Enduring
Tenacious
Courageous
Protective
Solid
Obedient
Agile
Docile
Tireless
Reading suggestions;  How to Introduce your Dog to a New Puppy
Like many hunting dogs, the German Shorthaired Pointer is an intelligent and obedient animal whose primary mission is to assist hunters. He, therefore, demonstrates unparalleled loyalty and puts his agility and pugnacity at the service of his master.
Today the German Shorthaired Pointer is no longer chosen only by stationary hunters, and it is popular in all disciplines, even by families who do not engage in this activity but are looking for a loving companion, reassuring and tempered.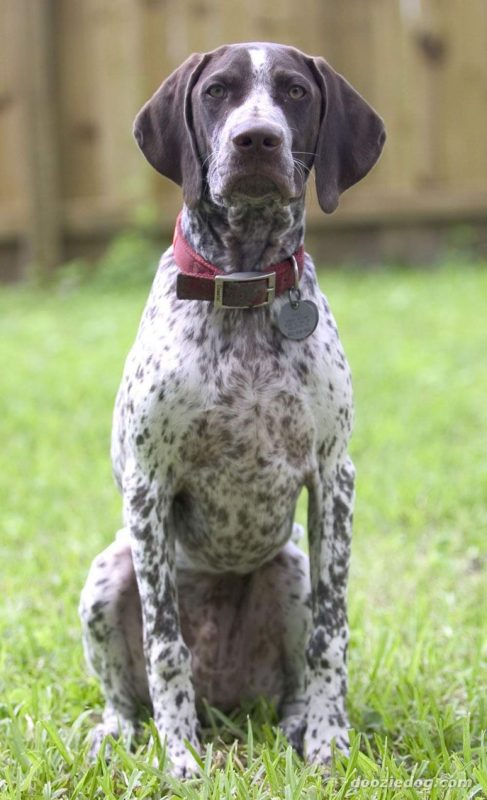 This dog with a docile character loves his foster family unconditionally and shows his affection on a daily basis. Adopting a German Shorthaired Pointer is adopting a companion who will accompany you faithfully throughout his life.
How to train your German Shorthaired Pointer?
The German Shorthaired Pointer is an outdoor dog that needs to run for at least two hours a day, so it is not possible for him to thrive in an apartment. Adopt a German Shorthaired Pointer only if you have a garden or the ability to walk it in nature for several hours a day. Once weaned, the German Shorthaired Pointer is an easy dog ​​to train. His intelligence makes him receptive to instructions which he understands very quickly.
Don't be surprised if your German Shorthaired Pointer puppy gets lost easily. The world around him is sometimes more exciting than an order repeated for the tenth time. Remain steadfast and firm but benevolent. It is the owner's responsibility to lay a healthy foundation for building a balanced relationship with his animal. Be fair and keep calm.
A German Shorthaired Pointer is rowdy, so you will need to be patient and repeat the same instructions over and over again. Avoid shouts and sudden gestures, at the risk of pointing your animal and demotivating it. As soon as possible, get your German Shorthaired Pointer in contact with other animals, especially cats, but also people who are unfamiliar to him.
Your dog can be aggressive at times if he doesn't know an individual, and stimulating his sociability from an early age will help you avoid growls and chases with your new neighbors' cats. Start with simple tasks: eat only from your bowl, defecate when you go out. When he does something stupid, firmly say no and then show him an alternative (A toy that you can devour, the garden where you can do your business – be careful! You will have to try to stick to it.
It will smell like a dog and it will be easier for him to return.). Also, teach him to sit and come when you call him. When all of these instructions are mastered, you can teach him to bark less or to channel himself if he gets too angry. Any good deed should be rewarded with sound encouragement or a dog-friendly treat. Congratulations reinforce the positive conditioning of the animal.
If you want to train your animal for hunting, you can contact a professional trainer. Be careful, however, never to impose too long sessions on it. The German Shorthaired Pointer does not have unlimited attention and could get bored and demotivated.
The food of the German Shorthaired Pointer:
During training, exercises, and hunting parties, the German Shorthaired Pointer has to spend a lot of time. This outdoor dog needs a balanced diet rich in vitamins, proteins, and carbohydrates. The amount of kibble you should give your dog depends on his age/activity and weight. Some manufacturers help you by indicating the ideal serving sizes for your dog on the back of the package.
Reading suggestions; Happy Dog Food Review and Recommendations for 2021
Be sure to choose good quality kibble that provides all the nutrients your pet needs and is free from wheat, soy, sugar, or dairy. Prefer kibble based on poultry rich in good protein for your active dog. Also make sure that they do not contain any artificial colors, flavors, or preservatives. These substances are harmful to your dog and of no nutritional value.
If you want to spoil him, you can give him cookies and treats specially designed for his body type, but try to avoid human food which is not suitable for dogs.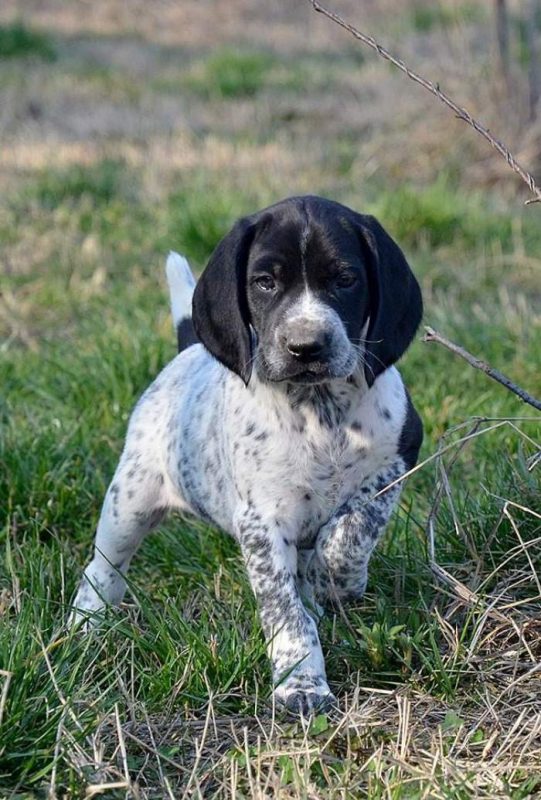 How to take care of the health of your German Shorthaired Pointer?
The German Shorthaired Pointer and its short hair do not require any particular maintenance. Brush it from time to time. As a hunting dog, it is likely to roll around in smelly places (carrion, animal stool …) which will allow it to cover its scent and not be noticed by its prey. Even if you don't hunt and your pointer has never stopped a game in his life, this unappealing practice remains instinctive and therefore there is little point in preventing it.
Only be prepared to give it regular baths, especially if you live in the countryside! When washing, use lukewarm water, and if you absolutely must use a cleaning product (sometimes hunting dogs come back from walks so dirty, Also, watch your pet's teeth for possible gingivitis. Also check his coat, because, like all animals exposed to wild environments, he is susceptible to catching parasites.
The diseases of the German Shorthaired Pointer:
Despite its robustness and the durability of its breed which could have avoided hereditary conditions, German
Shorthaired Pointers are likely to be subject to neurological disorders: Hypomyelination, dysmyelination: Myelin is the sheath that covers the neurons of the spinal cord and of the brain. We speak of hypo or dysmyelination when this sheath is too thin or even nonexistent.
This condition affects German Shorthaired Pointer puppies, causing tremors. Fortunately, this disease resolves on its own when the animal is about a year old. Sensory neuropathy: This disease which appears around a year, causes desensitization of the limbs of the German Shorthaired Pointer which eventually no longer feels pain.
If the animal can still move, the absence of sensations in the feet is often dramatic since, by dint of biting and scratching, the animal ends up injuring itself.
GM2 Gangliosidosis: This disease of the nerve cells causes tremors, visual disturbances, and disturbances in balance when the dog tries to focus on an activity, such as eating or drinking, making simple everyday actions very difficult.
There is no cure, but genetic testing can and should be performed by German Shorthaired Pointer breeders on their breeding individuals to ensure that the disease will not be transmitted. In general, it is essential to have your animal vaccinated according to the recommendations in force in your country and to have him undergo an annual check-up with your veterinarian.
Since these dogs spend a lot of time in the wild, they are more susceptible to catching parasites and being bitten by other animals … so they should be followed carefully.
Some anecdotes about the German Shorthaired Pointer:
Contrary to what one might think, the German Shorthaired Pointer originates from the Mediterranean basin where we find the oldest breeds of pointer and small game hunter. The efficiency of these dogs attracts the attention of hunting enthusiasts, and many dogs are sent throughout Europe.
It is assumed that all European pointers have a common Spanish core. At the end of the 18th century, Karl August, a German duke passionate about hunting created the Weimar pointer, a blue German pointer (crossed with a dog of Saint Hubert, an English pointer, and a blue German mastiff)
intended for the German aristocracy.
The German Shorthaired Pointer is a balanced and gentle hunting dog that was initially intended to stop and capture a small game. Its many qualities have made it a versatile hunting dog, popular with hunters in all disciplines … and by families looking for a faithful companion.
Loyal and loving, the German Shorthaired Pointer is then sociable and appreciates the company of humans and animals, but he only really becomes attached to one person. It's up to you to build a relationship of trust with your dog so that he can respect you and support you.
This dog does not require any particular maintenance, except for a diet adapted to its very sustained physical activity since even if it does not always hunt, this dog still needs to run for several hours a day.