The Persian cat is one of the favorite cat breeds of the world. it is also the best-selling purebred cat globally. This can be explained by its rounded shapes, its long and abundant hair, and its characteristic face with a short muzzle. Its character can also explain the craze of which the Persian cat is the object: the Persian is a calm cat, docile and homey, which makes it the ideal apartment cat.
Profile
Size: about 30cm
Weight: from 3 to 5 kg
Character: calm, gentle, tranquil, easy-going
Coat: long
Color: very varied, ranging from black to red, passing through blue, cream, white, tortoiseshell, cream blue, cinnamon, silver, and golden
Predisposition to diseases: heart, respiratory or kidney diseases, eye diseases, breast tumors, skin infections
Life expectancy: 12 to 15 years.
The Persian cat, very popular, is distinguished first of all by its long and abundant coat. The shape of its flattened muzzle is also characteristic of the breed. Its physical characteristics are as follows:
The stature of the Persians is massive. It is a rather stocky cat whose shapes are all-around, its size can be medium to large. Although he is curvy, his body should be muscular and not obese. The back is straight, but not too long, the head should fit into the shoulders.
The legs are short, sturdy and straight, and extended by large, round and firm feet. It is preferable that tufts of hair are between the toes, which are close together.
The coat is long, fine, dense and of the same length throughout the body. It measures on average 10 cm but can go up to 20 cm. The Persian breed is the only breed recognized as long-haired.
The Persian dress is not subject to specific criteria. All colors and dresses are accepted. It can be uniform, or solid, just like particular or tortoiseshell, tabby, smoke or chinchilla, silver or golden. It can also be a cameo or colorpoint. In the latter case, it is a race apart, the Himalayan.
The head of the Persian is characteristic: indeed, it is round, massive, the muzzle is round and the cheekbones are prominent. The nose is as wide as it is long, the nostrils should be wide open. The jaw is shorter than for other cat breeds.
The eyes, large in size, are set apart and their color matches the dress. Their color must be intense.
The ears are small. Well open, they are almost round in shape. They are well spaced on either side of the skull. Well open, their interior must be well supplied with hair.
The tail is straight, well supplied, rather short without losing its proportionality in relation to the length of the body. Indeed, a too-long tail is eliminatory.
Reading suggestions: 200+ Unique Female Cat Names for Your Cute Companion
Origins of the Persian cat
The Persian cat is an extremely popular cat. Its name comes from one of its ancestors: the Turkish angora, native to the region of ancient Persia, on the borders of Turkey and Iran. The Turkish Angora is the ancestor of the Persian cat and passed on its long-haired coat to it.
However, as with most cat breeds, the origins of Persian are also discussed. One theory would trace the first ancestor of Persian in the region of Khorassan, located in the north-east of Iran, of which Buffon, a French naturalist of the 18th century, mentions in the volume on quadrupeds of his Histoire Naturelle, générale et particular, with the description of the Cabinet du Roy.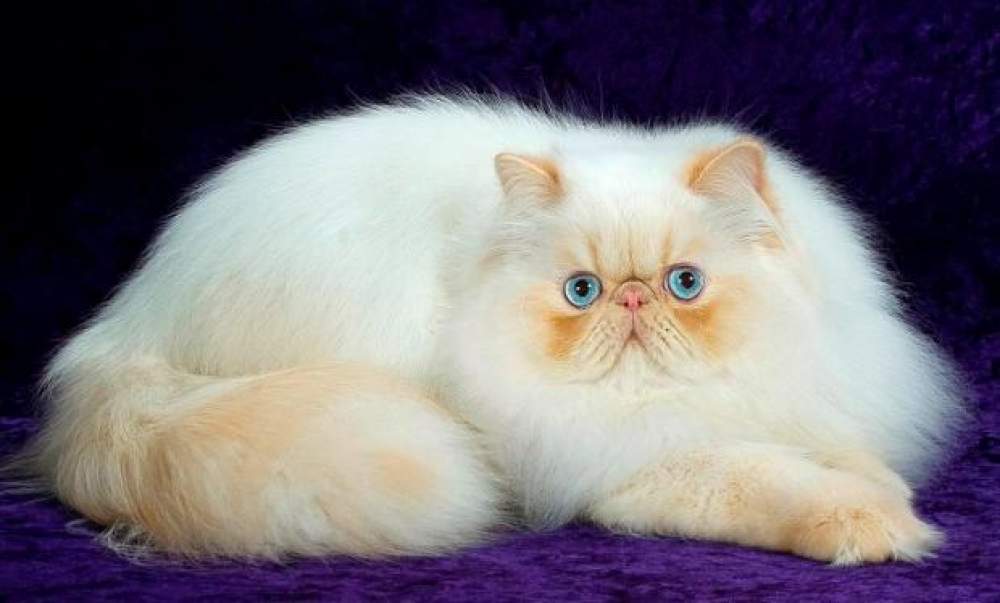 The first Persians would have been brought back by the explorer Pietro da Valle in the 17th century to Italy, the country from which he came. The Persian was therefore first reproduced in Italy, then would have been exported to France where it was a cat particularly acclaimed by the bourgeoisie. The Persians then went to Great Britain, to finally win the United States.
Physical characteristics of Persian
There are many varieties of the Persian cat, there are more than 200 of them. The Persian has a common breed standard with the Exotic Shorthair and the Colourpoint. The Himalayan, from Persian and Siam, displays the color point of Siam, that is to say with a mask and ends darker than the rest of the body.
Persian cat: character
The Persian cat has a very easy character. Sweet, calm, this cat has very little need to exercise. He is an ideal apartment cat. Among other character traits, the Persian cat is:
soft
affectionate
calm
lazy
solitary
quiet
discreet
independent
easy to live
The Persian is therefore a cat with a very pleasant personality. The development of the breed has indeed contributed to making it an indoor cat, which appreciates being able to bask in peace.
Not very talkative, the Persian knows how to display his dissatisfaction more by the expression of his face. He will flee environments that are too hectic or noisy, which is why if cohabitation with children is planned, it is important to provide him with spaces where he can be calm and to teach children not to carry him too much in his arms.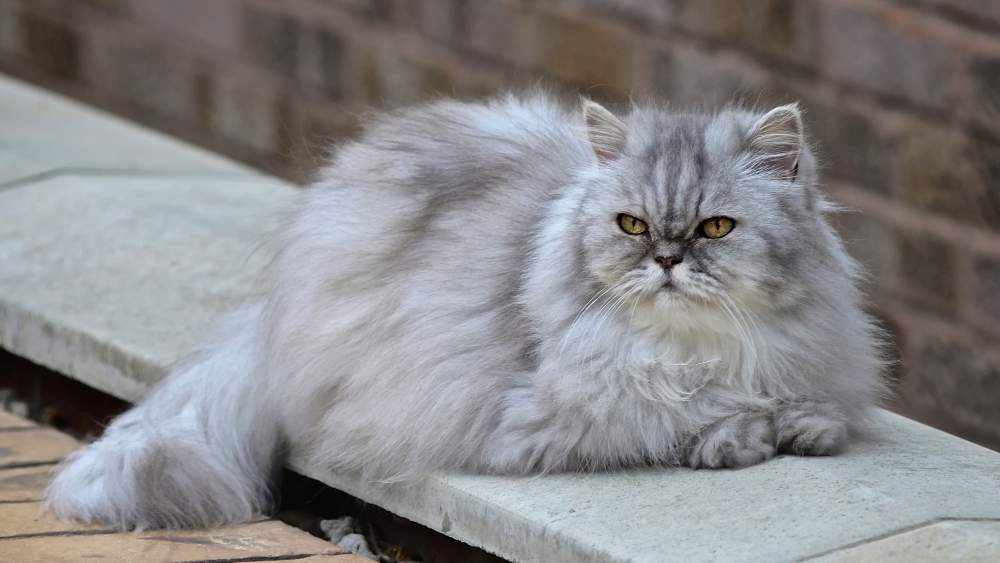 The Persian is a cat who knows how to live alone, even if he appreciates the company of his owner. Aware of his beauty, the Persian also likes to be flattered and admired.
It is an ideal companion for people who live in an apartment.
Needs of the Persian cat
Compared to other breeds of cats, the Persian has special needs.
Coat:
Persian's coat is long and it should be brushed daily with a horsehair brush, otherwise, it would quickly get tangled and your Persian could be subject to intestinal obstruction due to the ingestion of body hair. Fleas are frequently found in tail hair, which is why tail maintenance is particularly important.
Eyes:
The shape of the Persian's nose is often the cause of watery eye problems. It is therefore particularly important to clean your eyes twice daily using a cloth dampened with water.
Ears:
Persian's ears are sensitive and should be cleaned about every two weeks.
Nose:
the Persian's nose also requires special care, it must be cleaned daily like the eyes, using a damp cloth.
Reading suggestions: Boy Cat Names – Find the Perfect Male Kitten Name
What diseases is the Persian cat predisposed to?
Persian is in poor health. It is particularly prone to the following diseases:
corneal sequestration: this disease affects the eyes of cats. Persian is predisposed to it.
mammary tumors: Persian is particularly prone to fibroadenomas and adenomas.
Bilateral cryptorchidism: this disease refers to the absence of both testes in the scrotum. It induces total sterility and has a higher incidence rate in Persians than in other cat breeds.
Hypertrophic cardiomyopathy: this heart disease can be genetic. It is characterized by an enlarged part of the heart, which results in a heavier weight of the latter.
parasites: because they have long hair, the Persian is more prone to fleas or even ringworm.
polycystic kidney disease: this genetic disease is unfortunately common in Persian cats. It usually affects both kidneys of the cat. It can be detected by ultrasound from the age of ten months, but clinical signs usually do not appear until much later, around the age of 7 years. This disease can be detected by genetic testing. However, note that in France, there is no official screening program.


What does a Persian cat eat?

Care must be taken to adapt your Persian cat's diet to his age, size, physical condition, or whether or not he is sterilized.

Persian is often prone to overweight and is the subject of many diseases which can be improved prevention by making the best choice of Persian food. You must therefore make sure to provide your Persian cat with a balanced diet, based on high-quality kibble. In addition, as this causes chewing, they help prevent oral diseases.

Human food as well as meat should be avoided, as they are difficult to digest and do not present an optimal nutritional profile for your Persian cat.

Also, be sure to keep freshwater within reach of your cat at all times.

Persian cat award

The Persian cat is a purebred cat whose price varies, logically, according to the age, sex or pedigree of the parents, among other criteria.

Price of a male Persian cat: from 400 € to 2000 €

Price of a female Persian cat: from 500 € to 2000 €

In terms of maintenance, it takes between € 600 and € 800 per year.

The Persian is a very popular cat not only among the world. This craze can be explained by its round appearance, akin to a plush toy, and its placid, soft character and easy-going temperament. However, it is subject to many diseases, and it must be given special care, especially when it comes to grooming. By providing it with the appropriate care and food, it will be the ideal companion for families living in apartments.