Did you hesitate with a collar but finally decided on a harness for your dog? Congratulations, your pooch is just a few steps away from a new and highly anticipated outdoor walk. All you have to do is install it but you are wondering how to put a harness on your dog?
Before answering you, we will come back to some very useful questions: what are the advantages of the harness compared to the collar, what are the different types of dog harnesses available on the market, how to choose the right size of harness, and of course, how to put a harness on your dog. Good reading!
Why to choose a dog harness and not a collar?
The first question to ask is knowing which to choose: harness or collar?
The harness advantage
The major advantage of the harness over the collar is that when your dog pulls on his leash, the harness will not put pressure on his neck, unlike the collar.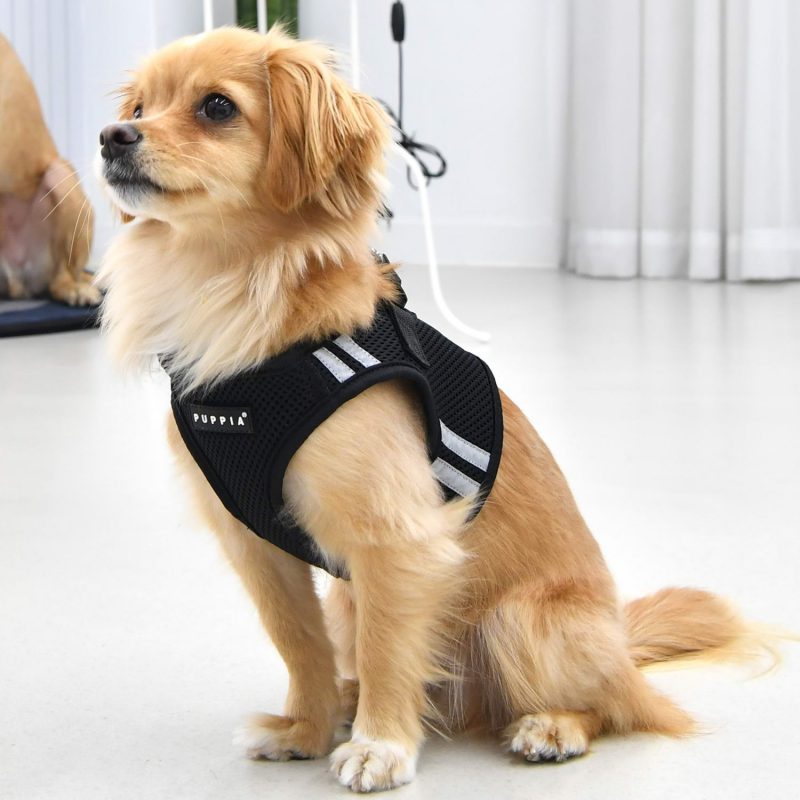 In such a way that the pressure of the harness will be distributed over the whole of the chest, and not over its neck. This choice is most appropriate if your dog is the type to pull with all his might when it comes time for the walk, or if he sniffs a lot. It is therefore important to estimate the strength of your dog on a leash, as well as the frequency and regularity with which he tends to pull.
In addition, they are often recommended for small dogs because the latter are generally more fragile than their larger counterparts. The harness will be the ideal tool to take your dog for a walk, but also to perform sporting canine activities such as can gross.
The risks of the collar on dog health
By choosing a harness, you will avoid many risks of injury or discomfort … Indeed, a dog in a collar that pulls could experience an increase in eye pressure causing vision problems. Pulling too hard could also cause him cervical problems, put pressure on his thyroid gland, and in the worst-case lead to hypothyroidism, causes him to cough by compressing a nerve, or even give him headaches. Take the safest option, especially if you have identified risky behaviors in your doggie: choose a suitable harness for him.
Reding suggestion: Black Dog Names – 400+ Names for Black Dogs
Type of dog harness?
It is particularly interesting to distinguish between the different types of dog harnesses that exist on the market.
Classic harnesses
What we call classic harnesses here are those harnesses that do not perform any particular function other than keeping your dog on a leash. We distinguish several types, which differ from each other by their shape.
The Y-harness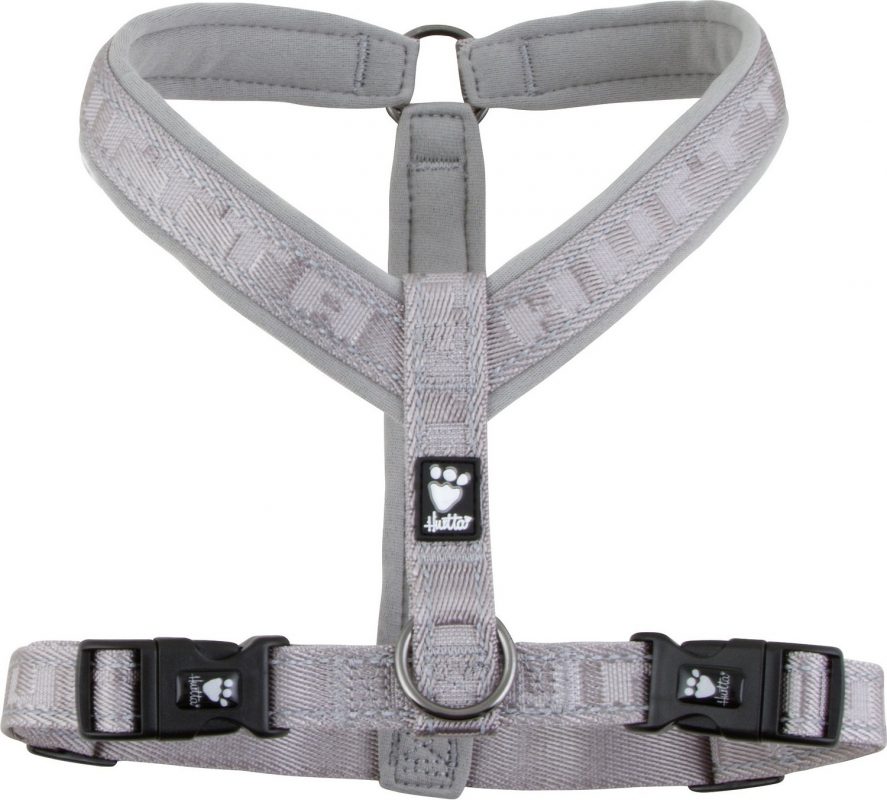 The Y-harness, because if you observe it by positioning yourself on the side of the dog, forms a Y on its chest, at the front. These harnesses provide good support for the dog thanks to their shape and can be used for daily walks, as well as for a canine sports activity such as cangross.
It is particularly comfortable for your four-legged friend: it does not rise too high on its throat, which lets it breathe unhindered.
The H-harness
The H-shaped harness: if you look at the dog from the side, the straps of this model form an H. It is certainly the best-known and most common model among the different types of dog harnesses. The only drawback, if there is one, is that the dog's paws will have to be passed through this harness.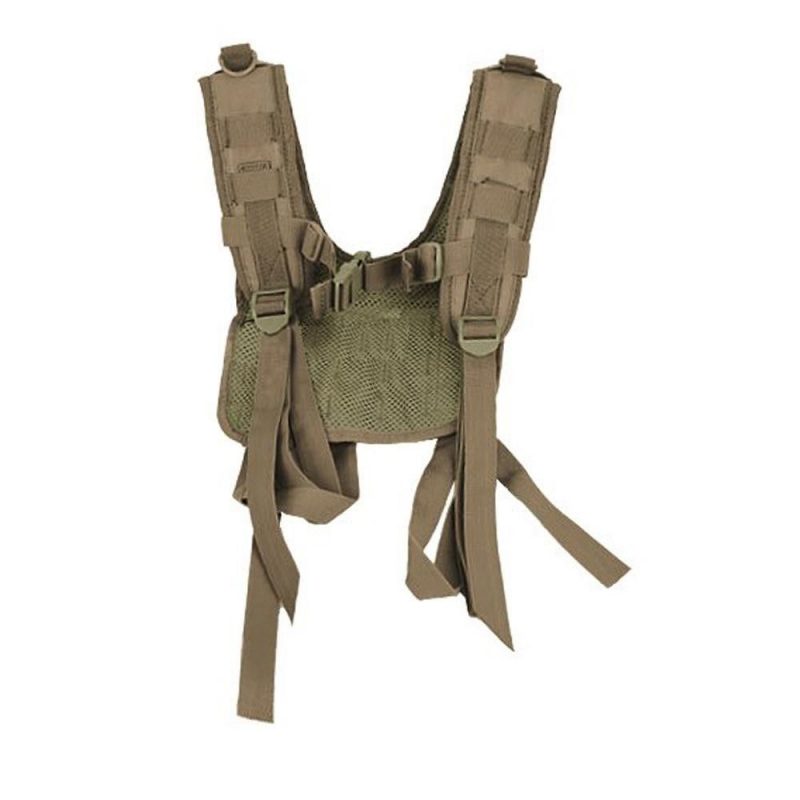 Do not hesitate to choose a material of good quality and not abrasive, because the friction due to the activity of your animal, especially if it tends to pull on a leash, could cause irritation at the level of its front legs.
The T-harness
The name of the T-harness, you will understand, comes from the shape of the harness: when you look at it while tilting your head slightly, the harness forms a T.
But what are the characteristics of this type of harness? It is distinguished by its simplicity of installation: you put it on by the head and all you have to do is tighten the tether strap which goes under the dog's body, behind its front paws. This is useful for dogs who don't particularly like to have their paws touched. Overall, this model is particularly popular with owners of large dogs.
On the other hand, if you plan to play sports with your companion, this harness is not the model, the covering base of many models tending to hamper the mobility of the shoulders.
Anti-traction harnesses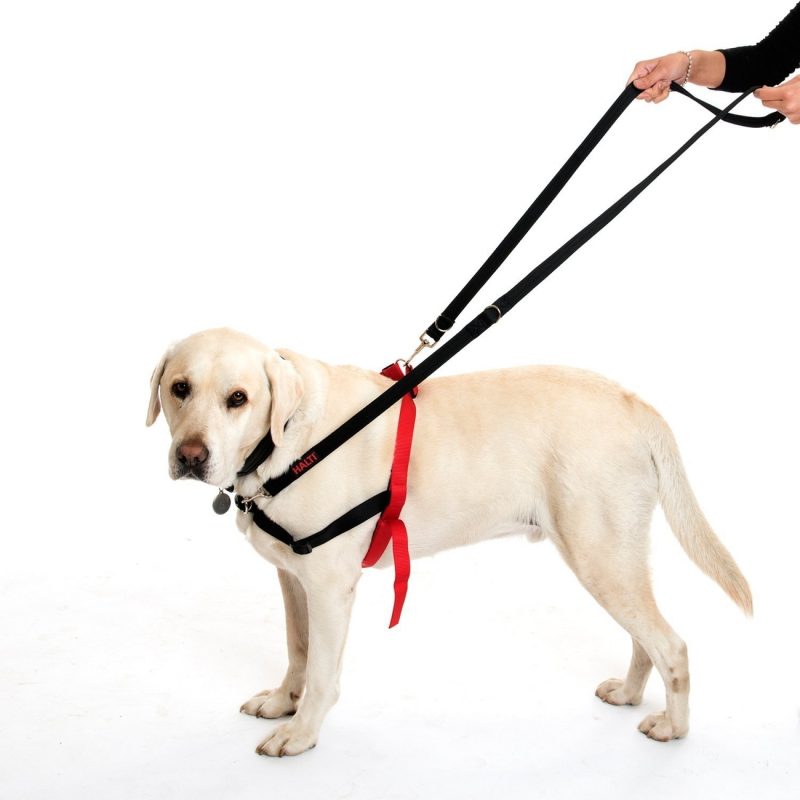 These are harnesses equipped with an attachment loop at the chest, at the front. The sensations your dog will feel will be very different from those he might experience if he is used to going out with a collar or with a classic harness whose attachment is located in the back (and not in the front on the chest).
The purpose of this device is to hinder the dog if he pulls and to make excessive traction uncomfortable for him, but without this being dangerous for him as a choke collar would be. That said, if you are looking for a traction harness that transmits power, this is not the model for you!
Traction harnesses
These are the ones you will need to choose if you are planning an activity in which your dog will be towing you in order to distribute the load more evenly.
How to choose the size of a dog harness?
It would be a shame to choose a harness that tightens your dog too much, or on the contrary is too loose, or even from which he could escape! To choose a suitable harness, you will have to measure your dog's neck circumference, then the circumference of his chest, just behind his front legs. It will be necessary to add a few centimeters (from 2 to 5 cm) to this last measurement to give it a little comfort; the ideal in terms of size being that you can pass two or three fingers between the straps and its body.
For some models, the size is expressed in standard size XS to XL. Below is a dog harness size guide to help you with the match:
Size XS: from 25 to 40 cm (for a chihuahua or a small puppy)
Size S: from 40 to 50 cm (for a puppy, a Pekingese, or a Jack Russel)
Size M: from 50 to 70 cm (for a Fox terrier, a French bulldog, or a Breton spaniel)
Size L: from 70 to 90 cm (for a Dalmatian, a husky, or a golden retriever)
XL size: more than 90 cm (for a Labrador or a Doberman)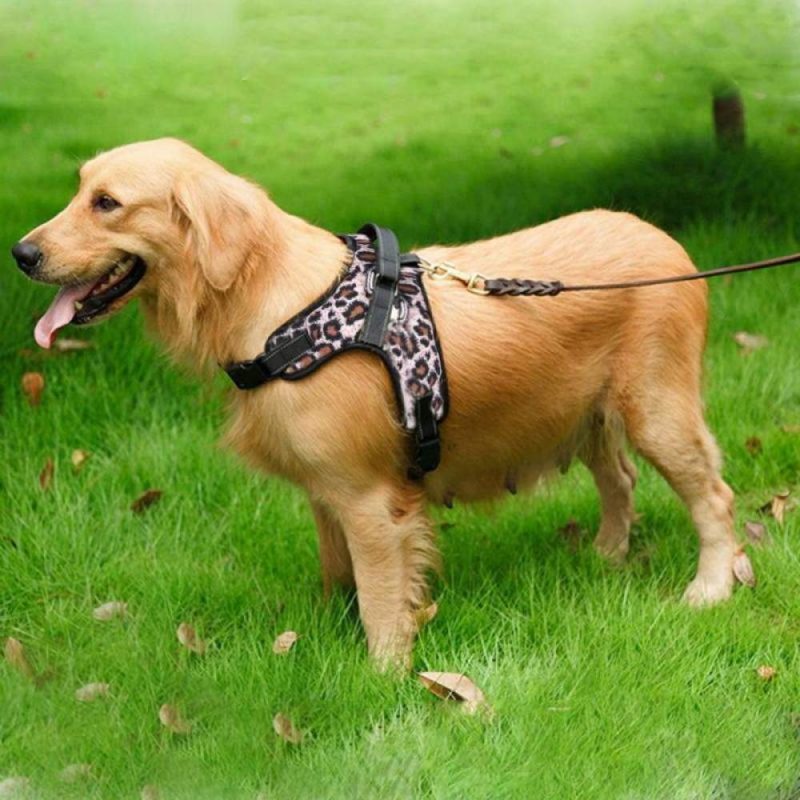 Of course, the sizes of dog harnesses are like shoe sizes: they vary from manufacturer to manufacturer; the best is therefore to try it in a specialty store!
How to put on a dog harness
You now know everything there is to know about the harness; all you have to do is answer this question: how do i put a harness on my dog?
Everything will obviously depend on the type of harness you have chosen.
Choose a good position
First of all, start by crouching gently behind your dog that you will ideally keep in a sitting position (but he can also stay standing if he is wise): this way, you will be well placed to access his chest, on its legs and perform the maneuvers required to install the harness. By being behind him, you limit the possible excitement he might show upon seeing you.
Reading suggestions: Do Dogs Need Calcium And How Much Quantity?
Put on the harness
If it is a model that is installed from the top, you will have to start putting on the front strap (collar) in the case of an H-harness, or the front part that will be on the chest in the case of a Y-harness. Then you will have to pass one of your dog's legs through the strap to be able to finally close the buckle at the back.
A T-harness will be easier to install: you have to put it on through your head, then strap it on your stomach, and you're done.
Check and adjust the straps
Finally, check the correct positioning of the harness straps, which must not twist but be flat on the dog's body.
However, we recommend that you adjust the straps so that you can fit two or three fingers between them and the dog's body.
A few tips on the dog harness
Involve him, reward him!
Reward your pet when he lets himself go and cooperates with you, giving him treats. By creating a relaxed and trusting atmosphere in which your animal will be comfortable, you will be doing your best to ensure that the harness is put on without a hitch.
You will know that your dog feels good in his harness by observing his behavior with it: if you do not notice any difference with and without, you can deduce that the harness is well suited to him!
In case of discomfort with his harness
If, on the contrary, it does not seem calm to you, that it is scratching, tending to turn or trying to get rid of it, first see if one of the clips has not turned on itself. If it is an H-shaped harness, also check that it has not been put on inside out. Then also check that it is not too tight which is a common cause of discomfort!
Some word-class dog harness
Kong Dog Harness
The KONG dog harness is a high-quality dog ​​harness with great wearing comfort for your dog. The harness is provided with an extra soft foam filling with memory function, making this harness fit like a glove. The safe buckle has a locking option. This beautiful harness is made of breathable mesh material.
Kong Dog Harness Properties
Highly visible due to the reflective stripes
Extra soft foam with memory function
Secure buckle with locking option
Breathable mesh material
D-ring at the top for easy attachment of any kind of belt
| | | | |
| --- | --- | --- | --- |
| Measure | Weight up to  | Chest size | Neck size up to |
| Small | 9 kg | 40 – 56 cm | 36 cm |
| Medium | 23 kg | 51 – 74 cm | 42 cm |
| Larg | 41 kg | 61 – 84 cm | 48 cm |
Escape proof dog harness
When your dog has figured out how to escape from their harness, it can be difficult to find one that will stay in place. To make him calm, you need an escape proof dog harness.
Here is the list top 5 escape proof dog harness
OneTigris Tactical Front Clip Dog Harness
Kurgo Tru-Fit Smart Harness
Gooby Step-In Escape-Proof Dog Harness
HDP Big Dog No Pull Dog Harness
SCENEREAL Escape Proof Dog Harness
Conclusion
If your dog is still scared or reluctant to put on the harness, try to gradually integrate this object into his daily life, for example when you are playing with him or when giving him food.
If ever it seems blocked and you do not get out of it, do not hesitate to ask your veterinarian or the dog groomer for advice, who will be happy to help you! In the meantime, we wish you very beautiful moments of complicity with your companion in your future walks.