Aquarium filters are necessary to ensure an environment with the parameters and proper hygiene that guarantee the good health of your fish and in this list, you can find some striking options with an attractive value for money:
External Aquarium Filters
1. Hydor 104I-HY/C01103 Prime 10 Outer Filter
Among filtering systems, the Hydor model stands out for its capacity, which allows it to work with tanks between 10 liters and 250 liters, so you have freedom when choosing where to install it.
On the other hand, this external aquarium filter also has a powerful motor, since it can move a maximum of 650 liters of water per hour so that the environment inside the tank remains oxygenated and with a constant flow of purified water for your fish. plants and fish.
In addition, being external, the filter has a practical design in which a rubber base stands out that will serve to prevent it from moving from its place due to humidity or vibration of the motor. It has dimensions of 17.4 x 19.8 x 30.1 centimeters and its weight is 308 grams, so you can handle it comfortably when installing it.
This model could become the best aquarium filter of the moment and here we present its pros and cons:
Capacity: It has a wide and powerful capacity to work with aquariums of different sizes and offer optimal performance within its parameters.
Filter: The filter material for the system is already included with the purchase of the equipment so you do not need to spend additional money.
Silent: It is quieter than other models thanks to the shock-absorbing rubber base.
Installation: Its installation in the aquarium will be simple and uncomplicated since it is practically ready to use.
Diffuser: It does not have a diffuser nozzle to be able to enjoy the production of bubbles, something that could make it versatile.
2. All Pond Solutions CUV-207 UV Light Sterilizer Filter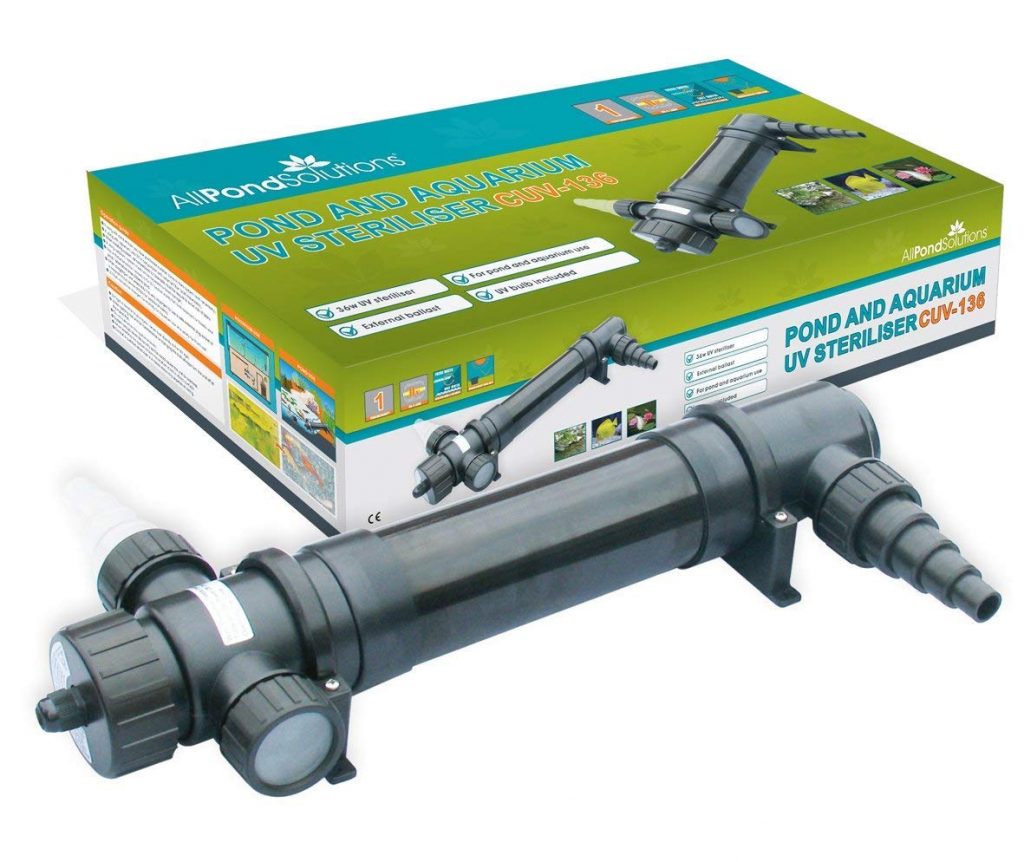 All Ponds Solutions offers you an aquarium UV filter that you can install directly on the wall if you wish, as it comes with the corresponding mounting kit and screws. This will allow you to secure the system to a reliable surface.
It has dimensions of 23.8 x 9 x 7.6 centimeters with a weight of 998 grams, is compact in size so as not to take up much space and you can carry out its maintenance comfortably.
In addition, the opinions agree that it could be the best aquarium filter since it has an integrated ultraviolet light bulb with which you can purify the water that passes through the system and thus return it safely for your fish and plants.
Regarding its capacity, the equipment has an engine with which it can work in tanks of a maximum of 4,000 liters of water, according to what is indicated by its manufacturer.
All Ponds Solutions is, perhaps, the best brand of aquarium filters and now you will know the advantages and disadvantages of this model:
Fall: The water outlet offers a soft jet fall for your aquarium when circulating the liquid, contributing to oxygenation.
Compatibility: It can be installed in both freshwater and saltwater aquariums without problems.
Accessories: With your purchase, you will get a quartz tube and UV light bulb at no additional cost, so you can use them as soon as you take them out of the package.
Mounting: A mounting kit is included so you can easily mount it on the wall near the aquarium.
Manual: One of its disadvantages is that the instruction manual is in English, which could complicate its use.
3. Tetra In Plus 300
If you need an internal aquarium filter, this Tetra In Plus model might interest you. It is a device of practical size and modest capacity for small and medium-sized aquariums.
It has a size of 10.2 x 8.8 x 19.6 centimeters and its weight is 200 grams, so it will be easy to find the right corner where you can install it without disturbing your pets.
In addition, the aquarium filter has integrated suction cups that will allow you to place it directly on the glass of any of the sides of the tank, preventing you from having to modify the structure.
Regarding its capacity, this model is designed to work with tanks that have between 10 liters and 40 liters of water, since it has a power of 5 watts. On the other hand, it is highlighted that the system uses a biological filter sponge in conjunction with activated carbon to be able to purify the water and trap all the agents that are harmful to the health of your fish.
If you have not yet been able to decide which aquarium filter to buy, we advise you to evaluate what the Tetra In Plus team offers you:
Design: This filter has a practical, compact, and easy-to-use design so you can install it without problems.
Installation: It has suction cups so you can mount it without the need for tools and in just a few seconds.
Filtration: Filters the water using a biological sponge and activated carbon, so good performance is guaranteed.
Nozzle: The water outlet nozzle can rotate 180º so you can direct its fall where you prefer.
Maintenance: This model may require more frequent maintenance than other models.
4. AquaClear A6000
Specifically, the first stage is called mechanical filtration, designed to trap particles and solid residues, followed by chemical filtration, through which bad odors and impurities present in the water due to food and animal waste are absorbed. The last stage is the biological filtration designed to reduce the levels of ammonia and nitrites in the water, thus regularizing its hardness to improve its conditions.
Reading suggestions; How to Keep Your Reef Aquarium Stable
In addition, this aquarium backpack filter has a practical design that takes advantage of the potential of the system. Its dimensions are 14.5 x 10 x 15 centimeters and it weighs 680 grams, being able to work in tanks of up to 114 liters with a flow of 190 liters per hour.
Filtration: It has three stages of filtering the water in your aquarium, each one with a specific action for purification.
Installation: It can be placed directly on the edge of the tank, being easy to install.
Flow: The motor offers a flow of 190 liters per hour, which will keep the water circulating and oxygenated.
Use: The components and capacity of this equipment make it suitable for freshwater and saltwater aquariums.
Noise: Since the waterfall is a waterfall type, this can produce annoying noises for the taste of some users.
Frequently asked questions
Q1: How To Use An Aquarium Filter?
Before installing your new aquarium filter, you must first know what type it is, as this influences its location requirements. Basically, there are three types of filtration systems: internal, external, sponge and box, although the latter is rarely used in modern aquariums anymore.
Depending on its type, you will have to find the right position inside or outside the aquarium to prevent your fish from being negatively affected by its presence. Make sure that the water pressure is adequate and the discharge rate is not too high, as this could hurt your pets or the plants in the aquarium.
Also, taking into account the type of filter, you must apply the required cleaning and maintenance treatment, either by washing it frequently, changing the filtering agents, or replacing essential components.
Q2: How To Make A Homemade Aquarium Filter?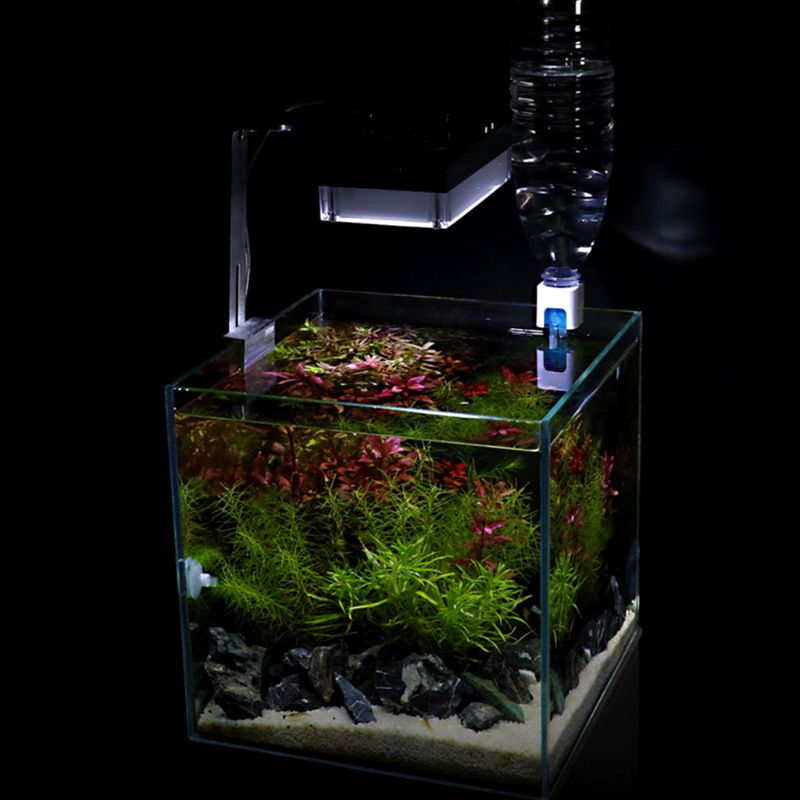 If you want to make a simple internal filter for your aquarium, you will first need to acquire a pump with enough power to suck in and out the water and adapt it to work in conjunction with a sponge that serves as a filtration system.
The first thing you should do is get a plastic tube of the right size to insert around the vacuum nozzle. With a screwdriver, you can open holes around the tube up to the height where it will be inserted inside the sponge, since this way you will be able to suck up the water more easily.
Now, connect the tube with the sponge to your pump and place it on one of the sides of your underwater aquarium using the suction cups.
Q3: Does The Aquarium Filter Have To Be Running All The Time?
Yes, as indicated by experts, the aquarium filter should remain on as long as possible, since there are aerobic bacteria that perish when they cut off the flow of oxygen in the water, which can negatively affect the health of your fish. fish and plants.
Q4: What Is The Carbon Used For In The Aquarium Filter?
The main purpose of the activated carbon found in some aquarium water filtering systems is to act as a safety sponge capable of trapping all the harmful particles and chemicals that are produced inside the aquarium by waste and food remains.
Specifically, activated carbon can absorb heavy chemicals such as metals, medicine, or toxins that may be in the water, thus helping to maintain purity and safe acidity levels.
Q5: How Many Liters Per Hour Should An Aquarium Filter Move?
According to the recommendations of some users and experts in aquariums, it is recommended that the filter that you place in your tank is capable of moving approximately three to five times all the water in the aquarium per hour. This guarantees correct oxygenation to keep the internal ecological system balanced.
Q6: How to place the inlet and outlet of the aquarium filter?
In general, aquarium filters include these pieces with your purchase, so you do not have to buy them separately to be able to locate them correctly, you just have to identify which piece goes where and place them both in the filter inlet and outlet and proceed to test its operation.
Some advice placing the water outlet near the heater if you have one in the aquarium, in order to maintain a constant temperature in the circulating water.
Q7: Which is better, a biological or UV aquarium filter?
Biological filters are those that are created within the same aquarium, that is, they are part of the ecosystem and are maintained in a practically self-sufficient way, preventing you from having to constantly apply cleaning or change spare parts.
However, UV aquarium filters are designed for specific uses, since this type of light is capable of killing bacteria colonies, treating diseases, purifying water, etc.
Therefore, you must first determine the use that you are going to give the filter to be able to choose the most suitable one for you and your type of aquarium.
Q8: How to clean the aquarium filter?
This will depend on the system you have installed. In case you are dealing with an internal filter, it is recommended to do it at least once every two weeks. Make sure to unplug it from the power before handling it to avoid accidents. Remove all parts and clean each one thoroughly with running water and a brush. This way you can easily remove any accumulation of algae or dirt before putting it back in place.