As a pet owner, you want to provide your furry friends with a safe and healthy environment to play in. While you may already take measures to ensure their safety indoors, you should also consider their outdoor environment. If you have a lawn, be sure it's a safe and healthy place for your pets to play.
Your yard is where your pets will likely spend much of their time playing, running, and exploring. Some popular lawn care products and practices can be harmful to pets. But with a few simple changes, you can create a beautiful and safe lawn that's enjoyable for your pets to play on.
These seven easy tips can help keep your lawn a great place for your furry friends. By making a few simple changes to your lawn care routine and being aware of potential hazards, you can create a beautiful, safe, and healthy environment for your pets.
Choose Pet-Safe Fertilizers and Pesticides
One of the easiest ways to keep your lawn safe for your furry friends is to choose lawn care products that are pet-friendly. Traditional lawn care products, like fertilizers and pesticides, often contain chemicals that can harm your pets if ingested or inhaled. But you can click here and find many pet-friendly alternatives available that are just as effective.
You can also consider using organic fertilizers, such as compost or manure, instead of chemical fertilizers. These natural alternatives are not only better for your pets, but they can also improve soil health and encourage beneficial microorganisms in the soil.
Certain types of grass seeds can be more pet-friendly than others. For example, Bermuda grass and St. Augustine grass are known to be more pet-friendly, as they are less likely to cause irritation or allergies in pets. Be sure to research to find the best grass seed for your area and your pets.
Reading Suggestion: 7 Reasons Why Shih TZU Are The Worst Dog
Remove Toxic Plants
Some common plants and flowers found in many lawns can be toxic to pets. For example, azaleas, lilies, and daffodils are all toxic to dogs and cats if ingested. If you have these plants on your lawn, it's best to remove them or keep your pets away from them.
Many other plants can cause irritation or allergic reactions in pets. Some examples include poison ivy, poison oak, and sumac. If you have any of these plants on your lawn, it's best to remove them or keep your pets away from them as well.
To avoid using harmful plants, do some research before planting anything new on your lawn. Make sure that the plants you choose are safe for pets and won't cause harm if ingested or inhaled. You can also consult with a veterinarian or a gardening expert to get recommendations on pet-friendly plants for your area.
Reading Suggestions: Harmful Flowers for Cats and Dogs
Use Pet-Friendly Mulch
Mulch is a common landscaping material used to cover soil around plants and trees. It helps to retain moisture, suppress weeds, and regulate soil temperature. But some types of mulch can be harmful to pets. Cocoa mulch, for example, is a popular mulch made from cocoa shells. While it may smell good to humans, it can be toxic to dogs and cats if ingested.
Some other types of mulch, like pine and cedar, can also be harmful to pets if ingested in large quantities. To keep your pets safe, it's important to choose a pet-friendly mulch. Look for mulches made from natural materials, such as shredded bark or straw, that do not contain any harmful chemicals.
You can also consider using alternative materials, such as gravel or rocks, instead of mulch. When applying mulch, make sure to keep your pets away from the area until the mulch has settled and dried.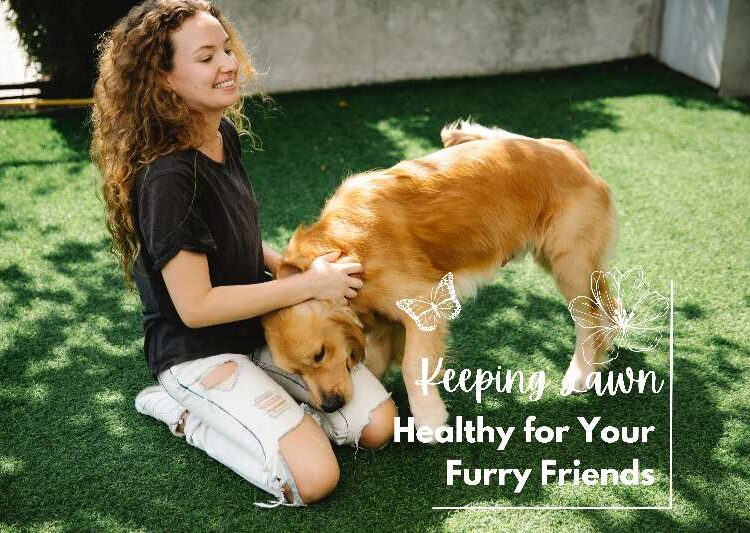 Remove Pet Waste Regularly
Pet waste can be harmful to both your lawn and your pets. Not only can it create horrible brown spots on your lawn, but it can also spread harmful bacteria and parasites that can make your pets sick.
Make sure to pick up after your pets regularly and dispose of their waste properly. If you're not sure how to dispose of pet waste, contact your local waste management agency for guidance.
Reading Suggestion: 8 Best Dog Poop Bags that Every Dog Owner Must Try
Keep the Grass Well-Maintained
Keeping your lawn well-maintained is an important part of creating a safe and healthy environment for your pets. Regular maintenance can help prevent the growth of weeds and pests, reduce the risk of pet injuries, and promote healthy growth.
To keep your lawn well-maintained, start by mowing it regularly. This will help prevent the growth of weeds and pests, and keep the lawn looking neat and tidy. When mowing, keep the blades sharp and set them at the correct height for your grass type. Cutting the grass too short can damage the roots and make it more susceptible to disease.
In addition to mowing, it's important to water your lawn regularly. This will help keep the grass healthy and prevent it from drying out and turning brown. Make sure to water deeply and infrequently, rather than giving your lawn frequent shallow watering, which can lead to shallow root growth.
Provide Shade and Water
Just like humans, pets can suffer from heatstroke and dehydration if they spend too much time in the sun without access to shade and water. Make sure your lawn has plenty of shady spots for your pets to rest in, and provide them with fresh water throughout the day. You can also set up a kiddie pool or sprinkler for your pets to cool off on hot days.
One way to provide shade is by planting trees around your lawn. Trees not only provide shade, but they also improve air quality and add aesthetic appeal to your property. When selecting trees, choose ones that are safe for pets and don't produce toxic fruits or seeds.
Another option is to install shade structures, such as pergolas, gazebos, or umbrellas. These structures can provide a cool and comfortable spot for your pets to rest and play, especially during the hottest parts of the day.
Reading Suggestion: 8 Cat Water Fountains to Choose the Best One for your Cat
Keep Pets Off Freshly Treated Lawns
Even if you use pet-safe lawn care products, it's still a good idea to keep your pets off freshly treated lawns. This will give the products time to dry and be absorbed into the soil before your pets come into contact with them. Be sure to read the instructions on your lawn care products to determine how long you should keep your pets off the lawn after treatment.
You can use physical barricades, like fencing or temporary barriers, to prevent your pets from accessing freshly treated lawns. This can be particularly helpful if you have a large property and your pets have access to multiple areas.
Final Thoughts
Keeping your lawn safe and healthy for your furry friends is a crucial step in responsible pet ownership. Taking steps to prevent common hazards, like toxic plants and chemicals, can protect your pets from harm and provide them with a safe and healthy outdoor environment.
Whether you have a dog, cat, or other furry companion, these tips can help you create a safe and enjoyable outdoor space for them to explore. By providing your pets with plenty of shade, water, and shelter, and avoiding harmful chemicals and plants, you can keep them healthy and happy for years to come.