Meat should be the first and most important ingredient in dog food
The main ingredient in dog food should be meat. By meat, we also mean fish, eggs (and insects). This is the most important thing when it comes to your dog's health. Why? Because the dog's body is built in such a way that he/she needs meat to be in optimal health.
If you look at your bag of dog food under the heading 'composition', you will see what the dog food consists of in percentages. If you look at the compositions of dog food online or in a store, you often see plant-based ingredients at the front. We explain why we do not prefer this and find it important that meat is the first and most important ingredient in dog food.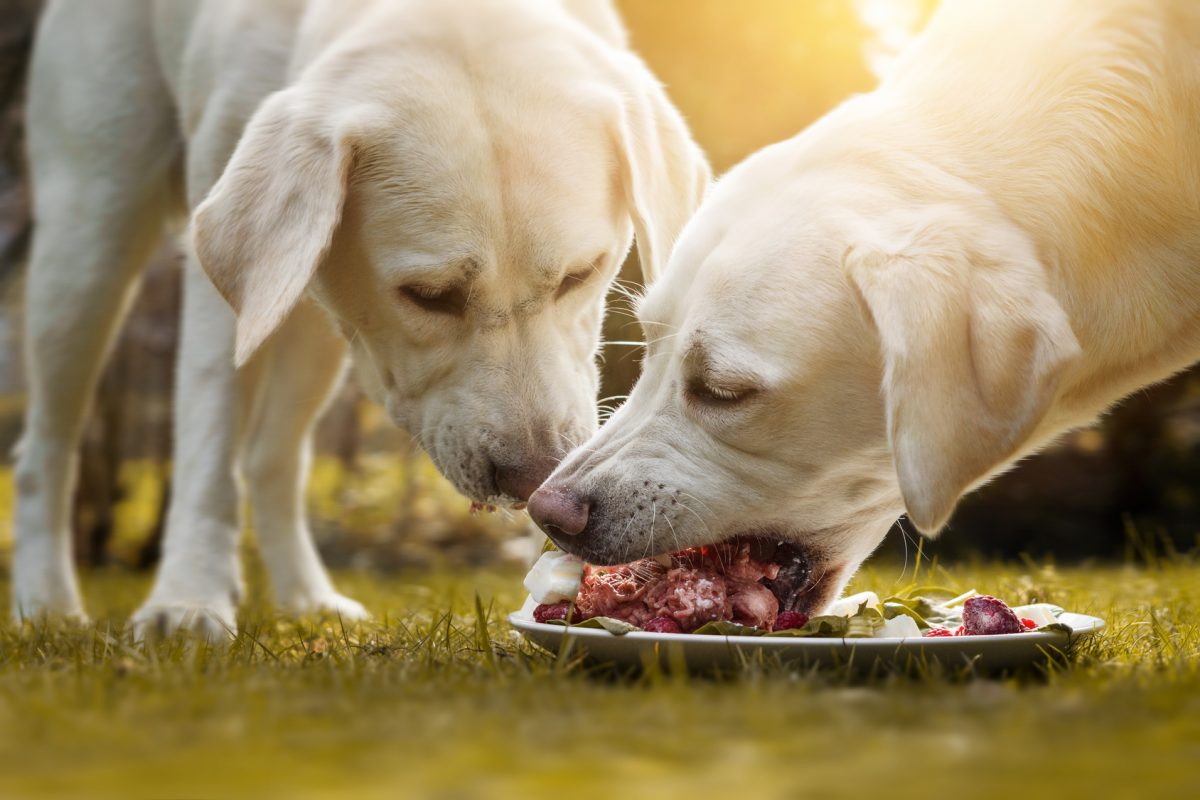 (Semi) Carnivore
A dog is a (semi) carnivore. Their digestive system is designed to process meat. We call it 'semi' because the dog's diet should consist of a small portion of plants and vegetables.
Reading suggestion: Meat Is The First And Most Important Ingredient In Dog Food
The wolf as an ancestor
Every dog ​​is descended from the wolf. And what did wolves eat? Whole, raw prey with skin and hair. Those prey had fruit and vegetables in their stomachs. That is why a dog thrives on a diet of meat supplemented with a little bit of fruit and vegetables.
The modern house dog
The modern domestic dog's digestive system is still the same as that of its ancestor. You can tell from the jaws of a dog that it is a carnivore. The jaws can only move up and down and not back and forth like a human (or a cow). The chunks are therefore not chewed, but go in one piece.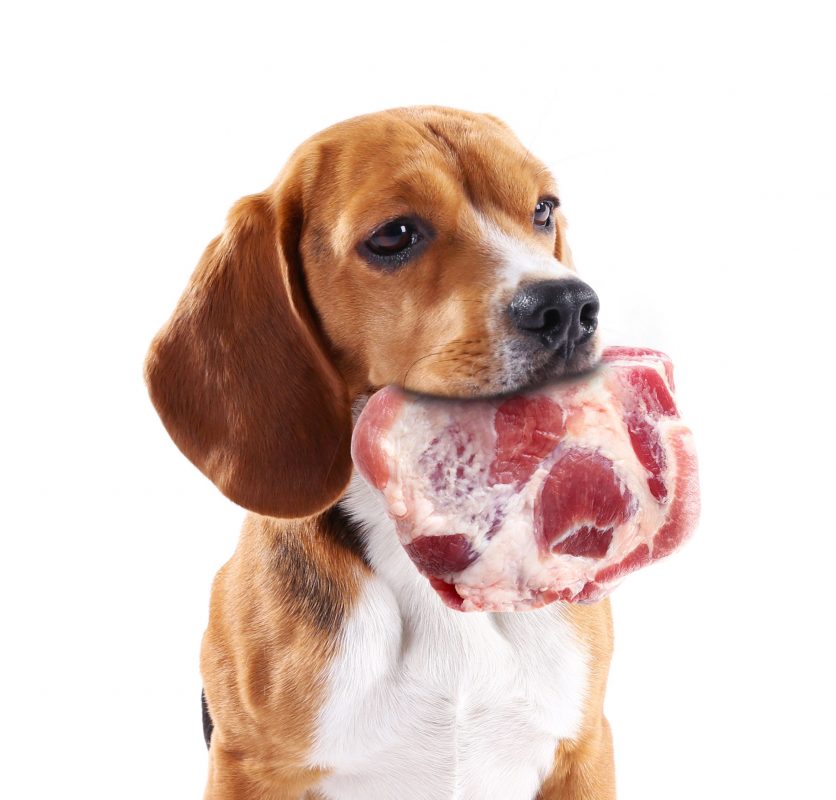 A dog also does not have digestive enzymes in its mouth: digestion actually only starts when the food has been swallowed.
The modern house dog has been with humans as a companion animal for a long time. Some even estimate it to be more than 15,000 years, but 20,000 years are also mentioned. And what did those dogs eat? Leftovers of meat and vegetables that people left to them or that they could find from somewhere. Humans have only been growing grains for about 7,000 years.
Since, say, the Second World War, dog food, ready-made chunks, has been on the market. And grains were often used in it, because the gluten in grains makes things sticky so that the chunks stick together.
The only thing that has changed in the body of the house dog in the past 20,000 or so is that the dog is slightly better able to digest these grains. These grains still do not contribute in any way to a domestic dog's health but do less damage than they would to a wolf. Or with a cat, because it has not yet been adapted from an evolutionary point of view.
The main ingredient of your dog's food should therefore be meat.
Reading suggestions: Happy Dog Food Review and Recommendations for 2021
Meat should be the first ingredient on the label
As discussed, the main ingredient is always listed first on the label. Therefore, when buying dog food, make sure that meat is listed as the first ingredient. That means that there is most of the first ingredient in it. In this case, 'meat' also includes fish. Dogs (and wolves) have always loved to eat fish and are very capable of digesting fish.
Look at the ingredients list, not the brand
Every dog ​​- be it a Chihuahua, a Beauceron, or a Golden Retriever – needs the same nutrients:
protein
fats
minerals (and trace elements)
vitamins
carbohydrates
water
A (semi) Carnivore
A dog is a (semi-) carnivore. Their entire body is tuned to digest meat.
Reading suggestions: Best Dog Food For Allergies 2021
The jaws of a dog
Just pay attention to your dog's mouth. Unlike humans or cows, your dog's jaws can only move up and down and not sideways. Dogs shrink food in the mouth as needed.
Digestion
Digestion does not start in the mouth (as in a human) but only in the stomach. Dogs then lack certain enzymes in the mouth to digest the food. The saliva of a dog is therefore very different from the saliva of humans.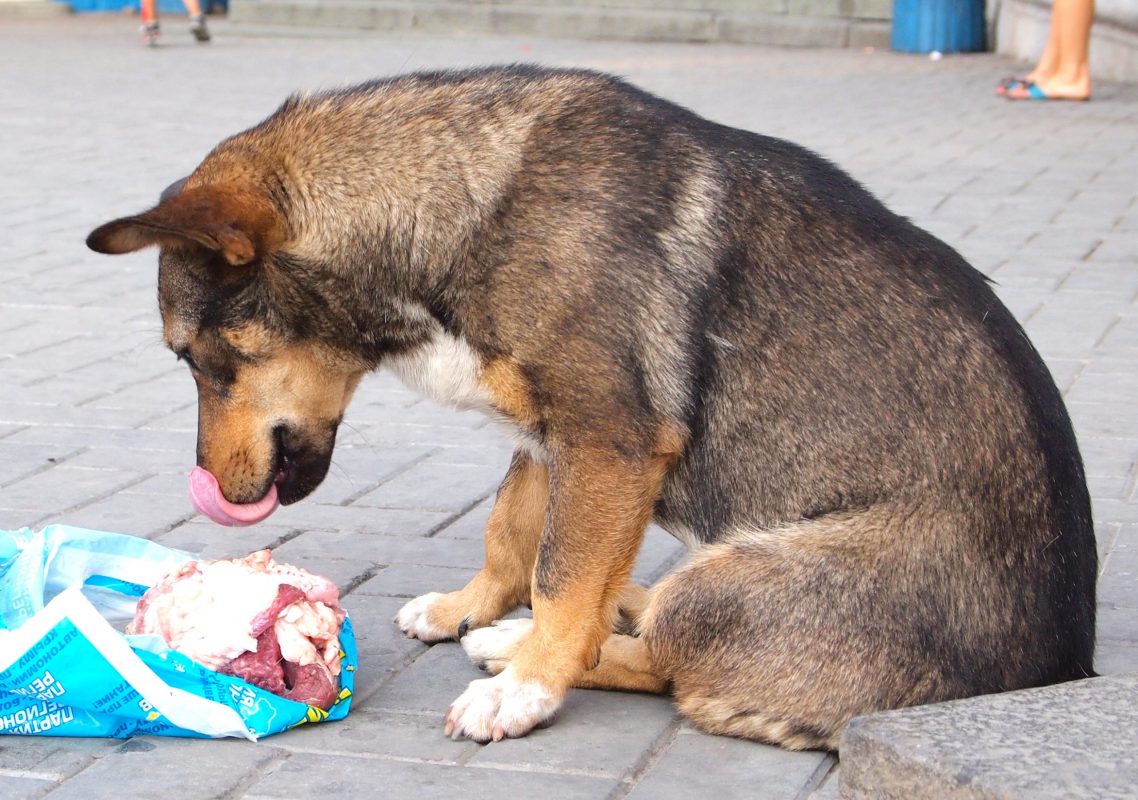 Short gastrointestinal tract
Food passes through the dog's esophagus to the stomach. The dog's stomach is huge when you look at that in relation to the intestinal tract. It is therefore very suitable for processing a large amount of food in one go.
Animal proteins
Carnivores can best digest protein from animal sources: that is, meat, fish, eggs. So they need meat (or fish) as the main ingredient to function properly. They are semi-carnivores because they also need a small amount of fruit and vegetables (these are carbohydrates), which contain vitamins and minerals.
Cheap Fillers
Ingredients such as grains, corn, potato, or rice are fillers that do not in themselves contribute to the health of a dog. They are also harmless, provided that meat (and a little bit of fruit and vegetables) are the main ingredients of the food. If grain or another filler is listed as the first ingredient, the health of the dog is (over time) undermined.
At some point, problems will arise, such as allergic reactions, itching, dull coat, bowel problems, flatulence, or stomach and intestinal complaints. These are telling signs that your dog is likely to have a sensitive stomach. Switching from regular to sensitive stomach dog food with gentle-to-digest ingredients will make all the difference in how they feel.
These cheap fillers do nothing for health (other than filling the stomach). Dogs only defecate these ingredients (whether or not in the form of diarrhea).
The ingredients list
It is important to look at the ingredients on the label. The most common ingredient in the food is listed first on the label and so on. The freshest ingredient is the least in it. Producers often split up the fillers (corn and maize flour, for example) so that they can place the ingredients a little further in the chain.