Hills dog food is very special food. It is often used by veterinarians for medical indications. We took a look at it in our Hills dog food review and wanted to find out how good the food really is. Read here and find out what we noticed.
What is Hills dog food?
Hills dog food is a brand that makes food for dogs that have special needs. These are allergic dogs, overweight dogs, dogs after an operation, and the like. Here it is always important to alleviate existing complaints or to strengthen the organism as a whole. Hills dog food has achieved this excellently, not least due to the fact that the dogs enthusiastically accept it. This is how it can develop its effect.
Hills Dog Food Varieties
Hills dog food offers a number of varieties to suit a range of ailments. There are also varieties for general feeding. Here it is important that you choose the right strain for your four-legged friend's problems.
A large part of the range makes up strains that help allergic dogs. These contain a reduced amount of ingredients to reduce the likelihood of allergic reactions. The ingredients contained, in turn, only have a low potential for an allergic reaction.
Overweight dogs are another area of ​​application. Hills offers dog food varieties that reduce obesity themselves, i.e. promote fat loss. At the same time, there are also varieties that reduce the consequences of being overweight. Too much weight always affects the joints. These are strengthened so that they can withstand the stress more easily and even damage already sustained can be repaired.
There are also varieties that have a clear medicinal effect and can therefore only be fed in consultation with the veterinarian. In addition, there is also food from Hills, which is suitable for general feeding but also has a good effect on digestion.
Top 8 Hills dog food Review
1. Hills Prescription Diet Digestive Care Dry Food
The Hills Prescription Diet Digestive Care is primarily a feed that is used as a nutritional aid. It should be fed for gastrointestinal diseases, including enteritis and gastritis, as well as after operations on the internal organs. It can by itself meet your dog's need for energy and nutrients.
Other areas of application are pancreatitis, hyperlipidemia, gastric dilatation, pancreatic insufficiency, and the premature end of suckling. The latter mainly affects orphaned puppies. Here this feed offers highly digestible proteins and carbohydrates, as well as a reduced fat content.
So it is not an average food, but rather a medicine for certain areas of application. If it is fed correctly accordingly, it brings the affected dogs relief of their condition and alleviation of their complaints. As a special feed, this variety is also a little more expensive, but given its effect, that shouldn't be a problem.
Benefits:
Helps with certain diseases
Contains highly digestible ingredients
Covers a dog's daily requirement
Disadvantage:
2. Hill's Prescription Diet Metabolic & Mobility
In addition to reducing excess weight, this food also ensures healthy skin and a shiny coat. This is due to the fact that the substances that otherwise provide energy have been partially replaced by other high-quality nutrients. The latter also contains exactly what a dog needs to build up healthy skin and a healthy coat.
The four-legged friends themselves like to take the food and lose weight in a relatively short time. Even very greedy fur noses manage to lose weight with it. In return, the price of the feed is a little higher, but that is understandable.
Benefits:
Provides weight loss
Brings healthy skin
Causes a shiny coat
Disadvantage:
3. Hill's Prescription Diet Digestive Care Wet Dog Food
The Hill's Prescription Diet Digestive Care is excellent for overweight, digestive complaints, and pain. It starts with the fact that the food itself is low in fat. This promotes the digestion of body fat and at the same time lowers serum triglycerides, which increase the risk of pancreatitis.
The food itself is very digestible. This allows the digestive tract to dissolve the nutrients more easily and to recover from previous irritation more easily. It also contains prebiotics that promotes the development of healthy intestinal flora. In addition, there are omega 3 fatty acids, which inhibit inflammation and thus relieve digestive discomfort and pain.
The feed contains liver and rice, which ensure fast and sufficient satiety without bringing too much energy or putting too much strain on the metabolism. Overall, it is a wet food that is popular with dogs. However, it gives off a smell that is less good for humans, so sensitive people should not be present when feeding.
Benefits:
Helps against obesity
Aids digestion
Relieves pain
Disadvantage:
Very strong smell

Hill's Prescription Diet Digestive Care Wet Dog Food
4. Hill's VET Diet Canine Joint Care Reduced Calorie
The Hill's VET Diet Canine Joint Care Reduced Calorie is food especially for overweight dogs or those who are prone to overweight. Above all, it supports the joints and protects them from damage caused by the higher loads. However, it can also be used to treat damage that has already occurred.
In addition, the feed contains less fat so that it provides fewer calories. The protein content is also controlled in order to ensure that the body is supplied with sufficient food instead of being overweight. It also contains antioxidants that prevent or reduce cell damage.
The feed should only be used in consultation with a veterinarian. It is a special feed for a special application, not for general feeding. First of all, it is important not to use it in the presence of contraindications.
Benefits:
Fewer calories
Strengthens the joints
Protects cells from damage
Disadvantage:
Should only be fed after consultation with a veterinarian
5. Hills Canine Adult Dog Food
Hills Canine Adult dog food is ideal for general feeding for all adult dogs aged 1 to 6 years. It is also well suited for four-legged friends who have digestive problems and are prone to diarrhea or flatulence.
The food consists of chicken, which is very tasty for dogs and at the same time very digestible. At the same time as the other, easily digestible ingredients, this leads to a reduction in feeding costs, as less feed is needed. The dogs can simply take more energy and nutrients from this food.
The feed also reduces the number of feces, because digestion is also improved in this respect. It is enthusiastically accepted by them. Its disadvantage is that it sells out quickly as the keepers swear by this food. You should therefore order it in larger quantities as soon as you know that your dog will get it.
Benefits:
Helps digestion
Reduces the amount of feed required
Small croquettes for small breeds
Contains chicken for good content and digestibility
Helps digestion
Reduces the amount of feed required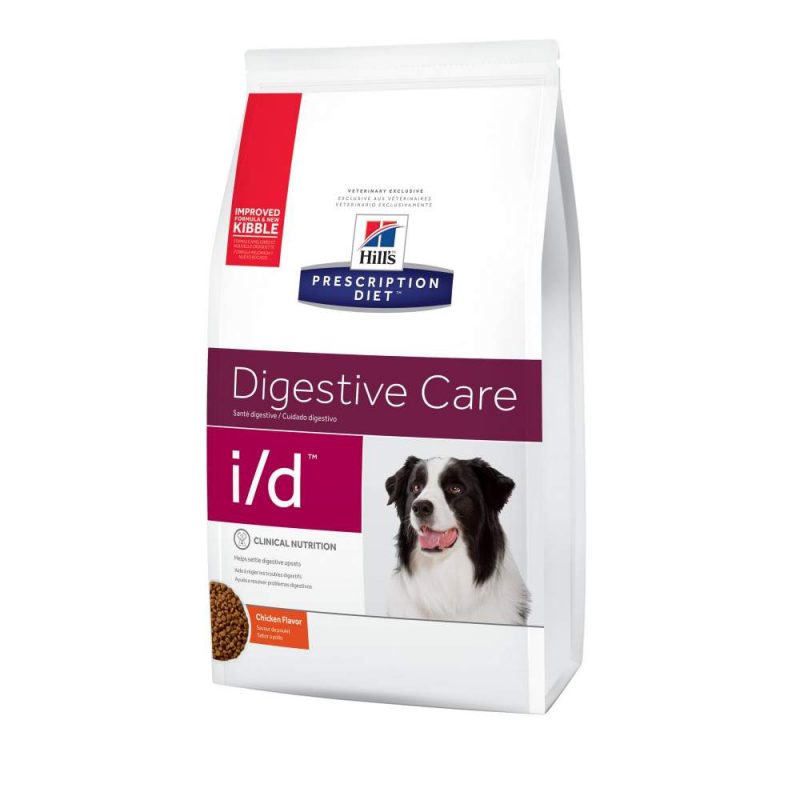 6. Hills Science Plan Canine
The Hills Science Plan Canine is great dog food for adult small breed dogs. Unlike other Hills dog food products, it is well suited for general feeding. It is digestible and tasty.
The croquettes are very small and therefore very suitable for small breeds. They are also easy to bite so that the little four-legged friends have no problems with them. The meat part consists of chicken, which makes the feed rich and at the same time easy to digest. In addition, rice and corn are used for sufficient satiety.
While dogs are generally very fond of this food, it also contains grain. This means that you should first see whether your four-legged friend can get it before you order it in larger quantities.
Reading suggestions; Platinum Dog Food Review and Recommendations For 2021
7. Hill's Prescription Diet Food Sensitivities
Hill's Prescription Diet Food Sensitivities is food for sensitive and allergic dogs. It is designed to avoid allergenic substances. This limits the number of these and only uses those that normally do not cause allergies. This doubles the risk of a negative reaction.
The food is suitable for people with digestive, skin, and fur sensitivities. This puts an end to indigestion, promotes skin health, and stops hair loss. The fur will soon be shiny again.
Dogs love the food and owners swear by it. Especially very allergic dogs can tolerate this food. Your symptoms will be relieved quickly and will stop after a while. On the other hand, the food clearly belongs in the higher-priced area.
Benefits:
Well suited for sensitive and allergic dogs
Aids digestion
For a healthy coat and skin

Hill's Prescription Diet Food Sensitivities
8. Hill's Prescription Diet Original Allergy and Skin Care of the Dog
Hill's Prescription Diet Original is food especially for allergic dogs with reactions on the skin, coat, and digestion. It only uses one source of protein. This is an animal and consists of chicken. This makes the feed digestible and reduces the risks that many ingredients would bring. In addition, chicken is easy to digest.
The feed also has a direct effect on the skin and fur. Not only does it prevent allergic reactions that show up there. It also nourishes both at the same time and strengthens it against illnesses and against everyday stress. This not only leads to healthy skin, but also to a very resilient one. The fur also soon starts to shine again.
The feed can be fed after consulting a veterinarian, but also without such a consultation. However, it is more expensive than normal dog food and should therefore only be fed if your dog, as an allergy sufferer, really needs it.
Benefits:
Just a source of protein
Easily digestible
Supports the coat and skin
What to Consider When Buying Hills Dog Food
Hills Dog Food offers a range of foods for dogs. Few of them are aimed at the simple, average dog. However, even these varieties are characterized by a high degree of digestibility and a positive effect. This means that they are also recommended for slightly sensitive dogs.
Most of the other strains are intended for dogs with special needs. It starts with the fact that some of them shouldn't be fed just like that. They are intended as therapy or as support for therapy when certain complaints are presented. That means they work like medicine.
These very special varieties should not just be procured and fed on your own. At least a veterinarian should be consulted beforehand. Usually, however, the whole thing is reversed. That is, a dog develops a clinical picture. The treating veterinarian then prescribes the appropriate feed for him.
There are also varieties that have a significant impact but are not directly understood as medical therapy. This means that these varieties are suitable for feeding on your own responsibility. At the same time, however, they are not general types of dog food.
These special varieties are also intended to treat certain ailments. However, the symptoms are not so severe that medical treatment is indicated. These can be, for example, general digestive problems or allergic reactions to certain food components.
These complaints are manifested in flatulence, diarrhea, falling hair, or a bad complexion. Here the food can ensure that the reactions stop and that the affected areas are strengthened.
Overall, the brand should be understood more medically than just nutritionally. This also means that she only uses very high-quality ingredients in equally high-quality processing. This leads to a higher price and the recommendation to only feed the food to dogs that have a need for it due to their indexing.
Reading suggestions; How to Introduce your Dog to a New Puppy
What Makes Hills Dog Food So Recommended
Hills dog food is a product that has been proven in many ways in relieving discomfort, preventing allergies, and general nutrition. This goes so far that the feed is specifically used by veterinarians for treatment or to accompany treatments. That being said, they also recommend it for nutrition.
The keepers who feed it are also enthusiastic. They report how well their dogs accept it and, most importantly, how well they respond to it. Dogs in particular with a long history of ailments, allergies, and difficulties swear by this food. It is often said to be the only food their dogs get.
The quality of this food is shown by the successful help even in severe cases. In addition, the packaging is often resealable so that it can be easily stored and fed gradually. In addition, the varieties are easy to digest, so that they provide a lot of nutrients even with a smaller amount of feed. This lowers feed costs as less of it has to be bought.