It is difficult to navigate the plethora of products offered by the cat food market. Sometimes we have the impression of being in the middle of a jungle! The packaging touts their product to us, so it's hard to know what makes good kibble for cats. What are the advantages and disadvantages of dry food? How to get an idea of ​​the quality of the croquettes by reading the label? And finally, on what criteria to choose the right croquettes for your kitty? These are all questions that we will answer in this guide.
Dry cat food: benefits of dry food
Get closer to your cat's natural eating behavior
Over a 24 hour period, a wild cat will eat about 10 to 15 small prey (or parts of it). Domestic cats, when they can, behave in a very similar way with regard to their feeding behavior: they very often go to their bowl to take a small amount of kibble. The dog will tend to fill his stomach in the morning and in the evening!
You can therefore place your cat's daily kibble ration in his bowl in the morning, and he can help himself as he likes. This is not recommended with wet food, as it quickly becomes unappetizing and smelly, and can also spoil or rot quite quickly, especially in summer.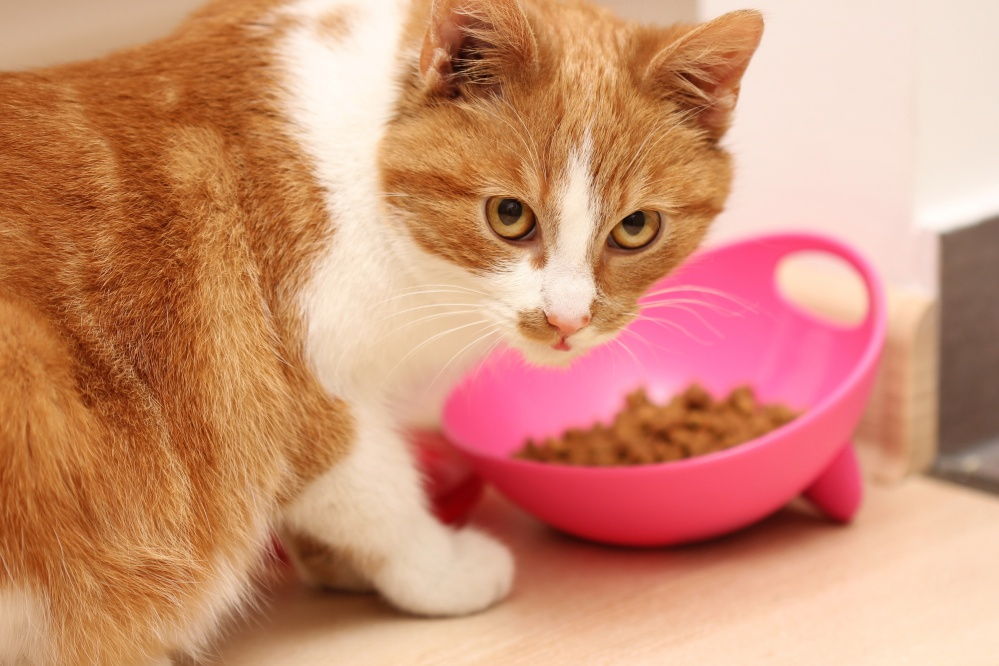 Cat food is practical, ecological, and inexpensive!
Dry cat food has a lot to offer any cat owner.
First of all, when you go shopping, they are less heavy to carry than wet food, for example, and you will have no problem storing them. In addition, their conservation is simple and you will not need to put the leftovers in the refrigerator if your furball has not finished its meal …
In addition, you pollute your environment less (the packaging is less bulky) and pay less overall than for wet food: quite simply because you do not pay the weight of "water" contained in cat food! The cost savings are particularly felt in households that have more than one cat.
Reading suggestions; Boy Cat Names – Find the Perfect Male Kitten Name
Croquettes promote dental hygiene
When cats chew kibble, their teeth are cleaned mechanically. There is less food left in the interdental spaces, their salivation is stimulated and the development of dental plaque is reduced. However, this only works if the size, shape, and texture of the kibble match the cat's teeth. The cat must chew and its teeth must be able to reach a certain depth of penetration into the kibble. Premium manufacturers do a lot of research to optimize their food kibble accordingly, while many other manufacturers essentially tailor their kibble to the optical preferences of cat owners.
Dry food for adult cats also often contains "calcium traps", also used, for example, in human toothpaste (sodium triphosphates), the action of which is to reduce the build-up of tartar.
If your cat already has dental problems, then you will need to have this tartar removed by your veterinarian and give him dry food that promotes dental hygiene. It is also recommended to brush her teeth every day.
Dry cat food: Disadvantages of dry food
Beware of the risk of overweight
If we compare these kibbles with wet cat food, they are a real powerhouse. This is why you have to be vigilant with your hairball because it could easily gain weight if its daily kibble ratio is too high. The reason is simple: wet foods contain four to five times more water than dry foods: as a result, it is as if the calories are "diluted".
 However, by controlling the daily intake of dry food offered to your cat (by weighing it for example), you will effectively prevent weight gain. It is also important to choose food that is suitable for your cat's living conditions. If your cat is neutered, offer low-calorie kibble. The same goes for a cat living in an apartment, which will spend less than a cat spending a good part of its day outdoors hunting and exerting itself.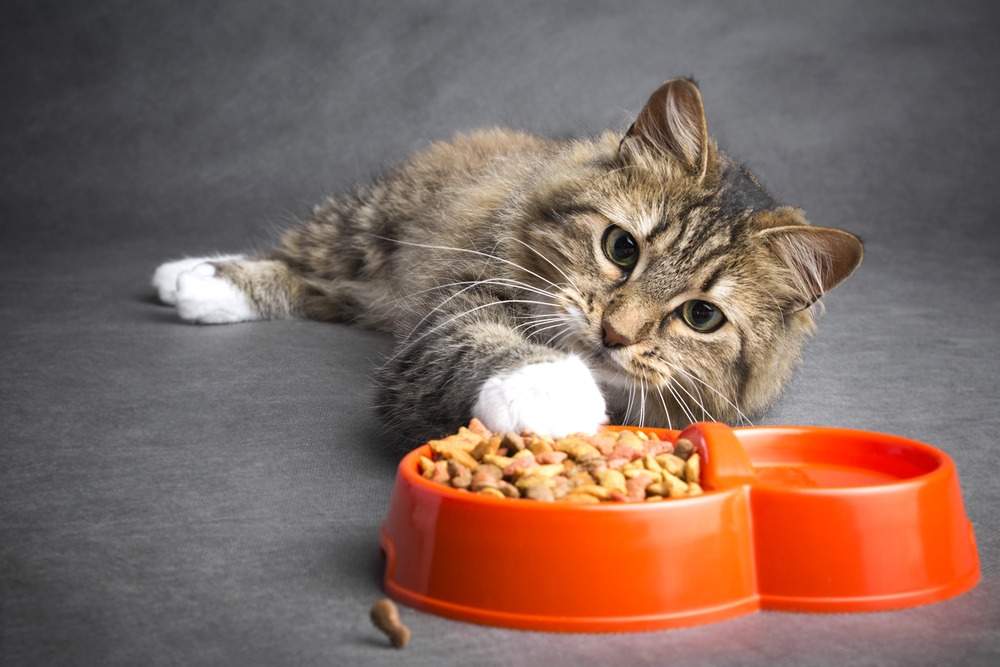 Storage of croquettes
If you leave cat food for too long in their original open packaging, food moths can migrate and thus alter the nutrients (destruction of vitamins, fats becoming rancid).
Ideally, your cat should eat the entire bag of dry food in a month. Regarding their conservation, store them in an airtight food bucket, cleaned with hot water after each renewal of kibbles, stored for example in the cellar, if you have one … It is also possible to freeze one. part of the kibble to avoid contamination by moths and loss of nutrients.
Unopened, a bag of dry food can usually be stored for 12 to 18 months.
Watch if your cat is drinking enough
Some cats do not drink enough when they are fed dry food. Dry food contains only 7 to 10% water, so it is necessary to increase the water rations with this type of food, depending on the size of the cat, its activity as well as the climatic conditions and environment.
However, you know, cats used to live in the wilderness; therefore they drink little by nature and are able to conserve water in their body and will eliminate very concentrated urine. This can promote the development of stones or crystals, lead to kidney problems or even idiopathic cystitis.
Therefore, it is sometimes useful to replace the diet of affected cats and switch from dry food to wet food. However, you can also encourage your cat to drink more, by providing him with several bowls of water in various places of the house (and not just one next to the bowl with its kibble!). You can also buy a cat fountain!
Reading suggestions; My Cat No Longer Eats. How My Cat Eat Better?
For your croquettes, choose high quality
What is the meat percentage of the croquettes?
If you want to feed your cat all or most of it with kibble, you will need to choose high-quality kibble. To put it simply: the higher the percentage of meat in dry cat food, the higher the quality of the food. Don't get caught up in croquettes that feature a large chunk of meat on the package, but actually only contain a negligible amount of meat! Remember the marks which announce the type of meat or fish used (chicken? Beef? Lamb? Salmon?) Which indicates the meat "in pieces" (not in by-product), as well as the piece of origin (white, thigh, wings).
Be wary if you see animal meals or other animal by-products in the composition. Indeed, they are less good from a nutritional point of view for your cat.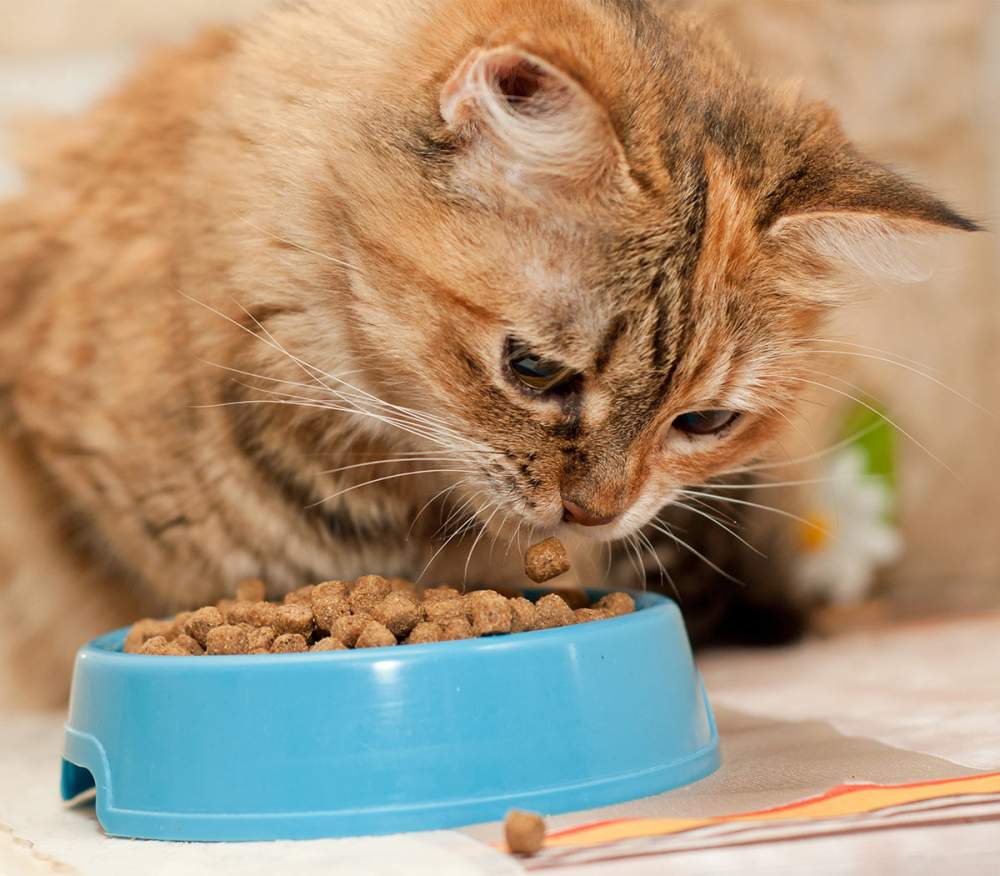 What is the percentage of cereals?
Cereals don't really have a place in cat food. Or only in a very small proportion. Unfortunately, low-end croquettes often contain a high percentage of it (it is cheaper than meat). Sometimes by adding the different types of cereals present, we can even arrive at more than 50% of the total composition! Limit the purchase of croquettes made from wheat, soy, oats or corn …
Other components of the kibble
Usually, the croquettes are composed of the following ingredients: meat, fish, vegetables, fruits, herbs … In addition, they are enriched with vitamins, minerals, and unsaturated fatty acids to provide the most complete nutrition. possible, and most suitable for the cat as a species.
However, pay attention to the addition of the following elements: sugar, salt, artificial preservatives (such as BHA, BHT, or ethoxyquin) which have negative repercussions on the health of your animal: diabetes, weight gain or heart disease, as well as disturbances of the endocrine system.
Some figures to take as benchmarks
By following the numbers below, you will be on your way to the best possible nourishment for your hairball:
Proteins: at least 35% (even better if it is greater than 40%)

Carbohydrates: between 0 and 20% (the lower the better)

Fats: between 10 and 25% (no vegetable fats, choose only animal fats)

Crude ash (minerals): between 5 and 12% (if the meat is of good quality, this percentage may be higher, but be careful to stay below 12% to avoid the appearance of urinary stones)

Calcium: less than 1%

Phosphorus: less than 1%

Magnesium: less than 0.1%

Taurine: more than 0.1%
Presence of vitamin A and wheat and corn gluten in the lowest possible quantity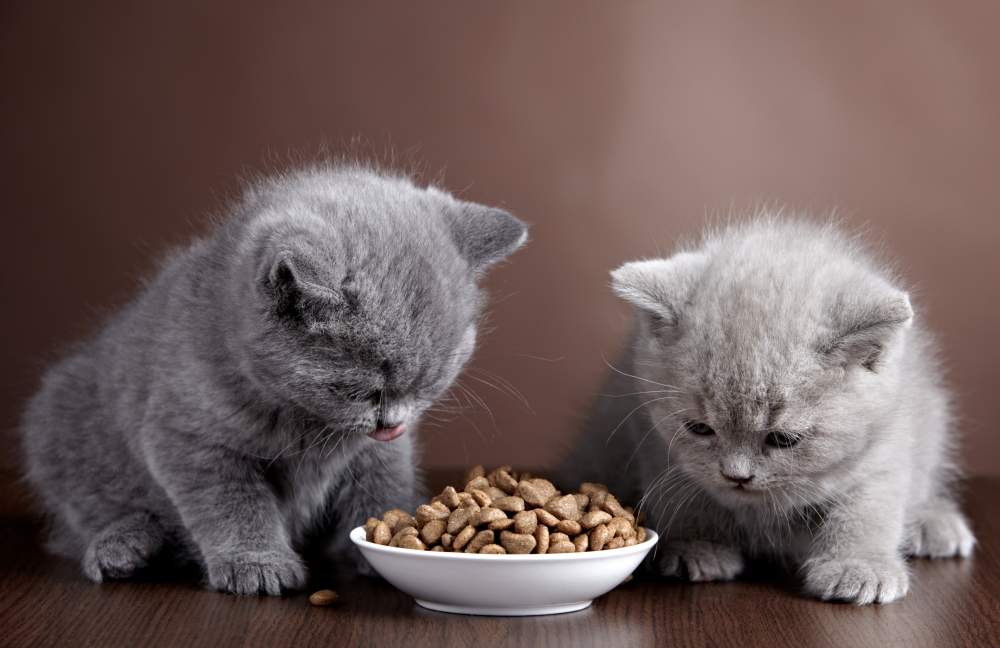 How to choose your croquettes?
According to its age group
Choose food for your cat that is suited to its individual needs.
What age group is your hairball in? Is it a kitten, an adult, or an older cat? For each age group, there are dedicated kibbles: for kittens, for adult cats, or even kibbles for senior cats.
Depending on their tastes and level of activity
And above all, there is something for everyone: with fish, chicken, duck, beef, lamb, pork… You will quickly see what your cat's preferences are! But also, what is your cat's activity level? Is it an outdoor cat, always quick to hunt prey in the garden and who expends a lot of energy, or an apartment cat who sits magnificently on the sofa?
 Be aware that there are kibbles for very active, moderately active, and not very active cats. Respect his level of activity in your choice of kibble, and you will prevent him from gaining weight, or not being sufficiently supplied with energy!
According to his health problems
There are also croquettes adapted to various health problems such as overweight, diabetes, urinary stones, kidney failure, food intolerances (food or cereals), or joint problems.
Conclusion
It is quite simple to know if the dry food is right for your cat. If it is fed a good quality food adapted to its needs and its possible intolerances, your cat will be full of energy, dashing, will have a shiny coat, will not have digestive problems, will make well-molded poop, and will present a powerful musculature.
Remember in any case: the more meat – and the fewer cereals – in the cat's croquettes, the better for your feline, a carnivorous animal by nature! Avoid discount brands that use lower quality foods as well as filler foods.